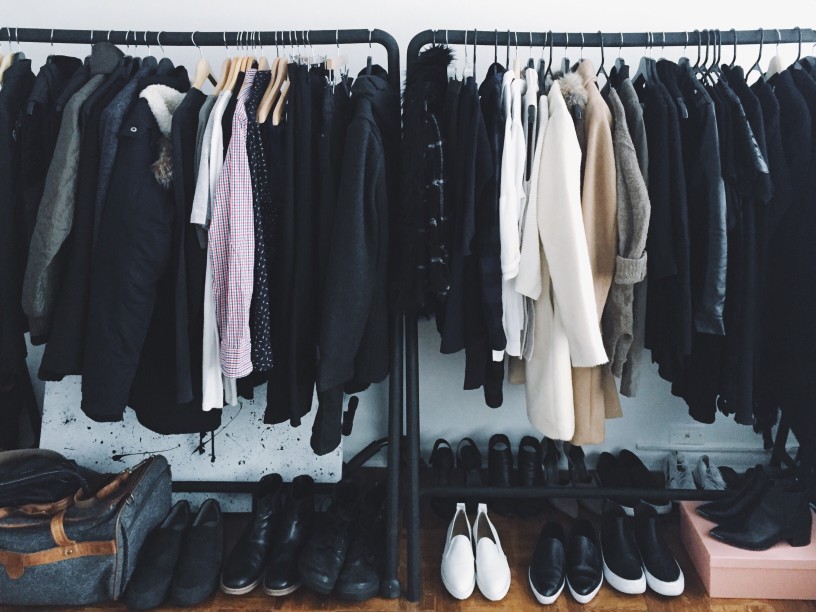 TIPS ON HOW TO PACK CLOTHES FOR A MOVE
Are you looking for tips on how to pack clothes for a move? We can help. Whether you're moving locally or abroad, these packing tips will help you pack and prep efficiently. Our guide will help you with delicate pieces, hanging clothes and packing your shoes. Each item requires it's own packing method. Our step by step approach covers what you should do before you start packing, packing techniques, how to fold your clothes and what boxes to use for different types of clothing. Below you will find our guide on how to pack clothes for a move.
BEFORE YOU START PACKING DO THESE THINGS
We're all guilty of having too many clothes. However, it's essential that you spend some time and assess what you want and what you can live without. Start getting rid of old clothes, shoes, and hats to help lighten your workload. To help assess your closet try hanging some clothes in front of you and lay folded clothes out on the bed. It will give you a better picture of what you own and help figure out what you can get rid of.
Once you decide on what you're getting rid of you can either donate, sell or give them away. There are charities like the Salvation Army where you can drop them off. Another option is to post them on eBay to make some extra cash. Either way getting rid of unwanted clothes will help you with the moving process. These are some essential tips on how to pack clothes for a move.
TIP: WHERE TO BUY MOVING BOXES CHEAP
PACKING METHODS AND SUPPLIES
The first step is to purge your closet of unwanted clothing items. It will help with organization and lightening your workload. Another benefit of getting rid of unwanted items is the cost savings. Movers charge based on weight/volume, so the less you have, the less expensive your move will cost. Once you narrow down what you're going to keep you should start prepping by purchasing the necessary moving supplies. Below is a list of the materials you will need and how to pack clothes for a move.
Wardrobe Boxes – Wardrobe boxes are used for clothes on hangers. They're specialty moving boxes which you can purchase on Amazon.com, Uhual, Home Depot or directly from our website. Wardrobe boxes are a great way to keep your hanging clothes wrinkle-free. They're also very convenient.
Vacuum Bags – Using vacuum bags is a great way to condense your clothing while protecting them. You can purchase vacuum bags from any Target, Walmart or Lowes.
Cardboard Boxes – Regular cardboard boxes will be used for packing folded clothing.
Duffel Bags – If you have some duffel bags lying around they're a great tool to packing folded clothes and shoes. Make sure to roll all of your clothes before you stuff them in the bag.
Suitcases – Suitcases are a great way to save money on packing supplies. If you have a couple of suitcases lying around you can pack folded clothes and shoes in there.
Here are some other supplies that may come in handy when packing clothes for a move – Garment bags, packing paper, packing tape and plastic bins.
Here are some other tips on how to pack clothes for a move.
Keep clothes on hangers
Leave clothes in dresser
Line boxes with packing paper
Reuse Shoe Boxes
TIP: WHERE TO FIND FREE PACKING SUPPLIES
ORGANIZE YOURSELF
After you have the essential packing supplies and strategy it's time to start organizing your clothes. Organizing your clothing items into categories is a great way to keep everything in line. As you begin sorting through your clothes, use one of the below four types.
Separate clothing for each person – If you're moving with a family it's important to keep all your clothes separate. Every person in the family should have their own labeled boxes. It will help with the unpacking process.
Organize by season – Sorting clothes by season will help prevent clutter. For instance, if you're moving in the summer you will only need to unpack summer clothes. Sorting by season will help you stay organized.
Sort by material – Divide your clothes into several different material categories. For instance, include silk items, linens, wools, cashmere etc. It will make doing laundry a lot easier for you.
HOW TO PACK FOR A MOVE/ HELPFUL LINKS
We hope these tips help with your move. If you have any questions on how to pack clothes for a move or any other packing related questions we would be happy to walk you through the process. Thank you for taking the time and visiting our website. Below are some helpful links.