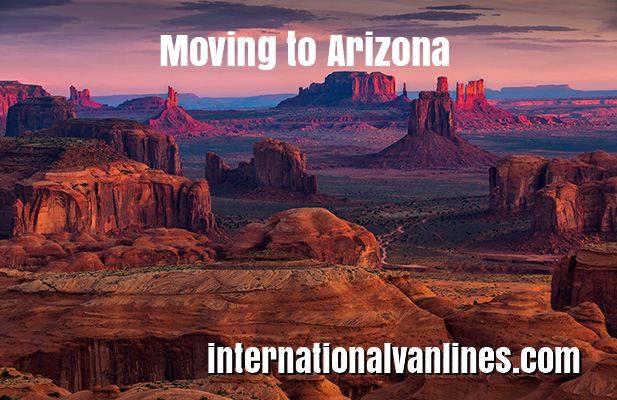 Moving from California to Arizona
Home prices have had a major effect on Californians decision to migrate. Numbers from the U.S Census Bureau report that more people moved from California to Arizona then from any other state last year. In 2017 alone more then 60,000 people moved to Arizona. Arizona is a completely different market and offers more affordable venues for businesses and residence. It also offers an easier lifestyle without the rate race. If you're on of the thousands moving from California to Arizona chances are you'll need a long-distance moving company. Below are some tips and guidance to help make sure you don't get caught in a moving scam.
Know the scam
Moving scams are a real thing, and you should know what to lookout for. There are thousands of "moving companies" that appear to be legit. However, that's not always the case so you should always do your research before you place a deposit. There are people that migrate to the U.S during peak moving season with the intention of ripping people off, and then fly back home. The scam is pretty easy to spot. If you get a quote that seems to good to be true, chances are it is. We recommend you get up to 3 price quotes so you can compare.
You should understand that legitimate moving companies incur similar costs on long-distance moves. They all use labor, trucks, materials and fuel to get your household goods to the destination. There is no reason why a company would be thousands of dollars cheaper then another. If you decide to go with the cheapest price you may get wrapped up in a hostage load situation. A hostage load is where a mover will load your goods then charge you more. This situation leaves people frazzled and most will pay the added charges out of duress. You can visit the DOT SAFER website to do some basic research on a moving company.

Are online reviews reliable?
This day and age thousands of people flock to the internet to read reviews before a purchase. Online reviews are a helpful tool, but shouldn't be the only tool you use. If you come across a moving company that has five stars across the board chances are their reviews are either fake or they just opened their doors yesterday. Keep in mind that this is moving and issues happen. Moves are handled by humans and there are things like damage and delays that can happen. You should understand the risks before you hire a mover.
It's also important to check the years they've been in business and company size. Naturally a company that handles thousands of moves every year will have more complaints then a smaller moving company. Take Walmart as an example. Hundred of thousands of people shop there, but Walmart has more complaints and lawsuits then any other company. Look up a companies incorporation paperwork and their DOT record to gather this information. Moving from California to Arizona should not turn into a nightmare.
Helpful Websites
General Info
If you're planning a move from California to Arizona we can help. Although we would love to earn your business we still suggest getting up to 3 price quotes to compare. We're not the cheapest, but we're also not the most expensive. We get complaints from time to time, but they amount to less then 1 percent of the business we handle. You can read more about us here and please feel free to contact us if you have any questions or concerns.