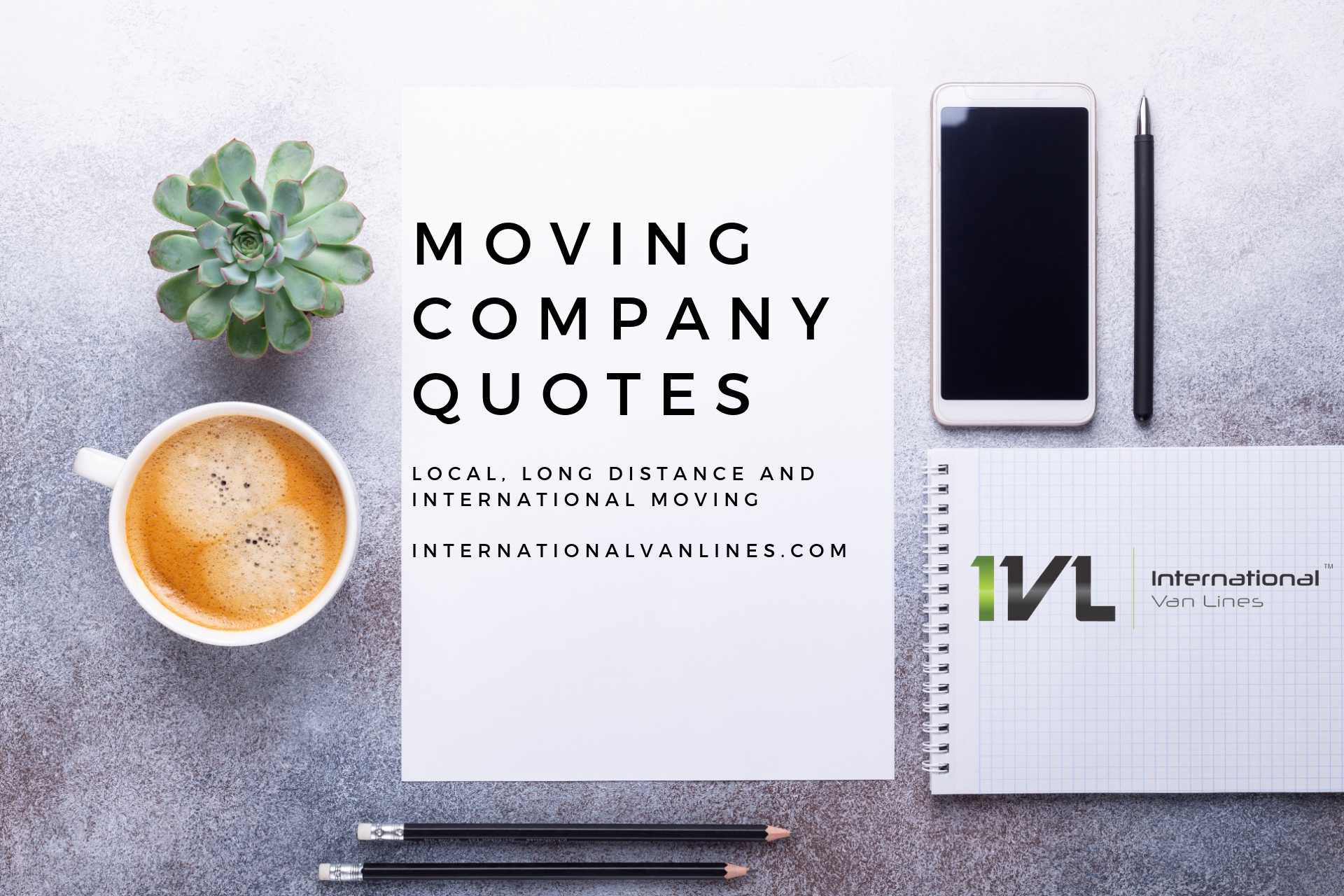 Are you ready to get moving company quotes?
Moving company quotes vary based on the type of move, and service required. In this article, we will break down the costs associated with local, long distance, international, and auto transportation. Below you will find information about moving company quotes, services and what to expect.
---
Types of Movers
You should know the differences. Some companies specialize in local moving, where others only handle international transportation. We recommend that you look for a moving company that specializes in your specific needs. Below you will find the different types of moving companies.
Factors That Affect Moving Company Quotes
Moving quotes will vary based on distance, size, and service type. The more work you're willing to put in the less expensive the moving company quote will be. An excellent way to reduce cost is by self-packing. You can purchase packing material at any local Walmart, Home Depot, or direct from our site. We've included a guide below which will help you determine the costs associated with moving and how you can save money.
Packing and supplies – No matter where you're moving, you will have to figure out your packing situation. Packing and supplies can increase already expensive moving quotes. Self-packing is a great way to reduce costs.
Distance – The distance of your move isn't something you can help, but it's essential to understand that the farther you move, the more expensive your moving cost will be. Local moving is the cheapest of all moving services.
Time of year – There are peak season and off-peak season months. The peak season for the moving industry ranges from mid-May to late August. Moving company quotes will typically increase by about 25-35 percent during peak season. If you can move during the winter time it will help reduce moving costs.
Size – The size of your move is the most crucial factor when it comes to price. The more you have, the more expensive your move will cost. Reducing your load is a great way to save money on your move.
How to Find a Moving Company
Searching for a quality moving company can seem like a daunting task. The internet is the primary destination for people seeking movers; however, you can't always believe what you read. The first thing you should do is research movers that specialize in what you need. Then contact three of the best moving companies and compare moving company quotes. International and long distance movers must have proper licensing. Do not go with a company that doesn't have the credentials.
The moving industry has a lot of scam artist that prey on the uneducated. So educate yourself before you move. You can look at company complaints, years in business, and if they're an over or broker. There are many mistakes that people make when choosing a mover. Also, keep in mind that a significant mover that handles thousands of moves each year will have more complaints than a smaller company that just opened its doors. Lastly, go with your gut. If you feel like you're being pressured into giving a deposit on your move then find another mover. Moving is already stressful and the last thing you should be dealing with is a high pressured salesman.
Proper Licensing
Different types of moving companies require specific licensing. The guide below will help you determine where to look and what to look for. As an example, if you're moving overseas movers are required to have an NVOCC or Freight Forwarder license. If you chose to go with a company that's not lisenced correctly you can get yourself into a jam. They will have no liability, which can cause a lot of devastation for you if something goes wrong. Spend a few minutes and research movers before getting moving quotes. It's essential to go with trusted movers.
Local Moving requires intrastate authority with the state.  You can check the DOT, SAFER website for more information.
Long Distance Moving requires interstate authority with the DOT.
International Moving requires an FMC license.
Auto Transport requires broker authority with the DOT.
The regulatory agencies oversee the industry and will intervene if there is an issue. You can file a complaint with the DOT or contact the FMC for mediation if there's an issue with your move. Please keep in mind that slight delays and damage aren't considered a significant problem and frequently happen in the moving industry.
Average Cost of a Local Move
Local moving is the least expensive type of move. However, moving is never cheap, so we wanted to provide you with some averages, which will help you plan and budget accordingly. As mentioned above, there are ways you can reduce the cost of your move. Self-packing, time of year and reducing your move size are all factors that will help reduce the cost. Unlike long distance moving, local is based on the hours involved. The more time your move takes, the more expensive, it will cost. Getting rid of unwanted items is an excellent way for you to reduce the cost of moving company quotes.
One bedroom: 3 men / $125 per hour / Average 5 hours
Two bedrooms: 3 men/ $125 per hour / Average 8-10 hours
Three bedrooms: 4 men / $125 per hour / Average 10-15 hours
These are some examples. Keep in mind that they're just averages and costs will vary based on where you live and where you're moving to. We don't recommend you search websites like Craigs List for moving companies. There are many scams in the moving industry, and that's the number one place where they prey on victims. Do your research and make an educated decision.
Cost of Moving Long Distance
Long distance moving quotes are based on the size, distance, and service required. Generally speaking, most quality moving companies should be priced similarly. A long distance mover has a specific skill set and searching for the least high price will get you in trouble. If you're getting several quotes to compare and one is a lot cheaper then the others, run. Keep in mind that expenses don't very much so it would make no sense that a mover is $2000 less expensive. One of the main reasons we encourage doing research is because of all the moving scams in the industry. Do your homework before getting moving quotes.
A cross country move is exactly as it sounds. As an example, if you're moving from Florida to Washington, you would pay more then if you are moving from Florida to New York. You can find some averages below which will help you plan and budget for your move.
One bedroom: $1800-$2200
Two bedrooms: $2300-$3000
Three bedrooms: $3500-$5000
Four bedrooms: $5000-$8000
International Moving Quotes
International moving is typically done via ocean freight. Air freight is also an option but can get very costly. When it comes to international transport, you can choose a few different shipping methods which we will include below. Moving overseas is the most expensive move for obvious reasons. The cost of an international move would be based on where you're moving from, to, how much stuff you have and the service you need. It's best to speak with a relocation coordinator to help you determine what's best for your needs.
Service Options: door to door, door to port, port to door and port to port
FCL – Full Container Load (mainly used for more substantial moves)
LCL – Less than Container Load (mainly used for smaller moves)
Auto Transport
Most moving companies offer auto transportation as a convenience factor. As an example, if you're moving your household goods and a vehicle a mover can arrange for shipping for the automobile. When it comes to shipping a car, you will have the option of an open top trailer or an enclosed trailer. The cost of an enclosed trailer is more expensive but suggested for higher-end vehicles. The good thing about auto transport is you get a flat price. You don't have to worry about paying more, which gives a piece of mind.
If you're shipping a vehicle overseas, you will have a few options to chose from. You can either ship the car in your closed container, a shared container or a roll on roll off service. Roll on roll off, also known as RORO service is the least expensive option for shipping a vehicle overseas. It would require you to bring your car to the nearest port and pick it up at the port of destination. The only documentation required would be the original title and shipping information. Getting a moving quote for an auto is very easy. Give us a call, and we can offer you a price over the phone.
How to ensure accuracy
Before you read on you should check out this article on the top five moving scams. Although the moving industry has been cleaned up quite a bit, there are still hundreds of scam artists looking to prey on uneducated consumers. The most common complaint is called a "hostage load". A hostage load is when a mover will give you a low price to reel you in and then charge you more once your household goods are on their truck. I understand that moving is expensive, but searching for the least costly mover can end up costing you more. Doing research can get you out of a jam.
Before you proceed you should be clear on what it is you're moving and the service needed. You should also have moving dates narrowed down. The first step is to create an inventory list of what you're moving so you can the mover are on the same page. Then go online check reviews and the DOT SAFER website for complaint history. Companies may appear to have a beautiful website and say all the right things, but don't take their word for it. Moving can get ugly if you come across a rogue mover.
Mover vs. Broker
A mover is a company that owns and operates it's own truck and crews. A moving broker will outsource your move to a broker. Being a moving broker is not illegal, but it is frowned upon since you can easily find an actual moving company. Some would say there is no purpose for a broker, which could be true. The number one reason why going with a broker is a bad idea is because there is no liability if something goes wrong. Let's say your move arrives with damage; you would have to file a claim directly with the mover. When calling for moving quotes you can ask if the company is a carrier or broker and then make your decision.
The Time of year can affect your moving quote
Most industries have a peak season and slow season. It's no different in the moving industry. The peak season for moving begins in May and ends in September. The main reason for the influx in moves is because schools are out and home sales increase. Moving company quotes increase by approximately 30 percent during peak season. If you can manage to move during the winter months you will save on your move. You will also have a better chance of choosing specific moving dates since movers are less busy.
Moving Company Quotes – The Bottom Line
The bottom line is you should do some homework before getting a moving quote. Understand your rights and responsibilities as a consumer. Not all moving companies are created equal and you don't want to entrust your personal possessions with a complete stranger. Knowing company history can be the difference between you becoming a victim or having a positive moving experience. Go with your gut! If you feel that you're being pressured into making a decision then go elsewhere. As we know relocating to a new state or even down the street can be stressful, in fact, it's listed as one of the top five most stressful things someone will experience in a lifetime. We wish you the best of luck with your upcoming move and please feel free to contact us if you have any questions.
References