Effortless, Safe, and
Reliable RV Shipping
Services in South Florida
Discover the easiest and safest way to ship your RV. At International Van Lines, we offer a seamless, hassle-free RV shipping experience that takes the stress out of moving your home-on-wheels. With our flat rate pricing, experienced team, and fast process, shipping your RV anywhere in the continental US or to one of our 150 worldwide locations will be as simple as one-two-three.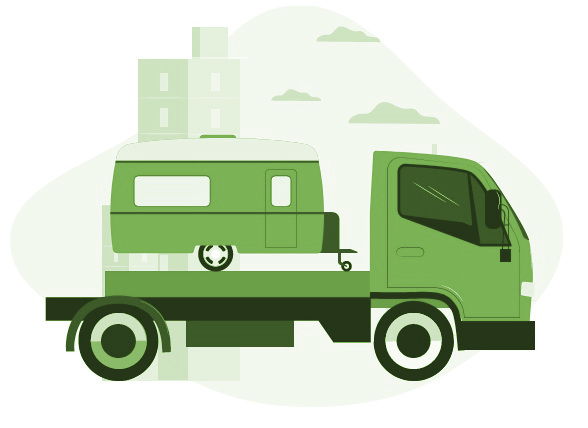 Why Choose International Van Lines
for RV Transport

When it's time to ship your precious RV, you need people you can trust. Benefit from our team's years of experience and enjoy peace of mind knowing your RV is in safe hands. We've successfully shipped thousands of RVs across the country and internationally. We know exactly what it takes to get your RV from point A to point B safely, efficiently and fast. Because we treat each RV as if it were our own.
Fast & Easy Services
We make shipping your RV simple. Every step of our process is designed for your convenience, from quoting to final delivery.
Flat Rate Pricing
Our flat rate pricing for RV shipping services and more means you know exactly what you're paying for upfront, with no surprise charges or hidden fees.
Concierge Services
Let our team handle your RV shipping needs, so you can sit back and enjoy your journey. From logistics to paperwork and timelines, our team is here to accommodate your needs.
We offer a range of shipping methods to suit every type of RV, from tow-away service for smaller models to flatbed truck service for larger ones. We even provide drive-away service for long-distance moves and enclosed trailer service for high-end RVs. No matter what your RV shipping needs are, our team will provide you with a personalized service that fits your needs.
Flatbed Shipping
Flatbed truck shipping services are best for larger RVs that can't be towed. With this method, your RV will be loaded onto a large flatbed trailer and transported to your destination. While this method is more expensive, it's the most secure way to transport larger, heavier RVs.
Tow-Away Shipping
By far the most popular method for shipping smaller RVs, trailers, and campers. With this method, your RV is hitched to a larger vehicle and towed to its final destination. Keep in mind this method is only suitable for RVs that are roadworthy and have updated registrations.
Drive-Away Shipping
One of the most cost-effective methods for long-distance shipping. With this method, one of our professional drivers will take your RV from its current location to its final destination. The only downside of this method is that it will add mileage and wear and tear to your RV.
Enclosed Shipping
By far the most recommended method to ship high-end RVs or long-distance moves that require additional protection from the elements and road debris. This method transports your RV inside one of our specialty enclosed trailers. While this is the most expensive transport method, it also offers the highest level of protection for your RV during transit.
Lowboy Shipping
Lowboy shipping services are best for oversized RVs that don't fit a standard flatbed service. This method ensures enough clearance for tall RVs since the trailers sit lower to the ground.
At International Van Lines, we understand that RV transport can be overwhelming. This is why we've simplified our processes to provide you with a hassle-free experience you can trust.

Request a Free Quote
Use our online estimates system to receive a free, no-obligation quote in minutes.

Schedule Your Pickup
Set your date and time; our logistics team will coordinate with you to arrange the pickup at the most convenient time.

Delivery
Sit back and relax. Our expert team will handle the shipping and delivery of your RV in the fastest, safest and most reliable way possible.
On average, you can expect to pay anywhere between $4 to $7 per mile to ship your RV. International Van Lines proudly offers transparent pricing and flat fees on our RV shipping services. This means you'll know exactly what you're paying for upfront. Our no-obligation quotes have no hidden fees, no surprise charges, no tricks – just 100% transparent pricing.

Your RV is more than just a vehicle – it's your home, adventure, and dream. See why hundreds of customers trust International Van Lines for their RV shipping needs.
VIEW TESTIMONIALS
Shipping your RV is a convenient, safe, and cost-effective way to transport your RV for long-distance moves. If you're not planning on taking breaks or stopping along your journey, shipping your RV is less stressful and can preserve the condition and value of your RV.
The cheapest way to ship your RV is with drive-away transport. However, this method adds mileage and wear and tear to your vehicle.
On average, shipping your RV cross-country can cost between $4,500 to $9,000 or more. Distance, size and weight of your RV, shipping method, and seasonality all affect the final cost. Because of this, it's always best to get a personalized quote.
Get started with our RV Shipping

Service



Start your stress-free journey today with our free, no-obligation quote.
GET QUOTE