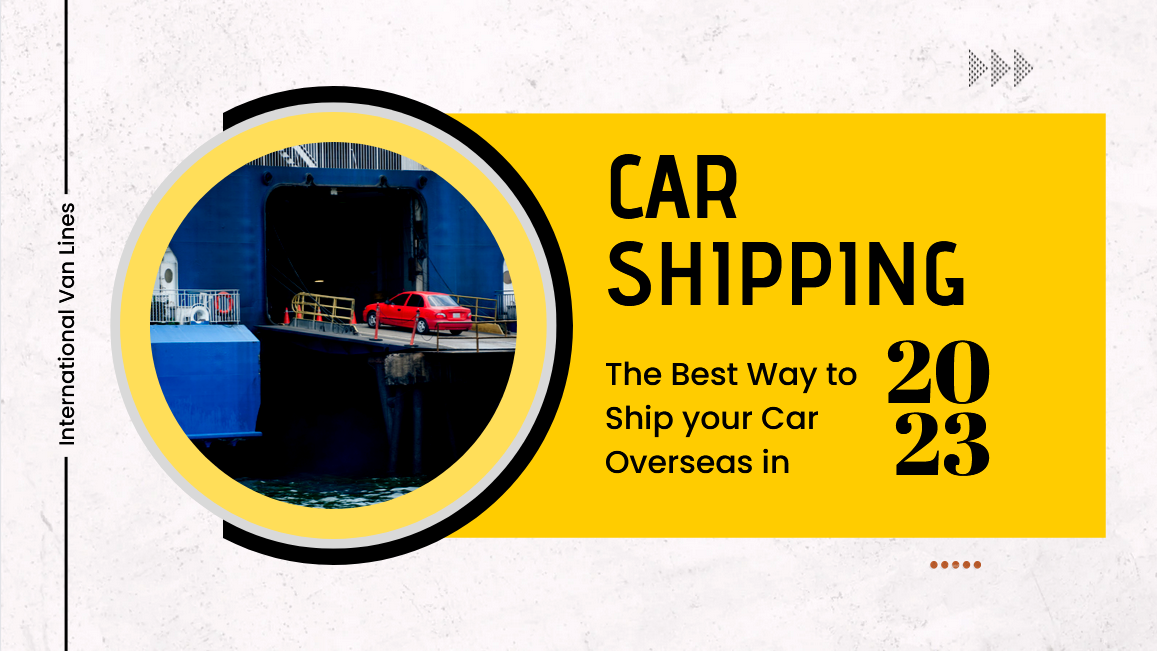 Moving to a new country is thrilling, but it can come with challenges, and shipping your car overseas is one of them. There are several ways of getting it done, but some services cost more than others.
The right tools and information can differentiate between a smooth and messy transition. Here you will find the best way to ship a car overseas, the cost, and the documentation required for exporting a motor vehicle.
It's always best to speak with an international moving company about shipping a vehicle, but let's get started.

What are the requirements to ship a car overseas?
If you're planning on moving overseas and want to ship your car, you must own it or provide a lien letter from your bank. In addition, US Customs requires copies of the original title for your vehicle along with additional documentation, which you can find below:
Clear front and back copies of the title.

A lien letter from your bank (if applicable)

Shipping information (where are you shipping from and to)

Copy of passport (if you're moving overseas)

Copy of driver's license.
An international shipping company with experience can provide you with the required documentation. The process is easy for those who own their vehicle and have the required documents handy.
Additionally, you should inspect your vehicle for any pre-existing damage and photograph the entire car. The more prepared you are, the easy the shipping process will be.
How to ship your car overseas?
First, you should research reliable international moving companies with experience exporting vehicles from the US. Then ask about different service options that fit what you're looking for.
Start planning early: If you can, start planning early. The sooner you start the better chance of finding a quality shipping company at an affordable cost. Generally speaking, you should begin the process around eight weeks before your desired shipping date.
Look into foreign customs regulations: Different countries have different customs regulations. It would help to familiarize yourself with the destination country's customs regulations before shipping a vehicle internationally.
Research car shipping companies: Most international moving companies also offer auto transport. Ensure you look into the company's reputation and experience in exporting cars from the US. An inexperienced company can create unnecessary issues like delays and additional charges.
Figure out the best shipping method: You'll have a few options, which we will get into later. It's up to you, your budget, and your circumstances to choose the best shipping method.
Gather all of your documents: Having your documents prepared can help streamline the process. The sooner you start putting everything together, the quicker things get done.
Inspect your vehicle: Before shipping a car overseas, you must inspect your vehicle for any pre-existing damages and notate it. You should also take 360-degree photos of the car before the international shipping company collects it.
Ask about insurance: Most international shipping companies offer insurance. You should consider getting insurance if you ship a car to another country.
Follow these steps, and you'll be on the way to finding the right company and service and having a smooth experience!
Also, check out: The least expensive way to ship your car overseas

Know the laws and regulations
You should visit the customs website for your desired country and familiarize yourself with the customs laws and regulations. Regulation can vary from country to country.
They will look at your car's vehicle type, age, and required documentation. Laws can change without notice, so you must speak with an international auto transport company that can walk you through the steps.
What to consider when choosing an international car shipping company?
There are several things to consider when selecting an international car shipping company:
Ensure they have an export license: Any company that offers import or export services must be licensed by the Federal Maritime Commission. You check here.
Check customer reviews: Avoid surprises by choosing a company with a good reputation and experience with international auto shipping.
Confirm the Cost: Get up to three shipping quotes for comparison and ensure that all services are comparable.
Additional insurance: Accidents are rare, but it's better to be safe than sorry. Make sure the moving company of your choice offers extra insurance.
Get a guaranteed quote: As your international moving company to provide you with a binding estimate that covers all charges associated with getting your car to its destination.
Follow these steps and find the best auto transport company that meets your needs.
Best International Movers for Shipping Cars in 2023
How to prepare your car for overseas shipping?
Before shipping your car overseas, there are a few steps that you should take to ensure a smooth transition and shipping process. Below is a list of things you should do to prepare for shipping your automobile overseas:
Make sure all of your documents are in order

Clean you are – inside an out

Inspect your vehicle for pre-existing damage

Leave yourself a quarter tank of gas

Perform required maintenance

Remove any outside accessories

Have a spare key on hand
When in doubt, you can contact an overseas moving company with experience with shipping vehicles overseas. They can walk you through preparing your car for an international move.
How much does international car shipping cost?
Shipping a car overseas will cost anywhere from $1800 to $4500. The make & model, service, destination country, and mode of transportation will be the most significant factors when it comes to cost.
The good news is there are many ways to reduce the cost of shipping a vehicle overseas, which will get into later. If you're on a tight budget, speak with the international car shipping company of your choice about ways to reduce transportation costs.
Also, check out: How much will it cost to move overseas?
What's the cheapest way to ship a car overseas?
The cheapest mode of transportation is ocean freight, and the most affordable service is roll-on roll-off (RORO). A RORO service is a port-to-port shipping option that requires a drop-off and pickup of your vehicle at both port locations.
Although a RORO service is the least expensive shipping option, some people prefer to avoid it because your car will be exposed. Your vehicle loads on the deck of a RORO vessel exposed to the elements.
However, due to the cost, RORO is still a popular shipping option for car manufacturers, dealerships, and private shippers worldwide.
What is a consolidation service?
A consolidation service is a shared container allowing all shippers to split the cost of the container. An international moving company will arrange to have your vehicle loaded in a container with others shipping to the same destination port.
Consolidation services are an excellent way to reduce the cost of your shipment while having your car containerized. It's common practice for people or businesses to ship more than one car to the same destination.
Can I ship a car in the same container as my household items?
You can ship a car and household goods in the same container. The size of your move will determine the container size you will require. If you send a 2-bedroom home and car, you will most likely need a 40′ container.
Most international moving companies offer shipping services for both household goods and autos. Your vehicle will need to be loaded, blocked, and braced into a container for safety.
It would be best if you located international shipping companies with experience shipping household items and cars overseas. It would help if you also familiarize yourself with international moving services.
What's the fastest way to ship a car overseas?
Air freight is the quickest mode of transportation when shipping a vehicle overseas, but it's costly, and there are some disadvantages, like limited carrying capacity, dependability on weather, and delays.
Ocean shipping is the most common way to ship cars overseas, mainly due to the cost. If cost is of no concern and you need your vehicle immediately, consider air freight.
Air shipping is a niche service, so it's essential to research international shipping companies with experience and knowledge.
Can I put stuff in my trunk when shipping a vehicle overseas?
A car can't be used as a vessel to transport additional items such as clothes, books, shoes, and files. A spare tire, tools, and whatever the car comes with are okay.
Ocean and air shipping are treated the same way as a routine flight. Your luggage is weighed, and you can bring a small carry-on bag. To ensure smooth operations, captains must confirm weight capacity.
Should I get international car shipping insurance?
Your vehicle may be on the ocean for a while and handled multiple times. There is room for error, and insurance claims happen on occasion. Preparing for the worst-case scenario can help save time and money. Below are the most common insurance options:
All Risk Insurance: All risk insurance covers damage and loss. All risk insurance costs are 2.5% to 4% of the vehicle's declared value. An overseas mover can provide you with the details regarding insurance and required documentation.
Total loss insurance: Total loss insurance covers the complete loss of your vehicle. Your vehicle must be considered a complete loss to file a claim and get a reimbursement. It will not cover damage to the car.
You can also seek out your own insurance company. Having insurance is essential and should be considered when shipping your car overseas.
Will I pay taxes when shipping a car overseas?
If you don't have an exemption, you may have to pay tax when shipping a car overseas. The amount will depend on the country, make, model and value. You must check with customs in your country of choice to confirm the tax amount.
Most international relocation companies that ship cars overseas can assist you with the customs process and taxable amount. Some countries are more expensive than others, so it's essential o do your research.
Can I ship a financed vehicle overseas?
Shipping a financed car overseas can make things a little more complicated, but it's doable. If your vehicle has an outstanding lien, the best thing to do is get it paid. If that's not possible, you can ask your finance company about getting a lien letter allowing you to ship your car overseas.
It's common for people to export financed cars overseas, but you must follow the steps. If you feel your lending bank won't comply, you must pay off the loan or choose not to ship your car.
Can I buy a new car and send it overseas?
You can purchase a new car and ship it to another country if you own it and hold the original title. However, it's always best to check with customs in your desired country for any regulations and taxes on importing a new vehicle.
Additionally, if you're shipping a new car, consider sending it in a container. Container shipping may be more expensive than a RORO service, but you'll have peace of mind knowing that it's containerized and blocked from the elements.
Is it worth shipping a car overseas?
Ultimately it's up to you to decide if shipping a car overseas is worth it. You'll have to look at your car's value, shipping cost, and potential taxes. If you can afford it and it makes financial sense, shipping a vehicle overseas is worth it.
Who are the best international auto transport companies?
According to several third-party consumer groups, Forbes and US News, International Van Lines, Allied Van Lines, and National Van Lines are the best international car shipping companies that handle auto shipping. You can find the top five list below:
International Van Lines

Allied Van Lines

National Van Lines

North American Van Lines

Mayflower Transit
Each company has years of experience, excellent ratings with the Better Business Bureau, competitive pricing, and offers insurance on all international auto transports.
It's best to get up to three international moving quotes for comparison. After reviewing your quotes, ensure that all your questions are answered and that you feel confident in your choice.
FAQ – Internatinal auto transport
Will I pay customs clearance fees in my desired country?
Depending on the service you choose, you may pay customs clearance charges. Most companies include port and customs fees if it's a door-to-door shipment. It's always best to speak with the international mover of your choice.
How many cars can I ship in a container?
A 20′ container can get up to two vehicles, and a 40′ up to four vehicles. The make and model of the cars can also be a factor in the container size.
Read Here: Container Costs for International Moving
Can I load my vehicle in a container?
You can load your car in a container with the right tools and knowledge. Getting advice from a professional international auto transport company would be best.
Is ocean shipping the cheapest option?
Ocean shipping is the least expensive transportation method to ship your vehicle overseas.
Can I ship a non-running vehicle overseas?
You can ship a non-running vehicle overseas. However, consider asking an international shipping company to assist with loading, blocking, and bracing the car in the container.
People also ask:
Should I remove my items from my car before shipping?
You should remove all personal items from your vehicle before shipping. You can leave any items that the car comes with.
What's the best way to ship a classic car overseas?
We use shipping containers or air shipping to ship classic cars overseas. You will want to avoid exposing your classic car to elements.
Who is the best international auto shipping company to Europe?
International Van Lines offers ocean, air freight, consolidation, and RORO service to and from Europe and is rated the best international moving company.
Can I ship a car to the Middle East?
You can export a vehicle from the US to the Middle East if you have the required documentation.
Do international car shipping companies also offer domestic shipping?
Some international moving companies, like International Van Lines, offer international and domestic auto shipping.
Is shipping a car overseas hard?
Thousands of people ship cars overseas each year. Ensure you have the proper documentation and find the right international car shipping company, and you will have a seamless experience.
Shipping your car overseas – Conclusion
You can seamlessly ship your car overseas with some basic knowledge and preparation. Ensure you have the title or lien letter, wash your car and photograph it, then find the best international auto transport company for your specific destination.
International Van Lines is among the highest regarding overs movers in the US. We offer international car shipping services, including RORO, consolidation service, and exclusive container service.
You can quickly get an international moving quote by filling out an online form or calling one of our professional moving consultants. We hope you enjoyed this article and wish you the best of luck with your new venture.