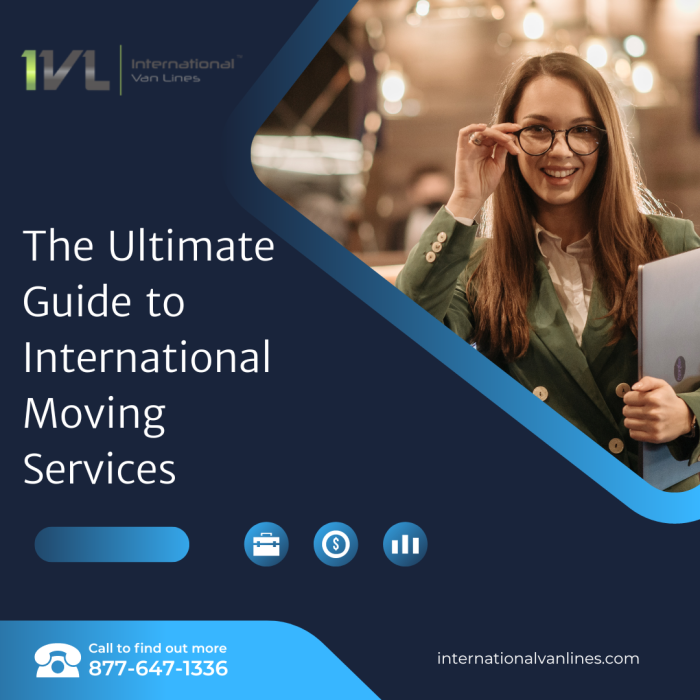 Moving to a new country can be grueling. However, with some pre-move planning and knowledge, you can save money and a major headache. This article will discuss international moving services and the best route for your overseas relocation.
Learn Everything you need to know about international moving services
"The Federal Maritime Commission (FMC) receives over 2000 complaints yearly. Do the proper research to ensure you're choosing the right company for your move, and you will have a positive outcome" – FMC
Tips on finding the best international moving companies
Looking for the right international moving company can be a challenge. According to the Federal Motor Carrier Safety Administration (FMCSA), there are over 5662 registered movers in the US, and only about 2% are lisenced to handle international moving services.
Below you will find a step-by-step process for finding the best international moving companies:
Step 1: Perform online research of international movers, their service, and reviews.
Step 2: Once you have narrowed your list, you can visit or call the Federal Maritime Commission (FMC) to confirm license information. An international moving company must maintain an active license and bond.
Step 3: After confirming license information, call for international moving estimates. However, before making the call, ensure you understand the right questions to ask (see below).
Step 4: After gathering three moving estimates, ensure they all include the correct inventory list and service of your choice. You'll also want to take a look at the exclusions.
Step 5: Go with your instant. Do not book your moving date until you feel comfortable with the company's responsiveness. If you follow these steps, you will find the best international moving companies.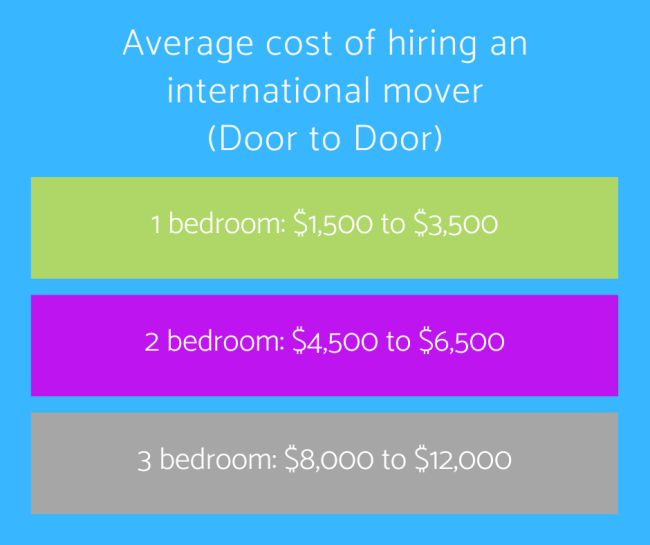 What's the average cost for an international mover?
International moving companies charge anywhere from $1500 to $12,000 for an overseas move. The destination country, moving services, and the size of your move will be the most significant cost factors.
Hiring an international relocation company can be costly, but the good news is there are ways to reduce your move's cost. Below you will see a list of items that can help reduce your cost.
Purging: Getting rid of unwanted items is the number one way of lessening your international shipping cost. You can donate items or sell them online for some extra cash.
Self-pack: Packing your boxes will help reduce the cost of your move by about 10%, so it is worth considering.
Service: If you have the capabilities to pick up or drop off at a major port, you will save money.
The right mover: Don't spend time looking for cheap international moving companies. It may end up costing you more in the end. Look for the best international moving companies.
You can also speak with the international mover of your choice regarding any discounts they may offer.
It would help if you also read: How much will it cost to move overseas
How can I reduce international moving costs?
The best way to reduce the cost of an international move is to purge. Moving is a great time to get rid of unwanted stuff. You can donate them to a non-profit or sell them online for some extra cash.
Another great way to cut international moving costs is to self-pack. It will help reduce international shipping costs by about ten percent. Additionally, you can speak with your international moving company about services that will help with the price.
Don't forget you can always ask for a discount. The best international moving companies won't mind working with you on cost.
Pro tip: Use an international moving cost calculator to help you budget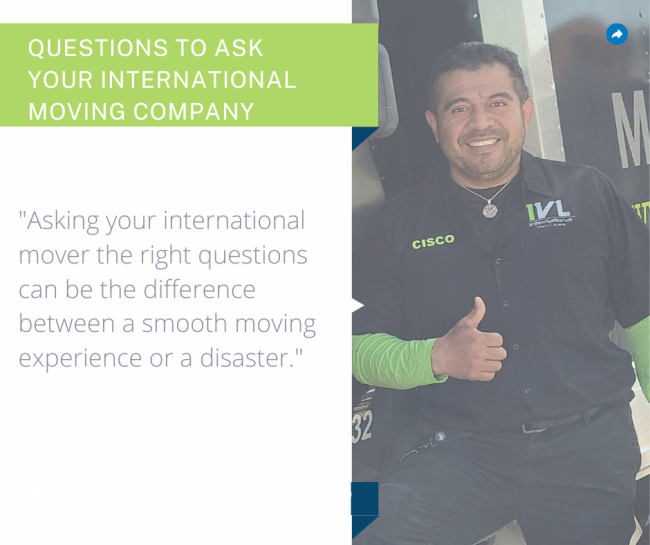 15 questions to ask your international moving company
It can feel daunting if you've never relocated to a new country. However, understanding the process and knowing the right questions to ask can save you from a disaster. Below are questions you should ask international moving companies in the quoting process:
What is your Federal Maritime Commission license number?

How long have you needed in business?

Are you familiar with my final destination?

Do you offer a virtual survey?

Is customs clearance included?

Do you offer insurance?

Are there any hidden charges?

Do you provide professional packing?

What type of packing supplies do you use?

Do you offer door-to-door shipping services?

Are you international moving specialists?

What is the moving process?

What does your destination service include?

Do you remove debris on delivery?

What are all the international moving services you offer?
These questions will help you understand their knowledge of the industry. It will also help you weed out movers with less experience, which you should stay away from.
The different international moving services
Narrowing down the international moving services that best fit your needs can be challenging. Your budget will determine the service you can afford, but sometimes going out of your budget can be more convenient for your situation.
For example, air freight will be a more speedy process, but you will be spending almost double the ocean freight cost.
Below is a list of all the services you can choose from:
Door-to-door: If you're looking for convenience, then a door-to-door service is your best option. It will include pickup and delivery, home to home.
Port-to-door: If you live by a major port, you can drop off your household goods and a local container freight station. Click here for a list of all the CFS locations.
Door-to-port: If you reside by the destination port, you can make arrangements for pickup. However, you may be responsible for port-related charges like customs clearance.
Port-to-port: It's the least expensive shipping option and requires you to drop off and pick up your household goods at both port locations.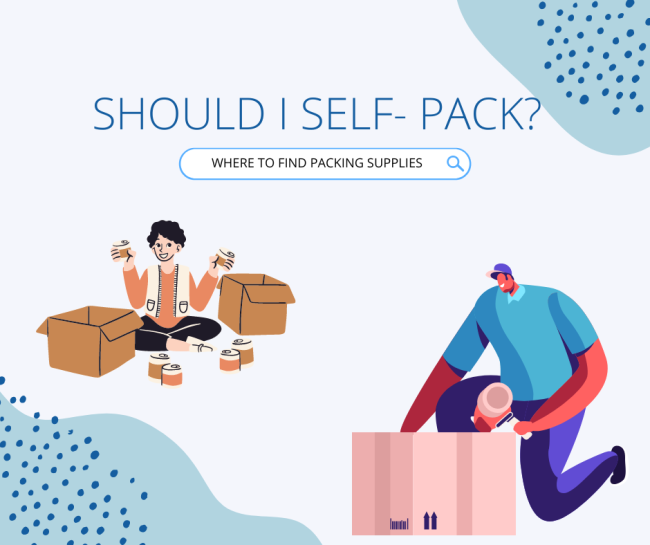 Should I pay for professional packing services?
Your budget will determine whether or not you can afford professional packing services. However, if you can squeeze it in, then go for it. Moving overseas requires attention to detail, and the chances of damage are high if items are incorrectly packed for an international move.
Self-packing can affect your insurance options. Speaking with international moving companies directly regarding their insurance options for self-packed customers is best.
However, if you choose to self-pack, you should know how to pack boxes for an overseas move. You can purchase packages from local Home Depot, Uhaul, or Walmart or buy packing supplies online.
How much is international moving insurance?
International moving insurance will run between 2% and 4% of your good's declared value. Some insurance policies have a deductible between $250 and $500. Below are the different insurance options you will have when moving overseas:
Professionally packed moves: If you're paying to have your international moving company pack your goods, you can get all-risk insurance coverage. It's premium insurance based on the value of the goods and will run about 4% of the value you declare.
Self-packed moves: If you're self-packing boxes, you can only purchase total loss coverage. It will cost you about 2% of the declared value but will only cover the complete loss of your items.
If you decline insurance: If you choose to opt out of insurance, you will default to basic valuation coverage, which covers 60 cents per lbs per article.
Speaking with various international relocation companies about their insurance options is always best.
Do international moving companies offer storage services?
Most reputable international moving companies offer storage services at the origin or destination. You will have the option of short or long-term storage. The cost for storage is billed on the volume of space you take up in a warehouse but averages 50 cents per cubic foot.
If you require long-term storage ( 3 months +), you should consider asking about a temperature-controlled storage unit. It will be a little more costly; however, it will help avoid damage.
International relocation services vary between companies, so you must discuss your storage needs, where the items will be stored, and their different destination services.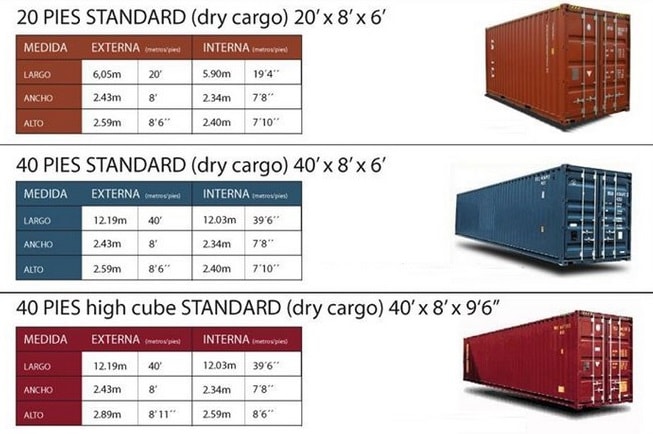 What is a full container load service (FCL)?
A full container load (FCL) is when your goods occupy the entire container. You can choose a 20′, 40′, and 40′ high-cube container. The size of your shipment will determine the container size you will require. You can use the below chart to help you assess your container size:
2-3 Bedroom (700-1000cuft): 20′ container
3-5 Bedroom (1500-2000cuft) 40′ container
Household goods + vehicle: 40′ high-cube container
Your total cubic feet will determine the size container you will require. Once you have narrowed down your inventory list, you should speak with the international moving company of your choice about the details of your container.
Also, check out: International Container Shipping Costs.
What is a less than container load (LCL) service?
A less than container load (LCL) service is ocean transportation of smaller shipments that do not require the max capacity of a full container. The shipment will be palletized and consolidated with other loads going to the same destination. LCL shipments are typically 700cuft or less.
If you're moving to a one-bedroom apartment or less, you should speak with your international mover about their LCL options. You must ensure your mover has the capabilities to offer consolidation services.
What are air freight services?
If you're in a hurry to get your stuff, you may want to consider air freight services. Air freight is the quickest mode of transportation but the most expensive. However, the service options are comparable to ocean freight.
You will have the option of a door-to-door service or port service. Unlike ocean freight services, air freight costs are based on the size or weight of the shipment, whichever is greater.
Not all international moving companies offer air freight services. You must speak with global moving companies about their options if you're looking for the quickest shipping option.
Small international moves
If you're relocating overseas with minimal stuff, say boxes only, you can ship via parcel services. Larger international relocation companies don't desire smaller international moves, but a few will provide parcel services, like flatrateshipping.com, the sister company to International Van Lines.
Shipping boxes from the US abroad will average $600 to $1500. However, the number of packages, sizes, and weight will be the main factor. Shipping is typically done through partnerships with FedEx or DHL. Using a freight forwarder like International Van Lines will save you money because of the shipment volume we handle.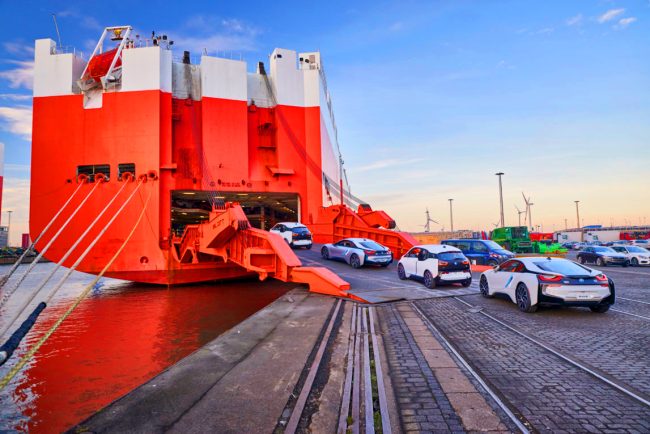 Pro tip: You can use the truck of your vehicle to add a few small lightweight boxes if needed
Do international movers offer overseas vehicle transportation?
Global moving services vary from company to company. However, international vehicle shipping is something that most reputable international movers offer. Below are the different shipping options you will have, from least expensive to most expensive:
Least expensive: If you're looking for the cheapest shipping option for your car, consider roll-on roll-off (ro/or) services. It's a port-to-port service. Vehicles are exposed on the ship.
Mid cost: If you're looking to reduce shipping costs, but want your car in an enclosed container, consider a consolidation service.
Expensive: If you're shipping a high=end vehicle and want an exclusive container, you should ask about FCL services for cars.
Most expensive: If cost is not an issue and you want your vehicle immediately, you can consider air freight services.
If you're moving overseas with household goods and a car, you can consolidate them into a single container. Your vehicle will be loaded at your residence and delivered to your final destination.
How long do international moves take?
Transit times vary based on the mode of transportation, shipment size, and international mover. Air freight shipping is the fastest way to get your items, whereas ocean freight can take some time.
The average time for ocean freight is three to five weeks, whereas air freight is one to two weeks. Smaller moves may be lengthier because they will ship as part of a consolidated container. It would help if you always spoke directly with your coordinator about how long it will take for your international move.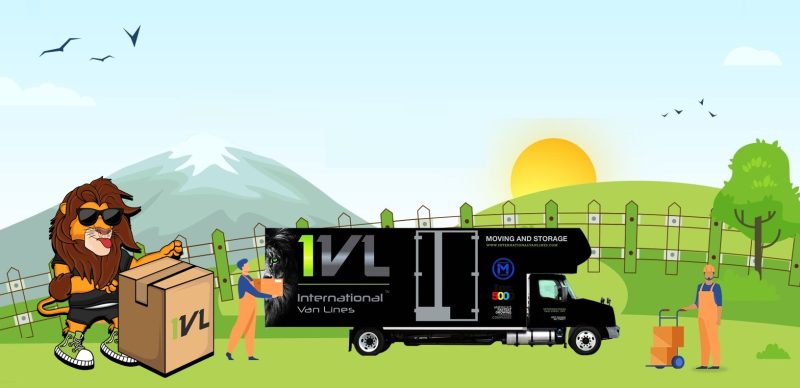 Who are the largest international moving companies in the US?
International Van Lines

Allied Van Lines

Atlas Van Lines

Mayflower Transit

United Van Lines

Crown Relocations

North American Van Lines
The companies listed are not only the most prominent international movers in the country but also maintain an excellent reputation with positive online reviews. Their customer complaints are less than 1% of the volume they handle.
They operate storage facilities nationally and can ship your personal belongings to over 150 countries by air or ocean freight. There are some major differences between how they work, but it's all based on how comfortable you feel.
What's the best time of year for an international move?
If you're hiring an international relocation company, the least expensive time of year to move is during the winter. The peak season for international moving starts in May and ends in August. If you can move during the off-season months, you will save about 25% on your move.
The supply and demand shifts during peak season, and rates increase. You will have an easier time finding the moving date you're looking for and saving money simultaneously.
The cost of international moving from the US to Canada
Moving from the US to Canada will run you $4000 to $6000. The size of your move, service, and final destination will be the most significant cost factor. Additionally, the international mover and time of year can affect the cost.
Nevertheless, there are ways of reducing the cost of your move. First, consider getting rid of unwanted items. The less stuff you have, the cheaper the price will be. Then, look into the different international moving services and find a service that bests fits your budget.
With the proper planning and the right international moving company, you'll be on your way to having a positive experience!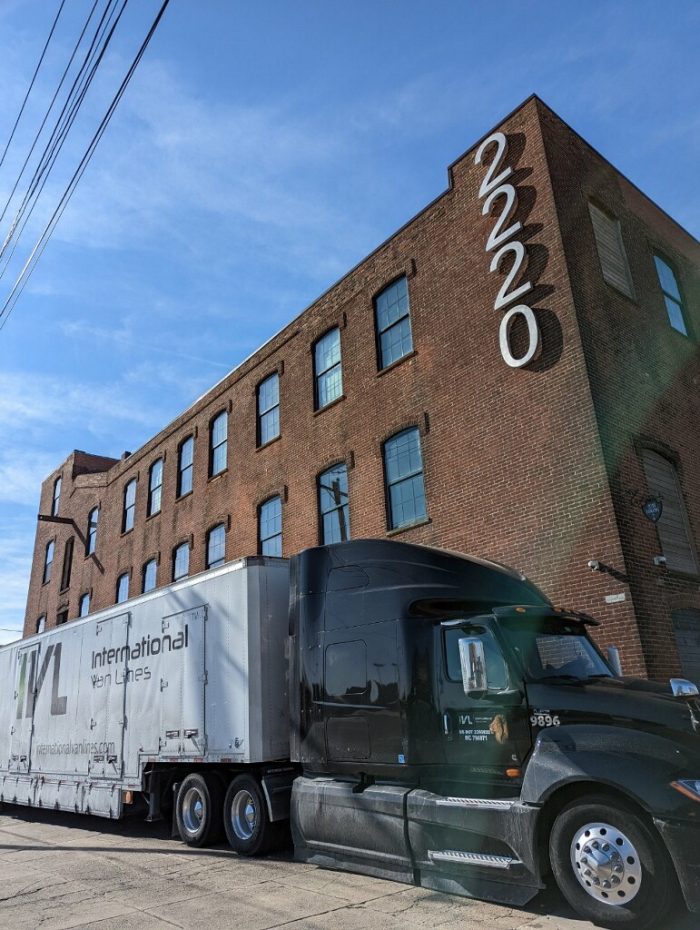 International Moving Services, New York
If you're moving from New York abroad, you're in luck. For a good reason, some of the best international moving companies have locations in New York because it is one of the busiest states in the country for international relocation. Some of the most popular destinations are as follows:
Australia

London

Middle East

South Africa

New Zealand
The average cost of moving household goods from New York abroad is $1500 to $9000. The size of your shipment, service, and final destination will be the most significant cost factor. Below are some links for some moving resources if you're moving from new york abroad.
The best international moving companies in New York will provide you with a visual or virtual tour. Additionally, they will provide all the moving supplies you need, and you will also be assigned a single point of contact throughout your entire move.
Corporate relocation
Most major moving companies offer a corporate relocation package, including discounted rates for overseas moving and additional services like language and cultural training. Corporate clients will be assigned an international moving consultant to assist them with their needs.
International Moving Services FAQs
International Moving Service with International Van Lines
In business since 2000, International Van Lines is one of the country's fastest and largest international movers. We're an industry leader in international relocations.
We're lisenced by the Federal Maritime Commission as freight forward and non-vessel operating carrier. Below is a list of services we offer:
International moving consultation

Professional packing services

Secure storage

FCL and LCL Shipping

Corporate moving services

Destination services

Insurance

On-time delivery

Three regional headquarters
If you're making an international move, give us a shot. We have some of the most competitive international shipping rates in the industry. Congratulations on your new venture, and we look forward to speaking with you soon.