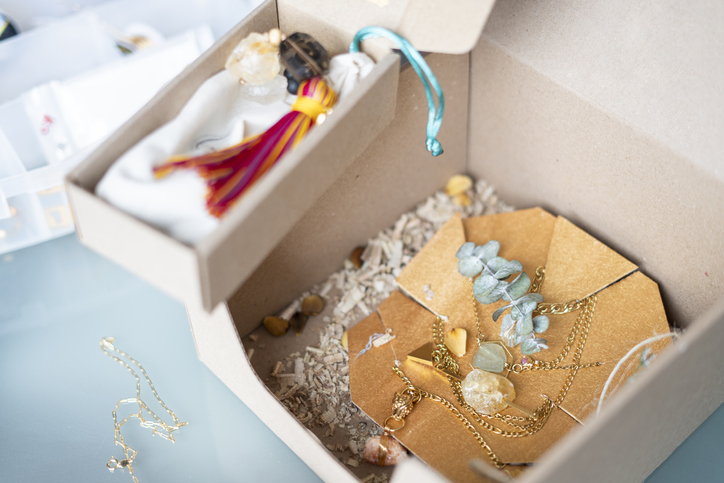 Jewelry, whether precious or sentimental, is something we do not want to lose or break. Moving is an excellent chance to catalog your valuables. Whether you have a massive assortment of jewels or just a few emotional things, you should compile an accurate inventory of your possessions. When you have a checklist, you won't be worried about leaving stuff behind.
Because these gems are often misplaced and prone to tangling and breaking, try to handle packing cautiously. Before beginning, you should decide which ones you need to keep and which you don't. Here are some ideas to help you transport your belongings securely to your new place.
Also, check out: The Ultimate Guide to International moving services
Packing Valuables & Family Heirlooms
Family history is invaluable. Its worth is not only monetary but also sentimental. No wonder you might be hesitant to leave them to a moving company when relocating overseas. Learning how to pack jewelry for an overseas move can seem common sense, but it requires some leg work.
For jewelry family heirlooms, we always recommend you bring them with you in your purse or carry-on. Ideally, you'll keep them in a travel jewelry roll to safeguard them throughout the journey. You can bring earrings, jewels, necklaces, watches, and brooches like this.
For larger collections, you might still need to ship some items. In this case, you can get jewelry boxes specifically designed for travel. Some come with built-in saves to keep your valuables secure during transit. Others can be placed inside safes to protect them from theft. Either option can be done securely when you work with reputable international movers.
How to Pack Necklaces & Bracelets
Jewelry may appear to be a minor issue in the bigger picture of relocating. But, anyone who has ever detangled more than twenty necklaces understands the complexity. It's important to learn how to pack jewelry for an overseas move.
The idea is to keep bracelets and necklaces from tangling. Ziploc bags are ideal for packing. Wrap every necklace in a snack-size bag, then stack the little bags in a larger bag. You can still reuse them or use fabric pouches instead.
Consider stringing fragile chain necklaces and bracelets through paper straws to prevent tangles. Thread your jewelry through a straw and fasten it, cutting the straw as needed. Try the exact procedure using a paper towel or toilet paper roll for larger chain pieces.
Pro tip: Use an international moving checklist to stay on task
The Best Way to Pack Earrings
When it comes to earrings, you should consider preventing tangles and maintaining each pair buddied up. This way, they won't get damaged in transit.
A piece of foam accomplishes the job perfectly. Simply puncture each earring at the center and fasten it back off the earring or a little strip of adhesive. You should also clip down your chandelier earrings or even other hanging jewelry that might become entangled. Fold the foam sheet gently into numerous pieces of packing paper before putting it in a shipping box.
A pill organizer is also great for storing earrings and other little accessories like pendants.
Another option is to package earrings using buttons. Simply thread the earring post through the buttonholes and the earring right on the opposite side.
How to Pack Rings
Rings are the simplest pieces of jewelry to bundle. A pill organizer or a sturdy sunglasses box can also help keep things in check. You may also reuse an egg carton for small items and rings. Place each item in its cup, then cover with lumps of compressed wrapping papers to fill the item. Once done, seal the box with packing tape and adequately mark it—or the rings might end up in the recycle bin.
DIY Tips to Pack Jewelry for a Move
There's no need to spend hundreds of dollars getting jewelry cases when moving abroad. A few DIY solutions to packing jewelry pieces don't necessarily have a high-value price tag.
Also, read: How much will it cost to move overseas
Necklaces
To protect your necklace chains from entanglement, thread them using plastic straws. It only works with specific types of necklaces, primarily those with pendants. Don't force anything that doesn't fit through the straws.
After all the chains that need to go through straws are in straws, tie them up in tissue paper. After that, tie each bundle lightly yet tightly with twine and place the bundles in a small box. You may use dish towels or something else that you'll use again to make this more eco-friendly.
Avoid using the straw-and-paper-towel approach on less articulated necklaces, beaded necklaces, extremely fragile necklaces, or highly emotional necklaces. For those not needing insulation, you may place separate pouches on top of the towel bundles within the box. When the box is full, begin placing the pouches in a cosmetics case to keep them sturdy and together.
Bracelets
When it comes to bracelets, you can tuck them into the edge of the box of wrapped necklaces and the remainder in bags and boxes.
Alternatively, you can use sandwich bags. When you move, the bags can be ideal for storing your bracelets. Certain bracelets can become entangled with the rest of the jewelry, and bangles can get scratched when flung together. Consider using Ziploc bags to separate your arm jewelry while transporting; some bags become reusable once emptied.
Earrings
Partitioned plastic storage packs are for beads, but they may also work to store a significant number of earrings temporarily. Based on the scale and delicateness of the earrings, you may fit 1-3 pairs for each small nook. Because the trim parts are merely firm plastic and can make your opals and pearls bounce, pack your most precious earrings differently.
After you've packed everything, close up the different boxes and stack them into several plastic containers—layer the wrapped jewelry with shawls and sweaters.
Shipping Valuables
Shipments containing precious objects need extreme caution. A standard shipping firm may not be sufficient to protect the transportation of your goods. You want to ensure they get exceptional care and attention if you have fragile valuables, antiques, or heirlooms.
You may need to check into specialized shipping services that cater to your unique shipping requirements. Packaging, crating, and specialist ferrying services should all be part of their shipping options. You shouldn't be concerned about your belongings arriving in one piece. A reputable international moving company can help you figure out all the packing for an overseas move, including your jewelry and family heirlooms.