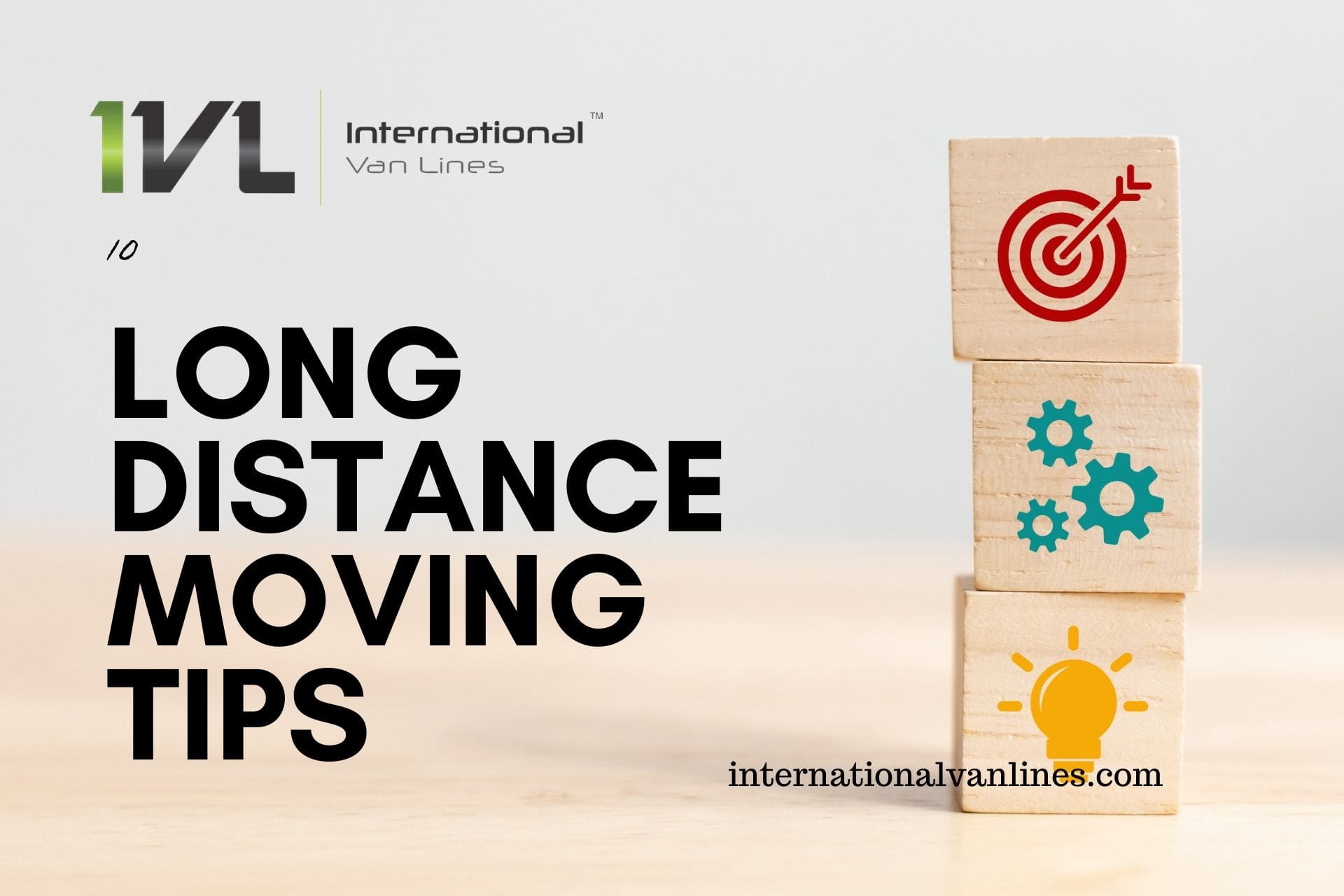 10 Long Distance Moving Tips That Will Help Avoid Problems
Long-distance moving is not for the faint of heart. It requires attention, focus, and a little knowledge of how things work. Avoiding problems can be the difference between a positive experience and a disaster. We've compiled the top 10 long-distance moving tips that will help you along the way. If you have any questions about the process and how to avoid problems, please contact us at any time.
1. Make a plan and stick with it
Whether you're a go-with-the-flow type of person or a neurotic planner, you should always have a plan of action. To have a positive experience, your attention is required in all aspects of your long-distance move. The first step is to write down your plan. Everything from your moving date, what you're moving, and when you're moving should be documented.
Before you spend time on the internet looking for long-distance moving companies, you should consider what you're looking for. Everyone is on a budget, but searching for the least expensive moving company can bring many headaches along the way. Reputation and comfort should be your main focal point when deciding.
Before calling a mover, you should have a firm move date and know what you're moving to. Go through each room individually and list what's coming and what's going. It will help you with any confusion when speaking to a mover. Remember, a mover will base its cost on the information you provide. You can also check out this article on how to pack for a move.
2. Research your mover
The moving industry is like any other. There are good companies and bad ones. Doing the right research can be different in having a positive outcome or a significant disaster. Long-distance moving requires licensing by the Department of Transportation (DOT). You can check the SAFER site for more insight into a mover. Here you will find complaint history, accidents, fleet size, and if a company is a mover or broker. You can check out the moving cost calculator to gauge the cost of your move.
Online reviews are another tool often used to research long-distance moving companies but aren't always reliable. Naturally, a company that performs more moves and has been in business for a long time will have more complaints than a smaller, newer company. Years in business play a significant role. Also, you need to beware of fake reviews. Rogue movers will have friends and family post fake reviews to make their appearance better than it is.
3. Get a visual or virtual survey
The cost of hiring long-distance moving companies is highly dependent on the volume or weight of your move. Accurate information will ensure your final invoice doesn't exceed the quoted amount. There are two ways of doing this. You can have the mover send someone to your home for a walkthrough or get a virtual survey. A virtual review can be done on any smartphone and is operated by artificial intelligence (AI). AI technology has been proven to be more accurate than a walkthrough.
Before you commit to a survey, you should know what you're moving. Create a list of what's coming and going so there is no confusion. The cost will solely be based on what's seen. If it's not on their list, it won't be included in the price and can cause overcharges. These tips for long-distance moving are designed to help you have a pleasant experience.
4. Ask about moving insurance
Humans will be handling your move, and humans will make mistakes. Damage is a real possibility when constructing a long-distance move and should always be purchased if needed. Below are the different options.
Released Value Protection
Released value protection is virtually useless when losing or damaging goods. It only covers 60 cents per pound for any missing or damaged items. RVP is automatically included on any long-distance move and is to be paid by the mover. If you use a moving broker, you must contact the actual mover to see any money.
Full Value Protection
Full Value Protection is a more comprehensive level of liability coverage. Your move is responsible for replacing the value of lost or damaged household goods in your shipment. Every lisenced carrier must offer FVP, and if you decide to opt out, you will need to sign a waiver.
All Risk Insurance
Here at International Van Lines, we offer all-risk insurance, which is full replacement coverage and is less expensive than FVP. You will need to provide a detailed inventory list of everything going along with values in case of an insurance claim.
Please note that homeowners' insurance can cover your move. If you have a policy, you should speak with them before making your decision.
5. Compare up to three moving quotes
It's important to compare quotes to see the general cost of moving. Before you begin the process, you should scout three reputable movers and have them each provide a survey. You can then compare to make sure you're comparing apples and apples. Make sure you ask the right questions and let each mover know the same things. These 10 long-distance moving tips will help guide you through the process.
It's not recommended that you get more than three moving quotes because you will only cause yourself confusion. Keep it simple and narrow your list to three companies that maintain an excellent reputation. The right research can save you from a headache.
6. Know what a moving broker does
There is a difference between a mover and a moving broker. A mover will handle your move, whereas a moving broker will sell your move to the cheapest bidder for a profit. It's not illegal to broker moves, but it is frowned upon since their service is virtually useless. You will have no say in the mover they choose, and they tend to choose the worst movers since they will cost less.
One way to determine if a company is a carrier or broker is by looking up their license information on the SAFER website. We also recommend checking the company address. Many moving brokers tend to work from home or use a virtual office. Working from home or virtual office is an immediate red flag, and under no circumstances should you go with that company.
7. Be realistic about transit times
We all want to request delivery dates that best suit our needs. However, long-distance moving doesn't work like that. Your transit time will depend on where you're moving from. The size of your move will also play a role. The smaller the move, the longer it may take. Moves are put into consolidated trucks, so transit times vary based on how quickly a mover can fill up and drive. It typically takes to move cross country is 14-20 days.
By law, a mover has up to 21 business days to deliver your household goods without penalties. Every long-distance moving company is different, so we recommend speaking with them about the details. Individual companies will offer a dedicated truck option, which is more accurate. You can check out this article on interstate moving companies.
8. Understand the top scams in the moving industry
Just like most industries, people find a way to scam the system. Although the DOT has done an excellent job of minimizing complaints over the years, scams are still prevalent, and customers need to be wary. The most common scam is a bait and switch. If a company asked for an inventory list over the phone, it could leave room for additional pick-up charges, and you will be blamed for it. Some companies will pick up your stuff and hold it until you pay their required amount. You can avoid these issues by doing the right research, and these 10 long-distance moving tips will help save you from this happening.
9. Start as soon as possible
Once you find out you're moving, you should start the process as soon as possible. The first step is to go room by room and figure out what you're moving to. Then create an inventory list of everything that's going. Once you've narrowed that down, then it's time to start researching potential long-distance moving companies. Make sure you give yourself enough time to get the necessary pick-up and delivery dates. Most quality movers require two-week advance notice. Here is what you can expect on moving day.
10. 10 long-distance moving companies' tips that work
These top long-distance moving tips were created to help. Glance through them and educate yourself on what to expect when moving out of state. We will be happy to provide more information on what to look out for what to expect. International Van Lines has been in business for 20 years and offers long-distance moving services nationally. Thank you, and we wish you the best with your new endeavor.