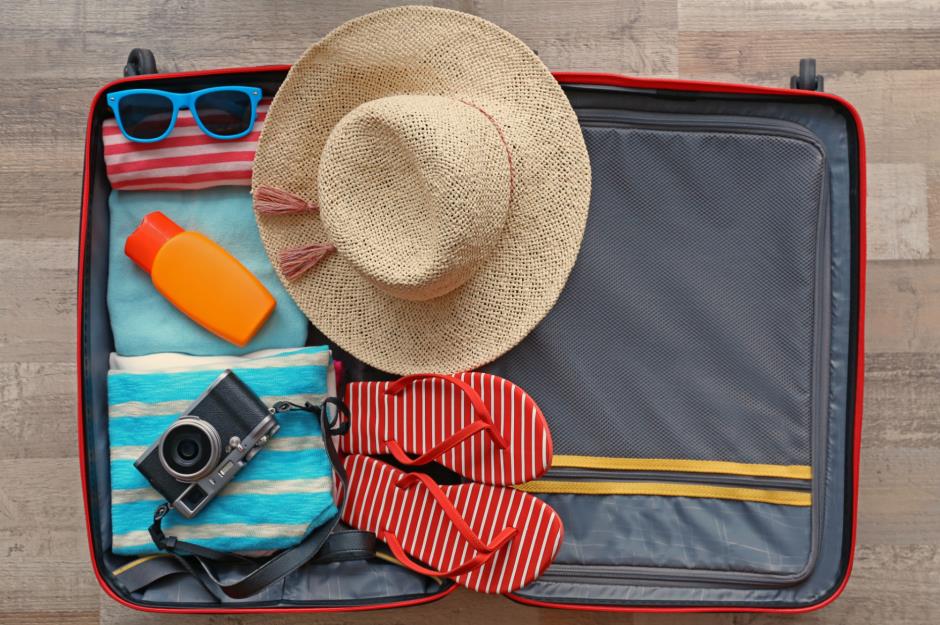 Packing for a long-distance move requires more than picking the best suitcase. You need to learn a few tricks and tips to pack a suitcase for moving overseas. This guide has everything you need to start packing for your international move, from protecting your bags to folding your clothes and tricks.
1. Line your suitcase with a protective covering
Soft-sided suitcases are excellent, especially long, sausage-like bags. They bend and change shape to match whatever you stuff them with. However, unlike their hard-shell counterparts, soft bags don't provide much protection to your valuables.
If you're bringing a soft-sided suitcase, lining it with a protective covering like plastic wrap does the trick, keeping your items safer from water damage and general wear and tear. You can also use your clothes to create a protective layering that adds another shield of protection, especially if you're packing breakables.
Not to mention, plastic-wrapped suitcases are less likely to be opened by thugs hoping to find valuables in your bags.
Also Read: 10 family packing tips when moving abroad
2. Roll your clothes to maximize space
Don't shove the clothes in your suitcase; they'll be disorganized and take up more space. Instead of folding, roll your clothes. Keep your rolls nice and tight, especially items like pants, jeans, underwear, and t-shirts. This little trick with free-up so much-needed space in your suitcase.
3. Use packing cubes to save space
Organizing your clothes can be tricky, especially since you don't want to ruin their condition. Use packing cubes to make it easier to group and stack more items together. Ideally, you'll pack clusters of clothes or items by categories, such as:
Underwear

T-shirts

Socks

Bathing suits

Pajamas

Sweaters

Leggings

Workout clothes

And so on
4. Place your first-day essentials last
The last thing you want is messing with the suitcase contents trying to retrieve essentials you need the first night or day after arrival. We all know you're not going to unpack everything the next day. Items like your phone charger, some toiletries, pajamas, and basic clothes should be easy to access, making your first day a breeze as you settle in your new home.
5. Stuff shoes with socks
Stacking your shoes in a tiny suitcase space can deform them, which is the last thing you want. A quick hack that saves you space and avoids such frustrations is stuffing pairs of shoes with items like socks, underwear, and t-shirts. Not only are you keeping your shoes in perfect shape, but you're making the most out of this otherwise neglected space.
6. Put toiletries in a waterproof bag
Toiletries such as toothpaste, makeup, and liquid cosmetics can easily cave to the pressure and start leaking, especially on overseas flights. This can easily ruin your favorite outfit or electronics. Use Ziploc bags or special waterproof bags to seal all these items before packing.
Pro Tip: You can waterproof your items by wrapping paper under the cap before closing them.
7. Get a hard shell suitcase
Your valuables, especially sentimental items, can be challenging when moving overseas. Getting a hard-shell suitcase is the best way to keep your things in perfect shape. Consider what you need to pack and compare options. Usually, these suitcases can stand more tossing and shoving around, which is helpful for those moving fragile items in their bags. Don't worry; you can also plastic wrap your hard-shell suitcase to protect it from scratches and bents. Use these tips to pack a suitcase for moving overseas, and you will have no issues.
8. Use vacuum-sealed bags to save space
Vacuum-sealed bags are an excellent hack as you strive to pack clothes and save more space. You can vacuum a range of items, especially those bulky winter jackets that would give you a hard time fitting in the suitcase. You can stuff a lot, condense them, and efficiently organize them in the suitcase. You have to be careful since vacuum sealing doesn't work for everything. You could ruin some items such as fabric with more trapped air that offer insulation. You can purchase vacuum-sealed bags on Amazon or any local Home Depot.
9. Make space for sentimental items
As you plan an international move, you have the perfect opportunity to purge your things. You can eliminate everything that doesn't add value. This is more so as you strive to reduce the space and weight of your suitcase. Still, you want to leave room for a few sentimental items. It doesn't have to be a lot, just enough to fit family heirlooms that will help you recreate the coziness and comfort of your home abroad on those first days. Out tips to pack a suitcase for moving overseas will help you save time.
10. Pack important documents separately
Documents from your visas, passports, and certificates, to mention a few, are critical as you plan an international move. The last thing you want is to spend hours struggling to find an important document at the airport or arriving only to realize you left them in your home country. Ensure all documents are placed in a secure and easy-to-reach area. This way, you can keep the documents organized and easily retrieve them as needed.
Pro Tip: Ideally, you want to bring all original documents with you in your carry-on luggage. You might keep certified copies on your suitcases to have a replacement if anything happens.
Final thoughts
As you pack a suitcase, you want to fit as much as possible while ensuring it doesn't hit weight limits, making it impossible to carry. You also want to avoid paying excess weight at the airport. A well-organized suitcase can fit a lot more, it's easier to unpack, and it keeps your valuables safe throughout the hassles of the move.
Packing for an international move can overwhelm even the most skilled traveler. While starting ahead gives you an edge, you can benefit more if you enlist professional help. You can hire an international moving company to help you sort through and securely pack important items. Licensed and accredited companies can help you navigate the complexities of an international move, including knowing the allowable, dealing with the customs, shipping, and more. Contact International Van Lines today and get started on your international move with the hands of professionals.