Moving and Professional Packing Services from IVL

Moving to a new home is a lot to consider, especially considering all the packing and unpacking involved. This is where professional packing services come into the picture.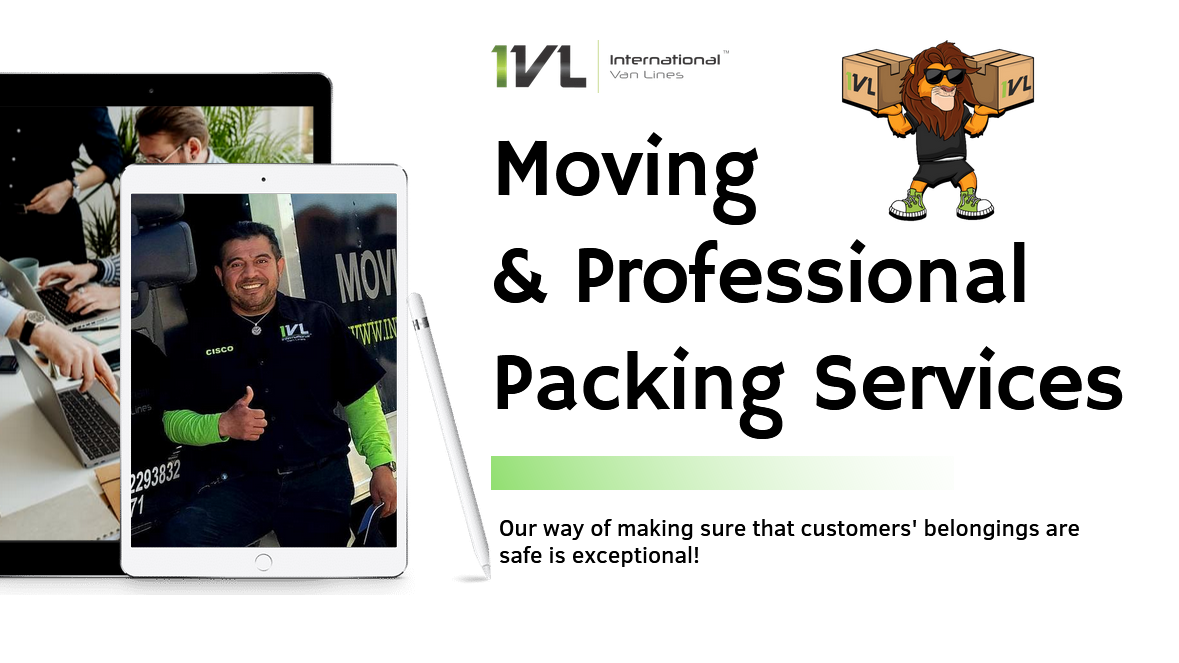 This article discusses the benefits of hiring professional packers and helps determine if it's worth it.
How much does professional packing cost?
The cost of having a moving company professional pack your belongings varies based on the company and the required services. Generally speaking, packing costs account for about 10% of the total cost of your move.
The costs will be higher if you require special handlings, such as a grand piano, artwork, and a heavy gun safe. It's best to speak with the moving company you're considering regarding the cost of their packing services.
Read Here: Best time to start your international move packing

Should I pack myself?
Self-packing is an excellent way to save money but it comes with a risk. Below are the pros and cons of self-packing for a move:
Pros of self-packing
The main reason why people choose to self-pack is to help reduce their moving costs. Additionally, some people feel more comfortable self-packing specific things. Lastly, self-packing can help you with the organization once your goods arrive and the destination home.
Read Here: Moving and Storage Services Guide
Top  Moving and Packing Companies of the Year
Here is a table of the top Moving and Packing services in the US. Ratings are based on Years in Business, Reputation, and Customer Reviews.
Cons of self-packing for a move
Having a moving company professionally pack your household goods has many benefits. You will have better insurance coverage, save time and energy, and your items will be securely packed while in transit. If you can afford to spend the money, consider professional packing services by your mover of choice.
If you choose to self-pack, consider the time and effort it takes. You must source your packing supplies and determine how to keep your items from getting damaged.
Where can I buy packing supplies for my move?
The good news is there are many places where you can purchase packing supplies for your move. You can go to a local Home Depot, Lowe's, or U-Hual, which has an entire department for packing supplies.
Additionally, you can purchase packing materials online on websites like Amazon or Uline if you want to stay in your home. Either way, speaking with your moving company about the best boxes for your needs is best.

The Benefits of Professional Packing Services
Professional packing services have become increasingly popular in recent years and for good reason. Here are a few of the benefits you can expect when you hire a professional packing service:
Save time and effort by hiring a professional packing service

Packing can be time-consuming and tedious, especially if you're moving a lot. Hiring professional movers and packers can help you save time and effort, giving you more opportunities to focus on other things.
You can use your time to focus on getting settled in your new home. Moving can be stressful, and hiring a professional moving company can help eliminate some of the stress.
Read Here: How to Understand Moving Quotes Online

Ensuring Proper Packing Techniques
It's essential to use the proper packing techniques to prevent damage, especially when packing fragile items. Professional packers have the knowledge and experience to handle delicate items carefully, ensuring they arrive at your new location intact.
Professional movers know how to pack items to prevent damage, making hiring a mover more appealing to most people.
Hiring a professional mover can reduce stress
Moving can be stressful, but professional packers can help alleviate some of that stress. Handling the packing and unpacking for you will help save time and reduce stress and physical labor.
Furthermore, professional packers are trained to handle all items, from fragile glassware to heavy furniture. It means you don't have to worry about injuring yourself or damaging your belongings during packing.
Know More Here: How to save money when moving overseas
Customized Packing Solutions
A professional moving company can work with you to create a customized packing solution that meets your unique needs. A moving company can help if you need assistance. They can help you pack and move fragile items, a heavy safe, or a grand piano.
They can also help you with specialized packing needs, such as packing up artwork, antiques, or musical instruments. With their expertise, you can rest assured that your household goods are secured for transportation.

Professional packing options
Understand the advantages of professional packing services. The following are the various types of packing services available:
Full-Service Packing
Full-service packing involves professional packers handling every aspect of the packing and unpacking process. It's an excellent option for those who want to minimize their involvement in the moving process.
The primary benefit of hiring a moving company to pack your household goods is to help free up time. The professionals will handle everything from packing your items to unpacking them in your new home.
One of the benefits of full-service packing is that it can save you time and energy. Packing can be time-consuming and exhausting, especially if you have many items to pack.

CLICK HERE FOR A FREE INSTANT MOVING QUOTE
Partial Packing
Only some people want to pay for a full packing service. Partial packing is ideal for those needing help packing specific items. A moving company can provide tailored services to suit any requirements. For example, they can pack up your kitchen or the entire contents of your wardrobe.
If you pack some items yourself, you can pick and choose the items you need help with. Partial packing can be a great option to save money on packing services. By packing some of your things yourself, you can reduce the overall cost of your move.
Partial packing has a benefit: it gives you control. You can decide which items to pack yourself. Select which items you want your moving company to pack. This will help ensure that your fragile items are packed with care.

Unpacking Services
Unpacking services involve having professional packers unpack your belongings once you arrive at your new location. It's a great way to quickly free up time and settle into your new home.
One of the benefits of unpacking services is that they can help reduce the stress of moving. Moving can be a stressful experience, and unpacking can be timely and tedious. Professional packers can take care of the unpacking for you, making the move more enjoyable.
Another benefit of unpacking services is that they help ensure your belongings are unpacked safely and efficiently.

Specialty Packing Services
Specialty packing services are for items that need special care. These could include artwork, antiques, or bulky items like a safe or piano. Professional packers have the expertise and knowledge to ensure your specialty items are packed and transported with care.
Specialty packing services offer many benefits. They can help protect valuable and fragile items during a move. This ensures that the items arrive safe and sound. The best-moving companies work with third-party crating companies specializing in packing high-end or delicate items.
Another benefit of specialty packing services is that they help ensure your items are adequately insured.

How to Choose the Right Packing Service
Choosing the right packing service can make all the difference in moving. Packing can be tedious and stressful, so it's essential to understand your options.
However, a professional moving company can help make the process easier. Their expertise and resources can streamline the task, saving time and energy. Here are a few tips to help you make the right choice:
Assess Your Needs
Before you start looking for packing services:
Take some time to assess your needs.

Consider the size of your move and the number of items you need to pack.

Determine which items you need help packing, which rooms you need assistance with, and your overall budget. It will help you narrow your search and find a packing service that meets your needs.
Know More Here: List of prohibited items when moving abroad
Research and Compare Companies
Whether moving out of state or overseas, you should always research and compare the moving company you're considering. Looking for a mover with experience, a good reputation, and knowledge of your destination is essential. Follow the below tips to find the best moving companies near you:
Check online reviews and ratings
Customer reviews can be a valuable resource when choosing a mover. Be sure to read reviews from past clients to get an idea of the level of service you can expect.
Look for reviews that mention the company's professionalism, efficiency, and attention to detail. It's not uncommon for a moving company to have bad reviews, so it's best to ask your relocation coordinator about them.
Request Quotes and Compare Prices
Finally, once you've narrowed your list of possible moving companies, request quotes and compare prices. Do not focus on finding the cheapest professional packing services. Instead, look for a company with experience and offers quality services at a reasonable price. Ask about any additional fees or charges not included in the initial quote, such as packing materials or extra labor.
Follow these tips to find a professional packing service. Ensure that the service meets your needs. This will help you transition smoothly to your new space.
Packing services can help reduce the stress of moving. They can ensure your belongings make it to your new home safely and in good condition.
Professional Packing Services (Conclusion)
Hiring a professional packing company is a good idea, especially if you're moving out of state or overseas. It will help reduce the risk of damage and save you time and energy that can be used for other things.
International Van Lines is a long-distance and international moving company offering professional packing, crating, and specialty services. We can assist you whether you're moving to a one-bedroom or six-bedroom house.
If you'd like a free international or domestic moving quote fill out the online form or call us. We wish you the best with your new adventure and look forward to making your move simple.
 More about Moving and Professional Packing Services from International Van Lines