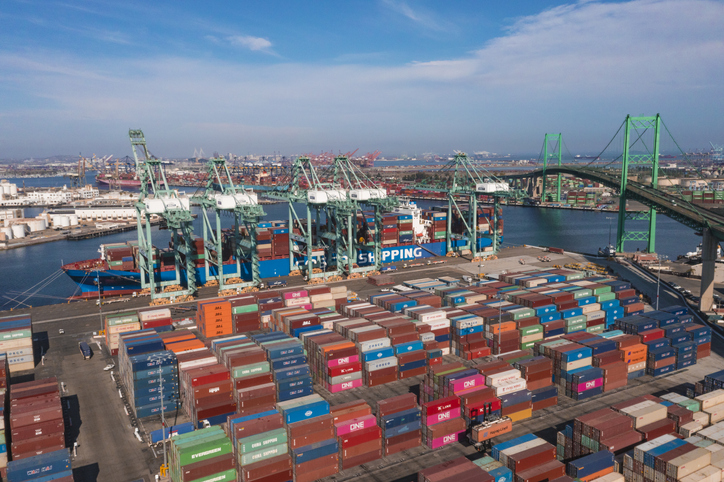 Container shipping costs have been changing almost every day. While the COVID-19 pandemic has become more steady-state, the shipping industry is still recovering. The container can range from $1,300 to $6,700 for 20 ft. and $1500 to $7000 for a 40 ft. Distance, type of transport, and volume will affect the final shipping cost. Extra costs include door-to-door delivery, packing and unloading, and insurance.
If you plan an international move in 2022, you must consider container shipping costs as part of your overall moving budget. This guide will cover the basic estimates of shipping rates from around the world. If you want to know exactly how much shipping your belongings overseas will be, fill out this quick form, and our trusted specialists will get back to you with the best offers.
Also, check out: How much does it cost to move overseas
Container shipping costs from the US
We've calculated the average international shipping rates for some of our most popular destinations. The rates are based on port-to-port transportation of either a 20- or 40 ft container of furniture at least six months old.
Mexico
Shipping a container from the US to Mexico will vary from $882 for a 20 ft Full Container Load (FCL) to $1,316 for a 40 ft FCL. It is an excellent option if you're relocating to Mexico from the Northern United States. However, moving from the Southern United States to Mexico, you might consider shipping your goods with a truck company.
Canada
If you plan to move to Vancouver, a 20ft FCL will cost you $1,259, and a 40ft FCL will cost $1,879 as distances are longer. But, if you are moving from New York to Montreal, it will be more than half of the amount. A 20ft FCL will cost you $419, while a 40ft FCL will cost a hundred more.
However, depending on your location, you might prefer traditional freight services when moving from the US to Canada. Shipping your items via truck or railroad might be a significantly cheaper alternative. It depends on your budget and timeline, as this option might sometimes take longer.
Italy
Now that we have left the northern part of America, we will discuss Europe's shipping costs a little. In this case, our first choice was Italy. Moving from New York to Civitavecchia will cost a 20 ft FCL around $1,441, and for a 40ft FCL, $2,914. But if you are moving from Florida to Italy, for example, for a 20 ft FCL, it will cost $4,000, and for a 40ft FCL it will cost $7,000. Again, the distance within the ports will significantly affect the final costs.
Germany
Many Americans are moving to Germany, where the ex-pat population keeps growing every year. The costs of shipping a container from the US West Coast to Germany start at $1,785 for a 20 ft FCL and $2,664 for a 40 ft FCL. On the other hand, shipping costs from the US East Coast to Germany start at $1,174 for a 20 ft container and $1,852 for a 40 ft container.
Australia
Heading into the Oceania Continent, Australia will give you the most breathtaking views and exotic animals on that side of the world. However, around 9,429 miles separate Australia and the United States, so expect container shipping costs to be higher.
From the United Estates East Coast, a 20 ft container starts at $2,797 and a 40 ft container $4,175. From the United States West Coast to Australia, a 20 ft container starts at $1,259, and a 40 ft container goes for $1,879.
Colombia
A country where everyone is always happy and full of colors will be a great option to move to. If you move from Los Angeles to Barranquilla, a 20ft FCL will be $2,114, and a 40ft container will be $3,115. But if you are moving from New York City to Barranquilla, a 20ft FCL will be $1,036, and a 40ft FCL will be $1,547.
Costa Rica
Costa Rica is a popular destination for Americans looking to relocate for retirement. Many reasons to move from the US to Costa Rica. As you budget for your move, expect a 20 ft container price to start at $890 and 40 ft containers at $1,329 from the East Coast. For those on the West Coast, prices can increase to $2,930.
How are container shipping costs calculated?
Different factors determine container shipping rates and prices. In 2022, the average cost of shipping a standard 40 ft container has surpassed $10,000, almost four times higher than last year's prices. This is due to the lack of supply and excessive demand for containers, so factor in those additional costs as you plan your international move this year.
Five factors calculate shipping costs:
Cargo Volume/Weight: The form of the cargo will directly affect the final costs. Seafreight containers are measured in volume rather than by weight. On the other hand, volume and weight are considered for airfreight as space is more limited and weight restrictions are smaller.
Type of transportation: The mode of transport will determine the price and amount of time the packages will take to arrive at their destination. Airfreight can be quicker, but it can also be 400 times more expensive than sea freight.
The distance: The total distance of your move impacts one thing – fuel. The total distance your container will travel will affect the final cost of your shipment. This is why it's important to talk to a licensed and specialized international moving company who can advise on the best ports to ship to and from to save money.
The Destination Port: Every country has different taxes and customs fees you're required to pay for your items. Understanding these in advance can help you save more money when shipping your household items.
Time of Year: Like many other industries, international shipping will see fluctuating prices throughout the year. Immediately after the Chinese New Year and during summer, most companies raise their price as demand increases and capacity becomes very limited.
Another factor to mention is the supply chain disruptions after the COVID-19 pandemic. While we see higher-than-ever prices for shipping containers overseas, eventually, the market will find its balance again.
Talking to an international moving company
At International Van Lines, our international moving agents advise you on keeping costs within your budget. Our international movers are your trusted experts in preparing for this new chapter. Contact one of our agents at 877-647-1336 or fill out this form to get started.