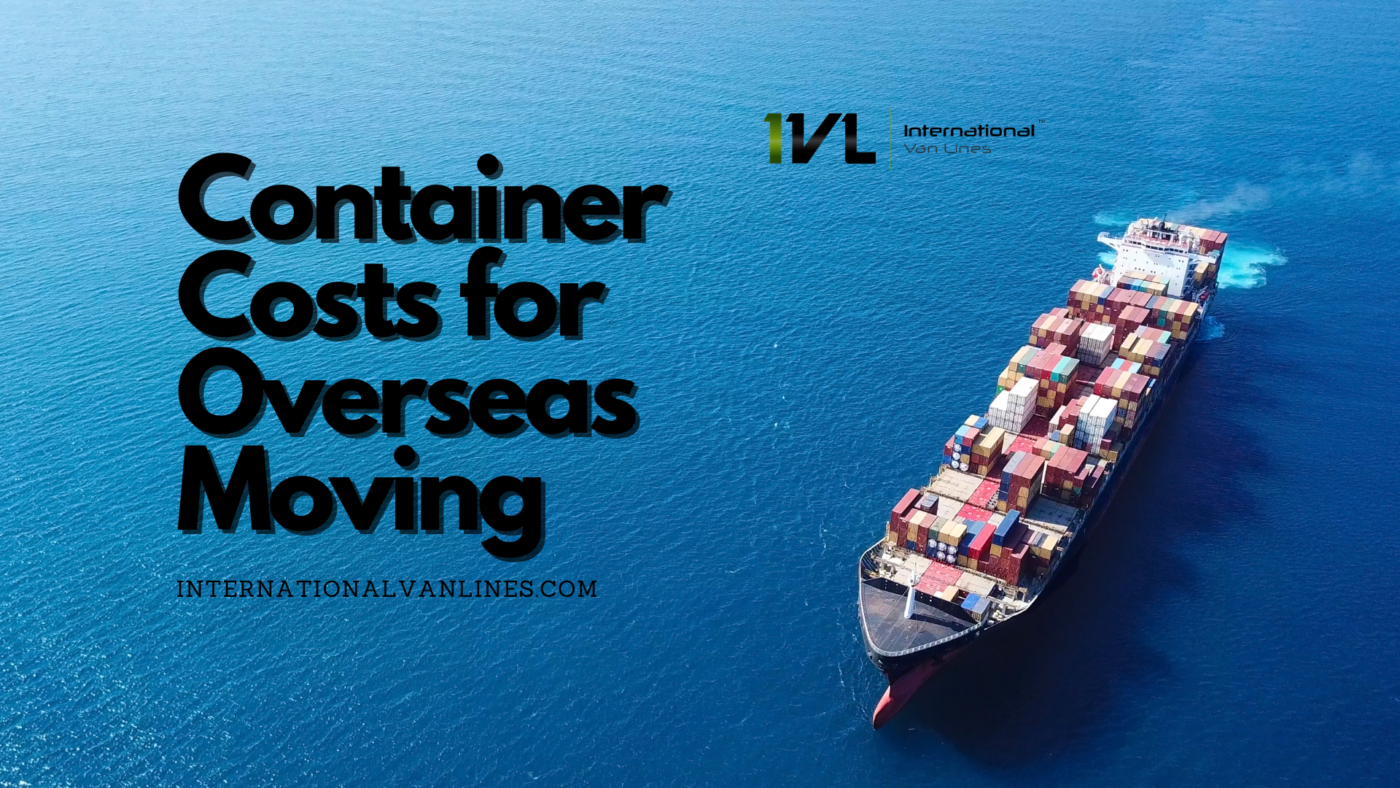 Container Cost Options When Moving Abroad
Container costs for international moving vary base on several factors. The most important being service type and how much stuff you're moving abroad. Unlike freight, household goods will require a little more labor. The loading, packing and prepping of your household goods. However, you can choose to do all of that yourself and reduce your international moving expenses.
There are three types of containers you can choose from. The amount of stuff you have will determine the size. In this article, we will share all costs associated with shipping a container of household goods overseas.
Container Shipping Options
The most common size container to ship household goods are 20′ and 40′ containers. However, you can also request a 40′ high cube container for added space. A 20′ container is typically used for a 2-3 bedroom home. Whereas a 40″ container is used for a 4-5 bedroom home.
If you need additional space you can always ship a 20′ and 40′ container or 2×40′ containers. Container freight shipping is the most commonly used for household goods.
Live Load: A live load service is when an international moving company brings a container to your door where you self-pack & load. You will have 2 hours load time and then each hour would be billed at approximately $80 per hour. You're essentially paying for the driver to sit there while you finish loading.
Drop & Pick: A drop and pick is as it sounds. It's when an international mover drops the container for your to load and picks it up once done. You would pay double the trucking, but it may be worth it. Having time is essential to a smooth relocation process.
Full Pack and/or Load: If you're having an international mover pack & load the container they will include everything in their costs. Although it's a bit more expensive than a live load it takes all work for you out of the equation.
Container Dimensions & Sizes
Container Costs for Moving Abroad
Container costs for international moving can vary. It's always best to speak with a relocation coordinator to give you an accurate cost. However, we would like to share some averages that you can use to help plan and budget for your international move.
Door to Door: If you're moving to a new country you may want to go with a full door-to-door service. Although it's the most costly it's also very convenient. An international mover will pick you up from your door in the states and deliver to your final destination. Off-loading and removal of debris are typically included, but you will want to confirm. Door to Door will also include customs clearance and any documentation that's required by customs.
Door to port: If you have the know-how and want to save a few bucks then the door to port is a great option. Your container will be shipped to the nearest port at your destination. You will have to pick up, arrange customs, and deliver your container. Although you may save money, it can be a headache for some.
Below are some averages that you can use to calculate your moving costs. International moving costs vary so it's always best to speak with us directly.
| Door to Door Service (estimated) | 20″ Container | 40′ Container |
| --- | --- | --- |
| Australia | $6500-$8500 | $7000-$9500 |
| Europe | $6000-$7500 | $6800-$9000 |
| Africa | $7000-$9000 | $8000-$10,000 |
| South America | $7500-$8500 | $8500-$10,000 |
| Asia | $7800-$8000 | $8000-$11,000 |
| Antarctica | Upon request | Upon request |
What's Includes on a Full Door to Door Service
Packing all Boxes
Loading/Labor
Disassembly
Drayage (trucking to the port of sailing)
Ocean Freight
Customs Clearance
Port & THC charges (Please confirm with your carrier)
Door Delivery
Off Loading
Removal of debris
Additional & Possible Costs
| | | |
| --- | --- | --- |
| Fee type | Amount | Details |
| Elevator | $75 | One-time charge |
| Stairs | $75 per additional flight | First flight (10 steps) is free |
| Long carry | $75 per additional 75 ft. | Charged if truck must park more than 75 ft. from your door |
| Packing materials | Varies | Bubble wrap, boxes, tape, mattress covers, and crates available for purchase |
| Shuttle service | $0.75 per cu. ft. ($350 minimum) | Charged if an 18-wheeler cannot reach your location |
| Bulky item | $150 per item | Treadmills, canoes, etc. |
| Piano handling | $150–$350 | Varies with piano type |
| Motorcycle handling | $350 | Does not include packing or weight of bike |
| Storage | $0.50 per cu. ft. per month | Calculated starting on day of pickup |
Pro tip when Moving Internationally
The Federal Maritime Commission regulates ocean freight transportation. As your mover for their FMC lisenced to ensure they have proper insurance and will take full liability.
Ocean Freight Transit times
Ocean freight transit times vary. Factors can include the international moving company, time of year and service requested. Generally speaking, you can expect a solid month. Most international movers and packers can provide tracking information where you can go online and track the status of your move.