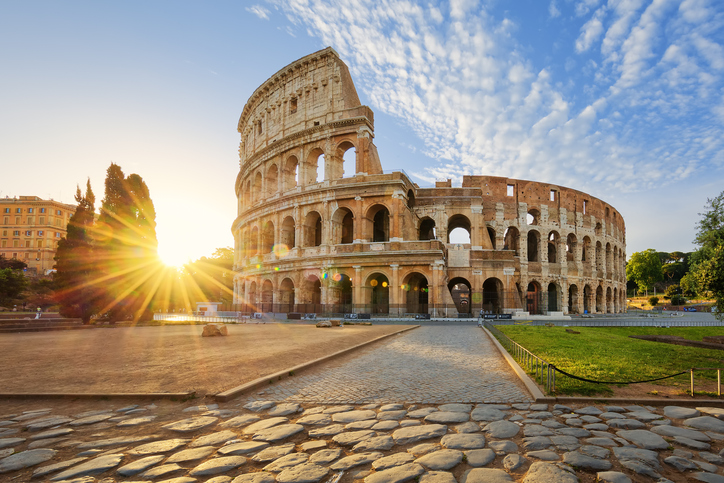 Americans have been planning international moves for decades. While Florida has become a top destination for New Yorkers and Californians looking for a change of scenery, many Floridians are flocking elsewhere. Estimates say Americans constitute 20% of the expats population in Italy. But, moving from Florida to Italy involves much more than picking a city and learning how to order an espresso. Read on for a complete guide on what to expect when moving from Florida to Italy. Plus, finding the best international moving company to help make the process more enjoyable.
What to expect when moving from Florida to Italy
Relocating to Italy is an exciting endeavor for anyone. The first thing to know is that most processes in Italy take longer than you would expect. Italy is famous for slow bureaucratic processes that delay almost any documentation, whether or not you're a citizen. Besides that, there are a few surprises or things to expect when you're moving from Florida to Italy:
Expect rooms to be much smaller than in Florida. Statistics show that Italians live in some of the smallest homes in Europe. The average Italian home is

81 square meters

, merely 871 square feet.

While health insurance is free for most citizens, you should expect to pay between $1,000 and $3,000 in private insurance per year. Nonetheless, you should seek guidance on registering with the public healthcare system.

If you're planning on working, you'll need to apply for a visa, especially if you're a non-EU citizen. Even if you're planning to be self-employed, you should look into their remote workers' visas and regulations to learn more about what to expect.

Overall, the cost of living in Italy is not expensive. Like in most places, expect rent, healthcare, and education to make up the most significant part of your spending. However, you can also obtain free healthcare and education as a resident.

In most Italian cities, you can get away without having a car. Public transportation is relatively accessible and many towns are small enough to be walkable. However, if you plan on driving, know that you have to exchange your foreign license for an Italian one.
Cost of moving from Florida to Italy
The cost of moving to Italy from the US will depend on the method of shipping and the solution you choose. Costs of moving can go from $4,000 to $7,000. It takes anywhere between 14 days to 30 days to get your goods shipped from Florida to Italy. The total cost of moving from Florida to Italy will significantly depend on the particular move. Things like size, origin, and service price all play a role in the price. This is why you should work with an international moving company to get a personalized quote that addresses all your needs.
You should also learn more about how much it will cost to move overseas.
Ways to move goods to Italy
When choosing how to ship your goods to Italy, it comes down to a handful of options. The final decision will depend on the types of items you're planning to send. For example, if you're only shipping over some essential household items, you won't need a large cargo. Compared to families who wish to send all the furniture, clothes, and even their cars. Depending on the solution you choose, the total cost of moving to Italy will decrease or increase.
Container
The most straightforward way to ship goods to Italy is by getting a container. There are two types of containers you can choose from:
Less than container load (LCL):

This is a cost-effective solution for people that don't have enough items to fill an exclusive container. In this case, different shipments share the same container, and you only pay for the volume your items take on the container. This is an excellent shipping method for households without enough goods to fill an entire 20' or 40' container. However, since this is a shared container, it's not recommended for fragile items as there's a higher risk of damage.
Full container load (FCL):

This is more suitable for large-quantity shipping needs. FCL allows you to ship household items in a single container. However, since you're not sharing the container, you have to bear the cost of the entire shipment. In this case, shipping household goods, dishes, and even fragile items are doable since you won't be sharing the load with other shipments. FCL is also faster than LCL since the container won't make stops at different ports or locations.
Air Freight
Air freight shipping is also an option for those who need their goods ASAP. However, air freight is a significantly more expensive option, which is why it's merely reserved for fragile or essential goods. Nonetheless, if cost is not a factor, air freight may be one of the fastest and easiest ways to move to Italy.
Where to ship when moving to Italy
Most international moving companies use four base ports in Italy: Genoa, La Spezia, Palermo, and Livorno. However, there are options to ship goods to other ports. Some international movers offer door-to-door services with final delivery to any address within Italy. In this case, the port it arrives at doesn't matter since they'll deliver the goods to your address. Popular cities in Italy with international ports include:
Trieste

Genoa

Livorno

Cagliari

Reggio Calabria

Ravenna

Venice

Sicily

Apulia

Campania

Liguria
When to plan your move
Timing is everything, particularly when moving to Italy – or any European country for that matter. As part of living, Italians follow very different schedules from Americans. For example, in the summer, cities are full of tourists. Most Italians also take the month of August off, with most businesses closed for their summer holiday. All good reasons to avoid moving in the summer. Try to schedule it for their off-season as you plan your move, which expands from November through March. This will help you ensure that all the businesses are open, tourists levels are in check, and you'll have a much more pleasant experience overall.
Tips to prepare for your move to Italy
Moving overseas involves many moving factors that can be costly. Working with a licensed and experienced moving company can help guide you throughout the process to cut expenses as much as possible. Here are some ways to reduce costs and expectations when moving to Italy.
Documentation
Documentation is critical for a hassle-free international move experience. Before you even ship your household goods, you need to ensure that all the shipment paperwork is in order. This is known as the "shipping packing list," which contains information regarding the shipment for the customs authorities. This document includes item details, shipping destination, among other details. Taking care of these documents in the US before your move can help save time and money in Italy.
Packing
When it comes to packing, your furniture is the most fragile item you're bringing. Ideally, you'll hire professional movers to wrap fragile items and furniture pieces to prevent damage in transit. However, you can save money by packing clothes and other items such as beds, books, kitchen items, and other non-fragile items. By taking some of the packings into your own hands, you can save money on movers. As you're packing items, remember to check the Italian customs rules and regulations for prohibited items:
Animal products

Certain beef hormones

Chemicals

Coffee

Cosmetics

Drugs, prescription, and non-prescription

Fabrics

Food supplements

Leather good

Medical samples

Thermometers with mercury

Medical and dental supplies or equipment

Oil products

Seeds

Tobacco
Taxes
Fortunately, Italy has a tax treaty with the United States. This treaty helps remove the possibility of double taxation for US citizens moving to Italy. A moving advisor can give you personalized guidance on navigating moving taxes to avoid double taxation or paying extra. They can also help you qualify for a duty-free import. Otherwise, you'll have to pay standard duties that range from 5% to 20%, depending on your status and the condition of your cargo.
Finding the right international moving company
Moving from Florida to Italy is very exciting but also stressful. Before choosing a mover, make sure you spend enough time doing proper research. Draft a list of your needs and requirements for your move. Not all movers are qualified to handle your move.
Remember to ask for license information, reviews, and history on the company before deciding. Make sure to ask all your questions and feel confident in your decision. You should be able to trust your moving company entirely.
International Van Lines has been helping people in South Florida move around the world for over 10 years. We've been named the best movers by Forbes and Move.org and have countless reviews that speak for themselves. If you're planning on moving internationally, speak to one of our moving specialists to help you get started.