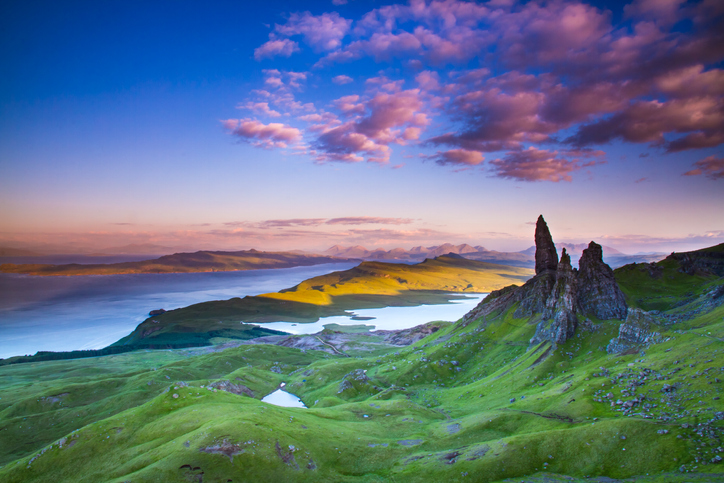 There are many reasons why Americans choose to relocate to the UK. First of all, up to 8.3% of the US population is of Scottish descent. Moving to Scotland like any other international move can be stressful and exhausting. However, the more you plan, the better your chances of having a smooth process. At International Van Lines, we often recommend starting your moving processes at least eight months in advance. Read on for a complete guide on what to expect when moving from Florida to Scotland, how to find the right international moving company, and how to budget for the cost of moving internationally.
Also check out: How much will it cost to move overseas
What to expect when moving from Florida to Scotland
Relocating to Scotland can be pretty complicated at first. This vast country is filled with diverse cultures, breathtaking landscapes, and immense work opportunities. Nonetheless, Scotland is very different from the rest of the UK, and the more you learn about this country before your move, the better. Here are some things to expect when moving from Florida to Scotland:
While you'll hear English in Scotland, expect a wide variety of accents that depend on the geographic position. Even in larger cities, you'll listen to a difference in accents that can be challenging to understand at first.

Overall, the cost of living in the UK is lower than in the United States, with rents being about 22% lower in the UK. Specifically, living in Scotland is less expensive than other areas in the UK, with household costs

50%

lower than London and 10% cheaper than in the UK.

Keep in mind that Americans can visit the UK as tourists and stay up for six months without a visa. Thankfully, Scotland makes it very easy for foreigners to work and apply for long-term visas.

As part of your immigration to Scotland, you may have to pay a healthcare surcharge, known as an Immigration Health Surcharge (IHS). Depending on your visa, you might be able to access the National Health System. Otherwise, you can purchase private health insurance to navigate the healthcare system.

Expect smaller homes than you're used to and significant differences in appliances such as washers and dryers. The average house size in Scotland is only 813 square feet. That's a considerable difference compared to Florida's 1,375 homes.
Cost of moving from Florida to Scotland
The average cost of moving from Florida to Scotland is $3,600 to $6,400. The average transit time on ocean freight is between 20-30 days. However, via air freight, it's 7-12 days. Like most international moves, the costs of moving can vary tremendously. Things like size, origin, service type, final destination, and other details in the price. This is why you should work with an international moving company to get a personalized quote that addresses all your needs.
You should get a min of 3 international moving quotes before making a decision.
Ways to move goods to Scotland
Most international moves will involve either air freight or container freight. The final decision will depend on the size of items you're planning to send. For example, most 1-2 bedroom households can ship items with a shared container. For homes with 3-5 bedrooms will have to use an entire container instead. In addition, fragile items can be sent over via air freight. Depending on the solution you choose, the total cost will change.
Container
Most international moves will use a container to export goods from Florida to Scotland. These are two types of containers you can choose from:
Less than container load (LCL):

This is a more affordable solution altogether. It's suited for people that don't have enough items to fill an exclusive container. In this case, you share a container with other people and only pay for the volume and space your items take on the container. However, this isn't recommended for fragile items as there's a greater risk of damage. Overall, this is a flexible option for a 1-2 bedroom household.

Full container load (FCL):

This is a more expensive option, but it's also more suitable for large-quantity shipping needs. In this case, you pay for an entire 20' or 40' container. However, this means you'll be responsible for the total cost of the container. Overall, this is a faster and more secure option for 3-5 bedroom households.
Air Freight
Another option is air freight. This is an excellent choice for anyone who wants to ship items ASAP. However, air freight is a more expensive option, which is why it's often reserved for fragile or essential goods only. Nonetheless, if cost is not a factor, air freight is easy to ship goods to Scotland.
Where to ship when moving to Scotland
Scotland counts 11 major ports, with Grangemouth being the largest port in the country. As a full-service international moving company, we offer door-to-door services with final delivery to any address within Scotland. The major ports in Scotland include:
Aberdeen

Lerwick

Cairnryan

Grangemouth

Fairlie

Leith

Rosyth

Fraserburgh

Dundee

Peterhead

Ayr

Inverness
When to plan your move
Depending on where in Scotland you're moving, timing is everything. Many sites close for winter from Mid-October. Snowy conditions from December to February can make travel tricky. So, if you're planning your move to Scotland, it's best to do it from late March to May, or from September to November. In addition, the summer months provide extensive daylight hours in July and August the further north you go, giving you more time to get all your moving done.
Tips to prepare for your move to Scotland
Moving overseas changes everything. The more you learn about your destination, and the more you prepare for your move, the better. Not only will you save money on your move, but you'll also avoid losing valuable time. Here are some things to keep in mind as you get ready to move to Scotland.
Documentation
Depending on whether you're moving to live, study, or work, you'll have to apply for specific visas. You can find the correct information by contacting the British Embassy in Florida. Keep in mind that you must apply for visas while in the US and remain in the US until you receive your response. Apply for the visa no later than three months before your travel date. On the other hand, Obtaining a permanent resident is a lengthy process that can take an average of 5 years.
Packing
As you're getting everything ready to ship, keep in mind your household goods must arrive within one year of your arrival or up to six months before you arrive in Scotland. Working with an international moving company is the easiest way to ensure your goods meet all customs regulations. Self-packing can save you some of the cost of moving, but it also means you'll be responsible for creating the inventory of all your items. As you're packing items, remember to check Scotland's customs rules and regulations for prohibited items, such as:
Firearms

Ammunitions

Drugs, including over-the-counter

Meat

Dairy

Radio transmitters

Plants

Animals and items derived from protected species

Fireworks
Taxes
Some used household goods and personal effects in Scotland may be imported duty-free. Luckily, the US has a tax treaty with the UL to avoid double taxation. VAT is charged on all goods except for specific gifts.
The standard rate for most goods and services is 20%. There's a reduced rate for some goods and services of 5%.
A moving advisor can give you personalized guidance on navigating moving taxes to avoid double taxation or paying extra. They can also help you qualify for a duty-free import.
You should also learn more about moving to the United Kingdom
The best international moving company
Moving from Florida to Scotland involves many steps, documents, and processes. Before choosing a move, take the time to do proper research. Write down all your needs, questions, and requirements. Not all movers are licensed or qualified to handle your move.
As you research different movers, ask for license information and valid reviews. Ask as many questions as you might have until you feel confident in your decision. You should be able to trust your moving company entirely.
International Van Lines has been helping people in South Florida move around the world for over ten years. We've been named the best movers by Forbes and Move.org and have countless reviews that speak for themselves. If you're planning on moving internationally, speak to one of our moving specialists to help you get started.