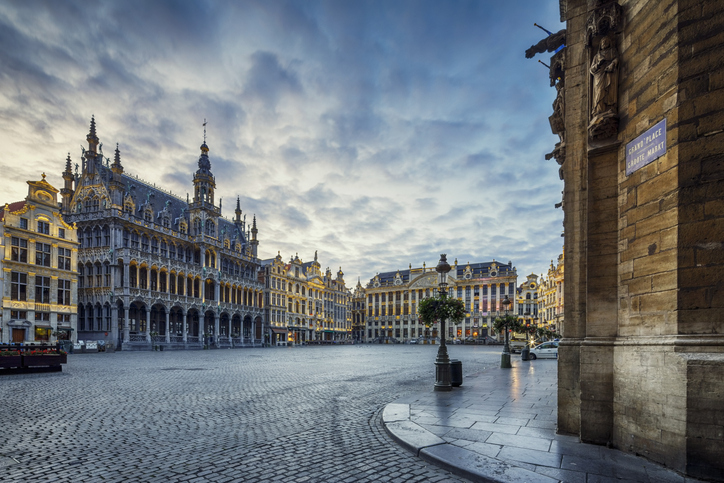 While moving from Florida to Belgium is not an international move you hear often, the country has been listed on the top 20 countries to move to. Belgium is considered by many a small country in Western Europe. Nicknamed the "Battlefield of Europe," Belgium was a battleground for famous historical conflicts. Surprisingly, nearly 1 in 10 people living in Belgium have a foreign nationality. In this guide, we'll share all the details on what to expect when moving from Florida to Belgium. Plus, we'll share tips on how to find the best international moving company to help with this exciting process.
What to expect when moving from Florida to Belgium
Moving to Belgium from the US takes plenty of time. Before you head across the globe, you need to plan and prepare, as well as estimate your moving timeline to get everything ready. Considered by many the heart of the EU, Belgium is a beautiful country with rich culture, scenic towns, and a way of living that's entirely different from what you're accustomed to in Florida. Here are a few things to know about living in Belgium:
Don't expect people to speak English. In comparison to other EU countries, English isn't very common in Belgium. Expect to struggle to find someone to understand during your first weeks. On that same note, keep in mind Belgium has three official languages: French, Flemish (dialect), and German.

Non-EU citizens need a visa to enter Belgium, although some countries have special waiver programs. Foreigners intending to stay in Belgium for over three months must register with the local authorities within eight days of arrival. All long-term visa applications must be completed within 90 days but can be completed at a Belgian embassy.

Expats living in Belgium can benefit from the country's healthcare system. The public healthcare system covers about 75% of medical expenses, so you'll only need private insurance to cover the rest. Every major city has at least one general public hospital, with specialized institutions being more common in university towns.

Expect houses to be around the same size as your typical apartment complex in Florida. Belgium homes are between 935 and 1,293 square feet. In fact, two-thirds of Belgians live in a home that's larger than their family size.

As an urbanized country, Belgium's traffic is one of the busiest. The average commute time by car is at least 42 minutes. However, public transport works fantastic, and many Belgians copy their Dutch counterparts and move nearly everywhere on a bike.
Cost of moving from Florida to Belgium
The average cost of moving from Florida to Belgium is $3,500 to $8,200. Factors such as the size of the move, service options, time of the year, and other details will impact the total cost of the move. There's also an option to air freight your goods to Belgium. It takes between 1-3 days to send items by air, compared to 10-16 days by sea. However, shipping via air freight is significantly higher, starting at $6,500 for a one-bedroom apartment. Ideally, you should get a personalized moving quote that considers all your needs and specifications.
Ways to move goods to Belgium
There are two main ways to ship your goods to Belgium. Discuss your needs with an international moving company to find the best option for you. You'll most likely ship most of your items via container and some more fragile items with air freight. The key is to know how to send different things to keep the costs of your international move low.
Containers
The most common option to ship goods internationally is with a container. There are two options to choose from depending on the size of your load:
Less than container load (LCL):

This is a cost-effective option for small households (1-2 bedrooms). LCL means you'll be sharing a container with other shipments. In this case, you only pay for the volume your items take on the container. The downsides of this option include longer waiting periods and a higher risk of breakage or damage during transit since it's a shared load.

Full container load (FCL):

This is a more comprehensive option for larger households (3-5 bedrooms). FCL means you don't share the container and have enough goods to fill a 20' or 40' container. In this case, you pay for the entire container, which makes this a pricier option. The downside of this option is mainly the price.
Air Freight
Another option is to ship goods via air freight. This isn't a complete solution for all goods because it's costly. Ideally, air freight shipping will be reserved for fragile or valuable items damaged in transit. It's also an excellent option to expedite shipping specific items that need to arrive first.
Where to ship when moving to Belgium
It takes between 10 to 16 days to ship goods from Florida to Belgium. Thankfully, Belgium is home to one of the busiest ports in the world. Depending on where you're moving to in Belgium, you might consider our door-to-door services to help move your goods from the ports to your new home with ease. The major ports in Belgium include:
Port of Antwerp

Ghent

Zeebrugge

Ostend

Brussels

Liege

Genk

Namur
When to plan your move
Like most European countries, the peak season in Belgium extends from July to August. Other popular times for Belgium include April, May, June, and October. These are months filled with festivals and pristine weather conditions. However, celebrations also call tourists and make these months more troublesome to navigate while moving. The low season runs from November through March, probably extending into April. Keep these dates in mind when planning your move, as you could save up to 20% if you choose to move during the off-season.
Tips to prepare for your move to Belgium
Planning to move overseas is a lengthy process. At International Van Lines, we often recommend planning between 6 to 8 months. Working with a licensed and experienced moving company can help you plan and foresee unexpected steps to get you ready for your move. Here are some things to keep in mind as you prepare for your move to Belgium.
Documentation
Moving to Belgium isn't easy. Beware that paperwork is notoriously laborious and can take time. If you're a non-EU citizen, you need work permits, and you must let the authorities know about your plans for staying within eight days of your arrival. You must report to the municipal authorities and get registered on the National Register to continue the process. As far as your shipped goods, you must present an inventory that includes a detailed and valued list of all your goods, including wedding gifts, inherited goods, and other items.
Packing
Self-packing can help reduce moving costs by 10%. However, if you choose the self-packing route, remember that Belgium has a prohibited items list that cannot be imported whatsoever. Some of these items include:
Drugs, including over-the-counted ones

Meat and dairy

Protected species, including items made from these species

Firearms

Plans

Powdered milk

Coats, fur, and leather items from protected animals
Taxes
To move to Belgium and avoid paying taxes, you need to prove that you have lived outside the EU for at least 12 months. Additionally, you need to declare residency in Belgium if you're not a returning Belgian citizen. Also, all your goods must be used at least six months old. Otherwise, all goods that don't meet these requirements will incur the standard import duties and VAT tax. In Belgium, the standard VAT rate is 21% and applies to all goods that don't qualify for the reduced rate of 12%.
The best international moving company for your needs
Moving from Florida to Belgium involves more than a change of scenery. International Van Lines has been helping people from South Florida relocate internationally for over ten years. Our international moving services to Belgium cater to all sizes of shipments. We have different shipping and moving services tailored to your needs. Whether you need to share a container or get a sole use container, we can help you get it done fast.
From full-service door-to-door moves, packing, loading, and customs clearance and documentation assistance, we're the best international moving company for your needs. Get your free quote today, or speak with our specialist to help you get started.