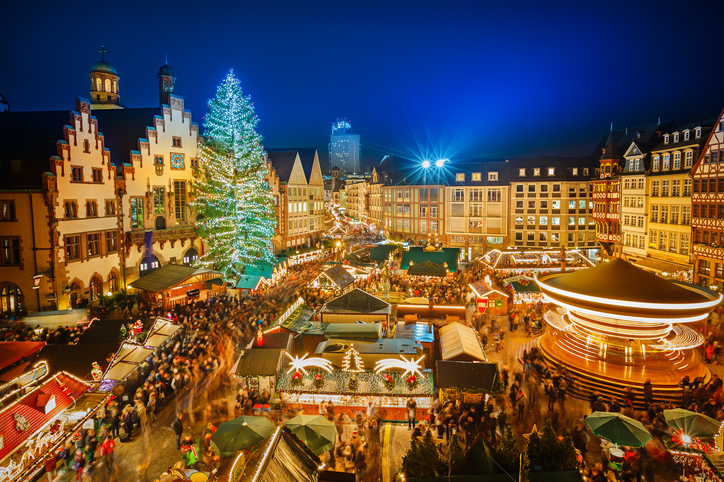 Moving to Germany from Florida means moving to one of the countries with the largest populations in Europe. Germany is a fascinating place. It's a modern country with a diverse population, fantastic food, and cultural landmarks. It's estimated between 300,000 and 400,000 Americans live in Germany. About 15% of the expats living in Germany are Americans. Read on for a complete guide on what to expect when moving from Florida to Germany and finding the best international moving company to help with every detail about this process.
What to expect when moving from Florida to Germany
Many reasons make Germany a popular destination for expats looking to relocate. Universal healthcare, a stable economy, a great education system, and a lower cost of living. Of course, trading Florida for Germany also means a change in weather since Germany is primarily cloudy and somewhat gloomy. Before making a move, it's great to learn a few things about living in Germany, including:
On average, expect houses to be around the same size as Florida. The average house size in Germany is between 946 and 1,185 square feet. That's not too different from Florida, which is 1,375 square feet.

Germany has a universal healthcare system, meaning that everyone can receive treatment. The public health system covers most German residents, but as a non-resident, you'll have to get private insurance. The cost of healthcare coverage can range between 80 to 1,500 euros per month, depending on the insurance premium.

Talking about living costs, you're likely to save money. You'll save on rent, groceries, and other services. In addition, the average annual salary in Germany is also higher than it is in the US.

Getting a visa is somewhat simple. Germany has a Standard Residence Permit that lets you stay up to 90 days without a visa, which gives you plenty of time to arrange your visa requirements. Visas can be renewed every year for five years.

Public transportation in Germany is one of the best. Public transit includes subway, buses, trams, and overground subways to get people anywhere they need to go. Everything is connected, so it's easy to move from one point to the other solely relying on public transportation.
Cost of moving from Florida to Germany
The average cost of moving from Florida to Germany is $3,500 and $6,500. Factors such as the size of the move, service options, time of the year, and other details will affect the total cost of the move. It's possible to ship air freight from the US to Germany in just two days. But, moving a container takes much longer, between two and four weeks. The services you hire will also impact the total cost of the move. For example, door-to-door services are more convenient but significantly increase the price. Ideally, you should get a personalized moving quote that considers all your needs and specifications.
Ways to move goods to Germany
When it comes to moving to Germany, there are different options to ship your goods. Discuss your needs with an international moving company to find the best option for you. Moving 1-2 bedrooms to Germany isn't the same as shipping a 3-5 bedrooms household. Not to mention, an international moves specialist can help you find opportunities to cut down moving costs and take better care of your goods.
Containers
The safest and most straightforward way to ship goods to Germany is with a container. You have two container options to choose from:
Less than container load (LCL):

This is the most cost-effective option for people that don't have enough items to fill an entire container. LCL includes different shipments that share one container; you pay for your items' volume on the container. However, this option tends to take longer, and it's often not recommended for fragile items as there's a higher risk of damage.

Full container load (FCL):

This is the most comprehensive option for people with enough household goods to fill an entire 20' or 40' container. FCL means you'll have a full container for your items. However, that means you also have the pay for the total cost of the shipment. In this case, fragile items will be better protected, and things will ship faster since the delivery doesn't have to make different stops.
Air Freight
Airfreight shipping is another option to ship essential goods or fragile items. While this is a significantly more expensive option, it's excellent for expedited shipping on things you'll need right away. It's also reserved to ship art, fragile items, and heirlooms as they're less likely to damage in transit this way.
Also read: Moving to Germany: Everything you need to know
Where to ship when moving to Germany
On average, it takes three weeks to ship goods from the east coast to Germany; for the west coast, expect to wait between 30 days to most base ports. It takes between 6 and 8 weeks to move to Germany. If you are moving to Germany and your final destination is a small town, we recommend speaking with our team about door-to-door services to help you move your goods from the ports to your new hometown. The major ports in Germany include:
Hamburg

Bremen

Lower Saxony

Duisburg

Mecklenburg-Vorpommern

Emden

Lubeck

Kiel

Frankfurt
When to plan your move
Unlike other countries in the EU, Germany is always working and moving. Summertime is the peak travel season in Germany. Expect prices for accommodations to be at their highest from June to September. The slow season runs from November through March. However, winters can be harsh, sometimes making a move more challenging. Ideally, there's a short window from April to Mid-June with low accommodation and airfare prices. It also means you can avoid crowds at this time as well.
Also checkout: International Moving Quotes
Tips to prepare for your move to Germany
Moving overseas is a lengthy process. Working with a licensed and experienced moving company can help you foresee unexpected steps and items that can be costly. Here are some things to keep in mind as you prepare for your move to Germany.
Documentation
All non-EU citizens need to apply for a visa to stay in Germany. For most nationalities, you only have a period of 90 days to secure your visa. It's recommended that you make an appointment well in advance before planning your move – a visa appointment can often take up to 4 months to obtain. Bring as much original documentation as possible, as Germany's stringent visa process.
Packing
Packing for an international move requires precision and dedication to prevent damage. You can save on the cost of moving from Florida to Germany by self-packing your boxes. This can save you about 10% of your total moving costs. However, self-packing also involves your own costs and time that you could use to get everything ready for your move to Germany. In addition, it's essential to familiarize yourself with the items that are prohibited from entering Germany, such as:
Drugs, including over-the-counter

Endangered animals

Plants

Explosives

Firearms

Dairy products

Meats

Chemicals

Leather products

Certain canned foods
In addition to these, some air freight carriers have their own list of prohibited items you must check before shipping items.
Taxes
The bulk of the cost of moving to Germany from the US will be the custom taxes. You must pay duties and fees at German ports. Working with a licensed and reliable moving company will help you keep these costs low and everything in check. Ideally, you'll have an accurate inventory of all the items in your shipment because officials physically inspect most containers. If you haven't lived in the EU for the 12 months before your moving date, you may avoid paying duties or taxes. Nonetheless, Germany's duty rates go from 1% to 17%, with electronic items getting the highest rates.
Also read: Cost of moving from Miami to Germany
Finding the right international moving company
Moving from Florida to Germany is exciting and a massive change of scenery. Before choosing a mover, spend enough time doing your due diligence. Many moving companies aren't licensed to help with long-distance moves like this one. It's essential to check all license information and its history before choosing. Ask as many questions as possible and try to find a company that will guide you through the process to avoid penalties or additional costs.
International Van Lines has been helping people in Florida move across the globe for ten years. We've been proudly named the best movers by Forbes and top moving sites. If you're planning an international move, you can count on our international moving specialists to get started. Get your free quote today, or speak with our specialist to help you get started.