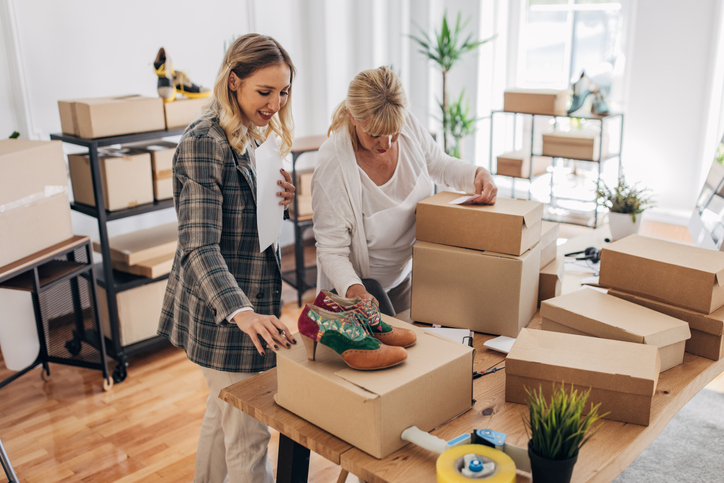 Making an international move requires a lot of planning and prepping. Self-packing for an overseas relocation can be time-consuming and labor-intensive. However, understanding how to pack for an overseas move and the type of boxes you should use can save you time and a headache.
This article will provide information on how to pack boxes for an overseas move, where to get them, and how to pack them properly to avoid damage.
How to pack books
International moving costs are based on cubic feet. The more you have, the higher the price. Take some time to get rid of unwanted books and narrow down the list of books you would like to ship.
Once you've decided on the books you're shipping, look for some sturdy, small book boxes. You can find book boxes online or at any local Uhaul or Home Depot.
You'll want to use wadded-up paper or cloth to fill any remaining spaces. Remember, your household goods may be on the ocean for a while, so you'll want to ensure your books aren't shifting around while in transit.
Also, read: How to reduce international moving costs
How to pack clothes
Before packing clothes, you should sort them out and eliminate items you can do without. Moving overseas requires much attention, so the less stuff you have to worry about, the better.
When it comes to clothes, you will have a few options, but you should understand how to pack boxes for an overseas move. Below are box types and how to use them:
You can also consider using vacuum bags to condense clothing items. You can purchase wardrobe boxes online or at any local department store like Walmart or Lowes.
How to pack shoes
There are many ways of preparing and packing shoes for an international move. Start by sorting through your shoes and getting rid of any old or unwanted shoes. Once you've decided what you're shipping, it's time to get boxes and start packing.
Consider using packing paper to wrap your shoes, especially if they're leather or on the fancier side. You can also leave them in their original box, but remember it will take up more space.
Instead of dumping your shoe collection in a large box, you should get small to medium size boxes. Try and keep yourself organized by packing shoe types with each other. It would be best to mark each box with specific information on your shoes.
How to pack pictures frames
Packing picture frames for an international move will require attention, especially for high-valued frames. You can use the guide below to help prep and pack your picture frames.
It's crucial to understand how to pack boxes for an overseas move. It can differ between an insurance claim and a smooth relocation experience.
How to pack artwork
There's no one size fits for packing artwork. You may need multiple-size boxes, masking tape, and bubble wrap. If you're shipping high-end artwork, you may want to consider letting the professionals handle it, but if you're on a budget or a DIY type of person, you can use the information here to help:
When packing boxes for an international move, you'll want to ensure there is no space for shifting. You can use anything from paper to towels to help fill any empty spaces on the box.
How to pack table lamps
To ensure your lamps arrive at your new home safely, follow these packing tips:
Start by removing all the lampshades. Pack them separately in a medium-sized box.

Unscrew the lamp base from the pole. Wrap the base in bubble wrap and secure with packing tape.

Pack the pole in a long, thin box. Fill any gaps with crumpled paper to prevent movement.

Label all boxes containing lamps clearly and prominently. It will help you find and set up your lamps when you arrive at your new home.

Make sure your boxes are condensed. You can use towels, blankets, or shirts to fill in any of the empty spaces.
Knowing how to pack boxes for an overseas move will help keep your personal effects from being damaged while in transit.
How to pack small miscellaneous items
Packing small miscellaneous items can be challenging, especially if you're moving to a new country. Here are some tips on how to pack various small items:
Use storage containers that are durable and stackable.

Use labels or tags to identify the contents of each container.

Pack items in smaller containers if possible. It will make it easier to find and retrieve items later.

Consider using clear storage containers so you can easily see the contents.

Packing fragile items, use padding material such as bubble wrap or foam peanuts to protect them.

Make sure all containers are securely closed before moving them.
These tips will help ensure that your small miscellaneous items are packed securely and efficiently.
Resources
Insurance and how it works
If you choose to self-pack boxes, you can still get insurance. However, you will only be entitled to total loss insurance coverage. Total loss insurance will only cover the complete loss of a shipment.
If you self-pack and your boxes arrive with one item damaged, you will only be entitled to basic valuation coverage, which is 60 cents per lbs per article.
If you have high-value items or are concerned about damage, you can consider having a professional international moving company pack for you.
How to pack boxes for an international move
First, start by getting yourself prepped by getting rid of unwanted items. Once you've determined what you're shipping, start organizing your clothes, books, shoes, and miscellaneous items.
You should start the process several months before your moving date, leaving enough time to get the necessary boxes and packing supplies. The more time you have, the less stressful your moving experience will be.
If you have any questions on how to pack boxes for an international move or if you're looking for an international moving quote, feel free to contact us at any time.