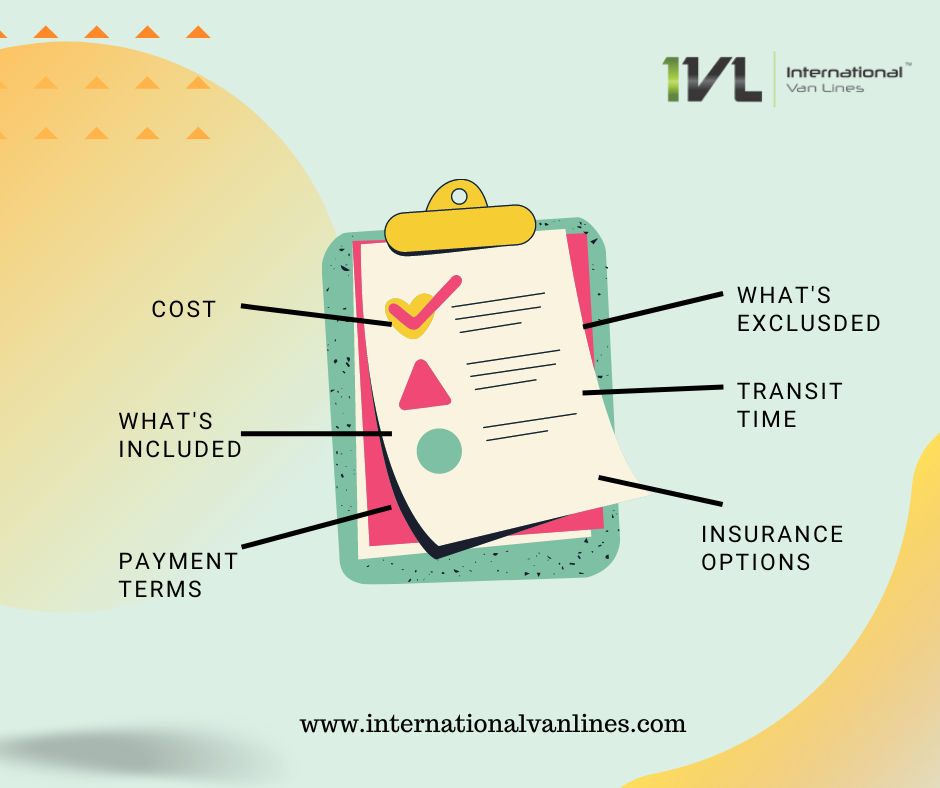 Are you looking for international moving quotes? We can help!
Several factors determine international moving costs. The most significant factor is the size of your move, cubic feet or container size, to be exact. The service and destination country will also play a role when getting international moving estimates.
This article will answer all your questions regarding international moving, the process, and tips on saving money. It's always best to speak with an international moving company to get international moving quotes, but this will guide you.
What's the average cost of international moving estimates?
There are many costs to consider when moving overseas, but we will stick with the cost of an international move. Hiring an international mover can range from $1500 to $12,000. The size of your move is the most significant cost factor, but service and your final destination will also affect the price. You can use the price guide below for budgeting purposes:
Average costs of a door-to-door move
| Continent | 1-2 Bedroom Home | 3-4 bedroom home |
| --- | --- | --- |
| Europe | $3500-$6000 | $7000-$10,000 |
| Australia | $3900-$6200 | $7500-$11,000 |
| Asia | $4000-$6700 | $7800-$11,300 |
| Africa | $4500-$7500 | $8000-$12,000 |
| South America | $3800-$6400 | $7200-$11,000 |
Moving is a great time to purge, so consider eliminating unwanted items. You can have a garage sale, sell them online or donate them to one of the dozens of non-profits that will pick them up at no cost.
Self-packing is also something to consider if you're on a budget. You can buy packing supplies from local retailers like HomeDepot or online. It will help reduce the cost of your move by about 10%, so it's worth considering.
The good news is there are ways of cutting costs. However, discussing the details with your choice international relocation company is always best. It's essential to ask the right questions about international moving quotes and the process.
Learn more: How much will it cost to move overseas
What to look for in an international moving quote
First, you'll want to ensure that your mover's inventory list is accurate. If the inventory is not on the international moving estimate, you should request it. Then you should check the services and exclusions that are on the quote. Always read the small print!
It's best to get international moving estimates from companies that offer a visual or on-site survey unless you have a small move. Phone surveys can be effective, but it's risky, especially if you're moving two bedrooms or more.
Lastly, look to see if moving insurance is part of the quote. You'll want to speak with the international moving company regarding their insurance policies if it's not.
How to determine what international mover is best for you
International moving costs are always a factor when choosing an international moving company. However, there are more critical things to consider other than cost. Moving abroad is challenging, so finding a company with experience and knowledge of your final destination is the key to a positive outcome.
Moving abroad requires attention to detail. It's essential to ensure that all of your questions are answered in detail and that you feel confident in your international moving company's ability to perform. So, don't focus on price shopping, but rather on quality!
Why would one international mover be cheaper than another?
There are several reasons why one international moving company may be less expensive than another. Below are a few reasons why a mover would be significantly less costly than another.
Invalid Inventory: Ocean and air freight shipping is based on volume, so the more you have, the higher the cost. However, if n international mover underestimates the volume of your move, it can make the price seem more attractive.
Service: You'll always want to check the service listed on the moving estimate. If you requested a door-to-door service and the quote says door to port, it would seem less expensive than a competing quote.
Exclusions: Always read the fine print. One mover may include customs clearance and port charges where the other is not. This can cause a moving estimate to appear better.
These are just a few things to consider. If you spend the time and look over your international moving estimates properly, you will have a smooth relocation experience.
What international moving estimates should look like
International moving estimates should show details regarding service, what you're moving, moving date, and exclusions. Most international moving companies will provide an assessment with a cost breakdown.
Additionally, it would help if you looked for terms & conditions along with payment instructions. Most international relocation companies will ask for a refundable deposit to reserve your moving date.
What licensing and accreditations should I look for?
According to shyft, there are over 7000 registered movers in the United States. However, only about 3% are lisenced by the Federal Maritime Commission, the governing agency regulating maritime transportation. Below is a list of licensing and credentials of a quality international mover:
An international moving company only has to maintain an active FMC license and bond. However, the other accreditations mentioned are a sign that a mover took the next step in bettering their business. If you end up with an unlicensed mover, you will have no legal recourse.
Should customs clearance, port, and terminal handling be included?
If you're moving door to door, customs clearance should be included in your moving estimate. However, it's common for an international moving company to leave out port and terminal charges. It's best to speak with your mover about the details of their destination service.
Port charges vary based on what you're moving and the size of your move. They're billed directly from the port and can range anywhere from a few hundred to a couple of thousand dollars. Most moving companies will be able to provide you with more details.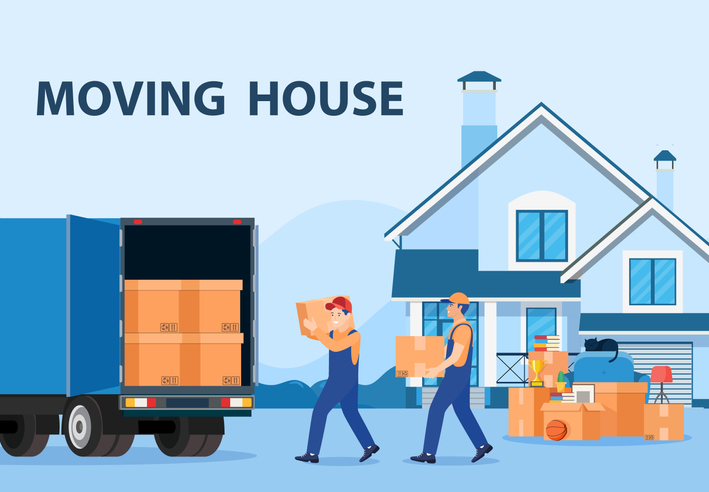 Do international moving companies offer packing?
Most international moving companies will offer professional packing, supplies, and specialty packing for higher valued items. Packing costs will vary based on the amount of packing required.
When searching for international moving estimates, you should ask about their packing process and insurance. Moving to a foreign country can take some time, so you'll want to make sure packing is done correctly.
You should consider if you can afford to have professional movers pack for you.
How much does it cost to add insurance?
Insurance will run you between 3% and 4% of your goods' declared value. However, you can only add full coverage insurance on items your international mover professionally packs.
Full coverage insurance: Will cover the value of an item. You will be covered if you have a box that you declared $300 and gets damaged. However, there may be a deductible which you should check with your moving company.
Total loss coverage: Will only cover the complete loss of a move. It will not cover individual items.
International van Lines offers both options, but you should always speak with the international movers of your choice about the details of the insurance they offer. If damage is a concern, you should consider having your items professionally packed.
How much does it cost to ship a car overseas?
You can ship a vehicle in the same container as your household goods or separate. If you send only a car, you will pay $1800 to $3500. The service you choose will be the most significant cost factor. Additionally, the year, make, and model of your vehicle can also affect the cost. See your shipping options below:
Roll-on Roll-off: If you're looking for the most economical mode of transportation, then you may want to consider a ro/ro service. However, a port-to-port service requires you to drop off and pick up the vehicle.
Consolidate your car: Another great way to reduce the cost of shipping a vehicle is to consolidate. Some international moving companies offer consolidation services worldwide.

Container: A more expensive option is getting an exclusive container. It will run you $3000 to $5000. It's something to consider if you have a high-end vehicle.

Air freight: The most expensive shipping option is air freight. If you're in a hurry, it's something to consider.
How to find the best international moving company
There are a few things to remember when searching for an international mover. First, consider the type of move you're making. Are you moving your entire household or just a few items? It will help you determine the size and scope of the company you need.
Next, research different international moving companies. Get quotes from multiple companies so you can compare rates and services. Be sure to read reviews from past customers to get an idea of the quality of service each company provides.
Finally, ensure you understand the terms and conditions of your contract with the international mover. Ask questions about anything you don't understand and get clarification before signing anything. By doing your homework, you can be confident you've found the best international mover for your needs.
The international moving process
First, it will start with international moving estimates. Then you will discuss the details of your move with your relocation coordinator. Lastly, choose a moving date, place a deposit, and be on your way. Below you will see a list of services and processes.
Door to door: The mover will show up at your house to pick up and pack. Your goods will be brought to the loading port and then loaded on a ship. When your goods arrive at their destination, you will be notified by the destination agent. The agent will then arrange delivery to your final destination.
Port to door: You will arrange the delivery of your personal effects to a nearby container freight station. Your goods will be palletized and loaded for shipping. When your goods arrive at their destination, you will be notified by the destination agent. The agent will then arrange delivery to your final destination.
Port to port: You will drop off and pick up your household goods at the arranged ports. You will be responsible for any port-related charges.
Port door: The mover will pickup from your home and ship to the requested port. You will arrange the pickup and customs at the destination.
Things to keep in mind when moving abroad
There are many things to consider when moving to a foreign country, additionally if you're moving household goods. With a bit of research, you'll be able to find the right international moving company. However, there are other things to keep in mind when moving overseas.
A different culture is one of the biggest things to get used to when moving abroad. Even if you're moving to a country that speaks the same language, there will still be customs and traditions unfamiliar to you. It's essential to be respectful of these differences and try to learn as much about the local culture.
Another thing to remember is to budget yourself appropriately. Look into the cost of living and try saving at least three months' worth of bills before moving overseas.
Finally, don't forget to research the visa requirements of your chosen country. You'll need to ensure you have the proper paperwork in order before making a move.
How do international moving costs vary?
The most significant factor that can cause international moving costs to vary is the volume of your move. If a moving company shows up and you have more stuff, you will be charged accordingly. You must get a visual or virtual tour to ensure the accuracy of your items.
Another way international moving costs can vary is service. If you change the service you requested, it can cause a price increase. It's important to discuss the details ahead of time when getting international moving quotes.
To avoid cost variances, you should speak with your relocation coordinator about the details of your move. Here at International Van Lines, we provide detailed international moving estimates and discuss all elements of your move.
International moving FAQs
How can I save money on my international move?
Self-packing, purging, and service will be the most significant in saving money.
What's the typical transit time of an overseas move?
International moves can take anywhere from 3 to 8 weeks. Your final destination and service will determine transit times.
How many international moving estimates should I get?
You should get up to 3 moving estimates for comparison.
When should I book my move date?
The sooner, the better, but at least three weeks out.
Should I self-pack?
If you're on a tight budget, you can consider self-packing. However, it's not recommended for an international move.
How do I know what international moving service to choose?
It will depend on your budget. Door-to-door service is the most convenient.
Will my goods be shipping by sea freight?
Sea freight is the most common mode of transportation, but you will also have an option to ship via air freight.
How long do international moving quotes take?
It should not take longer than 24 hours to get international moving quotes, but it can take as little as 20 minutes.
International Moving Estimates with International Van Lines (IVL)
IVL offers overseas relocations to over 140 countries. We're also well regarded in the industry and have been awarded the number one international moving company by Forbes and US News. If you're looking for international moving quotes, we can help!
Getting an international moving estimate is simple! Give us a call, and one of our relocation coordinators will walk you through the process. We will ask what you're moving when you're moving and discuss different shipping options.
International Van Lines Overall Rating & Reviews