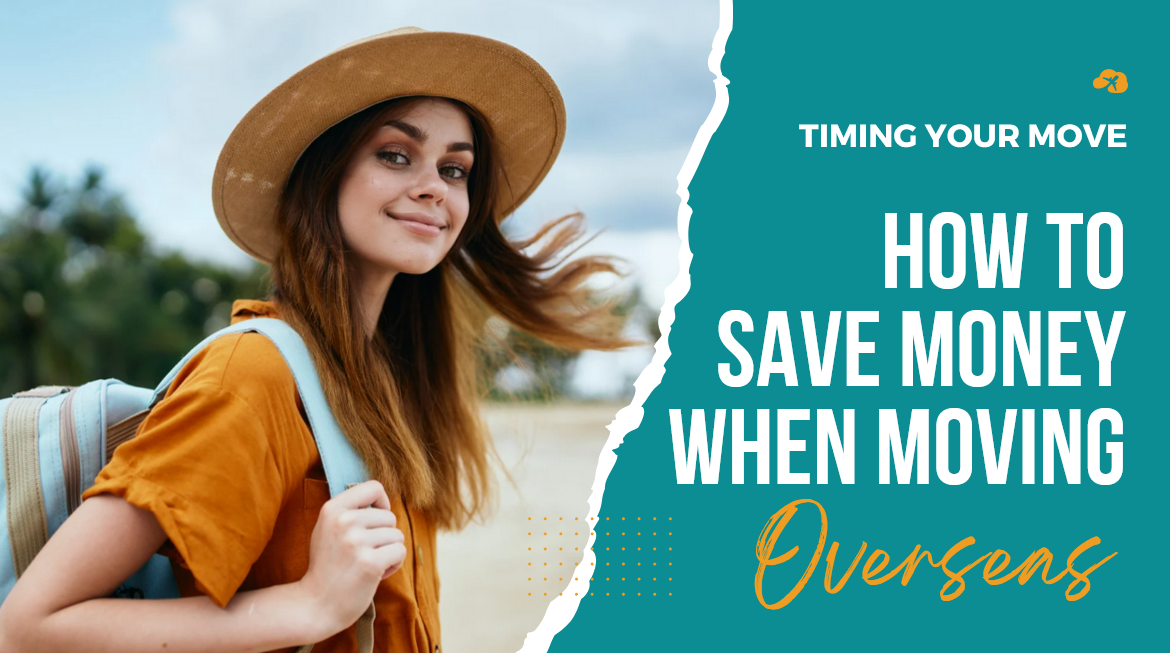 How to save money when moving overseas.
Tips on timing your international move that will help you save money when moving overseas.

The cheapest time to move overseas from the US will depend on many factors. However, generally speaking, the best time to move abroad is during the off-peak season when demand is lower. This could be in the winter months when fewer people are moving due to the colder weather in some areas and the holiday season being over.
However, the timing of your move isn't the only thing to consider. Additionally, you should book your transportation and services well in advance to secure the best deals and avoid any last-minute price hikes. The more time you have to research different options and compare prices, the more chances you'll have to find the most affordable options for your home.
Know More Here: Moving during Peak Season

What's The Cheapest Time of Year to Move Overseas?
The cheapest time of the year to move overseas from the US will likely be during the winter months, such as January or February, when demand for international travel tends to be lower.
Know More Here: Moving in Winter
You also want to avoid peak times such as holidays, school breaks, and summer vacation, as prices tend to be higher during these times due to increased demand.
If you do have flexibility in your travel dates, consider checking prices for different times of the year to see if there are any significant differences.
However, remember that other factors will affect the cost of your move. So it's always best to research and compare prices from different moving companies to find the most affordable option for your needs.

Factors That Affect The Cost Of Your Move
Seasonality is directly affected by demand and availability. When demand for moving services is high, the cost of those services naturally increases. Similarly, when there is a shortage of available moving services or resources (like shipping containers), the cost of those services can also increase.
To evaluate demand and availability factors, you must consider the following:
Peak moving season: Ask when is the peak moving season for your specific destination and mode of transportation. For example, moving to Europe in the summer months will be significantly more expensive than in the winter due to the higher demand for moving services.
Shipping container availability: Check with your shipping company to ensure enough containers accommodate your move. If container availability is very limited, you will likely have to pay a premium for a container or decide to delay your moving day.
Truck capacity: If you need to move your belongings by land, check with your moving company to ensure adequate trucking capacity to handle your move. Similarly to the shipping container, you may have to pay a premium to accommodate your move.
Currency exchange rates: Be aware of any currency exchange rate fluctuations that may impact the cost of your move. A change in exchange rates can affect the cost of transportation, customs fees, and other expenses related to your move.
Read Here: List of prohibited items when moving overseas
To mitigate the impact of demand and availability on your move, consider booking your move well in advance and working with a reputable moving company with a proven track record of managing supply and demand dynamics.
Additionally, consider flexible moving dates to avoid peak moving seasons or to take advantage of lower prices during slower times of the year. Peak moving seasons include the summer months, the end of the month, during the holidays, and by the Chinese New Year.

How to Save Money On your International Move
It's essential to consider factors such as seasonality, the weight and size of your belongings, the method of transportation, and more when pricing your international move. However, many cost-saving strategies can help you bring the total cost of your international move to help you stay within budget.
Read Here: Why you should stick to your budget when moving
Book your International move in advance
Researching early and booking and scheduling the services of a moving company early will help you save on costs. It will also give you more room for error if you plan to move in high-traffic seasons like summer.
It's generally recommended to book your international move at least 3-4 months before your desired moving date. This will give you plenty of time to make an informed decision about your chosen company.
Booking in advance can also help ensure that you can secure your preferred moving date, especially if you are moving during peak season or to a destination with limited availability.
Top International Moving Companies
Here is a table of the top International Movers from the US. Ratings are based on Years in Business, Reputation, and Customer Reviews.
Ask for Discounts from your moving company



Believe it or not, many moving companies have discounts and promotions that can help you save money in the long run. Here are some deals you can consider asking for:
Early booking: Many movers will give you a special discount if you book your move in advance.
Package deal: If you need multiple services, such as packing, storage, and transportation, you may get a discount if you agree to do all services with the same company.
Off-season discounts: Avoiding the peak season will very likely help you save more money. Most companies offer discounts during off-peak seasons when service demand is lower.
Remember that not all moving companies offer discounts, and some discounts may only be available for a limited time or under certain conditions. Be sure to ask your moving company about any available discounts and compare prices from multiple companies to find the best deal for your specific needs.

Pack Some of Your Belongings Save Money When Moving Overseas

Self-packing is one of the most accessible ways to save on international moves. It does provide some logistical challenges, like procuring packing materials and inventorying. Still, if your move will be large, it's good to pack what you can.
You can, for example, pack all the non-fragile possessions that don't require specialized materials, like clothes and cleaning products, while leaving the larger, more valuable, and more fragile items to professional packers and movers.
Know More Here: Do you need International Shipping Insurance?
Downsize and sell your items to save money while moving overseas

Moving internationally is a great chance to look at your possessions and decide what you need and don't. Selling certain items through garage sales, online, or directly to people who may be interested can help you get some extra money that can go towards the move.

Choose The Most Affordable Shipping Method to Save Money When Moving Overseas

Sea freight is generally less expensive than air freight, so consider choosing this option if your move allows for it. Air freight is typically charged by weight, so the cost can increase significantly for larger shipments. Remember that sea freight can take longer than air freight, so plan accordingly to save money when moving overseas.

Know More Here: Air Freight vs Truck Freight
It's Possible to Save Money By Timing Your International Move Just Right
We know an international move can be a complex and expensive undertaking, but by understanding the factors that impact moving costs, you can take steps to minimize those costs and ensure a successful move.
Winter is the best time to move overseas from the US because of the low traffic, demand, and rates. However, considering additional factors and using cost-saving strategies like packing yourself, booking the move in advance, selling your items, and selecting the most affordable shipping service available will save significantly on international moving costs.
When evaluating international movers, be sure to consider not just the price but also the level of service, experience, and reputation of the moving company.
By taking a proactive approach to your move, including booking in advance, packing efficiently, and choosing the right shipping method, you can save money and have a stress-free moving experience.
Remember to stay flexible and plan ahead; you'll be well on your way to a successful international move.
More about International Van Lines