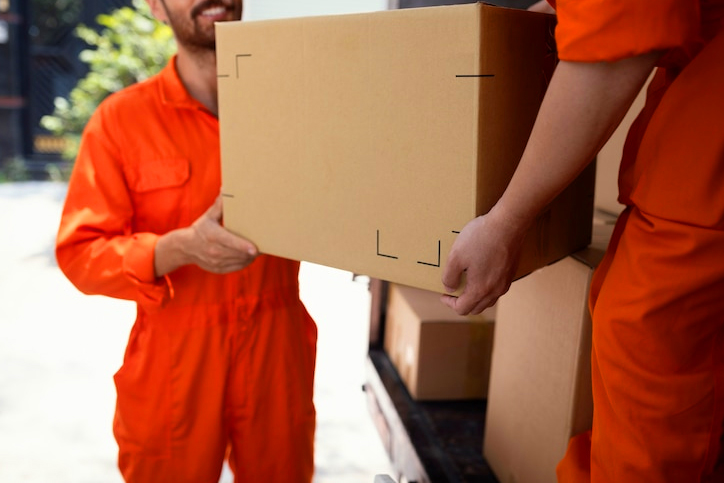 It might be challenging to pick reliable international movers. According to the BBB, most moving business complaints included allegedly missing or damaged goods. Still, there were concerns about billing for the time that wasn't worked, showing up late, and not fulfilling estimates. The stress of moving day is enough without your belongings arriving damaged or with an unexpected fee. It will be helpful if you've investigated the possible moving businesses to prevent it. It simply requires a small amount of extra time but may prevent much hassle.
International Van Lines is one of the best international movers in the world and can guide you to pick the best moving company. The best possible steps are:
Get Referrals.

Follow the rule of threes.

Watch out for red flags.

Make sure the selected movers are licensed and insured.

Check the criteria with the best business bureau.

You may ask them about accreditation.

Verify the address.
Let's discuss the above points to understand how to choose the best moving companies.
12 Steps to Finding Reliable International Movers
Get Referrals
Get free moving quotes as a start. Next, enquire about moving companies from friends, family, and coworkers. Ask a professional real estate agent for a recommendation if you are currently working with them.
Follow the rule of threes
Never accept the first estimate you are given. Ask at least three separate businesses to provide an in-person quote instead, as no business can provide you with an accurate quotation without seeing your items.
Watch out for red flags
Watch for warning signs during the estimation. For instance, the majority of trustworthy movers won't want a cash deposit before your relocation. It could not be a real service if the mover appears eager to receive the initial payment. During the estimate, take notice of the movers' appearance and professionalism. Look for a different business if they are unreliable, appear uncertain of their skills, or cannot respond to your inquiries. Additionally, watch out for any movers that arrive in a hired moving vehicle. A reputable business will have its tools.
Make sure the selected movers are licensed and insured
A USDOT number is given to authorized interstate movers by the U.S. Department of Transportation Federal Motor Carrier Safety Administration. Request the moving business's U.S. DOT number if you're moving out of state and check the moving firm's license on the FMCSA's protectyourmove.gov website. You'll need it to claim the moving company subsequently. Consult your local consumer affairs office if you plan to remain inside the state. You can find the list of regional organizations in the FMCSA's contacts database.
Check the criteria with the best business bureau
You may check BBB's reputation in the moving business for free online. Remain with BBB-accredited movers or, at the very least, have a decent rating. If the moving business isn't on the BBB's list, think about finding one that is.
You may ask about accreditation
Trade groups examine businesses before approving them for membership or a stamp of approval. Look for a moving business that displays the ProMover logo from the American Moving and Storage Association. To learn more about reliable international movers and packers, visit the International Van Lines website.
Verify the address
Get a business card from the mover, visit their website, and then check the provided address in the phone book or online. Make that the address of the moving firm is recorded and registered under the business names. You must avoid Any address listed with a residential name.
Know the tips for choosing reliable international movers
We can discuss the best possible steps to choose the right international moving companies that are reliable.
Vet the mover

Take a thorough moving inventory

Get a written estimate.
Let's discuss all of these points.
Vet the mover
Ask for recommendations from your colleagues, relatives, and friends. Check the references for the moving firm. Inform them that you need a list of three local clients who have relocated within the last three months. Make a call to those clients and target your inquiry toward their experiences. Verify the mover's insurance and registration. You can inquire with your state's attorney general, county consumer affairs office, or municipal consumer affairs office.
Take a thorough moving inventory
A reliable moving company will do a complete inventory of all your possessions in person or online. It entails searching every space you have for storage, including cabinets, drawers, garages, and bookcases. The inventory should also list items that are being moved from outside places. The moving company's estimate is mostly determined by the weight of your belongings and the amount of room they will occupy in the truck. Let the estimate know if you don't intend to bring any of the goods to your new house. It's crucial to get a precise estimate.
Take a written estimate
Compare a few quotes from several moving firms. As we indicated above, the estimate needs to be based on a real, in-person evaluation of your belongings. We advise requesting at least three quotations from several movers.
How can you avoid a moving scam?
International Van Lines can guide you to let you know how you can avoid moving scams. Here are some best possible steps:
You must avoid paying a large deposit

You must avoid moving companies with a name switch.

It would be best if you knew your packing costs from the movers.

You need always be aware to provide extra fees.

You must avoid signing a black-moving contract.

It would be best if you avoided the guaranteed quote from the scammers.

You must not delay reporting any problems you might have been facing.
Bottom line
You can find several options if you search for international movers near me on the internet. Among them, International Van Lines provides great quality moving services to clients. You can visit the official website to explore more interesting commercial and international moving facts.