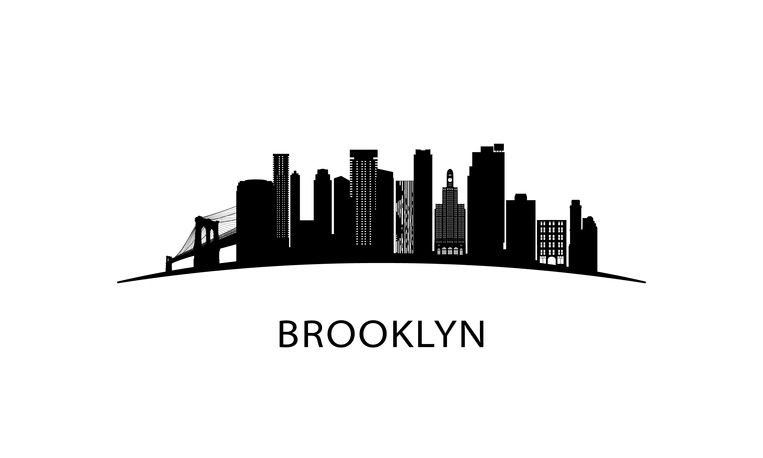 According to World Population Review, there is an estimated 2,589,970 Brooklyn residents. Approximately 1% of Brooklyn natives move overseas annually, which is significant. Finding the right international moving company in Brooklyn can be daunting without knowledge.
This article aims to provide objective information to locate international movers in New York, average moving costs, and the different international moving services offered.
How much will I spend hiring an international moving company?
Quick answer: The average cost of hiring an international moving company in Brooklyn is $2500 to $12,000. Your move size is the most significant cost factor. However, your destination country and service will also affect the cost of your move.
International moving companies charge based on the volume of your move (cubic feet), so the more stuff you have, the higher the cost. Additional services like professional packing or crating can add additional costs to your international move.
Smaller moves will ship in a shared container, also known as a less-than-container Load (LCL). However, if you have a more extensive move (2-4 bedrooms), your stuff will ship in a full container load (FCL).
Also, check out: The cost of moving overseas.
Who's the best international moving company in Brooklyn?
International Van Lines, Allied Van Lines, Dumbo Moving and Storage, United Van Lines, and Flat Rate Moving are considered the best international moving companies in Brooklyn, NY.
Each company listed is an international moving company in Brooklyn with an extensive background in quality and reputation. They maintain the proper licensing and insurance to perform ocean freight services worldwide.
When searching for an international moving company, it's best to conduct your research, but you can use any of these companies comfortably for an international moving quote.
What are the best international moving services for household goods?
Ocean freight makes up approximately 90% of international household goods movements in the US. It's the most cost-effective transportation method; however, you will have service options to choose from:
Door-to-door: The most common international moving service from Brooklyn and abroad is door-to-door service. It's the most convenient, but it's also the most costly. Your household goods will be picked up from your door and shipped to your final destination with everything in between.
Door-to-port: You can also pick up your international shipment at a nearby port. However, you will be responsible for port-related fees like customs clearance and port charges.
Port-to-port: The least expensive international moving service is port-to-port. However, you will need to drop off and pick up your household goods from both ports, making it inconvenient.
It's always best to speak with your international moving company in Brooklyn about their service options.
How can I save money on my international move?
Start by decluttering and getting rid of unwanted items. Additionally, you can consider self-packing your boxes and a less expensive international moving service. Lastly, don't price shop! International moving requires niche skills; go with a reputable international mover.
Self-packing: Packing boxes will save you approximately 10% on your international moving cost, but it comes with risk. Ensure that you weigh the pros and cons of self-packing before you decide.
Moving service: If you're on a tight budget, you can consider a less expensive international moving service like port-to-port. However, you must find an international moving company in Brooklyn that offers the service.
Declutter: Moving is a great time to purge. Consider getting rid of unwanted items. The less you have to move, the less the cost will be.
Speaking with your choice international moving company about saving money on your move is essential.
What international moving company in Brookly offers auto transport?
Most international movers in Brooklyn offer auto transport services. However, there are a few that specialize in shipping vehicles only. Below is a list of Brooklyn's top 5 international auto transport companies.
You should request a full container load if you're consolidating your household goods with your vehicle. However, speaking with your choice international moving company is always best.
How long does an international relocation take from Brooklyn?
The final destination, move size, and mode of transportation will determine the time it takes for your move. However, you can generally expect 4-8 weeks for ocean freight and 2-3 weeks for air freight.
It's always best to speak with an international moving company in Brookly about shipping time frames. They will be able to provide you with the shipping times upon getting a free quote.
Remember that shipping times are ETA's and are subject to change for unforeseen delays like port congestion or weather. It would help if you planned for the worst-case scenario.
Do international movers offer insurance?
The best international movers will offer insurance through a third party like Lloyd's of London or Unirisk. Below are the different insurance options and costs:
All risk insurance: If you're hiring an international moving company in Brooklyn to pack your household goods, you can get all risk insurance. It covers the good's declared value and is the best insurance you can get. The cost ranges from 2% to 4% of the good's declared value.
Total loss insurance: If you choose to self-pack, you can only get total loss insurance. It covers the value of the shipment as a whole. You will be covered for the total value if the boat sinks or there's a fire.
Limited coverage: If you choose to opt out of insurance, you will get 60 cents per pound per article if there's damage.
Moving overseas is a process, so you should speak with the international relocation company of your choice about the details of their insurance policies.
What if I only want to ship boxes from Brooklyn overseas?
Some international movers like International Van Lines offer parcel shipping services out of New York. Unlike a standard overseas move, your boxes will be shipped through a third-party airline like FedEx.
A parcel shipment is considered anything under 15 boxes and will cost an average of $1200 to $2500. The final destination, box dimensions, and weight will affect your move's total cost.
Transit times for parcel shipping are a lot quicker than the ocean freight. You can expect an average shipping time of about a week. It's best to speak with reputable international movers about the details of their services.
How to find reputable international movers in New York
The international moving process requires knowledge and skill. International moving companies in NYC must understand the best shipping routes, customs clearance, and how things work. Below are some tips for finding the best international movers:
Ensure they are adequately lisenced: Check the Federal Maritime Commission (FMC) for license information. By law, an international moving company in Brookly must maintain a valid FMC license.
Read online reviews: You should always check international moving companies' online reviews. However, it's essential to consider years in business and company size.
Ask the right questions: The moving process may vary by company, so making a list of questions before calling for a free moving quote is essential.
Experience and knowledge: If you feel that the company you're speaking with is not answering your questions or the communication is off, you should consider moving on.
Follow these steps, and you will be on your way to finding the best Brooklyn international movers.
What questions should I ask my international mover?
Ask the following questions to ensure you're covering all bases:
Are you licensed to perform ocean freight transportation?

How long have you been in business?

Do you offer a packing service?

How does insurance work, and what's the cost?

Is customs clearance included?

Are there any hidden charges?

How long will my move take?

What are your payment terms?

Are you familiar with my destination country?

Do you offer a visual or virtual tour?
These are some basic questions you can ask your international moving company. You must understand the moving process before committing to a company.
People also ask:
Who are the best international movers from Brooklyn to Europe?
International Van Lines and Allied Van Lines offer weekly consolidation and full container load service. Both companies have locations and consolidation points in New York, which helps with the moving process and cost.
Should I choose an international moving company in Brooklyn?
Many reputable international moving companies are not located in Brookly but can still service your area. It's not mandatory, but it may help with cost and efficiency.
Will I pay tax or duty fees on my household goods?
No, if you're moving to a new country with used household goods, you will be exempt from paying taxes or duties. However, it's always best to confirm with your desired country.
Where is the nearest port to Brooklyn?
New York and New Jersey port is the largest and busiest port on the east coast. Your items will ship out of Red Hook Terminal.
What documents will I need to ship my household goods overseas?
Shipping Information form

Passport

An inventory list with values

Insurance forms
FAQ
What are payment methods?
Most international movers in Brooklyn accept all forms of payment, including credit card, ACH, or wire. Some will also offer Zelle as a payment option.
How many international moving quotes should I get?
You should get no more than three international moving quotes. It's enough to gauge cost and won't confuse you with too much information.
What happens if my stuff gets damaged?
Suppose your household goods get damaged while in transit; notify your international mover. If you have insurance, you must submit proof of damage and values. The claims process can take up to a month.
What's the cheapest time of year to move overseas?
The peak moving season begins in May and ends in August. Moving costs are approximately 25% more expensive during peak season, and movers book up quickly. Moving during the winter months will save money, and you will have more options for international movers.
Conclusion
With research, you can locate the right international moving company in Brookly for your move. International moving is a niche industry that requires knowledge, so don't spend your time price shopping, but focus on the best global moving companies.
International Van Lines maintains one of the best reputations in the industry. We've been in business since 2000, we're lisenced and rated as the number one mover in the country by Forbes and others.
If you have any questions about moving overseas or want a free international moving quote, you can fill out our online form or call us anytime.