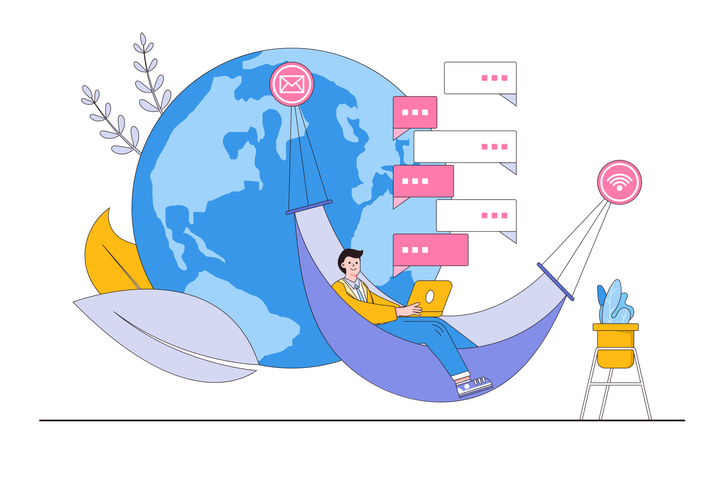 We all want to find ways of saving money, and moving overseas is no different. Finding the best international moving service that fits your budget and needs can be challenging if you're a first-timer.
Every international move is different, and your requirements may differ from others. We've compiled a list of services that international moving companies offer to help you decide what's best for you.
It's always a good idea to speak with international moving companies to get an accurate estimate and details about their relocation services.
International moving service, what's best for you?
People choose a specific international moving service mainly because of price, convenience, or speed. However, ocean freight makes up about 90% of international moves from the US because it's the cheapest mode of transportation.
If you're on a tight budget or have a significant overseas move, you may want to consider ocean freight, whereas if you need to get your household goods as quickly as possible, air freight will be the best choice.
How much does an international moving service cost?
Ocean freight shipping ranges from $2500 to $12,000, whereas air freight shipping can start at $3500 to $16,000. The size of your move is the most significant cost factor. Additionally, the international moving service, destination, and international moving company will also have an effect.
It's best to compare three international moving quotes and ask international movers how you can reduce the cost of your move. Moving overseas can be costly, so educating yourself on saving money on your move is essential.
How do international movers calculate moving costs?
International moving companies charge based on cubic feet and or weight. Ocean shipping costs are on volume, whereas air freight can be a mix of volume and weight. International movers work differently, so it's best to speak directly with the international moving company of your choice.
If you're looking for a ballpark on international moving costs, you can use an overseas moving estimator to help. However, the best way to get an international moving quote is to provide a move with a detailed inventory of what you're moving and the international moving service you desire.
How can I save money on my international move?
Declutter: Moving overseas is a great time to downsize and do away with unwanted stuff. You can sell things online or use a local non-profit for free furniture pickup.
Self-pack: Although self-packing may not be in the deck of cards, it will save you money if you're on a budget. You can get packing supplies from any homes dept or Uhaul.
Service: You can choose an international moving service that fewer expensive, such as a door-to-port service.
Ask for a discount: Some international moving companies will try and work with you on your budget. It's worth asking for a deal. You may be surprised about what you can get.
Moving during the winter: The peak season for international moving is during the summer, so if you can move during the winter, you may save some money.
Who are the best international moving companies?
According to several iconic consumer groups International Van Lines, Allied Van Lines, North American Van Lines, Atlas Van Lines, and United Van Lines are the best international moving companies.
The companies listed have been rated on international moving services, cost, and experience. They've also taken into consideration online complaining and overall reputation.
Tips for finding reputable international moving companies
Out of the 7000 registered movers in the US, only about 5% handle international moving. Moving to a new country can be daunting, so you must find the right international moving company. Here are some tips:
Verify their license: You should always check the Federal Maritime Commission website for company license information. An international moving company must have an active license and bond.
Check online reviews: You can gauge how an international mover handles complaints by checking online reviews. You should also try and get some referrals.
Check experience: If you call an international moving company and they can answer your questions, you may want to move on. International moving requires expertise; that's the bottom line.
Don't price shop: If the cost of your move seems too good, it probably is. Compare a couple of international moving quotes and look over the fine print. The best international moving companies should be in line, cost-wise.
With the proper research, you can find exemplary international moving services.
What's the cheapest international moving service?
The least expensive mode of transportation for international moving is port-to-port ocean freight shipping. Although you will spend less, some work is required, such as customs clearance and transporting your household goods to and from the port.
If you consider a port-to-port service, you should speak with a professional moving company that can guide you through the process.
Do international movers offer air freight services?
Not all international movers offer air freight; for a good reason, airfreight shipping makes up a small percentage of international moving services. It can sometimes be double or triple the cost of shipping by ocean, but it does serve a purpose.
If you're in a hurry and need to immediately get your household goods to their destination, you may want to consider airfreight service. The average cost of shipping by air is $3500 to $16,000.
The size of your move, international moving service, and destination will make up the cost of your international moving estimate. There are a few ways to reduce expenses, like self-packing or getting rid of stuff.
Is ocean freight shipping my best international moving service?
Ocean freight makes up nearly 90% of international moving services because it's the cheapest. Your moving cost comprises the international moving service, volume, and destination, but there are ways to save money on your move.
Ocean freight takes a bit longer than airfreight shipping. On average, you can expect a shipping time frame of 6-8 weeks and, in some cases, even longer, so if you're in a hurry, ocean freight may not be for you.
The average cost of moving overseas using ocean shipping is $2500 to $12,000. A sure way to reduce costs is to self-pack and eliminate unwanted items.
Is there an international moving service for boxes?
You can consider international parcel shipping if you're moving with small stuff that can fit in a few boxes. It's typically done through FedEx, DHL, or USPS, but you can go through an international moving company.
The benefit of using international movers for parcel shipping is that it can significantly discount the standard shipping rates. Companies like International Van Lines have contracts with parcel shipping companies that allow for 80% discounts.
Parcel shipping is used for shipping boxes; you must have everything packed. The average shipping cost is $900 to $2500, but it's always best to speak with the moving company of your choice.
What are vehicle transportation services when moving overseas?
If you're moving overseas with a vehicle, you can consolidate your household goods with your vehicle or ship your car alone. Below are the different international moving services for cars:
Roll-on Roll-off (RORO): A RORO service is a port-to-port shipping option and the least expensive service. However, you must bring your car to the port and pick it up.
Consolidation service: A consolidation service is a shared container. You will share space with others that are shipping to the same destination. It's also a great way to reduce costs.
Container service: You can ship your household goods and car in the same container or get an exclusive container for your vehicle. It can be expensive but worth it.
Is door-to-door service the best option when moving overseas?
Moving overseas using a door-to-door international moving service is always the best—the main reason is convenience. A door-to-door move included a pick up from your home and delivery. Additionally, customs clearance and port documentation are included.
However, door-to-door service may not be feasible if you're on a budget. It would be best always to weigh the pros and cons of door-to-door shipping vs. port services. Sometimes it makes sense to spend the extra bucks because everything is included.
How does door-to-port service work?
You can consider a door-to-port service if you want to save money on your international moving service. The household goods are picked up from your door and shipped to the nearest port to your destination.
However, picking up from the destination port will require you to fill out paperwork for customs clearance, arrange transportation from the port, and pay any port-related charges. Also, the international moving companies' obligation stops at that point.
A door-to-port service should be discussed with your international moving companies. It's essential to understand the process of your destination country, what can go wrong and how much you'll have to come out of pocket.
Can I drop my household goods at the port to save money?
You can drop off your household good at the port. However, it would be best if you located a port of entry to ensure its convenience. Also need to ensure that everything is packed in boxes and wrapped.
Most international moving companies can offer a port drop-off service to help you save money. You will need a booking confirmation and shipping documents before you get the green light.
FAQs
How long does an international moving service take?
Ocean freight can take 6 to 8 weeks, and air freight can take 1 to 3 weeks. Your final destination, service, and move size will determine the shipping time frames. Upon getting an international moving estimate, you should ask about shipping time frames.
What documents are required for an international relocation
An international relocation company will ask that you complete shipping, inventory, and insurance forms. They will also need a declared value of your household goods and a copy of your passport.
What payments do international moving companies take?
Most international relocation companies will accept credit cards as a deposit. However, the balance of your move would need to be paid in the form of an ACH or check.
Will I pay port charges at the destination country?
Port charges may apply if you're shipping your household goods door-to-door. However, picking up from the destination port, you may have to pay port charges. It's best to speak with the company of your choice about their international moving service.
Will I pay taxes on my international relocation?
No, you will not pay taxes when moving household goods to a new country. However, laws can change, so it's always best to contact customs to get a confirmation.
Please also ask:
Who has the best international moving service to Europe?
International Van Lines and Allied Van Lines offer full container and less container load service from the US to Europe.
Who regulates the international moving industry?
The Federal Maritime Commission (FMC) is the government agency that regulates maritime transportation. A company performing ocean freight transportation must have a license and maintain an active bond of $75,000.
Can I move a grand piano overseas?
You can move a grand piano with or without your household goods. However, it requires crating and insurance.
Can international moving companies ship firearms overseas?
No, it is illegal for an international mover to ship weapons overseas knowingly. If you choose to pack a firearm, you (the shipper) can face criminal charges from your destination country. Ask your mover about their international moving service.
How do I purchase insurance for my international move?
You can purchase moving insurance through your international mover or find your own company; we suggest getting moving insurance.
Conclusion
You can easily find the exemplary international moving service with the proper research, knowledge, and asking the right questions. Try and familiarize yourself with the process so you can go into it with some knowledge. Moving to a new country is daunting, but finding the right international movers can make all the difference.
If you have questions about International Van Lines and our services, feel free to reach out anytime.