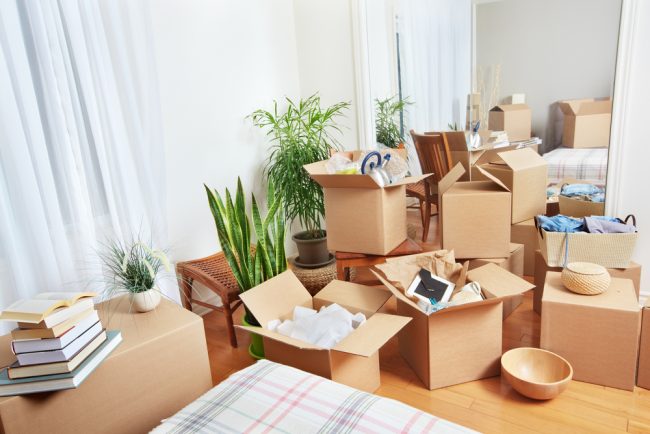 International packing requires planning. If you're moving abroad, packing is the process's most daunting and overwhelming part. Those plastic bins and cardboard boxes can only hold so much. You also need to think about packing fragile items like glassware and china, along with all your electronics and other household goods. To help you get started, we've prepared this easy-to-follow timeline to give you plenty of time to get through everything.
1 year – 6 months before you go
Start researching.
If you're planning to move abroad, one of the first things you should do is start researching your move. Try to find a reputable international moving company to assist with the process. You can find out whether they have an office near where you want to move and begin speaking with them about what it will take for them to pick up your belongings from one country and deliver them safely to another.
You'll also want to start saving money for this international relocation as soon as possible. Depending on how far away you're going and how much stuff you have to pack, this could take anywhere from six months up to a year or more before the actual packing portion of the move begins.
Read more: Preparing for a Move
6 months – 4 months before
Focus your research on the country.
What is the climate like? Will it rain all year round? Will it snow during winter? How much money will I need as an ex-pat? While every country has unique expenses (like rent), there are also general costs associated with being an ex-pat that applies everywhere. These include transportation tickets, groceries, and health insurance coverage. The best way to figure out exactly how much money will go into each category is by compiling a budget based on average prices in the area where you're considering living.
You also want to start organizing your stuff. If your move is coming up fairly soon (within 6 months), everything in your home must be organized, especially if you're hiring packers. Start with items you don't use daily and other non-essential items you plan to bring. The most daunting rooms are usually the basement, attic, and garage, which hold the most knick-knacks – start there.
Read more: 10 Tips for an International Move
4-3 months before departure
Get ready to declutter and start downsizing.
Packing is an overwhelming process; the sooner you start, the easier it will be, ensuring you don't forget anything.
Start by vacuum-sealing those out-of-season clothes, bedding, and other bulky items you won't be using soon.
Next, prepare to declutter by selling, donating, or throwing out stuff. You can even host a go-away party. Invite your family and friends to look at some items available for grabs, and let them take the load off your shoulders.
It might seem early, but remember you are not in much control of how long it takes you to get through these items. Some items will sell quickly, while others might take a few weeks or months to find a new owner. The sooner you start decluttering, the better your chances of getting some money back.
Read more: Pros and Cons of Self-Packing for a Move
3-1 month before leaving
Get some boxes ready for shipment.
By now, you shouldn't have any clutter lying around. If you still have some, consider either donating or tossing those items.
Packing some items before your movers arrive can help you save money down the line. You can get ahead of the game by packing some boxes for your move. Pack away books, toys, kitchen appliances, clothes, and other items you don't use daily. Think of the things around your house that are not essential.
Read more: How to Pack for a Move
1 month – 2 weeks before you go
Spend time getting last-minute details.
With most of the items packed, this is the chance to double-check and ensure your packing list is in order. By now, you can move into more important rooms in the house like the home office, the kitchen, and your bedroom.
Start packing essentials you won't need before the move, like documents, photos, decorative accents, books, and toys. The same goes for clothing. Only leave the clothes that you'll bring in your suitcase with you. Everything else (including the shoes) should go into a box.
Read more: Last Minute Moving Tips
2 weeks – 1 week before departure
Labeling and double-checking.
At this point, almost all your boxes should be packed. Start by categorizing the boxes and placing them together to keep everything organized. Label the room where the box belongs and whether or not it contains fragile items.
Use this window of time to double-check every room in the house. Open every drawer, closet, and box in the room to ensure you're only packing what's necessary. Check the contents of each box and label them appropriately. The last thing you want is to ship a box meant to be donated or tossed away. But don't forget a box with essential clothes, for example. Remember that international packing requires focus.
Read more: Moving Tips & FAQs
Final week
Be calm. You've done all the prep work and are ready for this move.
You've done the hard work already. Double-check with your international moving company to arrange pickups and review documentation in the final week.
Use this week to pack away your suitcases. You should only have the things you plan to bring on the plane. Usually, this includes clothes, jewelry, some shoes, and other valuables. Make sure you pack using our favorite packing tips to save space and maximize your suitcases.
Remember, leave daily essentials last and pack them on top to have them reachable and easily accessible once you're in your new home. International packing is different than packing for a long-distance move.
Final thoughts
Packing for an international move is a big project, so breaking down the process into milestones and deadlines is important. Start packing as early as one year out if you're moving to another country with a different climate.
It's a big project, but it will be easier to manage if you take it in steps. Depending on your plans, this timeline might not work for you. So, consider speaking with international movers to learn the best ways to start planning your packing timeline. They can help you navigate the ins and outs of planning your overseas move to ensure you have everything you need.