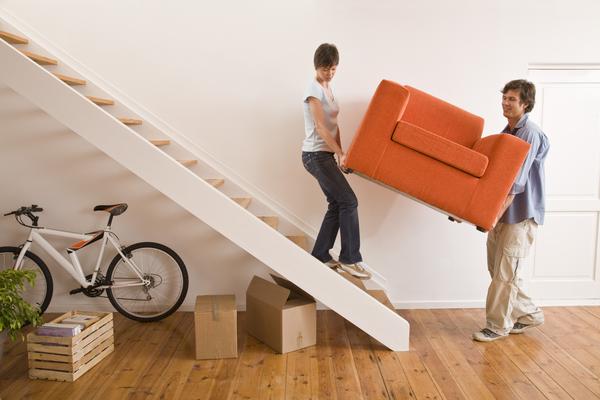 If you're preparing for a move you should read these tips
Inventory List
If you're preparing for a move the most important thing is the inventory list. It will help you to check everything as it goes into the Truck after you have packed. It will be easier to locate a missing item on the day of the move. This inventory document will give you some reassurance that nothing was left behind since you can't watch every single item get boxed up and loaded. Don't let the movers rush you through this inventory process! Check the lists again as items are unloaded at your new residence. Make sure you understand the process for filing claims for missing items before signing off on the inventory sheet on delivery day.
Things to Carry
Have a personal survival kit that carry items such as scissors, a screwdriver, your address book, a flashlight, a map of your new town, Blanket, your toiletries, dog food, a can opener, coffee, soap, toilet paper, and necessary medications for the whole family, so that move-in day or night goes smoothly for everyone in the family. Keep in mind to have sufficient handy cash, in addition, so that you'll be able to pay for that pizza delivery you'll most certainly need and tip yours. Check out the benefits of a garage sale.
Organize
Plan reuse, recycle, re-gift weekend where everyone in the family gets rid of the things you really don't need or use. Donate items to charity; hold a garage sale, or giveaway unwanted furniture to the needy ones. It'll save you time and trouble in the long run and will prevent extra charges, for the tons of things you haven't used in years. But you'll be paying to pack them up and move them, and unpacking them and finding a place where you can store them, unused, for another 10 years.
Plants
If you can't move your plants, donate them to friends, a botany class, or local retirement home. Obviously, the inside of a van isn't conducive to plant life. Lots of movers won't handle plants, especially if you're moving more than 150 miles or crossing state lines.
If plant moving gets put on your to-do list, first check with the USDA to make sure there aren't rules about bringing plants by car into your destination state. A few weeks before the move, transplant plants from your breakable pots (the movers can pack and transport those) into lighter-weight unbreakable ones that will be easier to for you to move
Preparing for your move with pets
Visit your vet before moving day to make sure your pet has current shots, tags, certificates, and proper identification. If your pet will be traveling by air or in a car a long distance, ask about travel recommendations, portable kennels, and motion sickness medication. Make sure you carry the animal's papers with you, especially if you cross state lines. When you get to your final destination, reinstate your dog's routine and reward him with a special treat.
Moving Companies
Moving companies offer a variety of deals on additional insurance. Find out, too, if your chosen mover has workers' comp insurance. Some small companies (with fewer than five employees) don't, and that could mean that paying for an injury someone sustains in your home is your responsibility. You chose a mover who may have some insurance but it may only pay for a fraction of your heirloom dishes' or fancy TV's value. Then check with your home insurance provider to see what's covered and when and where. Does your policy cover moving and items in transit?
Most movers tender two kinds of estimates, binding or nonbinding.
The nonbinding kind gives you a proposal of how much your move will cost, based on the mover's estimate of the size of your present home and its contents, and what distance you are moving. You get the estimate in writing and can only be charged 10 percent more than the estimate. Make sure you visit the dot safer website before you move.
A binding estimate is a legal document that clearly describes the charges, which can't be changed unless you apply for major add-on services.. With today's sky-high gas prices, you don't want a surprise fuel surcharge to blow your budget. You also don't want to go with the cheapest bid; there is bound to be a reason that mover is cheaper, and it usually isn't a happy one.
Preparing for a move? Plan ahead
Give yourself enough time at least 3 to 4 months before the scheduled move. Book early if your move is during the late spring and summer months when most of the moving takes place with almost 40 million Americans relocating each year, there can be a moving "traffic jam" during this time of the year. You don't want your only option to be a less experienced mover or one who has to hire temporary labor to do your job. Get moving estimates and referrals from several companies, to get your family on board with the idea of moving, and to plan carefully. Ask your mover about overbooking; some make a habit of taking on too many jobs to make sure they get enough work.
Moving
Even a move across town can be very complicated and takes extensive advance planning. There are a huge number of possible pitfalls, from the wear and tear on your poor body and damage to your household goods, to unexpected fuel costs. In the end, a do-it-yourself move may not be as "cheap" or as fun as you thought (that would be about the time you drop the TV on your foot or discover the truck is fully loaded but a third of your house is still on the sidewalk). Give yourself plenty of time to research how you want to move and discover everything that's involved. Talk to friends who've moved and to movers to get the full picture before you decide.
Get a Free Moving Quote Today!