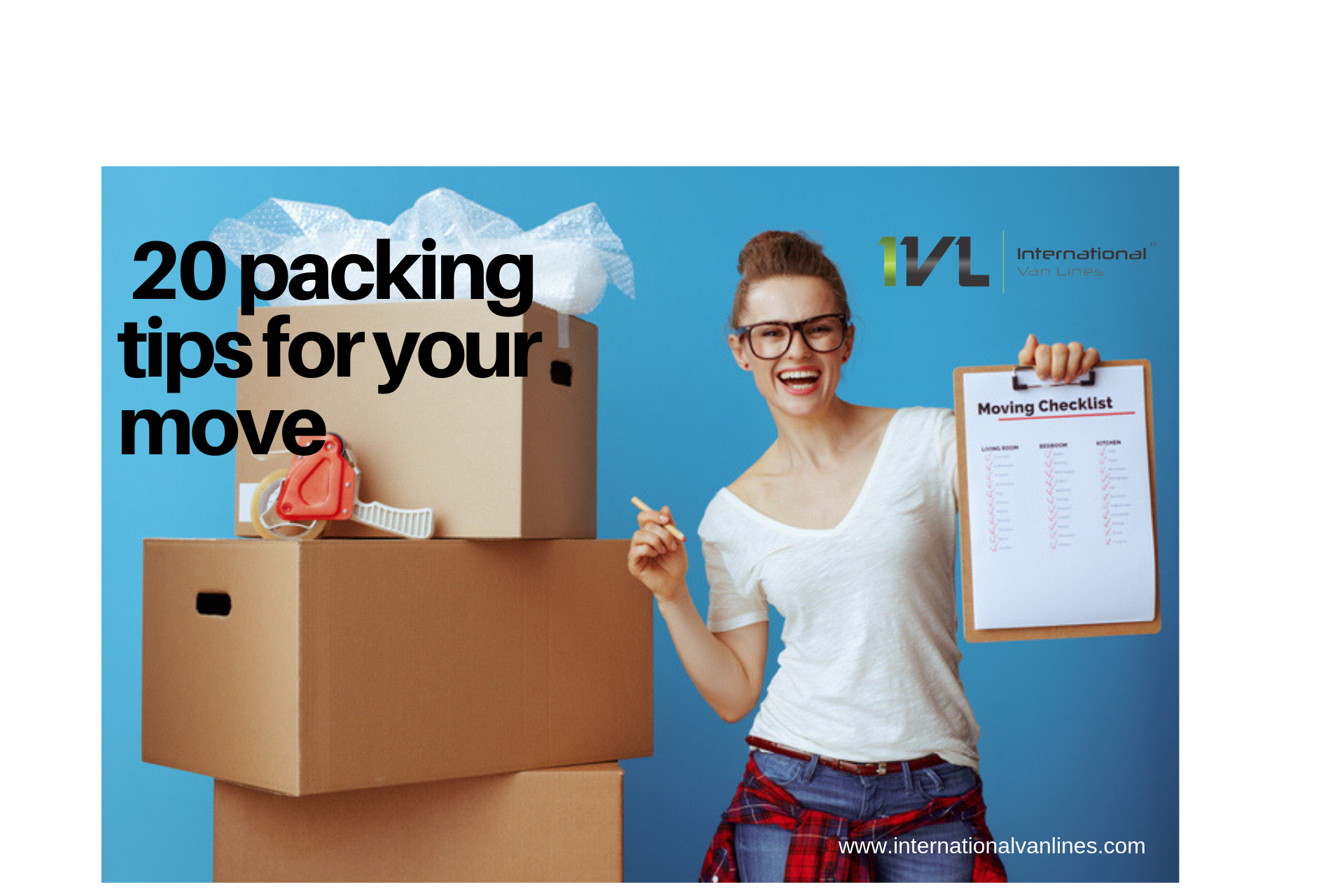 Moving to a new home can be exciting. It can also be stressful, especially packing for a move. Self-packing is a great way to save money but will require some leg work. We put together twenty tips on how to pack for a move. Our packing checklist will help you save time, money, and help get the job done efficiently. You should also check out this article "is self-packing for a move worth it."
1.Get rid of stuff
The first step that you should take is decluttering your home. Start with the larger items and work your way down. Go room by room and figure out what you need and what you can live without. Lightening your load will not only help with organizing it will help save money. The less you have, the less expensive your move will cost.
Once you've narrowed down what you're getting rid of start creating categories: donate, sell, and trash. You can hold a garage sale or post the unwanted items on Craig's list. For the things you're giving away, you can use charities that will pick them up for free. Check out this article on how to pack clothes for a move.
2. Set aside items you'll need
When you arrive at your new home you'll want easy access to those items that you need right away. Whether you're loading a truck yourself or hiring a mover make sure those items are loaded last. An example would be clothes, dishes, coffee pot, etc.
3. Know what items movers won't move
Aerosol Cans
Ammunition
Batteries
Charcoal, kerosene, lighter fluid and propane
Chemicals and solvents
Cleaning chemicals and solvents
Fertilizer
Firearms
Fire extinguishers
Fireworks
Fuel/gasoline/oil
Matches
Nail polish and remover
Oxygen
Paints, varnishes and paint thinners
Perishable food
Pesticides
Plants
Pool chemicals
Propane tanks
Scuba tanks
Weed killer
4. The first items you should pack
Start packing items in the areas that you least use in your home. Then you can work your way to more commonly used rooms, like your kitchen and bathroom. These essential tips on how to pack for a move will help relieve stress.
5.Pack one room at a time
Packing for a move is already stressful. By finishing one place at a time it will help you organize yourself and minimize clutter. Start in the rooms that you use the least and work your way around the house.
6.Packing for a move – Dishes
Dishes are considered fragile and deserve proper care. Bubble wrap and packing paper are essential. Make sure to wrap each plate individually. You can purchase dish packs from Home Depot, Uhual or Lowes. Dish packs will allow you to stack your plates in the box to avoid damage.
7.Packing for a move – Liquids
To prevent leaks, remove the lid and cover the opening with plastic wrap. It may be a tedious task, but worth it. You don't want liquids spilling all over your household goods.
8. Packing for a move – Clothes
Wardrobe boxes are suggested for packing clothes for a move. They cost $10-$20 each and work great for clothes on hangers and garments. We all know that moving is an expensive luxury, so if you're on a budget, you can use trash bags. Put the bags around your clothes while they're still on hangers. Tie the tip while leaving the rod sticking out.
9.Towels and clothes make excellent packing material
Towels, clothes, and linens can be used to fill empty spaces in the box. It's a great method for any fragile items such as dishes and pictures. This is how to pack for a move.
10.Create an inventory list
Before you begin packing for a move, document what it is you're moving. You can create a video and take photos (if you're hiring a mover). Write down any serial numbers or marks that will help identify the item. Use a color coding system. Assign colors for each room. It will help make it easier for you to identify things you need upon arrival.
11.Leave clothes and items in dressers
Whether you're moving or hiring a professional, you should leave your items in the chests. There's no need to take them out and pack them.
12.Separate items you will need the first week
Think about what things you will need the first week. Pack and label those boxes separately from the others. For example, you'll probably need toilet paper, towels, shower curtain, and soap. Diggin through boxes to find items required can be a daunting task. Packing for a move should'nt be so stressful.
13.Downsize as you go
We're all guilty of having to much stuff. A move is a great time to start getting rid of things you don't need. If you haven't used it in 6 months or more chances are you won't so it has to go. The less you have, the easier the moving process will be. Packing for a move can be a lot for anyone, so try and make your life easier.
14.When to hire a mover
If you're hiring a mover, advanced notice is required, especially in peak season months. The peak season for the moving industry is from May to September and eight weeks is suitable. Whereas in off moving seas you should book your date at least two weeks in advance. Here are some tips on how to save money on a long-distance move.
15.Where to buy packing material
You can purchase packing material from Home Depot, Lowes, Walmart, Uhual, or Amazon. You can also purchase packing material directly from our website.
16. How to find a quality mover
Google is an excellent tool for checking reviews. However, it shouldn't be your only method. Long distance and international movers require specific licensing. You can visit the DOT SAFER website to find out company history, fleet size, and complaint history. Checking out a company is something that shouldn't be overlooked. Check out this article on the average cost to move a 3 bedroom house.
17. Packing a moving truck
The first thing you should do is load the most substantial items first. Items such as your appliances and bulky furniture should always go in first. You should designate two people to load while the rest carry out the furniture. By loading the more significant items first, it will help maximize space and keep the truck from dragging. You should then pack your essentials at the back of the truck. It will help you quickly locate items you need quicker.
18.When to start packing for a move
As we all know moving is stressful. Waiting for the last minute to begin packing can get you in a jam. Rather than waiting for the last minute to pack for your move, start 3 months in advance. You can start by packing items that you don't use often. It's a good start and will help you down the road.
19.Household Items that service as packing materials
Here is a list of everyday household items that can serve as packing material. You can use towels, blankets, clothes, suitcases, chests, laundry bins, trash bags, backpacks, and more. It's a great way to save money and consolidate.
20. The Bottom Line
Don't add stress to your plate. Packing is a task, but it doesn't have to be stressful. Follow the easy tips we provided or feel free to contact us if you have any questions.