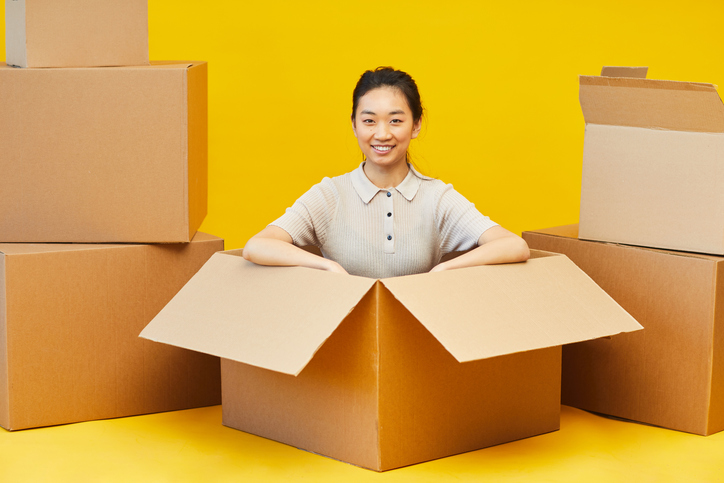 Learn about the pros and cons of self-packing for a move
Moving is expensive any way you cut it, especially a long-distance move. A great way to reduce moving costs is to self-pack. However, is self-packing worth the time, effort, and money? Here you will find the pros and cons of self-packing for a move. It will help you make an educated decision on whether or not it's worth it.
What's the cost difference between packing & self-packing?
Professional packing will add approximately 12% to 15% to your move cost. However, if you have any fragile items such as high-end art, grand piano, or any item that requires special handling, it may increase.
Most national moving companies won't move higher-end items like pianos without crating. Crating is usually done through a third party and can add $200 to $2000 based on the item. The smaller the item, the less expensive it will be.
How does self-packing affect insurance?
Depending on the type of coverage you get, self-packing can affect your insurance options. Premium coverage is based on the actual value of your goods—self-packing blocks the mover from seeing what's inside your boxes and the condition of the items. To obtain premium coverage, the insurance company requires a mover to pack and inventory every item professionally.
The good news is that some homeowners insurance policies will cover moving, and it's typically excellent coverage. Before purchasing third-party insurance, check with your homeowner's insurance to see if your move is covered.
There are many pros and cons of self-packing for a move. However, if you're still keen on self-packing, you can ask your mover about Full Value Protection (FVP). FVP is not insurance but a level of coverage your mover will offer you in case of loss or damage. Every moving company is different so you will want to ask about their policies.
If you opt-out of coverage, you will default to released value protection which covers 60 cents per lbs per article.
Is Self-packing time-consuming?
Yes, self-packing for a move can be time-consuming and labor-intensive. If you have the time and experience, then it may be a good option. However, if you're relocating on short notice for a job, you may want to consider having the pros do it.
Without any knowledge, people automatically assume that professional packing will have a significant impact on the cost. It will be in complex situations. However, for the average household, it won't break the bank and may be worth considering.
When speaking to moving companies, you should always ask for both options. It will help if you weigh the pros and cons of self-packing for a move. Compare the costs against the time and effort that goes into packing.
When should you start packing to move?
It would help if you started planning your move at least 2 months prior and packing 3 to 4 weeks before your pickup date. If you have a large home that requires more than the average, you may consider starting the packing process sooner.
Moving is a great time to downsize or get rid of unwanted stuff. Create an inventory of everything you're moving and get rid of items that no longer have used to you. You may be able to make some extra cash by selling them on Offerup, or you can find charities that offer donation pickups.
Most people purchase boxes from any local Home Depot, Uhaul, or Walmart. You can even buy packing supplies online, which is convenient and suggested. It will give you time to map out what you need. If you're on a tight budget, you may want to consider posting on Social Media to see if anyone has extra boxes lying around. The pros and cons of self-packing for a move vary, but you have to do what's best for your situation.
Also Read: How to spot a lowball estimate from movers
Do movers pack differently than I would?
Unless you're a trained packer, then yes, movers will pack differently than you. Movers are trained to pack items in a specific way to avoid damage. Padding, wrapping, and corrugated cardboard are used to pack your items. Your dishes will go into dish packs and books in book boxes. Contrary to what people understand, packing is an art form.
Based on the size of your move, you will have 2 to 5 movers at work. Each mover will be assigned a specific room to focus on. Each dish will be packed individually, and the painting will be covered with padding and cardboard. Wall-mounted TVs will be taken down and get their box. When weighing the pros and cons of self-packing for a move, you should take this under consideration.
Can I get hurt self-packing for a move?
Yes, you can get injured while packing. Packing for a move is labor-intensive. If you have a bad back, any physical injuries, or are pregnant, you may consider having the movers pack. Assembly, disassembly, and loading is a standard service that movers offer.

Can I pack some stuff and have the movers do the rest?
Yes, you can do a partial pack. You can pack your clothes, books, and shoes while the movers handle all the breakables. Partial packing is a common scenario. However, you'll need to make it clear to the moving company what you're packing and what they're packing.
Packing supplies cost money, so your moving cost can increase if you require more packing than discussed. Make sure you have a thorough understanding of what you do and do not want to do in packing. Also, make sure to think about the pros and cons of self-packing for a move.
How long does it take for a mover to pack all my stuff?
A one-bedroom home will take 2 to 3 hours, where a 4 bedroom home will take 6 to 8 hours. Most moves can be completed in a workday. However, if you have a complex move, it can take 2 or 3 days.
It's in a moving companies best interest to get the job done quickly and efficiently. The size of your move will determine the number of movers that come out to pack & load.
Is self-packing worth it for a move?
It depends on your situation and whether time has more value than a couple/few hundred dollars. Self-packing is time-consuming, labor-intensive and still requires some level of money to be spent. It will help if you make a pros and cons list.
The goal is to help you decide whether it's worth it for your current situation. Moving is costly, and self-packing can help with costs. The pros and cons of self-packing for a move vary so that it may be a good solution for you and your situation.
Most out-of-state moving companies should be able to walk you through the process and help you decide if self-packing is the best option for you.