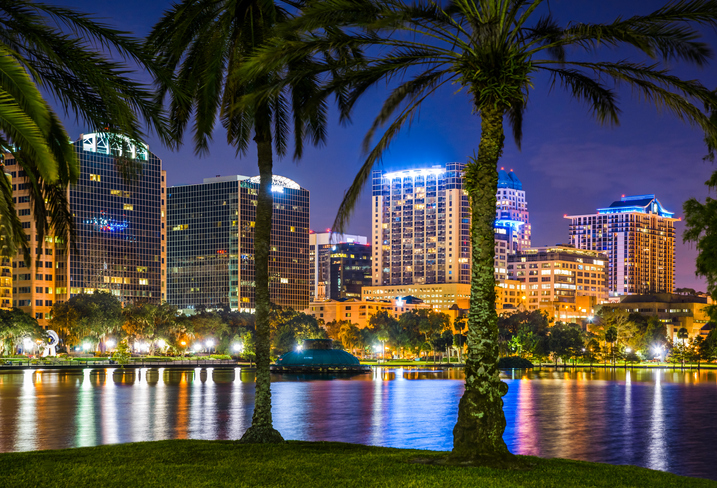 Everything you need to know about moving from New York to Orlando
Known for Disney World and its themes parks, Orlando has so much more to offer. The city is thriving with plenty of new opportunities, things to do, and beautiful Florida weather. If you're moving from New York to Orlando, you will find everything you need to know here.
What's the average cost of moving from New York to Orlando?
The average cost of moving from New York to Orlando is between $2700-$3700. However, moving costs can vary based on several factors—the most significant being the size/weight of your move. The volume or weight of your move is what drives the cost. Additionally, services like packing, storage, or special handling can also impact your moving costs.
The standard transit time is between 6 and 9 days. Costs and transit times can fluctuate based on the moving company, time of year, and service you request.
For example, a move requiring a full professional pack vs. a self-pack move will be more expensive. Self-packing is an excellent option to reduce moving costs, but you should always weigh the pros and cons.
| Bedrooms | Full Packing | Self-Packing |
| --- | --- | --- |
| 1 bedroom | $2400-$3000 | $2200-$2700 |
| 2 bedroom | $4500-$5200 | $4000-$4900 |
| 3 bedroom | $8200-$9000 | $7600-$8500 |
| 4 bedroom | $10,000-$12,000 | $9000-$11,000 |
| 5 bedroom | $14,000-$16,500 | $12,500-$15,000 |
| 6 bedroom | $17,500-$20,000 | $15,500-$18,000 |
What's the average cost of moving my car?
The average cost of moving a car from New York to Orlando is between $1,150 and $1500. The make and model of your vehicle will determine the final price. Trucks and SUVs are on the higher end. The distance for moving from New York to Orlando is about 1100 miles, and it can take 3 to 5 days.
Auto transport insurance is always included. It would help if you took before and after photos in case of a claim. Insurance claims are typically paid out a week after you provide an estimate to the carrier.
Most moving companies offer auto transport through a third party. Although you can find your own auto transport company, it may be easier to have one company handle everything. Costs with movers are relatively less expensive because it's not a profit center for the company.
The average cost of renting a Uhaul from New York to Orlando
The average cost of renting a Uhaul from New York to Orlando will be $2600 to $3600, depending on the truck's size. You will also be responsible for fuel and insurance.
The misconception is that renting a Uhaul is less expensive than hiring a mover. In some cases, it is. However, for a long-distance move, you may find it more economical to go with a mover. A moving company will also handle all the labor involved.
Additional costs to look out for when moving from New York to Orlando
Shuttle Charges, long-carry fees, and elevator charges are accessorial costs that can come up when moving—a shuttle fee averages 50 cents per cubic foot or $350 minimum. A long-carry charge averages $75, and an elevator fee is a one-time $75 charge. It would be best if you always asked your mover about accessorial charges before you commit.
Shuttle Service: When a semi can't fit into your location, a mover will need to transfer your household goods into a smaller truck for delivery.
Long-Carry: When a mover has to park the truck 75ft or further from your front door.
Elevator Fee: The use of an elevator
Flights of Stairs: The first flight is typically included, and each additional flight is $75, one time.
Special Handling: Treadmills, peletons, and large gun safes require special handling. There may be an additional cost.
Storage: The first month is usually free, and each additional month is based on the volume of your move.
How can I reduce my moving cost to Orlando?
Self-packing, getting rid of unwanted stuff, and the time of year you move can all help reduce moving costs. Finding a reputable national moving company can also differentiate between receiving damaged goods and hidden charges to a smooth experience.
Self-packing is a great way to reduce moving costs by about 10-15%. However, packing is time-consuming and can be labor-intensive, so weigh the pros and cons. Additionally, reducing the move size by getting rid of unwanted items is the best way of reducing costs.
When calling around or quotes, make sure to ask how you can save money on your move. The best long-distance moving companies will walk you through the process and advise you on different ways to reduce moving costs.
Self-Packing vs. Professional Packing, Is it Worth it?
Professional packing is worth it. The additional cost is relatively cheap and can be less expensive than if you were to pack. Having a professional mover pack will not significantly change the average cost of moving from New York to Orlando.
For some, self-packing is the only way. Specific customers feel more comfortable packing their personal effects, which is understandable. However, self-packing can also affect your insurance options. A moving company can't offer premium insurance coverage for items they did not see or pack. Learn more about moving insurance and how it works.
Lastly, self-packing for a move is very time-consuming. If you opt-in for self-packing, make sure you give yourself enough time. You will need to buy packing supplies and prepare. Booking your move in advance is essential to a smooth relocation experience.
What's the transit time from New York to Orlando?
It's approximately 1100 miles from New York City to Orlando. The standard transit time is 6-9 days. The size of your move, time of year, and the mover you chose can affect the transit times. Moving from New York to Orlando is a common route so that most movers can meet the standard times.
The larger the move, the quicker it may take. If you have a minor move, say a one-bedroom, it will go into a consolidated truck. It would help if you also learned how consolidations work in moving.
It's always best to speak with the mover of your choice to get a more accurate description of what they offer. A mover legally has up to 21 days to deliver your stuff without incurring charges.
Is it worth the cost of moving from New York to Orlando?
If you like nice weather, rollercoasters, and outdoor activities, then Orlando is the place for you. Orlando is also an excellent city for raising a family or starting a business. It's a change from new york, but a lovely change in my opinion.
Finding a mover to get you from New York to Florida should be relatively easy as it is a standard route. Before committing to a moving company, make sure you do the proper research. There's a vast difference between quality movers and rogue movers. If you have any questions about researching moving companies, feel free to contact us at any time.