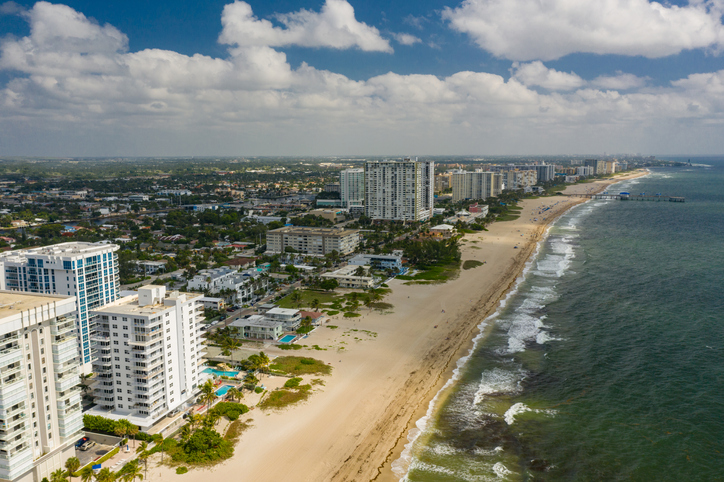 Cost and Info About Moving from New York to Boynton Beach, FL
A recent article from the New York Post claims that Florida might as well be called the sixth borough of New York City. At least 33,565 New York residence changed their address for a Florida one between September 2020 and March 2021. That's an increase of over 30% increase from the prior year. We've seen a surge of New Yorkers' relocation to Florida, and for a good reason.
If you like sandy beaches, rich culture, and affordable but beautiful living, moving from New York City to Boynton Beach can make sense. It's less than an hour's drive to Miami and about 30 minutes to downtown Ft. Lauderdale. The schools are top-rated, you can find beautiful land, and it's business-friendly. If you're one of the thousands moving down, you will find the cost and everything you need to know about getting your household goods here safely and effectively to Boynton Beach.
How much does it cost to move from New York City to Boynton Beach?
Moving from New York City to Boynton Beach is approximately $3500-$5500. However, several factors will determine your actual moving cost. The size of your move, the service you request, and the time of year can affect moving costs.
To get an accurate moving cost, you will need to speak to a mover who will provide a virtual tour. A virtual tour will allow a moving company to see inside your home along with what's coming and staying. You'll also want to make sure you're dealing with a reputable moving company. You can start by checking the SAFER website for license and company information.
Below is the average moving cost you will experience when moving from New York to Florida. The rates listed are averages and should be used for planning and budgeting purposes.
Also, Read: Why booking your move in advance is essential
| Bedrooms | Full Packing | Self-Packing |
| --- | --- | --- |
| 1 bedroom | $2400-$3000 | $2200-$2700 |
| 2 bedroom | $4500-$5200 | $4000-$4900 |
| 3 bedroom | $8200-$9000 | $7600-$8500 |
| 4 bedroom | $10,000-$12,000 | $9000-$11,000 |
| 5 bedroom | $14,000-$16,500 | $12,500-$15,000 |
| 6 bedroom | $17,500-$20,000 | $15,500-$18,000 |
How much does professional packing cost?
Professional packing on an out-of-state move can add approximately 20-25% to the overall cost of your move. However, every move is different, so that it could be more or less. If you're undecided on self-packing, you should write down a pros and cons list.
Self-packing takes time and planning. It's also labor-intensive. Yes, you will save money on your move, but is it worth it. I guess it depends on your budget and time constraints. Time has value, and the more free time you have, the more time you have to plan for the actual relocation and the details that go into it.
Professional packing costs more. However, it's not significant and worth considering. Having a mover professional pack will allow you the best insurance, free up time and let the professionals handle it. Mover is trained on packing, so it also may help with avoiding damage.
You should also check out our article: How to move valuables
Can a moving company ship my car as well?
Most moving companies offer auto transport through a trusted third party. It's typically not a profit center for moving companies, so you may find rates less expensive than if you were to go directly to a carrier. Insurance is included in auto transport. However, it would help if you take before and after photos for your protection. Auto transport when moving from New York City to Boynton Beach is easy!
Auto Transport Costs
The average cost of auto transport when moving from New York to Florida is between $1000-$1500, depending on the vehicle. Trucks and SUVs will be on the higher side. The typical transit time for moving a car is 3-5 days. However, that can change based on the company and the time of year you're moving.
Things to do in Boynton Beach
There's plenty to do in Boynton Beach. The beautiful beaches, wildlife, and farmer's markets are always a hit. We took a look at TripAdvisor and found the top 5 things for you to do in Boynton Beach, Florida.
Moving from New York City to Boynton Beach, Florida is an actual change. You're giving up the fast-paced lifestyle for a beach town with many outdoor activities to keep you busy. Florida is also a great state to start a business, raise a family, and top-rated schools.
Frequently asked questions about moving
If you're moving from New York City to Boynton Beach, you should know the right questions to ask your mover. Below you will find the most common questions we get which also should be asked to the moving company of your choice.
Can I self Pack?
Yes, you can self-pack your boxes, but you may want to consider both options. There are benefits of having a professional pack of your household goods.
Is insurance included on my move?
No, moving insurance is provided upon request and at an additional cost. However, you may also be able to use your homeowners insurance if it applies.
How long will movers be packing & loading?
A one-bedroom move can take 2 hours whereas a 5 bedroom move can take 8 hours. The complexity of your move will determine the time the movers are there.
Are flights of stairs and elevators an extra fee?
Yes, it is common for moving companies to charge an additional $50-$100 per flight (one-time) and a one-time charge of $75 for an elevator.
Can a mover move my piano?
Most moving companies can and will move pianos as long as it's crating. The mover you chose should be able to set up third-party crating for your piano.
Will I get a refund of my deposit if I cancel?
Yes, deposits for moving are fully refundable. The standard allowance is 48 hours before the pickup date.
Moving from New York City to Boynton Beach – The Bottom Line
The bottom line is that Boynton Beach will not disappoint. It's the perfect place to raise a family, enjoy the outdoors, and you're minutes from neighboring cities like Miami and Ft. Lauderdale.
If you're searching for a national moving company, make sure you do a little research ahead of time. Look for a mover and not a moving broker. Moving can be very stressful so do everything you can to minimize the stress.
We wish you the best with your new venture, and feel free to contact us if you have any moving-related questions.