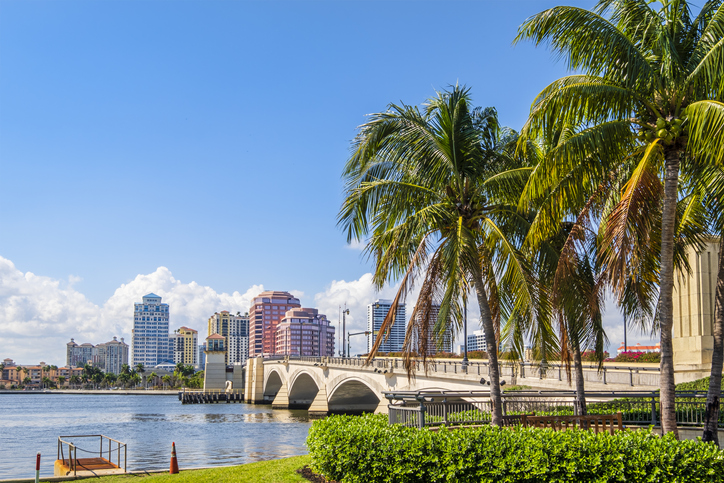 Thousands of New Yorkers are changing their address to a beautiful city in Florida, West Palm Beach. Many are moving down to start their lives, put their children in school, and start a new business. We've also seen an influx of people who work remotely moving from New York City to West Palm Beach. Whatever the reason, the Sunshine State is the perfect place for a little R&R.
What's the average cost of a move from New York to Florida?
Moving from New York City to West Palm will cost an average of $3500-$5000. Several factors will determine your moving cost. First, the overall size/weight of your move plays the most significant role. Second, the services you require and lastly, the time of year you're moving.
It's always best to get an accurate moving quote. However, below you will find a moving cost chart that will give you a better understanding of what you can expect. Remember that long-distance moving is expensive, and downsizing is the best way to reduce costs.
| Bedrooms | Full Packing | Self-Packing |
| --- | --- | --- |
| 1 bedroom | $2400-$3000 | $2200-$2700 |
| 2 bedroom | $4500-$5200 | $4000-$4900 |
| 3 bedroom | $8200-$9000 | $7600-$8500 |
| 4 bedroom | $10,000-$12,000 | $9000-$11,000 |
| 5 bedroom | $14,000-$16,500 | $12,500-$15,000 |
| 6 bedroom | $17,500-$20,000 | $15,500-$18,000 |
What's the average cost for moving a car from New York to West Palm Beach?
The average cost for moving a vehicle from New York City to West Palm Beach is between $1000 to $1500, depending on the type of vehicle and time of year. The larger the car, the more expensive it is. Additionally, peak season months (May to August) tend to be higher than the average.
| | |
| --- | --- |
| Compact Car | $900-$1100 |
| Mid Size | $1100-$1300 |
| SUV or Pickup Truck | $1350-$1500 |
Auto Transport Insurance
Vehicle shipping includes auto transport insurance. Every vehicle is inspected at the pickup and delivery locations. It would also help if you take before and after photos of your car in case of a claim. Claims on vehicles are rare, but it's always better to be safe than sorry.
Can you Transport Household goods in your car?
You can't use a vehicle as a method to transport household goods. It's legality due to weight restrictions. However, the driver can approve a few smaller items that can be placed in the trunk. Every driver is different, and it's up to them.
Money-saving tips when moving from New York City to West Palm
The less stuff you move, the less expensive the cost. Moving is a great time to declutter or downsize. Go room by room and take and decide what you can live without. The rule of thumb is if you haven't used it in 6 months, dump it. You can sell unwanted items on OfferUp or have the Salvation Army pick them up.
Self Packing
If you're moving from New York City to West Palm Beach, you may want to consider self-packing your boxes. It would help if you started the packing process a couple of months before the pickup date. You can use one room in your house as a storage location. Local stores like Walmart and Home Depot have a packing supplies section. You can also visit our website to buy packing supplies.
Time of Year
Understandably, you can't always choose when you can move. However, moving during the wintertime is the best for cost savings. National moving companies are slower, so you will find rates to be less expensive. You can also find a more convenient date and possibly negotiate on cost.
Find the right mover.
National moving company ratings are important. However, reviews are not the only thing you should research. Company history is the most important research you can do. If a mover has been in business for a while, it proves that they follow the rules. Anyone can create a fancy website and post fake reviews. Check the SAFER website for license information and company type (mover or broker). Choosing the wrong company can be the difference between a positive experience or a major expense and headache.
Is West Palm Beach a good place to live?
If you like beautiful weather, exciting culture, and sandy beaches, then West Palm Beach is a great place to live. The cost of living in West Palm Beach is also significantly less expensive than in New York City.
100 = US Average. (Below 100 means cheaper than the US average. Above 100 means more expensive.)
Moving with International Van Lines
Since 2000, International Van Lines is an established mover that owns and operates its fleet and crews. IVL is a top-rated moving company that has been featured in Newsweek, Move.org, and Forbes. As the number one mover in the country and a West Palm Beach local mover, it's our mission to provide top-quality moving services.
Moving from New York to Florida doesn't have to be a stressful process. Allow our team to put together a detailed quote and walk you through the process. We wish you the best of luck with your upcoming move from New York to West Palm Beach.