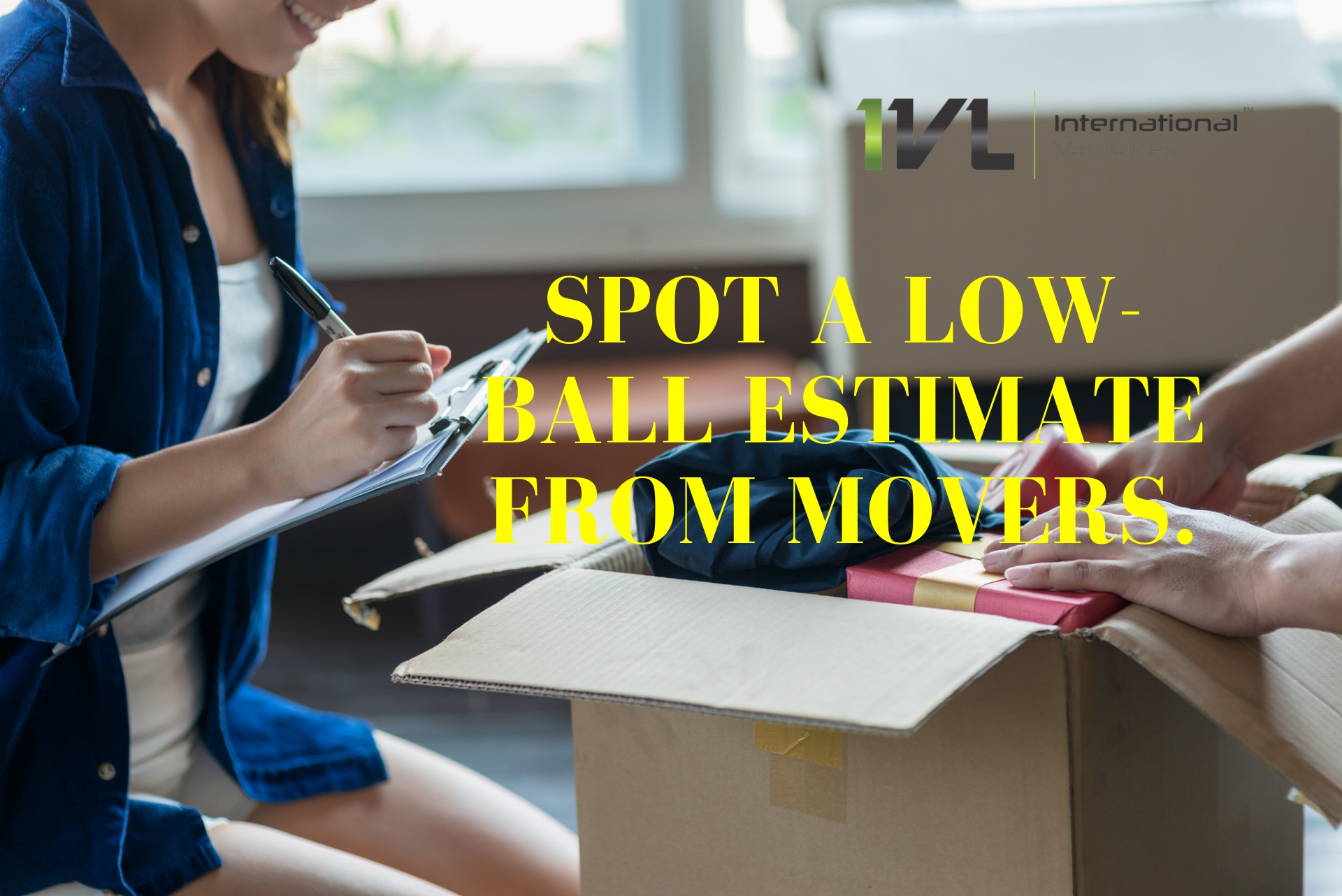 How to Spot A Low-Ball Estimate From Movers
How to spot a low-ball estimate from movers? Do you want your move to go smoothly? Of course, you do! Any time a homeowner or even a renter hears the word "move," it can quickly become stressful. There are so many different things to consider when getting ready to hire a moving company. Unfortunately, there are also potential scams that you do need to be aware of. One of the most common characteristics of potentially putting yourself in a bad situation is going to be a lowball estimate from a moving company.
What Is A Lowball Estimate?
When you begin your search looking for movers, make a list of potential movers. When you describe your move to each moving company – always watch out for the low estimate. If it seems "too good to be true," most likely it is. All of the additional moving expenses may blindside you. Companies that provide extremely low estimates are the companies that could end up putting you in a difficult situation. Believe it or not, in some cases – all of your belongings may be held. This is a situation that no one wants to endure. Your low estimate could end up costing you double or even triple by the end of the move. There are several ways to protect yourself from this happening to you. You can also check out this article as to why people pay more than their estimate.
The Best Tips For Choosing the Right Moving Company
Visual or virtual survey:
Did the moving company physically come to your home to see your belongings? If a moving company is giving you a quote over the phone, then more than likely this is going to be an inaccurate quote. Asking for a survey is a great way to spot a low-ball estimate from movers. This is something that you need to take into consideration and be cautious of. If a quote over the phone is all you have received, then you need to ask additional questions. Most professional moving companies are going to ask about stairs, elevators, and even parking concerns. A company that asks questions like this is what you want. If you get your estimate without relevant questions – this is a moving company that you potentially should avoid. You can also check out this information on how to pack a moving truck.
You always need to consider additional fees:
When you receive an incredibly low estimate, you need to ask about add-on fees and even expenses such as gas or labor costs. These companies will try to hide these extra fees or diminish the relevancy of hidden fees that will be added on at the end of your move. When you work on getting an estimate from a moving company, always ask about what the labor is going to cost. That is a question that most people forget when they are getting ready to move – how much is the packaging going to cost? If you are moving expensive furniture or you may have a collection of expensive fine china – you want to be 100% about the way everything is going to be packaged during the move.
Fine Print:
When you are reviewing your estimate, you always want to pay attention to the fine print. Not a lot of people will ask questions and a moving company that is trying to rip you off is not going to bring up a term such as a "non-binding" estimate. In the event that you hear nonbinding estimate, this means that the quote you have received is not 100% secure. This is something that you need to pay close attention to, but you also need to avoid a company that has a nonbinding estimate.
The extra fees can get astronomical, but you will end up with several extra charges. To avoid this type of issue, when you are speaking with a professional moving company you want to make sure that you have a binding estimate or you want to be sure that your estimate is not going to exceed a certain amount of money. This is a good way to start communication with your professional moving company, but it also lets the moving company know that you have done your homework and you truly are looking to hire a reputable moving company.
What to do if you find yourself in a moving nightmare
Should you find yourself in a situation where you have received a lowball estimate, there are a few different things that you can do in order to prevent any negative things from happening. Naturally, you want to obtain several quotes from different movers. If you hear a quote that is low, then it is recommended that you move on. Especially if the quote is based on how many rooms you want to move. Trying to provide an accurate quote based on how many bedrooms you plan on moving is extremely difficult. A professional moving company will want to know about bed sizes, furniture size, and also how heavy these items might be.
The perfect example would be having a moving company arrive only to find out that you have two large memory foam king-size mattresses. What if the moving company arrived with only two workers? It is unrealistic that two people would be able to move large items such as this. That is why you need to avoid any moving company that does not ask more questions. You also want to do a Google search for each moving company. You want to know if other movers such as yourself have had problems or if there are complaints. If you find a few reviews that are not good – this is the perfect opportunity to ask the professional moving company additional questions.
Moving Company Red Flags: Spot a low-ball estimate from movers
Here are common red flags for any moving company that is going to give you a low estimate. One of the most significant and most frequent red flags is going to be a moving company that does not have any license or insurance. Most homeowners would be shocked to learn that their professional moving company technically does not have any of the proper credentials. Some of these moving companies may have all of the trucks with their company logos down the side but are lacking all of the correct paperwork that is required to operate legally. Make sure you spot a low-ball estimate from movers.
Another huge red flag is any moving company that wants to be paid upfront. If you run into a moving company that would like to be paid upfront – this is a company that you should avoid immediately. This type of payment is unprofessional, and a professional, legitimate moving company will have different payment terms. You also need to look for a website online and business cards. You want the company you plan on hiring to have a positive online presence.
Make sure you sign a contract. You want to have everything in writing, and it needs to look professional. Any time that you run into a moving company that does not want to make a contract or put anything in writing needs to be avoided. International Van Lines provides domestic and international moving services.