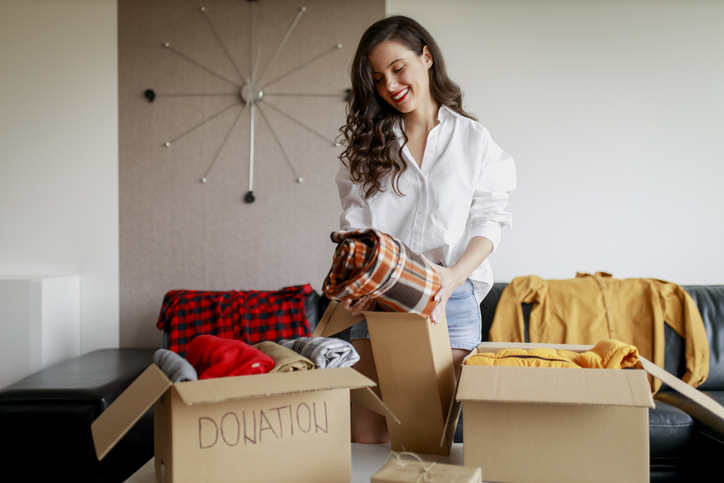 Moving to a new country is exciting but has many challenges. One of the most common questions asked is – what's the best way to pack for an overseas move, or should I even do it?
Most people considering packing themselves want to save money or feel uncomfortable having an international mover pack. Whatever the reason, you should consider the challenges before deciding.
This article explains the risks, rewards, and how to prepare your household goods for international transit.
1. Start by decluttering
Let's face it: we accumulate more than we need over time, and chances are there are items in your home you can do without. There's no better time to purge than when moving overseas.
Decluttering your home is the best place to start when self-packing for an overseas move. It will help keep you organized and figure out what you need.
Consider donating unwanted stuff to local nonprofit organizations, selling online, or putting out a social media post for anyone interested. Decluttering is also a great way to reduce international shipping costs.
Checkout: Items movers won't take
2. Get yourself organized
After you decide what to bring and what not to bring, it's time to start getting yourself organized.
You may need to get rid of or buy new clothes for a new climate, so check your wardrobe and do away with what you don't need. Additionally, do the same with kitchen items and furniture.
To help you stay on track, you can also use an international moving checklist. It will help you stay on track, and you can mark off completed tasks. Moving to a new country requires a lot of planning and attention to detail, so the more organized you are, the better the experience.
3. Create an inventory list and label each box
Creating an inventory list may seem like a drag, but it's a tool that will come in handy. It's a document outlining the items you will be moving overseas. It should provide a detailed description of each item, including the condition.
It can also help you get an accurate price quote from international movers, help you reduce clutter, and save time during your packing process. It's not something to be overlooked. Here's what you should include on your list:
A detailed description of the item and its condition

Purchase date and the cost, if you have it.

Make, model, and serial numbers (if applicable)

Estimated Value

The label on the boxes in which the items are packed

The room where the item was located

The room where you would like the item to be delivered
Don't stress about serial numbers or receipts. Write down the information that you have. The best international moving companies can guide you in the right direction.
You can check out Sortly for an easy-to-use inventory app.
4. Take photos and videos
Nowadays, it's easy to snap a photo or take a video. Photos and videos of your household goods can be helpful, especially if something goes missing or gets damaged during transit.
Documenting what you're shipping overseas takes little effort, but if you're on a time crunch, you can focus on high-value and fragile items. Ensure you upload the photos and videos and keep them in a safe place, preferably a USB drive, in case of missing or damaged items.
5. Source the right packing supplies
Unlike domestic moving, international moving requires more attention to detail. Your household goods may be on the ocean for a while and handled multiple times. Getting the right packing supplies is essential to avoiding damage. Here are some tips:
Use corrugated cardboard: If you're shopping for boxes, look for corrugated cardboard. It's more durable than traditional cardboard boxes and can withstand heavier impact.
Bubble wrap: All fragile items, including dishes, pictures, and lamps, should be wrapped with bubble wrap.
Book boxes: Use book boxes for smaller, heavier items or fragile items like picture frames. Ensure your items are condensed in the box to avoid shifting.
Packing Paper: To ensure your boxes are packed tight, use packing paper as a filler. Additionally, you can use old t-shirts, pillowcases, or blankets.
Tape: If you're self-packing, then you will need tape. Ensure you get enough rolls of tape to seal your boxes.
You can find packing supplies at any local Home Depot, Walmart, Lowes, or U-Hual. You can also buy packing material online.
6. Packing tightly is the number one rule
Vibration is the number one cause of damage on an international move. Your household items may be on choppy water for days, pulled off the ship by a crane, and loaded on a truck for delivery.
The best way to pack for an overseas move is to ensure your boxes are tightly packed and condensed. The idea is to avoid shifting. The more space your items have to move around, the higher the chance of damage.
You can use anything from towels to t-shirts as filler. Ensure you fill the space of your boxes as tightly as you can. It will help ensure that your items don't get damaged.
7. Keep your weight in check
We all want to stuff as much as possible in our boxes, but a good rule of thumb is to keep your box's weight maximum to 50 lbs. It will help with handling potential damages.
Larger boxes should contain lighter items such as clothes, lamps, pictures, and shoes. Packing heavier objects into larger boxes can be risky. Smaller boxes for heavier things like books and files are best.
If you need more clarification, it's best to speak with an international mover regarding the best practices for packing for an overseas move.
8. Use suitcases, shoe boxes, and plastic bins
An excellent way to save money and space is to use household items like suitcases, backpacks, plastic bins, and briefcases as boxes or as an extra layer of protection.
If you have some plastic bins or totes, fill them with odds & ends like clothes, books, and shoes. Additionally, you can use suitcases or luggage as a vessel to transport clothing and other small items.
Regardless of your direction, ensure that your items are packed tight with no space for shifting while your goods are on the ocean or in the air.
9. Look for free packing supplies
It may come as a suprise to most, but you can find free packing supplies by visiting your local grocery store or retailer like Walmart. Companies often recycle or donate boxes, so if you swing by and ask the manager, you may be in luck.
Additionally, posting something on social media can be very rewarding. It's common for people to have leftover boxes after a recent move. Let your friends know you're moving and ask if anyone has excess packing supplies.
10. Find the right international mover
Moving to a new country requires a lot. There's documentation, customs clearance, and logistics. Finding the right international moving company is essential to a positive outcome.
If you're moving from New York to London, look for a company with shipping experience to London. You will find that shipping rates will be more competitive and the process much easier.
You can check online reviews, get referrals and look for a company that makes you comfortable.
What are the risks of self-packing for an overseas move?
Self-packing for an overseas move is a great way to save money, but it can come with some risks you should be aware of. Below are five things you should consider before committing to the task:
Time-consuming: Depending on how much stuff you're shipping overseas, self-packing can be time-consuming. Consider leaving it up to the pros if you're on a tight timeline.
Labor-intensive: Self-packing is not for the faint of heart. It can be back-breaking work that requires physical labor.
Lack of experience: The best international moving companies offer their teams periodic training on packing for an overseas move to avoid damage.
Sourcing packing supplies: To minimize the risk of damage, you must use the proper packing supplies, which we will get into later. You can buy supplies online or at any local Home Depot.
Insurance: Self-packing for an overseas move will save you money, but your insurance options are limited to total loss coverage. Total loss insurance covers the complete loss of a shipment but not specific items.
It's always best to speak with an international moving company for tips and tricks on packing for an international relocation.
The best way to pack for an overseas move: Conclusion
This article outlines all the steps to pack successfully for an overseas move. Start by decluttering, organizing yourself, creating a list, and ensuring all boxes are sealed tightly.
Self-packing is an excellent way to save money but it can also come with risks. It can affect your insurance options, lack of experience, and it's time-consuming, to name a few.
If you still need to decide whether or not you should pack for an overseas move, consult an international moving company that can walk you through the process.
We wish you luck with your new venture, and feel free to contact one of our professional relocation coordinators.