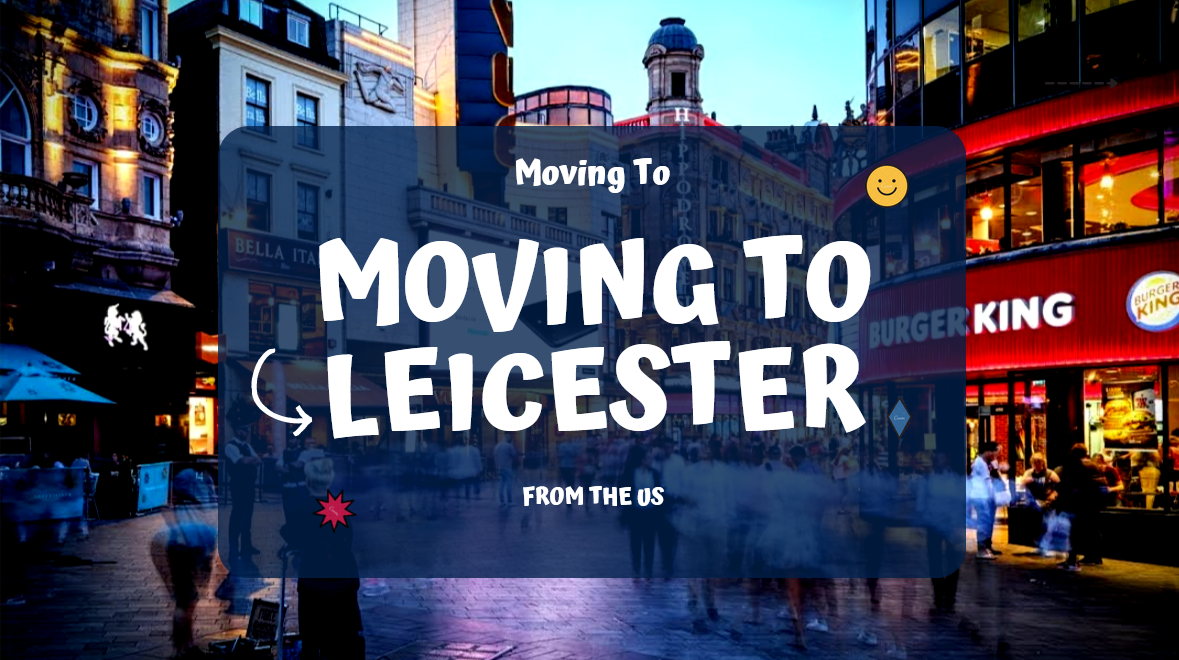 How to Move to Leicester, England, from the US – All you need to know!

If you're looking for a vibrant and diverse city to discover in the UK, you can't go wrong with Leicester. Many Americans are moving to Leicester for its cultural diversity and highly regarded neighborhoods.
Although a good portion of the population is Caucasian or British Caucasian, most (around 60%) of the population actually belongs to a British racial minority. The most significant group is of Asian heritage, with large Indian, Pakistani, and Bangladeshi communities.
Here are a few reasons why Leicester may interest you:
Plentiful and ample green spaces.

It's incredibly well-connected, standing at the center of the English railroad system.

World-class education.

Variety of independent and quirky second-hand shops.

Extremely affordable compared to other major British cities.
Cost of moving to Leicester, England
The average cost of moving to Leicester is anywhere between $3,800 and $6,850. However, some factors, such as shipping costs, expected delivery time, transport method, and even the seasonality of your move will affect the final cost of your relocation.

You have two main options for shipping your belongings: sea or air freighters.
Sea freighters take longer but are more affordable. Costs are based on the volume of your move and the size of the container you'll be using.
Air freighters are faster but more expensive. The cost of air freighters is based mainly on your cargo's weight. Given the limited space and the higher rates, air freighters are reserved for works of art, family heirlooms, and valuable objects.
Planning and getting an accurate estimate for your international move is essential to avoid surprises and overspending. A comprehensive quote will give you an idea of how much to budget for your relocation to Leicester.
Read more: Cost of moving from the US to the UK

What to expect when moving to Leicester, England, from the US
Moving from the US to the UK is quite an endeavor. The more you learn about what to expect when moving to a new city, the better. Here are some tips and things to consider when planning your move from the US to Leicester.
Cost of living in Leicester vs. the US
Leicester is often among the top 20 British cities with the highest cost of living, though compared with bigger cities such as London, it comes off as very affordable. For example, even though average house prices in Leicester (£279,080 or $345,652) are around the 10th highest in the UK, homes are still about half the cost of London's.
Another thing to consider is that the average wages in Leicester are relatively low compared to other top 20 most expensive cities, at $35,619.
The following costs will give you an idea of what you'll spend every month once you're settled in Leicester (source: Expatistan):
The average monthly cost of a family of four is $3,394 (rent not included).

The average cost of living for a single person is $1,706 (rent not included).

The average monthly rent is $1,199.

The price of 1 liter (1/4 gallon) of gas is $1.88.

The monthly cost of using public transportation is $61.
Finally, here are a few comparisons between Leicester and popular US cities. It'll help you get an idea of how it compares to the biggest cities in each country (source: Numbeo):
You will need around $3,775 in Leicester to maintain the same standard of life that you can have with $9,000 in New York.
You could spend around $3,818 in Leicester to maintain the same standard of life that you can have with $7,000 in Miami.
You would need around $3,810 in Leicester to maintain the same standard of life that you can have with $7,000 in Los Angeles.
Climate in Leicester



The climate of Leicester is oceanic. It has cold and rainy winters and mild, relatively rainy summers. Leicester tends to be cloudy, with rain spread throughout the year.
Although still cold, winters are not as cold as in the rest of the UK. The sky is often cloudy, with high humidity, moderate to strong winds, and frequent rain. The coldest nights of the year tend to be around 19/21 °F.
Summers are cool and somewhat rainy. The average daily high temperature is above 65°F. The nicest time of the year is May to September.

Culture in Leicester



Leicester is a city filled to the brim with cultural events and venues. Yearly, Leicester hosts a Caribbean Carnival and parade, which has become the largest in the UK outside of London. It also celebrates Diwali, or Festival of Lights, one of the most important Hindu celebrations.
Leicester is also known as a home of filmmakers and film lovers. The annual Leicester International Short Film Festival has become one of the UK's most important short film festivals since its inauguration in 1996.
Other cultural highlights include:
The Curve: the main performing arts center in Leicester.
The De Montfort Hall: Leicester's largest music venue.
Leicester Cathedral: a cathedral dating back to the 13th century. It contains the remains of King Richard III.
Leicester Museum & Art Gallery: one of the very first public museums in the UK, contains multiple exhibitions about science and art.
Newarke Houses Museum: a museum dedicated to exhibiting Leicester's post-medieval history.
Jewry Wall: the nearly 2,000-year-old remains of a Roman wall.
The World Tree: a sculpture dedicated to portraying the roles played by different cultures in the city.
Safety in Leicester



Leicester has a higher crime rate than Leicestershire county and the UK. Leicester's 2021 crime rate was 112 crimes per 1,000 people. The UK's 2021-2022 rate was 79.52 per 1,000, and Leicestershire's 2021 rate was 78 per 1,000.
For cities, Leicester is among the top 10 with the highest crime rates in the UK, Wales, and Northern Ireland. However, when all towns, cities, and villages are considered, Leicester stands at 457th, far from the top.
The safest neighborhoods in Leicester, with crime rates far below the British average, are Spinney Hill Road, Knighton, Crown Hills, Evington, and Belgrave North East.
How long does it take to ship my household goods to Leicester, England
The time it takes to ship your household goods from the US to England depends primarily on the type of transport you choose.
Sea freighters
Sea freighters take the most time. Depending on origin and destination, sea freighters traveling from the US to the UK usually take between 9 and 30 days. Distance is the most significant factor in shipping time.
Since Leicester is landlocked, your belongings will arrive in the nearest port your international moving company works with. It'll likely be either the port of Southampton or Felixstowe.
For cities closer to the UK, like New York, it could take between 10 and 15 days to Southampton and 10-16 to Felixstowe. For farther cities like Los Angeles, it could be between 28 and 42 days for either Southampton or Felixstowe.

Air freighters
Air freighters are much faster, likely arriving in Leicester in 1 to 3 days, depending on the origin. They may also be affected by weather and other hindering conditions.
Read more: A guide to international moving
Tips to prepare for your move to Leicester, England
As your move to Leicester gets closer, here are some tips to help you prepare:
Inform your bank: call and tell them you're moving overseas since they'll likely halt your account if they see unexpected charges from another country. Also, print out a recent bank statement for UK customs, just in case they ask.
Seek financial advice for taxes: you may be required to file taxes in the US, even though you live in the UK. Seek financial advice to avoid being taxed twice.
Update your passports and visas: we can't stress enough how important it is to research, seek legal advice, and apply for the appropriate visa. I'll save all sorts of trouble.
Open a bank account: make sure you have a bank account you can use to make payments as you settle in, whether an international or a local one. If you don't have enough information to open a bank account in the UK, try getting an international credit card to help you pay for most goods and services.
Notify the U.S. Postal Service: USPS doesn't have the option to forward your mail overseas. You can work with another provider who offers these services or ask a friend to receive mail in your name.
Get copies of your medical records: visit your primary doctor to request medical records, prescription copies, and anything medical-related. You should also ask your doctor to recommend prescription alternatives for drugs you might not find in the UK.
Get international insurance: before you can access the healthcare system in the UK, you'll need to protect yourself and your family. International insurance can help cover many accidents and healthcare scares overseas.
Downsize: months ahead of time, you should start making lists of the essentials and selling off or giving away everything that isn't on the list.
The bottom line when moving to Leicester

Moving internationally can be a big step, but there's no reason for you to worry about the logistics of your move when there are professionals who can help. We're here to make your move as easy and affordable as possible. Our goal is to make your move as easy and stress-free as possible.
Are you ready to move internationally? Click here to get a quote from our team and have a stress-free move abroad.
More about International Van Lines
Related Articles
Relocating to Teesside, England
All about moving to Nottingham
Moving to Manchester from the USA
Shipping furniture to Liverpool