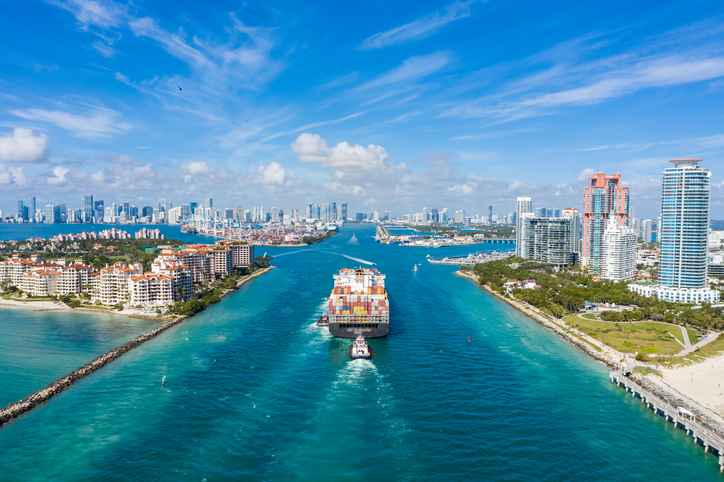 It's known that Port Miami is among the busiest port in the country. Expats from all over the world choose to call Miami home. However, there has been an influx of residents moving abroad, and shippers want to know the cost.
Some of the most common routes from Port Miami are Latin America and Europe. Due to current circumstances regarding the supply chain, Port Miami and other major ports have been experiencing port congestion, causing delays and cost increases.
However, this article will find the cost of moving from Miami abroad and expected transit times and tips for finding the best international moving companies during these times.
Also Checkout: Hiring experts share their best job relocation tips
Average Cost for Moving from Miami Abroad
Quick Answer: The average cost for moving from Miami abroad is $4000 to $7000. Several factors will determine the price, with the overall size of your move being the most significant. The service, time of year, and destination will also affect cost.
You must speak with a mover who is also a lisenced freight forwarder. You will often come across "international moving companies" that arent lisenced and will outsource your move, which can raise the cost. So, when calling around, make sure to ask for license information which you can then look upon the FMC website.
Additionally, you will want to make sure the company you're dealing with has experience moving from Miami abroad. Unlike domestic moving, overseas moving requires knowledge of customs and how ports operate. You should also request all international moving costs.
1 Bedroom
300-400cuft
$

2500-3700

All in

Door to Door
2 Bedroom
500-800cuft
$

3900-4800

All in

Door to Door
3 Bedroom
1000-2000cuft
$

5200-7000

All in

Door to Door
4 Bedroom
2200-3000cuft
$

7800-9000

All in

Door to Door
What are my service options?
Ocean freight is the most common and economical way to transport household goods. However, you will also have the option of air freight if you're in a hurry. Most qualified freight forwarders can provide you with both options to compare.
The best international moving companies will offer you options that include full packing, loading, documentation, and a full door delivery worldwide. The cost of moving from Miami abroad will highly be dependent on the volume of your move (cubic feet).
If you're on a budget, you can consider a port pickup at your destination, self-packing, or even dropping off at a nearby terminal. However, before you make the decision, you should compare all options.
The average cost of shipping a car from Miami abroad
Quick Answer: The average cost of shipping a car from Miami abroad is $1800 to $3500. The shipping option you choose will have the most significant effect on price.
A vehicle can be consolidated in a container with your household goods or as a stand-alone service. When shipping a car abroad, you must have the original title of your vehicle. There will also be some essential documentation that your mover will send you to fill out.
Service options:
Container Shipping: Your vehicle will be loaded in an exclusive or consolidated container and not exposed to the elements. This is a more expensive option but should be considered for higher-end vehicles.
Roll-on/Roll-off (RO/RO): Ro/Ro is the least expensive route when shipping a car from Miami abroad. However, you would be responsible for bringing your car to Port Miami for loading and picking it up at the destination port. Your vehicle will be on a ship but exposed.
It's always best to speak with our relocation coordinator about the details of your move. They will help direct you. In addition, they can provide a few options for price comparison.
Also, check out: Best Moving Companies Miami
What's the average transit time for shipping?
Quick answer: The average transit time from Miami abroad will depend on how active the route is. However, if you're moving to South America or Europe, you can expect three weeks for a complete door-to-door service. Additionally, Australia may take up to 4 weeks.
It's always best to as your international moving company about transit times. The size of your move, time of year, and destination can affect the time it takes. However, any qualified mover can tell you the vessel information in advance so you can make an informed decision on pickup dates.
Summertime is the peak moving season. Due to high demand, you may experience some delays with shipping, especially on smaller moves that are part of a consolidation.
The pros and cons of self-packing for a move
International moving can be costly, and self-packing is a great way to reduce costs. However, it's always wise to educate yourself on the pros and cons of self-packing for a move.
Self-packing: If you decide that you want to put in the work, you should know a few things ahead of time. You will need to box all of your lost items and create an inventory list of everything you pack. Self-packing will also affect insurance. You will only be eligible for total loss insurance instead of complete protection. Lastly, self-packing can be time-consuming and back-breaking work, so give it some thought.
Professional packing: Hiring a move to pack for you will add about 10% to the total cost. However, it will help save time. Remember that your household goods will be on the ocean for some time, and proper packing will help avoid damage.
How to find the best international moving company in Miami
According to the Federal Motor Carrier Safety Administration, there are over 7000 registered movers in the U.S. However, only approximately 300 are registered with the Federal Maritime Commission, the government agency that regulates ocean freight. Not all moving companies are qualified to handle an international move.
You should look for Miami's 5 best international moving companies and compare quotes. You should request an on-site or virtual tour which will help with accuracy. Also, checking reviews and getting references can help.
Lastly, go with your gut and never price shop. International moving companies share similar expenses, and the cost of moving from Miami abroad shouldn't be far off. If you get a quote that looks too good to be true, chances are it is.
The cost of moving from Miami abroad – Conclusion
Moving from Miami abroad is exciting but can also be stressful. Before choosing a mover, make sure you do the proper research. In addition, knowing what you're moving to will help with the process.
Not all international moving companies are solid or even qualified to handle your move. Ask for license information and some history on the company before making your decision. It doesn't have to be a stressful process.
We wish you the best with your journey, and feel free to contact us if you have any questions and moving from Miami overseas.