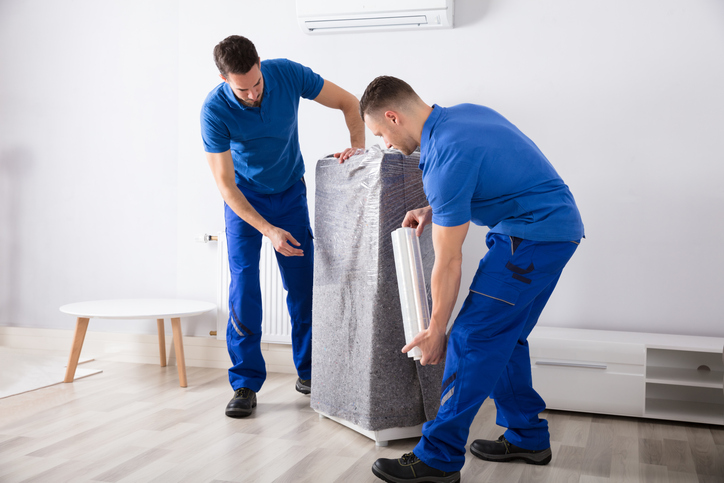 After researching over 30 international moving companies, interviewing customers and experts, we came up with Miami's 5 best international moving companies.
The top pick: International Van Lines is rated number 1 across the web. Some of the largest brands like Forbes, US News, and Newsweek gave International Van Lines the number 1 award for international moving.
However, all of the companies mentioned on the list are top-rated companies with the seal of approval from large organizations.
It's always best to do your research. However, to make things easy, we've done the research and compiled a list for you.
Miami's Top Five Best International Moving Companies
What to look for in an international moving company
First, you should look for a company that is lisenced by the Federal Maritime Commission. Movers are not allowed to sell, offer or perform ocean freight services if they're not licensed.
You should also check a company experience and history with international moving. Unlike domestic moving, moving abroad requires knowledge of local laws and relationships with international agents.
Lastly, it would help if you looked at customer reviews. However, always make sure you compare company size and years in business. A smaller company that handles less volume will tend to have fewer negative reviews.
Compare International Moving Companies in Miami
International Van Lines handles over 20,000 moves a year. Services include long-distance, international, and local moving services nationwide.
As a licensed freight forwarder and mover, International Van Lines is the direct ocean and air freight source. Additionally, any packing, loading, crating, and customs clearance are options.
Since 2000, International Van Lines quickly grew to a household name and is one of the top 5 international moving companies in Miami and nationwide.
The quoting process with International Van Lines
If you're looking for an estimate for an international move, you can call or email. It's always best to speak with a relocation coordinator to gather more information about your move.
Inventory lists can be taken verbally or by virtual tour. Once we have the complete list and volume of your move, we can put together a few scenarios for you and make some suggestions.
Ocean freight transportation is the most common and cost-effective way to move abroad. However, if you're in a hurry, you can seek out a quote for air freight.
International Moving Insurance
International Van Lines offers insurance through its third parties. The insurance options include "total loss" or "all-risk insurance."
Total loss insurance will apply to customers that decide on self-packing. It covers the full value of the contents you're moving but will only use if there's a total loss.
All risk insurance is used for professionally packed moves. We will need to collect an inventory list of what you're moving along with values. You will have full coverage based on the values of each item.
Why is International Van Lines a good option?
As one of the best international moving companies in Miami, IVL maintains an excellent reputation.
IVL is also the direct source for rates. Hundred of movers around the world utilize IVL for ocean freight rates due to the volume we handle. You will find our rates to be highly competitive without
jeopardizing the quality of your move.

JK Moving & Storage
Moving overseas can seem like a daunting task. However, finding the right mover can help eliminate a lot of stress. JK Moving is an excellent option as they've been in business for over 40 years and have
an excellent track record.
As one of the largest private movers in the country, JK has put together excellent policies and procedures. Although they're not directly located in Miami, they're one of Miami's 5 best international
moving companies.
Getting an International Moving Quote from JK Moving
Getting an international moving quote from JK moving is easy.
Unlike most traditional movers, they utilize artificial intelligence to calculate the volume of your move. If you feel more comfortable with an in-home survey, you will also have that option. However, it
may take up to 3 days to get a quote.
Allied Van Lines
Their bright orange trucks are almost always recognizable. Allied has been in business since 1928, and it is one of the country's oldest and largest van lines.
There's no limit to their services, and international moving is a strong point for Allied. However, getting a moving quote may take a few days. Unlike International Van Lines and JK Moving, Allied will offer an in-home survey. In-home surveys are great, but if you're in a hurry, you may want to reconsider.
Allied also offers full insurance options as well as packing & loading for your household goods. They're one of Miami's top 5 international moving companies that service most destinations worldwide.
International Moving with Atlas Van Lines
Atlas Van Lines is a trusted name in moving. As one of the oldest moving companies, they have an excellent agent base and reach.
If you're looking for a qualified international moving company, Atlas is a great choice. However, we always recommend getting up to 3 quotes.
Additionally, Atlas is made up of agents. Your move will stay within their network, which you can trust. Their experience is extensive, and you will have a stress-free move with Atlas.
Atlas Van Lines is one of Miami's top 5 international moving companies. Getting a quote is easy. Just give them a call or fill out their online form.

North American Van Lines and what they offer
North American is also another van line. However, they offer extensive moving services, which include international logistics.
If you're planning on moving abroad, North American can handle all aspects of your move. Additionally, they offer packing, loading, and unique crating if needed.
They're one of Miami's 5 best international moving companies for a reason.
Miami's 5 Best International Moving Companies
Each mover listed has been in business for years. We based our opinions on several factors. Time in industry, services offered, cost, and reputation all play a role.
However, you should always do your research. International moving is unique. It's not a service that most moving companies offer. Make sure you request an on-site or virtual tour before you commit to any moving company.
We wish you the best of luck with your move, and feel free to reach out of you have any questions.