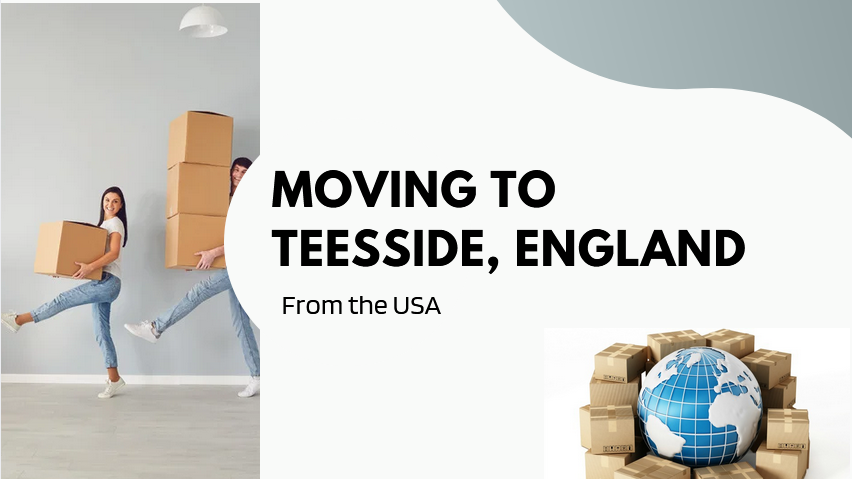 Moving to Teesside from the US? Here is your complete relocation guide that will make your upcoming international relocation successful. Read on.
Moving to Teesside, England, from the US
Teesside is an urban area around the River Tees in northern England. It encompasses parts of the Durham and North Yorkshire counties, with a population of around 400,000.
Rather than a single city, Teesside is a combination of multiple small towns and cities surrounding Middlesbrough, the largest, most urbanized, and populated town in the region. The towns and cities that makeup Teesside are Middlesbrough, Stockton-on-Tees, Redcar, Billingham, Thornaby, Ingleby Barwick, Wolviston, and High Clarence.
While it's historically been a hub for heavy manufacturing industries, Teesside is also known for having a remarkably affordable cost of living, especially compared to major British cities like London and Glasgow.
The attractive house prices combined with a wide variety of urban, rural, and coastal homes to choose from make it a good alternative for many British and American citizens. It also has a surprisingly varied selection of bars, pubs, and restaurants, if that's your thing.
The vibrant range of shops available throughout the region and instant access to its scenic countryside is the icing on the cake.
If you're considering moving to an affordable part of the UK, Teesside may be interesting. Let's explore everything you need to know about moving to one of England's quietest and most affordable regions.
Read Here: Cost of Moving to the UK
Note: Throughout this article, remember that Teesside is not a single city but comprises various cities and towns. Most specific data and numbers in this article correspond to Middlesborough, the largest city in the region.

Cost of moving to Teesside, England
When planning your move, it's important to understand the costs involved and how to mitigate them. Shipping costs from the US to the UK range from $3,800 to $6,850, but they could be slightly higher or way lower, depending on the size of your move.
You have two main options for shipping your belongings: sea or air freighters. When deciding between the two, there are a few factors to consider: type of transport, seasonality, size of the move, and port proximity.
Sea freighters take longer but are more affordable. Costs are based on volume and the size of the container you'll use. There are 20 and 40-foot containers.
20-foot container: It has a capacity of 32.6m3. Enough to fit every piece of furniture and appliance in a 1-2 bedroom apartment.
40-foot container: It has a capacity of 67.6m3. Enough to fit every piece of furniture and appliance in a 3-5 bedroom apartment.
Read more here on Container Sizes
If you're considering air freighters, keep in mind that they're much faster than sea freighters but also considerably more expensive. The cost of air freighters is based mainly on your cargo's weight (as opposed to volume or size). The heavier, the more expensive.
Given the more limited space and the higher rates, air freighters are generally reserved for works of art, family heirlooms, and other fragile, valuable objects. They're rarely used for full moves.
Many reputable moving companies will provide you with a free online estimate based on the information you input about your household goods and vehicle. Use that estimate as a starting point for your research and cost comparisons.
Read More: Understanding Your Moving Estimate
Top International Movers to Teesside from the US



Visa fees when Moving to Teesside

You must start planning for your visa as early as possible—at least four months before your move day. The visa application process can be very time-consuming, so it's important to plan and apply for your visa at a reasonable time. Inform yourself about timelines and apply at a reasonable time.
The cost of a visa can vary depending on what kind you're getting, too. For example, a tourist visa is likely cheaper than a work visa.
Ideally, you should reach out to an immigration attorney to help you complete the visa process.

Securing a home in Teesside, England when Moving

The average monthly rent in Middlesbrough, the town at the center of Teesside, is $859, with a median rent of $743.
Keep in mind that many more costs will be associated with securing a home in Teesside when moving internationally. You need to consider the cost of flights to house-hunt for several days, hotel, food, transportation, and more.
These are the costs most commonly associated with entering a tenancy agreement in the UK:
Rent

A security deposit, usually five weeks' rent.

A refundable holding deposit (to reserve the property), usually one week's rent.

Payments associated with terminating the contract early if you were to request it.

Fee for the variation, assignment, or substitution of a tenancy contract.

Utilities, communication services, TV license, and council tax.

Additional costs with late rent payments and lost keys/security devices replacement.
Read More Here: Who are the Best International Movers to Europe
The cost of securing a home may ascend to over $5,000 depending on the factors above, making it one of the most significant costs associated with your international move.
You will probably need to spend several days house-hunting. You should do this about two months before moving. Consider this process' expenses, such as hotel stays, flights, food, transportation, and more.
What to expect when moving to Teesside from the US
When you decide to move to England from the US, you'll need to start learning about life in Teesside and what to expect.
Cost of living in Teeside vs. the US
Middlesbrough, the largest town in Teesside, is highly affordable, especially compared to major cities such as London. Rent prices can be up to 80% lower in Middlesbrough than in London.
House prices average $179,629 in Middlesbrough, more than three times less than London's average. If you're an American with a high-paying, steady job, Middlesbrough will be highly affordable for you.
The following costs will give you an idea of what you'll spend every month once you're settled in Middlesbrough. They'll also give you a very good idea about prices in Teesside as a whole (source: Numbeo):
The average monthly cost of a family of four is $2,873 without rent.

A single person's average living cost is $878 without rent.

The average monthly rent is $859.

The price of 1 liter (1/4 gallon) of gas is $1.95.

The monthly cost of using public transportation is $77.
Consider these numbers a ballpark figure. Don't assume these are the current prices everywhere in Teesside.
Finally, here are a few comparisons between Teesside, London, and a few big American cities. It'll help you get an idea of how it compares to the biggest cities in each country (source: Numbeo):
Climate
Teesside's climate is oceanic, with cold, rainy winters and mild, partly rainy summers. During the warm months, temperatures are generally mild or cool. It may also be rainy, not unlike winter. During the highs of July and August, temperatures reach 68-69 °F. Heatwaves are rare.
During the cold months, the weather is rainy, cloudy, windy, humid, and cold, but not that much compared to the rest of the UK.

Culture
Teesside is currently pushing to become a national cultural powerhouse in the next decade, planning to participate in the UK City of Culture contest of 2025.
Some of the cultural highlights of the Teesside region include.
Safety in Teesside



Remember that Teesside is a conurbation of various towns and cities, so crime rates vary depending on where you live.
Middlesbrough is often among the highest crime rates in Teesside. In 2021, there were 164 crimes per 1,000 people in Middlesbrough. North Yorkshire's rate is 76 per 1,000 residents, and Durham's is 88 per 1,000. Teesside is part of both North Yorkshire and Durham.
Fairfield is often considered the safest place to live in Teesside. Fairfield's 2021 crime rates were 43 per 1,000 residents.

How long does it take to ship my household goods to Teesside, England?
Sea freighters take the most time. Depending on the origin and destination, it'll likely take between 9 and 30 days for American cargo to arrive in the UK. But remember that many circumstances could affect delivery time.
For cities closer to the UK, like New York, it could take between 10 and 15 days, but it could take between 28 and 42 from Los Angeles.
As a bonus, Teessport, one of the largest ports in the UK and Europe as a whole, is in North Yorkshire, one of the counties Teesside is a part of. You won't have to worry about your belongings having to travel long distances to reach your home once they reach the UK.
Air freighters are much faster, likely arriving in Teesside in 1 to 3 days. They may also be affected by weather and other hindering conditions.
Read More: Transit Times for Moving
Timeline for your international move to Teesside

Moving overseas requires extensive planning and organization. Here's a moving timeline to give you an idea of how to get started.
1 year or more before the flight to Teesside
Determine whether you'll need to sell your home, rent it out, or end the lease prematurely.

Start researching international moving companies.

Start exploring pet import fees and processes if you have pets you plan to carry with you.

Start considering your moving date.
6 months before the flight to Teesside
If you plan to rent out your previous home, make the necessary repairs (if any) and find a property manager for it.

Make sure your passport will be valid by the time of the move.

Research schools for your children, if you have any.

Research neighborhoods and determine the general vicinity of where you'll live.

Research and get the necessary insurance for the move.

Start contacting international moving companies and make the final choice.

Buy your flight tickets.
3 months before the flight to Teesside
Renew or get passports for the whole family.

Contact schools that interest you. Follow up with an application and a health check-up.

Get immunizations.

Relocate your pets if you won't be taking them to the UK.

Travel to your destination to visit schools and do some apartment or house-hunting before moving.

Confirm the international moving company you'll be using.

Secure medical and educational records.

Sell or give away what you won't be moving to Teesside.
2 months before the flight to Teesside
Apply for visas.

Get important documents sorted and organized.

Sell or give away the things you won't take to your new home.
1 month before the flight to Teesside
Start packing everything you can.

Confirm your visas are ready.

Cancel or transfer utility payments.

Figure out whether you can get an international driver's license and get it.

Find where you'll stay after the movers have packed your things and shipped them (stay with a friend or family member for a few days, hotel rooms, etc.).

Cancel all subscriptions you won't be using anymore.

Make arrangements with the US Postal Service.

Close your bank account if necessary.

Secure the home you'll be living in once you get there.
2 weeks before the flight to Teesside
Pack your suitcases

Pack out everything the movers will ship.

Make arrangements with the post office.
Bottom line
You've already taken the first step toward moving abroad. We know it can be stressful and confusing, so we've created a fast and easy way for you to find an international moving company and get your quote in minutes.
As a trusted resource for international movers, we've helped thousands of people like you move safely and securely worldwide. Are you ready to move internationally? Click here to get a quote from our team and have a stress-free move abroad.
Know more about International Van Lines