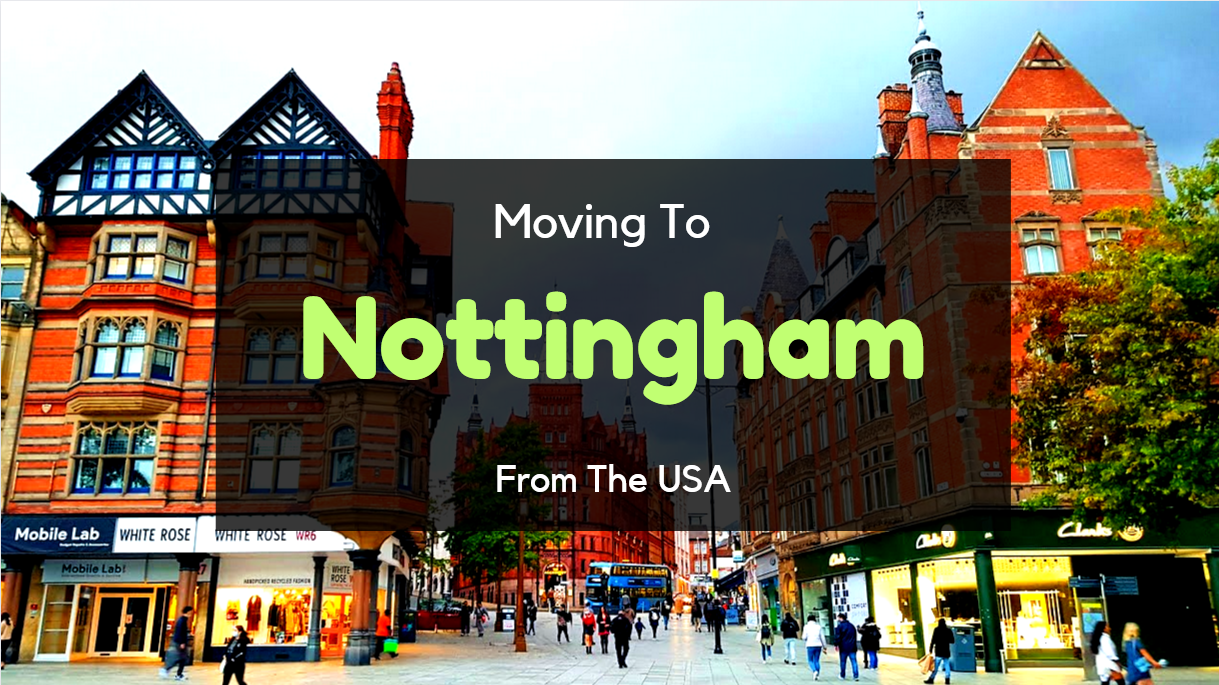 Moving to Nottingham from the US? Here is your complete relocation guide that will make your upcoming international relocation successful. Read on.
Moving to Nottingham, England, from the US
Nottingham is a city surrounded by myths, legends, and a rich history that seems fictional. From the iconic thousand-year-old Nottingham Castle to the stories of the legendary outlaw Robin Hood, fact and fiction constantly crossed over in Nottingham's history.
For Americans considering a move to the UK, Nottingham will stand out as an affordable alternative to some of the other big British cities. If you're looking for the bullet points, these are the best reasons you should consider Nottingham:
As the UK's 6th largest city, it's a hub for local and national employment.

World-class schools and universities.

Very connected public transport system and vicinity to major cities. Leicester and Sheffield are 30 minutes away by car, and London is 3 hours away.
Walkable and filled with green spaces. It's also 1 hour from Sherwood Forest National Nature Reserve, where most of Robin Hood's exploits occurred.

Three major affordable hospitals.

Wide variety of shopping options.
Cost of moving to Nottingham, England
The average cost of moving from the US to the UK is between $3,800 to $6,850. However, an international move can end up costing roughly $10,000. It depends on where you're located in the US, your final destination in Nottingham, the size of your home, the method of transportation, and even added services such as loading and unpacking can increase your cost move.
Shipping costs from the US to Nottingham will vary depending on your transport type. You have two main options for shipping your belongings: sea or air freighters.

Sea freighters take longer but are more affordable. Costs are based on volume and the size of the container you'll use. There are 20 and 40-foot containers.
20-foot container: It has a capacity of 32.6m3. Enough to fit every furniture and appliance in an 80m2 apartment (861 square feet), plus a motorcycle.
40-foot container: It has a capacity of 67.6m3. Enough to fit every furniture and appliance in a 100m2 apartment (1076 square feet), plus a car and a motorcycle.
If you're considering air freighters, keep in mind that they're much faster than sea freighters but also considerably more expensive. The cost of air freighters is based mainly on your cargo's weight (as opposed to volume or size). The heavier, the more expensive.
Given the more limited space and the higher rates, air freighters are generally reserved for works of art, family heirlooms, and other fragile, valuable objects. They're rarely used for full moves.
Planning and getting an accurate estimate for your international move is essential to avoid surprises and overspending. Research reputable international moving companies that provide free quotes based on the information you provide about your move.
Read more: Shipping Furniture from the US to Europe
Visa fees when moving to Nottingham from the US

Every country has visa requirements, so it's essential to understand how to get the right kind of visa for your needs. Use this page to determine which type of visa may apply to you.
The cost of a visa can vary depending on what kind you're getting, too. For example, a tourist visa is likely cheaper than a work visa.
It's best to apply for your visa as early as possible (2-4 months before your move). There may be delays due to unexpected circumstances, and the typical visa processing times range from a few weeks to a couple of months. Inform yourself about timelines and apply at a reasonable time.
Additionally, budget to pay the Immigration Healthcare Surcharge and visa fees. The Immigration Healthcare Surcharge gives you access to the British public health network, the NHS. The cost is around £470 or $575 per year.
Best International Movers USA to Nottingham
Securing a home in Nottingham, England when moving

The monthly rent in Nottingham averages $1,614, with a median of $1,159. House prices generally range from $244,156 to $296,360, less than half of London's average.
Remember that many more costs will be associated with securing a home in Nottingham when moving internationally. You need to consider the cost of flights to house-hunt for several days, hotel stays, food, transportation, and more.
All factors considered the cost of securing a home is around $5,000, making it one of the most significant costs associated with your international move.
Miscellaneous costs when moving to Nottingham



Moving internationally is a significant life event that comes with its own set of costs. While the expenses you will encounter will vary based on the specifics of your move, those planning to make an international move should address some standard costs.
Some of the most common unexpected expenses associated with international moves include the following:
Replacing appliances you sold, gave away, or left behind, such as stoves, refrigerators, washers/dryers, and more.

Courier services for your visas.

Customs taxes and duties.

Car rentals or transporting your car overseas.

Packing and unpacking services.

Moving insurance. Most international moving companies will cover only a small fraction of each object's valuation. You'll need to pay extra for full coverage.

Storage services.

Potential lawyer fees for assistance with visas and other documents.

New clothes appropriate for the destination's weather.

What to expect when moving to Nottingham, England, from the US
Overall, moving to the UK is a comprehensive process that involves planning months in advance. Here are some things to consider as you start planning your move.
Cost of living
You won't find Nottingham among the most expensive cities in the UK, but neither among the most affordable. It's a very middle-of-the-road place in terms of cost of living.
That said, it's still among the top 20 most expensive cities to buy a house. The $244,156 to $296,360 range is still under half of London's average.
The following costs will give you an idea of what you'll spend every month once you're settled in Nottingham (source: Expatistan):
The average monthly cost of a family of four is $4,007 without rent.

A single person's average living cost is $2,007 without rent.

The average monthly rent is $1,614.

The price of 1 liter (1/4 gallon) of gas is $2.08.

The monthly cost of using public transportation is $77.
Consider these numbers a ballpark figure. Don't assume these are the current prices everywhere in Nottingham.
Finally, here are a few comparisons between Nottingham, London, and a few big American cities. It'll help you get an idea of how it compares to the biggest cities in each country (source: Numbeo):

Climate
Nottingham has a very typical British climate, with relatively mild summers, cool winters, and abundant yearly rainfall.
Summers are short, partly cloudy, and not too hot. The average daily high temperature is above 65°F. The hottest month is July, with an average high of 70°F.
The winters are long, very cold, windy, and cloudy—an average daily high temperature below 49°F. The coldest month is January, with an average low of 36°F and a high of 44°F.
Culture
It's hard to summarize Nottingham's long and storied cultural heritage.

Suffice it to say that the city isn't lacking in cultural agendas. Nottingham is rich in art galleries, theaters, cinemas, and live music venues. It's the cultural heart of Nottinghamshire and one of the most significant cultural hubs in the UK.
The city is also known for its dedication to producing and fostering literature. In December 2015, Nottingham was named a City of Literature by UNESCO to recognize the many poets and writers that dot its history.
And obviously, there's Nottingham Castle, an 11th-century Norman castle with a nearly thousand-year-old history of abandonments, expansions, and renovations. Starting in 1875, it was rebuilt and opened to the public in 1878 as Nottingham Castle Museum: the first British municipal art gallery outside London.
Other cultural attractions include:
Safety
Being a major city, Nottingham tends to have a higher crime rate than the smaller towns in Nottinghamshire. The overall 2021 crime rate in Nottingham was 114 crimes per 1,000 people. Nottinghamshire's 2021 crime rate was 76 per 1,000. The UK's average crime rate for 2021-2022 was 79.52 per 1,000 people.
The most dangerous neighborhood in Nottingham has generally been the City Center. In 2022, the safest Nottingham neighborhoods were Wollaton East and Lenton Abbey.

How long does it take to ship my household goods to Nottingham, England
Sea freighters
Sea freighters take the most time. Depending on origin and destination, sea freighters traveling from the US to the UK usually take between 9 and 30 days. Distance is the most significant factor in shipping time.
For cities closer to the UK, like New York, it could take between 10 and 15 days, but it could be between 25 and 41 from Los Angeles.
Air freighters
Air freighters are much faster, likely arriving in Nottingham in 1 to 3 days, depending on the origin. They may also be affected by weather and other hindering conditions.
Tips to prepare for your move to Nottingham, England
Inform your American bank: call them and tell them you're moving overseas since they'll likely halt your account if they see unexpected charges from another country. Also, print out a recent bank statement for UK customs, just in case they ask.
Seek financial advice for taxes: You may be required to file taxes in the US, even though you're living in the UK. Seek financial advice to avoid being taxed twice.
It's possible to keep your American phone number in the UK: explore Google Voice to maintain your American number in the UK, at least temporarily, until you sort out the accounts associated with your American number. You may also set up an international service for your phone.
Update: International Moving Costs to England
Update your passport and visas: We can't stress enough how important it is to research, seek legal advice, and apply for the appropriate visa. I'll save all sorts of trouble.
Open a bank account: make sure you have a bank account you can use to make payments as you settle in, whether an international or a local one. Common requirements for a British bank account include a mortgage or tenancy agreement, electricity or gas bill, bank statements, and tax bills.
Notify the U.S. Postal Center: the USPS change of address form doesn't have an option for countries, so you must visit its online service. You can choose a third-party service like the US Global Mail or Mailbox Forwarding to forward your mail. A friend or family member could also receive mail on your behalf and deliver it to your new UK address.
Get the necessary immunizations: such as measles, rubella, mumps, tetanus, and influenza.
Stay-at-home partners can have a hard time getting a bank card: related to the last point. If you're not employed, it can be tough to get a bank card because the bank will require documents proving financial responsibility via a utility company. However, the utility company will likely ask for banking information you are unlikely to have since you don't have a bank card.
Get copies of your medical records: you may need them to refill prescriptions, enroll children in school, and even request residency. If you move abroad with medical records already in hand, you'll be able to save time when you need them.
Get international insurance: determine whether the Immigration Healthcare Surcharge will insure you during the move. If it won't, contract temporary international insurance during the settling-in period.
Move your car, if necessary: for this, you need to own the car and provide the original title for the vehicle. Other essential paperwork includes inspection reports, general shipping information, passport, and value. Your moving company will offer the option of giving your car its container, or it may even fit with the rest of your stuff in a 40-foot container. Another option is a roll-on/roll-off (RORO), which is the most economical but requires you to bring your car to the nearest port and pick it up at the destination port.
Downsize: People bring many things they later regret when they move abroad. If you're moving abroad, resist the urge to pack away items you don't need or plan to use.
Bottom line
When you're moving to a new country, you're probably looking for a way to make the process as easy as possible. You want to guarantee that your belongings get there safely and on time. You want to stay organized and keep your stress levels low throughout the moving process.
That's why we're here to take all the stress from your move's packing, unpacking, and shipping parts.
We offer a simple quote process and flexible scheduling. Plus, our movers are professional and experienced. They've helped thousands of people like you move safely and securely worldwide!
Click here to get a quote from our team and have a stress-free move abroad.
Know more about International Van Lines
Useful information on moving to other cities in England
All about moving to London
Tips for Moving to Birmingham
What you need to know when Moving to Liverpool
Relocating to Manchester