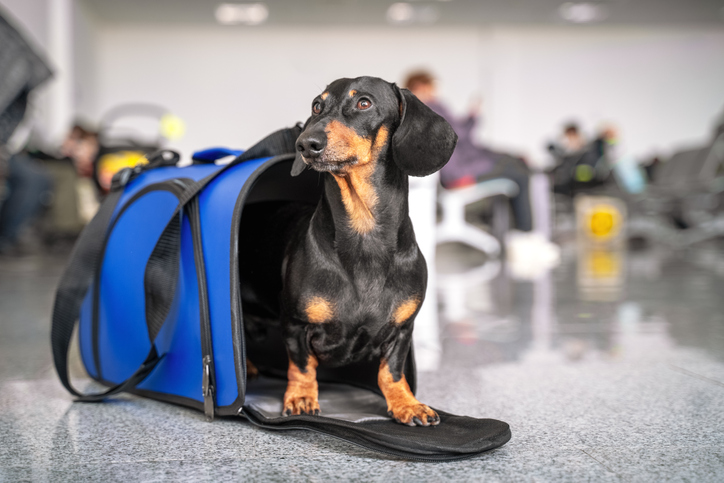 5 Tips For Moving Overseas With Animals
I hope this article on 5 Tips For Moving Overseas With Animals helps you with your journey!
You just received an offer for the job of your dreams and it's in a brand-new country! As you pop the champagne, a wave of emotions and ideas rush over you. You'll finally get to see Europe and experience a new culture. Maybe you'll learn a new language, meet new people, or discover a new passion. The possibilities are truly limitless.
But just as you grab for your phone to spread the good news and search for international moving companies, you glance over to see your two dogs and wonder, "How will I move overseas with animals?"
Uprooting your life and moving to a new country is already stressful, but if you have pets, that to-do list can get pretty long. To help you with this and make for a smooth transition, we've put together five tips for moving overseas with animals.
1. Research Pet Laws & Contact Your Consulate
Before making any major decisions, you should closely research the pet import laws for the country that you are moving to. Different countries have different rules, and some can be quite strict. For example, if you bring a pit bull or Brazillian Mastiff to the United Kingdom, your dog could be seized by authorities and sent back home at your expense!
Prevent incidents like these by thoroughly going over all of the pet regulations that your new home has. Review breed restrictions and be sure to understand the timeline necessary for certain approvals.
It's also a good idea to create a checklist of all of the vaccinations and documents that your pet will need. Go over each of these with your current veterinarian. Your current vet knows your pet well and will be able to alert you to any of their concerns about your pet when it comes to taking a long journey. They may even be able to provide you with anti-anxiety medication to keep your pet calm during their trip.
You'll also need to consider how long your pet's quarantine period will be, as many countries require animals that enter the country to be quarantined in an attempt to prevent the spread of diseases like rabies.
If an animal meets all of the vaccination requirements and is flea and tick-free, its quarantine typically ranges from a few hours to a few days. However, if an animal doesn't meet all of the requirements, it can be held in quarantine for up to a month. Don't let poor planning put a damper on your new chapter!
For the most accurate information on pet laws, it is best to contact the consulate of the country you will be moving to.
2. Contact Airlines
After getting all of the necessary information from your consulate, you'll want to contact the airlines that you will be using. Most airlines have regulations for transporting animals internationally, so it's important that you contact representatives directly.
Do you have to take multiple flights to get to your new home? If you know that you will be traveling with multiple airlines, contact representatives at each airline. The rules on your flight from New York to England may not "fly" on your trip from England to Paris.
3. Introduce Your Pet to Their Crate Early!
Once you've learned all of the rules that your airlines will have, you'll want to start to familiarize your pet with their travel crate. Depending on where you are moving, your pet will be in their crate for several hours, so it is essential that they are comfortable and obedient. We've all been on a plane with a fussy baby; you don't want to be the one with a pet that's adding to the chaos.
A good rule of thumb is to get your pet's travel crate two to three weeks before your moving date. This will allow your pet plenty of time to get acclimated to the carrier.
You can help your pets with this by encouraging them to use the crate. Feed them treats when they enter the crate or add a few of their favorite toys and blankets in there to make it homier. Before you know it, the crate will become your pet's new favorite hideout.
Of course, some pets will not warm up to a crate, no matter how long or hard you try. If you know that your pet is not one to remain calm when they are in a pet carrier, you should contact your veterinarian for helpful tips or for medication to keep them calm for the duration of your trip.
4. Work with a Pet Relocation Service
Moving your animals overseas comes with a host of responsibilities. If you find that you are overwhelmed or nervous with the idea of moving your pets internationally, consider working with a pet relocation service. Pet relocations services specialize in animal transportation and can help to make the move smooth and stress-free, both for you and your pet.
5. Microchip Your Pet
If you've ever made a move, you know that things never go as planned. Something always ends up going missing. Your pet should not be one of those things! These 5 Tips For Moving Overseas With Animals should help you.
Whether you are relocating your pet personally or using a pet transport service, be sure to microchip your pets. This can help you to find your pet if you do become separated during the moving process. Make sure to update your registration with the microchip company so that your current contact information is on file!
Bonus Tip: Research International Moving Companies
Hopefully, these 5 Tips For Moving Overseas With Animals prove beneficial as you plan your move. If you are keen on the idea of a stress-free move, consider working with an international moving company. International moving companies can help with all of the parts of moving that you are already dreading, like documentation, packing, and loading your belongings.
Moving is a difficult process, but moving internationally is especially complex. Don't leave this important task to just anyone! Get a free quote from the number one international moving company in the nation, International Van Lines, to ensure that your belongings are handled by true professionals.
You should also learn more about the average cost of an international move.