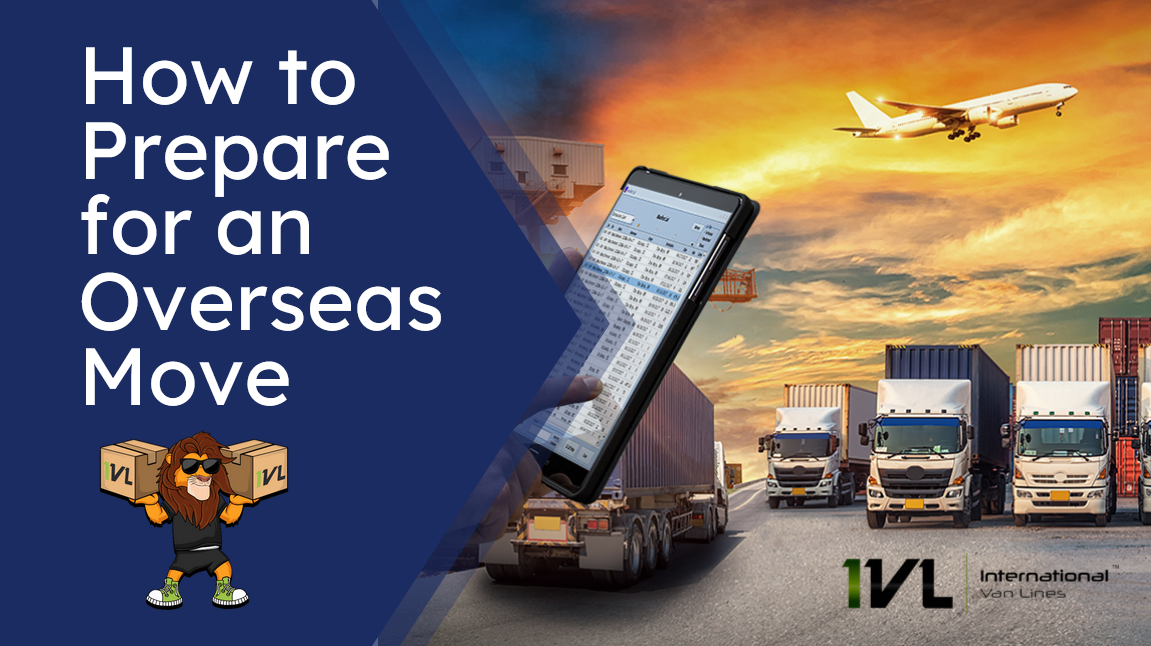 How To Prepare For An Overseas Move
Preparing For An Overseas Move -Your one page guideline.

If moving even within the same city is nerve-wracking, moving internationally takes things to an entirely new level. Preparations must start months in advance, and everyone involved must be on the same page for things to go smoothly.
There are numerous things to consider before moving abroad. While building your packing list is a good starting point, knowing everything that needs to be done before moving abroad is also helpful. These are our top tips for ensuring everything is taken care of for your upcoming international move.
1. Start saving
This is the first and most important factor when you prepare for an overseas move. International moves are costly, and you need to be financially prepared for every part of the process, including unexpected fees and expenses. Moving internationally can cost between $1,500 to $12,000 to move a one to four-bedroom house overseas.
Some of the best money-saving practices include:
Explore the best time of the year to move: the best times to move internationally vary by country. If you are moving to China, avoid the Chinese New Year, Thanksgiving, and Christmas celebrations. Research the best times to move to your destination.
Share containers: moving your belongings with containers via sea freights is very affordable compared to air freights. If your schedule allows it, share containers with others instead of paying for your dedicated container. It takes a lot of coordination and logistics, but it may help you save a lot.
Have bank accounts ready: set up an international and local bank account at your destination. This will help you avoid international transaction fees and guarantee funds as soon as you arrive.
Factoring in living costs at your destination: will you live in the center or outskirts of town? Will your work commute be long? How much will transportation costs affect your monthly expenses? If you plan an active social life, will transport downtown be cheaper than paying a higher rent? Ask yourself these questions to help you figure out your budget.
Learn More: Use our Moving Cost Calculator to start planning your savings.
2. Check your documents
Just about any move overseas is going to give you a rough time. It's difficult to adjust, and there's a lot that you have to do to ensure your move goes as smoothly as possible. Now, one of the most important aspects of your move is your documents — without those, you might not make it out of the airport.
So, before you get caught up in making sure all your arrangements for your new home are in place, take a moment to check if your documents are up to date.
The necessary documents vary by origin and destination. For precise information, communicate with the relevant embassies and consulates. However, you will most likely need the following documentation:
Passports

Visas and permits

Vaccine documentation for family members

Vaccine and quarantine documentation for pets

Proof of qualifications and job references

Birth certificates and adoption papers (if necessary)

Marriage certificates

Divorce certificates

Tax returns

Details of investments

Criminal background checks
3. Apply for the correct visa
A visa authorizes you to enter, leave or stay at a destination for some time. Visa requirements vary depending on where you live and where you are going. Consult with an international lawyer to determine what visa requirements you'll need to meet before moving overseas.
The most common types of visas include:
Student visas for people looking for education

Tourist visas for vacations

Employment visas for skilled workers

Digital nomad visas for temporary workers

Visas for permanent residences

Spousal visas and other family-related visas
Informing yourself about which one applies to your situation and giving yourself enough time to go through the process will increase your chances of success. This is a very important factor while you prepare for an overseas move.

4. Check pet requirements
If you are moving with your pet, you must provide special documentation. Your pet will need a passport and animal health certificate for some destinations. You may also contact specialized pet transport companies, which will inform you of the necessary documents.
Learn More: 5 Tips For Moving Overseas With Animals
5. Consider healthcare options and immunizations
Health should be the top priority when moving internationally, especially if you travel with family. There are so many things to consider that it's hard to make a definitive list, but you should start by visiting your primary physician and explaining the situation. They'll be able to guide you in the right direction.
In general, some of the most important considerations you should make include the following:
The relevant vaccinations and related documents. You may also need copies of your medical history, immunization records, and insurance cards for your medical, dental, eye, and disability insurance.
Any prescription medication and the legality of moving any medicines across borders. Some medications may be legal with a prescription in your country but illegal to enter at your destination.
Health insurance. There are global insurance plans specifically for moving internationally. Explore different options or consider travel insurance until you find a new health insurance provider abroad.
6. Register with STEP
The Smart Traveler Enrollment Program (STEP) is a free service that lets U.S. citizens and nationals who are traveling and living abroad enroll for their trip with the nearest U.S. Embassy or Consulate.
The benefits of enrolling your trip abroad with STEP include:
Receiving important information about safety conditions in your destination.

The U.S. Embassy will have your contact information in case of natural disasters, civil unrest, or family emergencies.

Facilitating contact with friends and family in case of an emergency.
7. Research the country you're moving to
While you prepare for an overseas move you should be mindful of cultural customs in your destination. Cultural elements you should keep in mind include:
Religion: research the dominant religion ahead of time.
Economy: explore how socioeconomic dynamics influence culture.
Cuisine: it's good to have a good idea of what people usually eat in your destination and determine whether you feel at home in that gastronomical environment.
Customs and traditions: traditions may be related to religion or historical practices. Be aware of potential cultural habits deemed inappropriate in your destination.
Gender roles: research whether gender roles and traditions match that of your home country.
Etiquette: research differences in etiquette to avoid being unintentionally rude during specific interactions.
8. Get certified copies of important documents
If you've never lived overseas before and are just moving from the USA to another country, then there's one thing standing in your way – getting those vital documents legalized for use in the country where you're about to make your new home. This is a key factor to watch out for when you prepare for an overseas move.

Every country has its own system for doing this, and finding where to go to get those documents legalized can be challenging. These documents include birth certificates, marriage certificates, educational degrees, and more that might need to be translated and certified to be valid in your new country.
9. Find a secure place abroad
Securing a place to stay should be one of the top priorities, along with healthcare. But arranging the house is difficult across national borders.
Whether you need temporary housing, a rental contract or are planning to buy a home in your destination, there are relocation professionals who understand the local laws and real estate markets. If you can, contact one such professional and expedite your housing arrangements.
10. Review tax obligations
If you decide to move overseas, you will encounter situations you'd never planned to deal with. With changes to tax laws and rules governing offshore earnings, it can be challenging to know where you stand. The best way to ensure you are prepared to move overseas is to hire a professional who understands the international aspects and can assist with your taxes.
At least six months before your move, sit down with your accountant to start strategizing the best way to manage your taxes while living abroad.
11. Start downsizing and packing
When you're moving abroad, you will feel like there's never enough time to pack everything, so start early. Months ahead of time, start packing up, selling, or otherwise getting rid of everything you don't need, like old clothes, duplicates of any item, broken or outdated, etc. As the moving date approaches, start packing more important things.
Learn More: How to Pack For a Move
12. Find the right international moving company
Packing up and picking up your life to move halfway around the world is no easy task. There are so many steps you need to take and so much information you need to gather to ensure your move goes smoothly. Hiring the right people is critical to ensure everything goes as planned.
13. List of the Best Rated Overseas Movers
Check for proper licensing
All moving companies that operate in the U.S. should be licensed with the United States Department of Transportation. These companies must have a USDOT number, a unique numeric identifier. If they have a valid USDOT number, you know they are legally allowed to operate in the U.S. Be aware that USDOT numbers need to be renewed every year, so checking their validity is as important as knowing they have a USDOT number assigned to them.
Check online reviews
Google reviews on Google and other business review companies, especially the ones dedicated to moving companies. Pay special attention to reviews that are detailed and explain their process clearly.
CLICK HERE TO CHECK INTERNATIONAL VAN LINES REVIEWS
Ask the right questions
When asking for a quote, ask them specific questions to learn how they operate. Some of the most important questions include the following:
How long do your moves usually take?

What kind of insurance do you offer?

Do you work with contractors, or do you handle everything yourselves?

Do you provide real-time tracking for goods?

Do you belong to any international movers association?

What's your packing process like?
Learn More: How to Find the Best International Moving Companies Near Me
14. Notify the right organizations and people about your move
If you are moving abroad, you should notify the right organizations and people about your move. Important details that could affect your new life abroad, such as your residence permit and social security number, will likely depend on a smooth transition and notification of these organizations. Some organizations and people you must notify about your move include:
Your national post office (you may even be able to forward mail internationally if you need it)

Your employer

Your landlord

Tax institutions

Banks, credit card companies, and other financial institutions

Health insurance

Utility providers
Moving overseas checklist – the countdown
Assuming your paperwork is in order and you've already contracted a moving company (preferably six months in advance), this is what you should focus on next.
One month before:
Confirm all the details with your moving company, like dates and times.

If you have prescription medication and are sure they are legal to move to your destination, refill them.

Terminate or transfer all subscriptions.

Determine whether your devices will work in the new country (socket types, etc.).

Get a doctor and dentist appointment.

Refill generic medications (and make sure they are legal to transport).

Research whether your current bank has an overseas branch.
Two weeks before:
Gather all necessary records (medical, school, legal, pet, etc.).

Get local currency for your destination.

Transfer bank accounts.

Take pets for immunization and documentation.

Pay all bills.

Arrange insurance affairs.
A few days before:
Pick up dry cleaning.

Start organizing packing boxes.

Get rid of any leftover foods.

Return or any other rented product.

Double-check moving times with your company.

Clean and dry all electrical appliances to avoid mildew.
Moving day eve and moving day:
Get plenty of sleep.

Walk through your home and make sure nothing is left behind.

Check your mail one last time before leaving.

Ensure the entryway and all halls are clear to allow a faster moving process.
Learn More: Moving Checklist for Long-Distance Moves
Preparing for an overseas move? Make your move with trusted international movers
If you put these guidelines into practice, your international move will be a success, aided by an experienced moving company that safely moves your belongings through air or land. We can assist you if you are looking for experienced international moving companies! Contact us with any questions you may have about services and timelines.