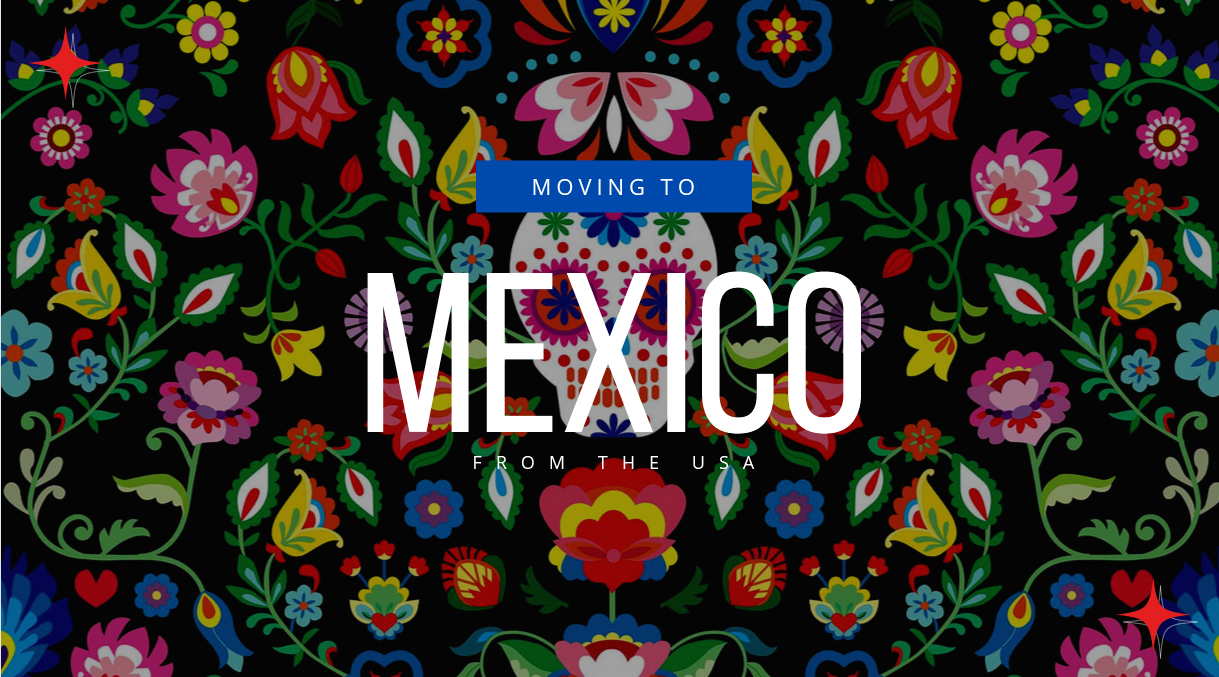 Moving to Mexico in 2023? –Here you will find everything that you need to know when relocating from the USA to Mexico.
Moving to Mexico From the US
Mexico is home to the Mariachis, beaches that stretch for miles, amazing food, friendly and welcoming people, and many historical and cultural sites.
Mexico is a large country with something for everyone. There are seven climate zones, from tropical to arid. The general rule of thumb is the higher the elevation, the cooler the temperatures.
Mexico consists of large metropolitan cities, including Mexico City with just over 22 million residents, quaint colonial towns, beach getaways, and rural settings. Each with variables that include amenities, climate, how widely English is spoken, access to quality medical facilities, and job opportunities.
There is no right or wrong way to move to Mexico from the US, only your way. Ask yourself if you'd like the company of English speakers, desire brands and stores familiar to you in the US, require schooling for your children, are concerned about access to health care, or if you're a country or city person.
Know More: Best International Moving Companies to Mexico from the USA
How to Move to Mexico
The key to successfully relocating to Mexico requires planning ahead. Expect to spend plenty of time and energy researching your move and strongly consider learning Spanish. Although you can likely get by speaking only English, you'll be better received and understood if you have a fair grasp of Spanish.
Read More: The Best Timeline to Start Planning Your International Packing

What is the Process for Moving to Mexico?
Moving to Mexico from the US can seem overwhelming, but with a little bit of planning and organization, you'll be able to make a smooth transition. One of the most important things to do is to create an international moving checklist to keep track of all the tasks you need to complete.
Remember, you don't have to go it alone. The best international moving companies can help you every step of the way. Here are some steps to help guide you through the process.
Decide where you want to live in Mexico. Whether you're looking for a big city, a beach town, or a charming colonial village, Mexico has it all.

Create a budget and save up some money for your first few months in Mexico.

Learn about the different residency options available to you and choose the one that best fits your needs.

Obtain travel insurance to cover your initial healthcare needs.

Make a detailed inventory of all the items you're bringing with you to Mexico, including household goods and vehicles.

Take care of important details like cell phone service and financial services before you move.

Pack up and go.
Best International Movers USA to Mexico
How Long Can I Stay in Mexico?
If you're a U.S. passport holder, you don't need a special visa to stay up to 180 days—just an undamaged passport that's valid for the entire time of your stay. However, 180 days isn't guaranteed and is under the discretion of your immigration officer.
You may hear tales of "border runs" in which visitors of the country would cross a border out of Mexico, only to turn around and get a new 180-day visa later in the same day, eliminating the need to acquire residency status formally. Those days are over. To stay in Mexico longer than 180 days now requires applying for temporary or permanent residency.
Expats Work Visa
To work legally in Mexico, you must obtain a work visa either by securing a job offer from a Mexican employer or by opening a business in the country and making yourself an employee.
Your Mexican employer will apply for a temporary residency visa with permission for you to work at the Instituto Nacional de Migracion (INM). Upon approval, you must set up a meeting with a Mexican consulate in the US and proceed as directed.
Retiree -Temporary vs Permanent Residency Visa
Whether you choose to apply for a temporary or permanent visa depends on a few factors, such as how long you intend to live in Mexico, your financial status, and to some degree, your age.
Temporary residency visas last one to four years. After that time, you can convert to permanent residency. Permanent residency never needs to be renewed and never expires. Both options allow you to come and go and stay for as long or as short of a period in Mexico as you choose on each visit and apply for public healthcare from the Instituto Mexicano De Seguro Social (IMSS). Financial qualification variables apply to each type of residency status.
Both application processes begin outside of Mexico at a Mexican consulate and require the following items.
Valid passport or travel document

Original or certified documents that apply to your desired status type

One passport-size picture in color, showing your face without glasses

Biometrics (digital picture and fingerprints) that take place at the interview

Other requested documentation at the discretion of the interviewer.
Student Visa
For studies greater than 180 days, you must apply for a student visa at a Mexican embassy in the US. Qualification for the student visa is similar to that of a temporary residency permit. However, students under 25 years old can use parental income to prove financial security.
Digital nomad Visa
A digital nomad visa isn't available as such in Mexico. However, a temporary or permanent residency visa works just as well.

Getting Your Stuff to Mexico when moving from USA



Preparing yourself for your move to Mexico is one thing. Getting your possessions ready is quite another. Remember that your relocation company is on your team as you plan, organize, and execute everything necessary to make your move as seamless as possible.
How do I Ship My Household Items to Mexico from USA?
Moving across international borders takes time. Moving to Mexico from the US can take several weeks to accomplish. Shipping by air freight speeds up the moving process but is the costlier option.
Whichever you choose, your possessions may also require temporary or long-term storage at your destination or in your former location. Using storage solutions is common for persons moving long distances to keep everything simple and organized.
How Much Does it Cost to Move My Belongings to Mexico?
The cost of moving to Mexico depends on how much you take and where you're going, ranging from $2,500 to $12,500
How Can I Save Money Moving to Mexico?
International moving can be costly, but there are ways to keep costs down.
Pack light and consider downsizing the number or your belongings before moving.

Consider packing your own possessions to save on costs.

Unloading your own container at your destination can save money.

If your moving date is flexible, inform your mover in exchange for potential discounts.

Use a moving cost calculator to compare prices and services from different companies.

Ask for discounts from your mover.
Can I Ship my Car to Mexico?
Yes, you can certainly ship your car to Mexico. However, several there are several factors to consider before committing to bringing your automobile.
For temporary resident visa holders, you have up to the amount on your residency card to bring a foreign-plated car to Mexico under the Temporary Import Permit. For new residents, this will initially be 1 year.

Tourists can bring a foreign-plated car to Mexico for a period of up to 180 days.

Permanent resident visa holders have just 30 days to drive a foreign-plated vehicle before the car must be formally imported to the country.

Importation costs approximately equal 10% of the car's current value.
Navigating Mexican Customs
Mexican customs monitors everything that comes into the country, whether it's a commercial product or your automobile and household possessions. One of the services your international moving company provides as part of your move is assisting you with the paperwork and compliance requirements for wherever you're moving. For the most part, leaving behind cleaners, liquids, food, firearms, or hazardous materials will make your experience through customs more pleasant.
Should I get moving insurance while moving to Mexico?
Your stuff is traveling a long way. Nobody likes to talk about it, but things can happen that damage your goods. Purchasing additional international or marine insurance costs an average of 3% of your shipment's declared value, a small price to pay for peace of mind.
Can I Take My Dog or Cat to Mexico when moving to the USA?
Rules for taking your dogs or cats to Mexico from the US have eased over the past few years. However, the rules vary slightly depending on whether your pet arrives by car or air. Some airlines require pets to obtain a health certificate before flying.
Upon arrival, your pets will undergo a health check. Pet toys and bedding aren't allowed to come into the country with the animal.
How Much Does it Cost to Live in Mexico?
The cost of living is significantly lower than in the US. Daily living costs for groceries, internet, childcare, public transportation, recreation, and eating out are 50% to 60% less than in the States. Housing is often 70% less, depending on the city and neighborhood you choose.
Electricity, electronics, gasoline, appliances, and brand-name clothing are relatively expensive in Mexico. Many residents opt for solar heat exchangers for hot water and air conditioning, and some rely on public transportation to avoid the cost of fuel. Without a car, expect living expenses of between $2,000 and $3,000 per month.
How Much Money Should I Take to Mexico?
Plan on taking savings of at least three times your monthly expenses. Upfront fees upon your arrival in the country could include a housing deposit equalling up to a few months of rent, insurance, and the cost of setting up your new place.
The visa or residency permit you obtain may also have additional financial requirements to meet.
Living in Mexico after moving



Living in Mexico provides most of the freedoms you're accustomed to in the US. However there are some considerable differences in how the country operates as a whole.
Staying Connected after moving to Mexico

Before leaving the US, make sure your phone is unlocked. Once in Mexico, buy a SIM card with no contract. They're very inexpensive and easy to purchase at any chain convenience store.
Finding a Place to Live in Mexico
Local newspapers and online property portals are excellent for finding local accommodation. Using Spanish language sites, rather than English ones aimed at tourists, can help you get better prices. Also, contacting a bilingual real estate agent will provide you with many opportunities and a professional helper.
Rental agreements will vary based on term length and whether the property is furnished or unfurnished. The shorter the rental term, the higher the price and the bigger the deposit. Expect to pay a deposit of one month's rent and the first month's rent upfront.
Purchasing a property in Mexico is fairly straightforward. However, restrictions apply on agricultural property and properties located within 63 miles of the border and 31 miles of the coastline. Most expats will lack Mexican credit and need to rely on cash for property purchases. Locate a trustworthy real estate agent as realty license rules are lax in the country.
Finding a Job in Mexico
Working in Mexico requires speaking fluent Spanish, and is possible. However, high unemployment rates are the norm. Perhaps your best option is finding employment with a non-Mexican company doing business in the country.
Starting your own business comes with additional rules and regulations and should only be considered after you have spent considerable time in Mexico learning the market and business practices.
Read Here: Questions to ask International Moving Companies before moving.
Getting Around in Mexico
Private automobiles will allow you the most freedom moving about Mexico. However, public transportation is widely used within cities. Buses, local mini-buses, and taxis are common.
Low-cost premier bus travel between cities and over long distances provides air conditioning, assigned seating, and efficient timetables. Air travel is also common among the country's 50 domestic airports.
Healthcare in Mexico
The IMSS (Instituto Mexicano del Seguro Social) is Mexico's national healthcare program. Foreign nationals who work in Mexico or who hold a temporary or permanent visa are eligible for IMSS coverage. IMSS has the advantage of being affordable. However, preexisting conditions can disqualify individuals, and the care standard is relatively basic. Private healthcare coverage is recommended and can provide more comfortable care, access to English-speaking doctors, and shorter wait times.
Education in Mexico
The Mexican higher education system is similar to the American model, offering bachelor's degrees, master's degrees, and doctorates. High demand has led to the expansion of program and degree options, as well as increased enrollment. Much of the growth has occurred at private institutions, where students can study for affordable fees.
Higher Education (Educación superior) is offered at various institutions, including Public Universities, Technological Institutions and Universities, Teacher Training Institutes, and Private Institutions.
How do I Find an International Moving Company for moving from the USA?
Finding the right international moving company for you is crucial for making the adventure to your new home as seamless and straightforward as possible. Mexico has its own set of rules that your move needs to be in touch with for success. Ensure the company you choose is up to the task by meeting the following criteria.
Your moving company is compliant and listed with FMCSA
It's listed and in compliance with the Federal Maritime Commission

Is appropriately and adequately licensed and insured

Offers additional moving insurance options

Can provide valid referrals from past customers
Get an International Moving Quote for moving to Mexico
Contact your international moving company and request a moving quote. Doing so puts you in touch with a professional who'll provide you with the information you need to get you on your way.