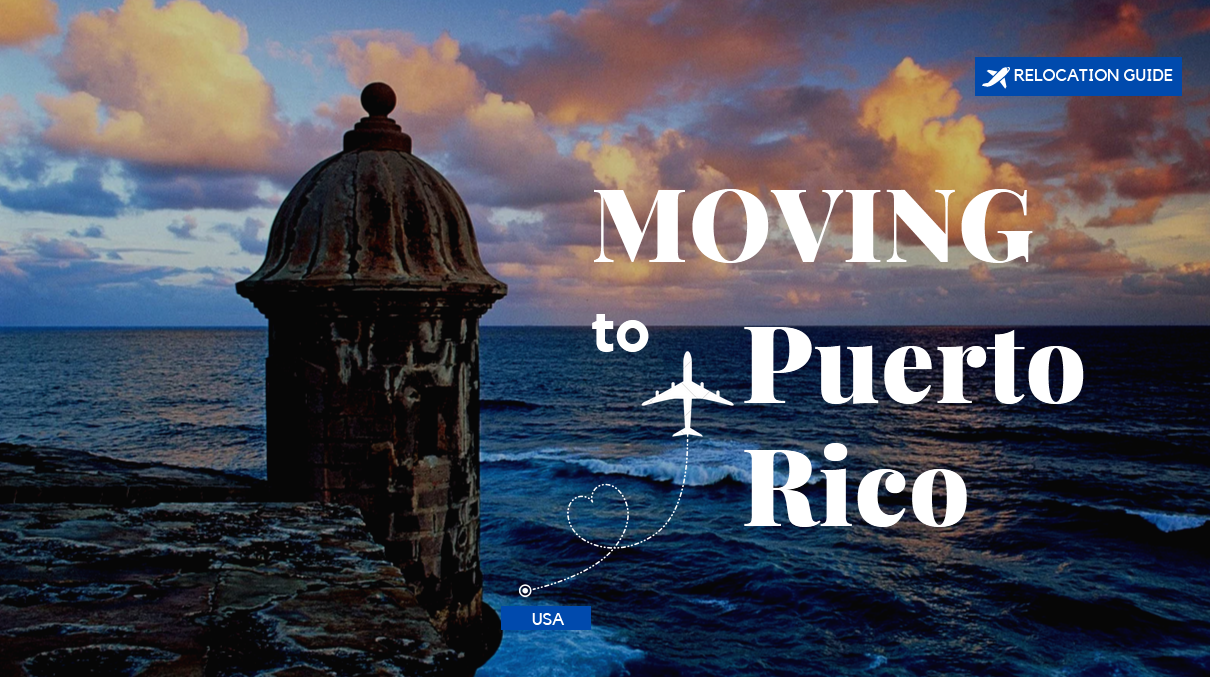 Moving to Puerto Rico in 2023? –Here you will find everything that you need to know when moving from the USA to Puerto Rico.
Moving to Puerto Rico From the US
Puerto Rico has an incredible variety of offerings. Everything from the country's unique architecture and electrifying nightlife to its pristine beaches and verdant forests is there and ready for you to see, do, and explore.
San Juan welcomes you with guided or self-directed walking tours, historical attractions, shopping, and cafes. Moving to Puerto Rico from the US rewards you with plenty of sunshine and warm people everywhere.
How to Move to Puerto Rico
The key to successfully relocating to Puerto Rico requires homework. Expect to spend plenty of time and energy researching your move and strongly consider learning Spanish. Although you can get by speaking only English, you'll be better received and understood if you have a fair grasp of Spanish.
What is the Process for Moving to Puerto Rico?
Moving to Puerto Rico from the US involves a lot of moving pieces. An important initial step is to create an international moving checklist. Keeping track of all the tasks and staying organized can help prevent unexpected issues.
Another key step is to delegate tasks to your professional international moving company, which can assist you throughout the process. The process of moving to Puerto Rico includes, but certainly isn't limited to the following steps.
Select a destination, as Puerto Rico offers a variety of options, from world-class beach living and cities with vibrant nightlife.

Make a moving budget and set aside savings for initial expenses when you arrive.

Create a detailed inventory of all items you're taking to Puerto Rico, including household goods and vehicles.

Organize essential services such as cell phone service, financial accounts, etc. Most mainland US functions will transfer well in your new location.

Pac and move to Puerto Rico.

How Long Can I Stay in Puerto Rico?
Because Puerto Rico is a territory of the US, no special visas or work permits are necessary for US citizens. Think of it as an extension of the US with beautiful beaches and a Caribbean vibe with none of the paperwork and red tape hassle of moving to a foreign country.
Expat Leisure Activities



In Puerto Rico, enjoy Golfing, running, cycling, tennis, and volleyball all around the island. Being in close proximity to other Caribbean countries, Puerto Rico offers crystal-blue waters in which you can partake in fishing, sailing, scuba, surfing, snorkeling, swimming, and windsurfing.
For camping, the government runs campgrounds with cabins around the island. You can also find privately owned campgrounds. Some nature preserves also allow camping with a permit. There are plenty of places around the island to get lost in nature while hiking as well.
Read Here: Expat Guides – Best Places to Settle Down Abroad
Retirees
Since Puerto Rico is part of the US, your Medicare card works just as well as anywhere on the mainland. Private insurance is also a solid option for retirees. It's typically far less expensive than in the US mainland and carries lower co-pays. You'll still have access to the same care you would stateside.
Other perks include; fantastic weather, proximity to the US, possible tax advantages, excellent food, and friendly locals.
Students
Puerto Rico offers US citizens a unique experience for studying abroad without the hassle of needing a passport or special visa. Most widely available are semester or summer programs where students can learn Spanish and experience a once-in-a-lifetime cultural experience while earning credits toward a degree.
Digital nomads
Puerto Rico is a digital nomad's paradise, especially in the capital city of San Juan. You'll be pleased to find co-working places, new fiber-optic internet, cozy cafes, stunning beaches, and plenty of like-minded nomads.
Puerto Rico's tax incentives are a significant factor for many digital nomads who choose to live there. That fact has led to the growth and development of a thriving tech and start-up community in San Juan. Many remote workers now call the city home, and the trend continues.
Best International Movers USA to Puerto Rico
Getting Your Stuff to Puerto Rico
Preparing yourself to move to Puerto Rico is one thing. Getting your possessions ready for the trip is quite another. Remember that your relocation company is on your team as you plan, organize, and execute the tasks necessary to make your move as seamless as possible.
How do I Ship My Household Items to Puerto Rico?
A move to Puerto Rico means your goods won't have to go through customs. However, getting your stuff there is more involved than moving to a neighboring state. Some additional logistics and moving methods will come into play. Dealing with the logistics is where your moving professional can do the heavy lifting for you.
Overseas moving takes time and likely involves container shipping. Choose from the option to fill up an entire container with your belongings, or ask your moving company to arrange a "less than container" load that can ship at a lower cost. The process typically takes eight to twelve days via ocean carrier.
Air freight, although the more costly shipping method, speeds up the moving process to between two and four days.
Whichever way you choose, your possessions may also require temporary or long-term storage at your destination or in your former location. Using storage solutions is common for persons moving long distances to keep everything simple and organized.
How Much Does it Cost to Move My Belongings to Puerto Rico?
Moving overseas typically costs between $1,500 and $12,000. The cost of moving to Puerto Rico depends on how much you take and where you're going.
How Can I Save Money Moving to Puerto Rico?
Moving to Puerto Rico is a significant investment. However, you can take several steps to reduce the impact on your moving budget.
Less is more. Packing light is crucial for any move and doubly so when moving internationally. Purging and downsizing are the rules if you need to meet a limited moving budget.
Your mover should offer professional packing services. However, they'll likely also offer you a way to save money by packing your own possessions.
Unloading your own container can save cash over having your mover perform the task when you arrive at your new home. .

If your moving date is flexible, let your mover know and possibly receive a discounted rate.

Use an international moving cost calculator to discover where else you can save a few dollars.

Compare individual moving companies based on price and the services they include in that price.

Don't be shy about asking for discounts from your mover. A good moving company understands that flexibility is good for business.
Can I Ship my Car to Puerto Rico?
The average cost of buying a car in Puerto Rico is $2,000 to $5,000 more than typical US mainland prices. You could likely purchase an automobile in southern Florida and ship it to the island for less than you can buy one there. However, your vehicle moving company can supply a quote to get your car there regardless of where it's located.
Read Here: Best International car shipping companies
Navigating Puerto Rican Importation
As a US citizen, customs won't need to process your household goods. Instead, they'll clear them through Puerto Rico's own agency called el Departamento de Hacienda. The following documentation is required.
A driver's license or passport

A copy of the shipper's social security card

A power of attorney for the delivery company in Puerto Rico

A hacienda declaration letter that lists the depreciated value of the shipment
One of the services your international moving company provides as part of your move is assisting you with the paperwork and compliance requirements for wherever you're moving. For the most part, leaving behind cleaners, liquids, food, or hazardous materials will make your experience like strolling along a sunny Caribbean beach.

Should I get moving insurance when moving to Puerto Rico?
Your stuff is traveling a long way. Nobody likes to talk about it, but things can happen that damage your goods. Purchasing additional international or marine insurance costs an average of 3% of your shipment's declared value, a small price to pay for peace of mind.
Can I Take My Pets to Puerto Rico?
Yes, you can take your pets to Puerto Rico with the exceptions of prohibited breeds, including Staffordshire bull terriers, American Staffordshire terriers, and American Pit Bull terriers. Since you're moving from a US state to Puerto Rico, a US territory, the move is considered a domestic relocation.
Pets must have a Vet Health Certificate issued within ten days of departure.

Pets should be vaccinated against rabies at least 30 days before flying.
How Much Does it Cost to Live in Puerto Rico?
The cost of living in Puerto Rico can be difficult to gauge. You'll experience a mixed bag where some things are vastly more expensive and others relatively cheap. In general, it's about 10% to 30% cheaper to live in Puerto Rico.
Housing costs less than on the mainland, especially on the outskirts of metro areas, while electricity is twice the price than it is in the States. Imported items such as electronic goods and imported specialty food items are quite expensive.
Read Here: Average cost of hiring a mover
How Much Money Should I Take to Puerto Rico?
Plan on taking savings of at least three times your monthly expenses. Upfront fees upon your arrival in the country could include a housing deposit equalling up to a few months of rent, insurance, and setting up your new place.
Read Here: 10 Brilliant Ways to Save Money on an Overseas Move
Living in Puerto Rico
Because Puerto Rico is a US territory, the transition to living there can be easier than moving to other countries. A significant perk of moving to Puerto Rico is that the territory uses the US dollar, so banking and finances will be straightforward.
The lack of need for a travel visa doesn't hurt either. However, the Real ID Act will be in effect as of May 2023, so verify that your state complies with the law. If you don't have a Real ID after that date, you may need to produce a passport to travel to the country.
Communication
Using your American phone and phone plan won't be a problem. All major American brands have similar cell phone coverage on the island. Areas in major coastal cities, near beaches, and along major highways enjoy excellent cell coverage. However, coverage availability declines rapidly for all brands as you enter the forested, mountainous interior.
Finding a Place to Live in Puerto Rico
Local newspapers and online property portals are great ways to find local accommodation. Using Spanish sites, rather than English ones aimed at tourists, can help you find better prices. Also, contacting a bilingual real estate agent will provide you with many opportunities and a professional helper.
Finding a Job in Puerto Rico
US citizens can work and travel in Puerto Rico just as they would in another state. Only a valid driver's license is required. Employment opportunities may be limited as unemployment is relatively high. Speaking both English and Spanish may or may not be a significant advantage in finding employment.
Getting Around in Puerto Rico
Perhaps the best way to explore the Island is by car, allowing you the freedom to make your own itinerary and come and go as you please. Rental cars are available through all the major companies you're familiar with and several small local car rental businesses. App-based rides and taxis are also readily available.
In the cities, there are publicos or small buses with yellow stickers indicating public transportation. The routes aren't always followed, and the driver often only leaves once the minibus is full. You'll ride with other travelers, and speaking Spanish will serve you greatly.
Healthcare in Puerto Rico
Healthcare in Puerto Rico isn't free. If you have health insurance on the mainland, check with your provider about coverage in Puerto Rico. Before heading to the island, ensure you're up to date on immunizations.
Education in Puerto Rico
In Puerto Rico, both public and private schools are similar to the US mainland. Puerto Rico's higher education system follows the curriculum of the mainland, and several notable universities offer undergraduate and bachelor's degree programs. The largest of which is the University of Puerto Rico.
How do I Find an International Moving Company?
Choosing the right international moving company is vital to ensure a smooth and stress-free move to your new home. Here are some factors to consider when selecting a mover.
The company is registered and compliant with the Federal Motor Carrier Safety Administration (FMCSA)
The company is registered and in compliance with the Federal Maritime Commission

The company holds the appropriate licenses and insurances

The company offers additional moving insurance coverage

The company can provide you with checkable references from previous customers.
Moving Quote to Puerto Rico
Reach out to your international moving company and ask for a moving quote. This is a great chance to talk to a professional who will give you all the information you need to kick off your move.