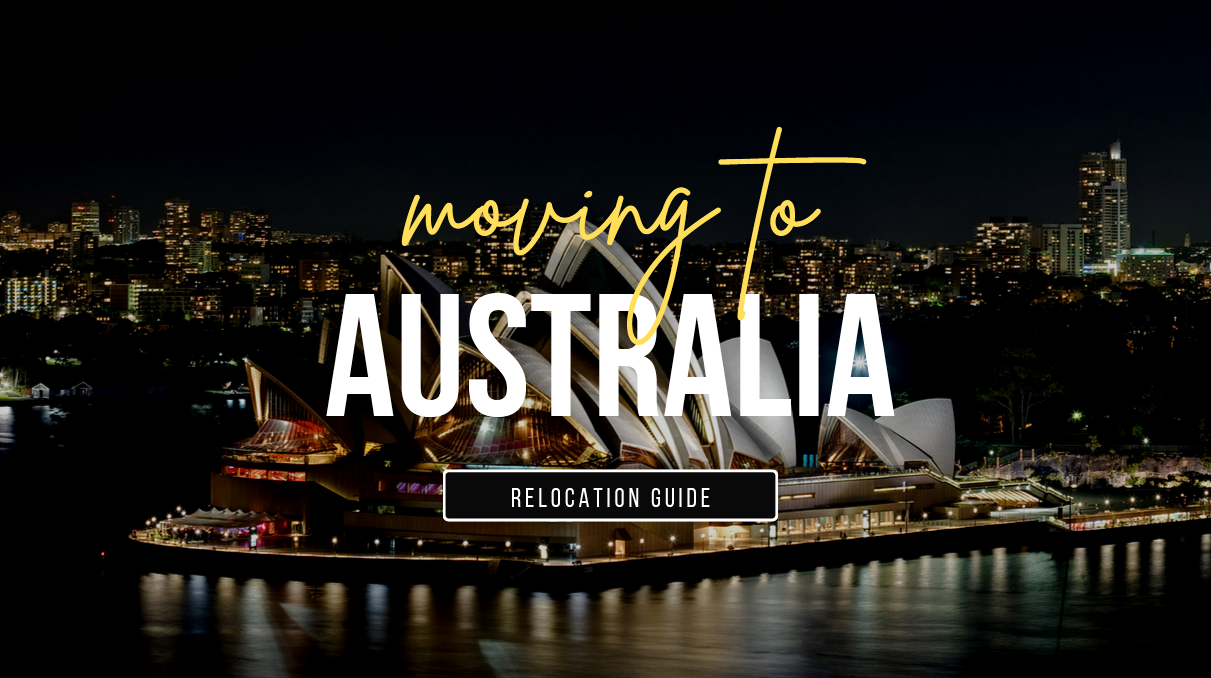 Moving to Australia in 2023? –Here you will find everything that you need to know when moving from the USA to Australia.
Moving to Australia From the US
G'day! When a single, fascinating country covers the bulk of an entire continent, you're in for a treat. Australia is the land down under, full of mystery and wonder. Often misconceived as a desolate and empty island nation, Australia is packed to its world-class beach-covered rim with culture, history, and entire lifetimes of activities.
Nearly the same size as the continental United States, the country houses less than a tenth of the population of America. So, although many parts of Australia are, in fact, void of people, cities along its immense coastlines are bustling with modern life.
Bearing witness to those facts, Australia is a land of everything from vibrant coastal cities to small towns in the Outback and barren snowy peaks to hot deserts with everything in between. Don't miss the Sydney Opera House. People will ask about it. And only some of the wildlife exists only to kill and eat you—no worries, mate.
Moving to Australia from the US is not only an adventure of a lifetime but can provide a life of adventure all by itself.
How to Move to Australia
Moving to Australia from the US is a serious undertaking. But manageable by doing a bit of homework and planning. Expect to spend plenty of time and energy researching and setting yourself up for your move.
Read Here: 10 Factors to Hire the Best International Moving Company
What is the Process for Moving to Australia?
When moving to Australia, the first step is to create an international moving checklist. Choosing to move to another country sets in motion many elements. Keeping track of them and staying organized can limit unwelcome surprises and prepare you for inevitable ones.
When moving to Australia, it's important to have the best international moving company by your side to delegate tasks to and assist with the complex parts of the journey. The process of moving to Australia includes
Selecting a destination, as Australia offers many options for choosing your lifestyle.

Creating a moving budget and setting aside savings for the initial settling-in period.

Research residency requirements and select a suitable visa or permit program.

Securing a private or international healthcare policy before arriving in Australia. Healthcare is free for permanent residents and citizens, but it takes time to achieve that status.

Deciding on what possessions and vehicles to bring and creating a detailed inventory of all your possessions you'll be taking.

Organizing essential services such as cell phone service, financial accounts, driver's license, etc.

Packing and moving to Australia.
How Long Can I Stay in Australia?
US citizens can stay in Australia for 90 days on a simple stamp visa. However, numerous visa options exist if you choose to stay longer, are working or studying, or just traveling extensively. Start obtaining extended visas at the country's immigration website early. Processing times can extend to almost three months in some cases.
Read Here: The Best Timeline to Start Planning Your International Packing
Australian Residency Permits and Requirements
Australia offers several permits that allow temporary or permanent residency within the country. The type of permit you need depends on your activities, such as work, education, or retirement, while in Australia and can carry hefty fees. Whichever permit you wish to pursue, Australia's Department of Home Affairs website provides detailed information to help you get started.
Due to the complexity of the rules and high visa costs surrounding residency permits, hiring an immigration lawyer is recommended and could ultimately save time and money.
Temporary Residence Permit
Australia's temporary resident visa is designed for those who wish to live in Australia for more than three months but less than five years. Most often, temporary residency is awarded to students or workers who don't plan to stay in the country long-term.
Expats who plan to work in Australia must obtain approval before working there and offer the government a valid reason to apply for a work visa, such as employment in the country. You'll likely want to pursue permanent status if you hope to work in the country for several years. However, obtaining temporary status is common if only a short-term stay is necessary.
Retirees looking to relocate to Australia must be over the age of 55 unless they're a spouse of a retiree over that age. Retirement visas have financial asset requirements that you must prove to apply for a four-year visa that's extendable for two years at a time.
Students in Australia must obtain a student visa, which is valid for up to five years. As a student, you must prove financial stability and the ability to sustain yourself while paying tuition. The Australian Government's International Student page contains important qualification details.
Digital nomads can apply for a Working Holiday visa, Work and Holiday visa, or a tourist visa to live and work remotely in Australia. A digital nomad visa as such doesn't exist in the country.
Permanent Residence Permit
If you plan to stay long-term in Australia for any reason, your best option is to apply for permanent resident status. Permanent residence permits are for those who wish to stay in the country for more than five years. Although the qualifying requirements aren't particularly stringent, there are many of them to address, including copies of state and federal criminal records. Permanent residency and related fees can cost up to $6,000, so it's worth investigating all your options before applying.
Getting Your Stuff to Australia
Preparing yourself for your move to Australia is a major undertaking. Getting your possessions ready for the adventure is just as daunting. Remember that your relocation company is on your team as you plan, organize, and execute the tasks necessary to make your move as seamless as possible.
Top International Movers USA to Australia
How do I Ship My Household Items to Australia?
Overseas moving takes time and often involves shipping your possessions in a container, which is placed on a cargo ship and transported to a seaport near your new home. From there, it's typically transferred to a truck for delivery to your new residence. The process usually takes between four to six weeks.
A second option is air freight, which is more expensive but can speed up the moving process to between two to four weeks.
Regardless of the shipment method you choose, it's not uncommon for people moving long distances to require temporary or long-term storage for some of their possessions, which could come in handy for your move to help keep everything organized and as simple as possible.
How Much Does it Cost to Move My Belongings to Australia?
Moving overseas typically costs between $1,500 and $12,000. The average cost of moving to Australia is $10,500, depending on how much you take and where you're going.
Read Here: Average Cost for an International Move
How Can I Save Money Moving to Australia?
International moving can be costly, but there are several ways to reduce expenses and save money during the process. One way to save money is to pack light and downsize your possessions, which can be especially important for your international move.
Additionally, you can save quite a bit of money by packing your own household items, or unloading your own container at your destination. If your moving date is flexible, let your mover know. You may be able to negotiate the price down somewhat.
You can also use an international moving cost calculator to find additional ways to save money, and compare moving companies based on price and their services. Don't hesitate to ask for discounts from your mover as well. A good moving company understands that flexibility is beneficial for everyone.
Can I Ship my Car to Australia?
It's possible to ship your car, truck, or motorcycle to Australia. Remember that whatever you bring with you must clear customs to be imported. Motor vehicles coming into the country will require import and export documentation, the vehicle's original title, and must meet several other criteria. Start the process early; receiving importation approval can take as long as a month.
Know More: Best International Car Shipping Companies
Navigating Australian Customs
Australia's customs monitors everything that comes into the country, whether it's a commercial product or your household possessions. One of the services your international moving company provides as part of your move is assisting you with the paperwork and compliance requirements for wherever you're moving.
Some goods coming into the country temporarily can be excluded from taxes and duties. For the most part, leaving behind cleansers, liquids, food, or hazardous materials will make your experience through customs as pleasant as a piece of Lamington Cake.

Should I get moving insurance when moving to Australia?
Your stuff is traveling a long way. Nobody likes to talk about it, but things can happen that can damage your possessions. Purchasing additional international or marine insurance costs an average of 3% of your shipment's declared value and is a small price to pay for peace of mind.
Can I Take My Pets to Australia?
Australia welcomes your furry friends, such as dogs and cats, provided they meet health requirements, are up-to-date on immunizations, aren't used for breeding, and have been in the United States (a Group 3) country for a minimum of six months before arrival. Each pet must receive an import permit.
Pet rabbits and select birds can only enter Australia from New Zealand.
How Much Does it Cost to Live in Australia?
Although you'll pay substantially less to rent a place to live in Australia, the overall cost of living is slightly higher than in the US. Depending on your lifestyle and location, expect to spend an average of 17% less on housing and 4.5% more on everything else.
How Much Money Should I Take to Australia?
As a general rule, plan on going with savings of at least three times your monthly expenses. Upfront fees upon arrival in Australia can include importation duties, rental deposits, and the cost of setting up your new home.
The visa or residency permit you obtain will also have additional financial requirements.
Living in Australia
As an American moving to Australia, you'll encounter a high quality of life similar to what you likely are accustomed to. The country has plenty of intriguing small towns. However, 90% of the population lives in major metro areas.
Finding a Place to Live in Australia when moving

Finding a place to rent in Australia is reasonably straightforward. Online listings are available to help you search by city and location. As an expat, it may be tricky to prove your creditworthiness to a potential landlord, so it may be helpful to obtain a guarantor who can vouch for you. Having a guarantor is highly recommended if you're staying in the country and not working.
You're welcome to purchase homes and property as a foreign national on approval from the Foreign Investment Review Board (FIRB). However, you must obtain permission from FIRB before signing any documents or making any transactions related to buying property.
Finding a Job in Australia after moving from USA

Although the job market in Australia is competitive, the economy is strong overall, and you can find employment in almost any industry. However, highly skilled labor is typically in higher demand. Online job boards and recruitment agencies can connect you to potential employers, as can the Australian government during your visa application process.
Getting Around in Australia
Major cities in Australia feature several means of efficient public transportation if you don't have an automobile at your disposal. Remember to drive on the left if you do. To get around the rest of the vast country, ferries can get you to islands, long-distance buses and trains can get you across the land, and Australia has several airlines to get you to far-off domestic destinations faster.
Healthcare in Australia
If you qualify for permanent residency status in Australia, you can receive health coverage through the country's excellent free or low-cost Medicare health system. All other visa holders must purchase private, travel, or international health insurance for protection.
Education in Australia
International students who wish to study in Australia will find that the cost of education is on par with that of the US and can depend on the degree they're pursuing. Australian higher education differs from American universities somewhat in that most teaching is focused on a small number of topics at a time instead of several at once.
How do I Find an International Moving Company to Australia?
Moving to Australia is nothing short of an adventure, and finding the right international moving company for your journey is crucial to make it to your new home as seamlessly and as smoothly as possible. Ensure your mover is up to the task by meeting the following criteria.
Company is listed and in compliance with FMCSA
Listed and compliant with the Federal Maritime Commission

Is appropriately licensed and insured

Offer additional moving insurance protection options

Can provide customer referrals that you can check.
Moving Quote to Australia
Contact your international moving company and request a moving quote. Speaking with a professional who can provide you with important information can get you started today.