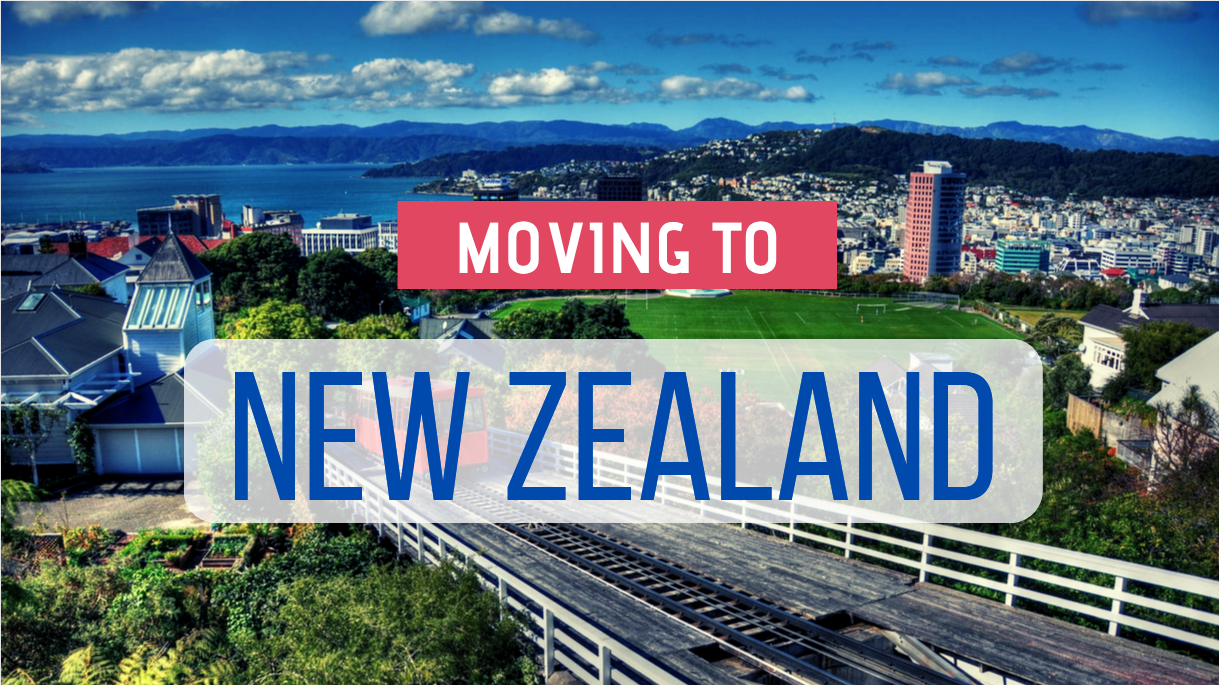 Moving to New Zealand in 2023? –Here you will find everything that you need to know when moving from the USA to New Zealand

Moving to New Zealand From the US
New Zealand is a nature lover's paradise. This one country offers lakes, fjords, snow-covered mountains for excellent skiing and snowboarding, cliffs, dunes, waterfalls, river valleys, underground caves sporting glow worms, geothermal springs, and pristine beaches. All of which you can enjoy be moving to New Zealand from the US.
Kiwis are warm and welcoming, and the country is considered one of the safest and happiest in the world.
Read Here: Packing for an International move
How to Move to New Zealand
The key to successfully relocating to New Zealand requires you to perform some homework. Expect to spend plenty of time and energy researching your move. Consider taking an exploration trip or two to familiarize yourself with the geography and culture.
What is the Process for Moving to New Zealand?
Moving to New Zealand kicks off a whole host of moving systems. A crucial first step is to create an international moving checklist to keep track of all the tasks ahead and minimize surprises.
Remember to delegate to one of the best international moving companies. Let them help you with the more challenging obstacles. The process of moving to New Zealand follows the steps below.
Choose your destination.

Create a moving budget and hold on to a few months' savings to spend after you arrive at your destination.

Learn about residency requirements in New Zealand and choose a path that makes the most sense for you.

Purchase travel insurance to cover your initial healthcare needs while you wait to become eligible for New Zealand healthcare.

Make a detailed inventory of all the items you're taking to New Zealand.

Organize your cell phone service, financial accounts, and other must-haves before moving to New Zealand.

How Long Can I Stay in New Zealand?
If you're a U.S. passport, you don't need a special visa for a stay of up to three months. New Zealand offers a mind-blowing 100 different temporary visa options and 28 permanent visa options for foreigners. Prepare to do lots of research or consider hiring a visa specialist.
Moving to New Zealand is a long game process. Familiarize yourself well before you move on subjects such as visas, schooling, healthcare, and transportation.
Expats Work Visa
It's not easy to get a work visa in New Zealand as only a certain number of work visas are given out each year, and they fill up quickly. If the quota is filled and you don't get in, you'll have another chance next year.
Different work visas have distinct eligibility requirements, application forms, costs, and processes. In general, to apply for a work visa in New Zealand, you need.
Proof of identity

Proof of good health

Proof of good character (completed character questionnaire, Police Certificates from your country of origin and any country where you've lived at least five years since turning 17)
Retirees
There are a few programs which will allow you to retire to New Zealand.
The Temporary Retirement Visitor Visa
This option allows you to stay in New Zealand for up to two years. You must be 66 years old or above, invest a substantial monetary amount in New Zealand, have access to another sum for living on, and have a substantial annual income.
The Parent Retirement Resident Visa
With this visa, you can live, work and study in New Zealand permanently. To qualify, you'll need a New Zealand citizen or resident adult willing to sponsor you. Your eligibility will also depend on meeting several financial criteria. After four years, you can apply for permanent residency.
Read Here: Moving Overseas on a Budget
Students

As mentioned above, there are many visa options in New Zealand, including study visas.
Two primary options are Fee Paying Student Visa and Exchange Student Visa.
With both options, you:
Must be accepted by an approved education provider

Must study full time

May work up to 20 hours a week
Digital nomads
New Zealand doesn't offer a specific digital nomad visa at this time. However, digital nomads and remote workers from the US can apply for a Visitor Visa or a Working Holiday Visa and enjoy a lengthy stay with either.
A Working Holiday Visa is limited to travelers between the ages of 18-30, plus a few other stipulations, such as the following.
Proof of funds to support yourself while in New Zealand

You must have health insurance and pass a health check

Your passport must be valid at least 15 months after obtaining your visa.
Getting Your Stuff to New Zealand
You should know from the start that there are many rules to follow to get your belongings into New Zealand. New Zealand is known to have particular and strict requirements on shipping household items and belongings, with many restrictions regarding what you can and cannot move into the country. Remember that your relocation company is on your team as you go through the process.
Top International Movers USA to New Zealand
How do I Ship My Household Items to New Zealand?
Most overseas moving takes time. Moving to New Zealand from the US typically involves container shipping. The process can take four to six weeks to complete.
Air freight is a more costly option, but can speed up the moving process to between two and four weeks.
Whichever way you choose, you may also need temporary or long-term storage in the US or New Zealand. Using storage solutions is common for folks moving long distances to keep everything simple and organized.
How Much Does it Cost to Move My Belongings to New Zealand?
Moving overseas typically costs between $1,500 and $12,000. The cost of moving to New Zealand depends on how much you take and where you're going.
How Can I Save Money Moving to New Zealand?
International moving is a real investment that costs real money. However, you can take several steps to keep your costs under control.
Less is more. Packing light is crucial for any move and doubly so when moving a very long distance, especially to a place like New Zealand. Purging and downsizing are essential for satisfying a limited moving budget.
Your mover should offer you the opportunity to save money by packing your own possessions to meet a tight budget.
Unloading your own container when you arrive can save large amounts of cash.

If your moving date is flexible, ask about a discount for being such a great customer.

Use an international moving cost calculator to learn about other ways to shave costs.

Compare individual moving companies based on prices and services provided.

Don't be shy about asking for discounts from your mover. An excellent moving company knows what's good for business.
Read More on Container Sizes here
Can I Ship my Car to New Zealand?
Yes, you can ship your car to New Zealand, but be sure to take your time to familiarize yourself with the requirements.
To import your vehicle to New Zealand, you'll need to do the following things.
Secure entry certification by meeting the requirements

Meet biosecurity standards and pass a WoF inspection

Pay necessary import and tax duties

Present evidence for registration
Navigating New Zealand Customs
Custom regulations in New Zealand are stringent. The country takes rigorous measures to prevent detrimental pests and diseases and protect its biodiversity. All items you import to New Zealand must clear New Zealand's Customs and Quarantine, a service known as Biosecurity New Zealand. Your international moving company should provide services to help you navigate customs regulations.

Should I get moving insurance?
Your stuff is traveling a long way. Nobody likes to talk about it, but things can happen that damage your goods. Purchasing additional international or marine insurance costs an average of 3% of your shipment's declared value, a small price to pay for peace of mind.
Know More: Do I need Insurance for an International move?
Can I Take My Pets to New Zealand?
You may be able to take your cat or dog to New Zealand. Almost no other pets are admissible. Be sure to familiarize yourself with the rules and regulations.
How Much Does it Cost to Live in New Zealand?
The cost of living in New Zealand is on par with the US. The country has a high standard of living and excellent education and is a great place to raise children. However, these perks, plus being an island nation, means that living there is relatively expensive overall.
How Much Money Should I Take to New Zealand?
Plan on taking savings of at least three times your monthly expenses. Upfront fees upon your arrival in the country could include a housing deposit equalling up to a few months of rent, insurance, and setting up your new place.
The visa or residency permit you obtain may also have additional financial requirements to meet.
Living in New Zealand after moving

New Zealand and the US have several things in common. Both are young countries, and both use English as their national language. However, when you move to New Zealand, you'll soon discover the laid-back approach to life and the excellent work-life balance Kiwis enjoy.
Couple this with a mild climate and the freedom to develop yourself, and you're sure to enjoy your new home.
Finding a Place to Live in New Zealand
There are many housing types available in New Zealand, from small furnished flats to unfurnished stand-alone houses. Unfurnished places are more prevalent, and the larger the space, the less likely it will be furnished.
When looking for rentals, remember that prices are usually by the week, not by the month, as you may be used to. Utilities aren't traditionally included in the quoted rental price. But rental and home purchase prices are equal to, or only a little higher than, in the US.
The process is regulated and relatively straightforward if you're looking to buy property in New Zealand. As with many financial transactions in the country, specific and necessary documents must be filled out and presented during the transaction. Having a pre-approved loan from the bank goes a long way toward standing above the crowd of potential buyers.

Finding a Job in New Zealand when moving

Before scouring job boards and classified ads, understand the work visa structure thoroughly. Start by asking yourself what kind of work you'd like to do, what skills you have, and how long you want to stay in the country.
Answering those questions to yourself will funnel you to the type of visa you may be eligible for so you'll know how to apply. Remember, only limited job visas are given out each year for most job opportunities.
Getting Around in New Zealand
Traveling by car will allow you to explore the many scenic routes on your own schedule and linger in the places that appeal to you most. Many national parks are off the beaten path, and a car will work well. Remember, in New Zealand, to drive on the left.
Bus transportation is excellent, both locally and nationally. Buses frequently travel between cities at the national level, and at the city level, you can easily maneuver, as well as find hop-on hop-off buses for seeing the sites.
If you want to reach the outlying islands, travel by passenger or vehicle ferry for a fun and unique experience.
Read Here: Best International Car Shipping Companies
Healthcare in New Zealand
Healthcare should be on your list to research thoroughly or ask your visa preparation professional specifically about it. New Zealand once had a free government-supported healthcare system, but it has been a mix of public and private since the 1980s. Some services may be free if your visa allows you to stay for more than two years. However, some costs will still require payment. Be sure to clarify with the provider what payments are expected.
It's a good idea to have private healthcare coverage as you'll need it for specific treatments and visits, as well as dental and eye care. You may also have to pay for prescriptions and ambulance services.
Education in New Zealand
New Zealand welcomes thousands of international students each year. The education is excellent and based on the British academic style. While tuition isn't free for public universities, it's lower than many US universities, ranging from $4,500 to $10,500 per year.
How do I Find an International Moving Company to New Zealand?
Finding the right international moving company for you is crucial for making the journey to your new home country as easy as possible. Ensure your mover is up to the challenge by meeting the following criteria.
The company complies with and is listed with the FMCSA
Listed and complies with the Federal Maritime Commission

Is adequately licensed and insured

Offers additional moving insurance protection

Can provide referrals from past customers that you can check
Useful websites that will help you in your move to New Zealand
Get an International Moving Quote to New Zealand
Contact your international moving company and request a moving quote to get you on your way to new adventures.
Why Choose International Van Lines