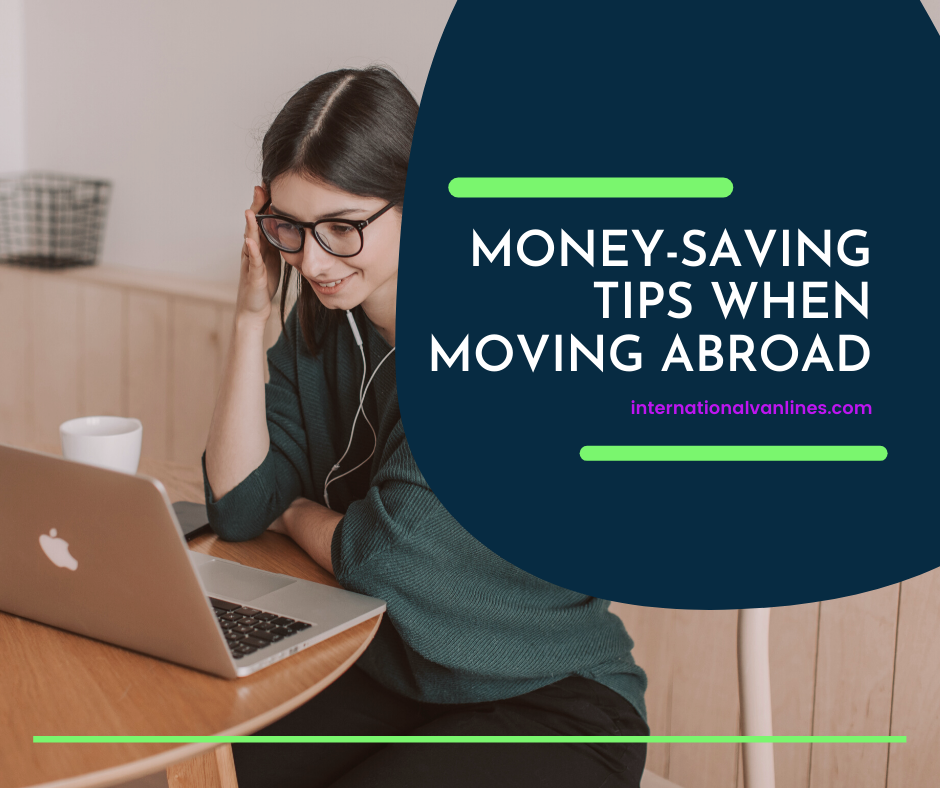 15 Money-Saving Tips When Moving Abroad
Moving abroad is exciting but also costly. The packing supplies, time, and hiring an international moving company can be a daunting task. There are ways of reducing costs when moving abroad, but it will require a little leg work and an understanding of hiring an international mover. Below you will find some easy money-saving tips when moving abroad.
1.Find a Quality International Mover
Looking for a quality company to help you move abroad may seem obvious. However, hundreds, if not thousands, of companies claiming they offer international moving services. First, most moving companies don't have the proper licensing in place to offer ocean freight services. It's always recommended that you visit the Federal Maritime Commission (FMC) website to look up license info. Secondly, you should check online reviews.
If you see a pattern of complaints, move on. Lastly, go with your gut. If you find yourself speaking to pushy salespeople, move on. International moving is complex and requires patience and attention to detail. Going with the right company can save you a headache and money, trust me.
2.Moving Abroad is a Great Time to Purge
Ocean freight costs are solely based on the overall size of your move. It's effortless. The more you have, the more you will be charged; rather than having a moving company come and move all of your stuff, you should consider purging. Having a garage sale or listing some items on craigslist is a great way to save money on your move, all while making a little back. If you can live without it, leave it behind.
3.Plan Ahead of Time
Proper planning can be the difference between a good experience and a nightmare. It's suggested that you secure an international moving company at least 2 months before pickup. Once you put a deposit down on your move, your cost is fixed. If there is a rate increase due to unforeseen circumstances, you will not be charged. Planning an international move ahead of time is a good idea for numerous reasons.
4.Consider Self-Packing
A great way to save money if you're moving abroad is by self-packing. Although it's a tedious process, it will significantly reduce moving costs. You can purchase discounted packing supplied from our website or find used boxes from local big box stores like Walmart or Home Depot.

5.Pick up from the Port
You'll have a few options when it comes to service. A door to port or port to port service is the least expensive way to ship abroad. Although it will help reduce shipping costs, you will need to put in some leg work. Picking up from the port of destination will require you to arrange the pickup and handle customs. It's not impossible, but it can be a pain. We recommend you speak with a professional relocation coordinator about the details, so you know exactly what to expect.
6.Move during the Winter Months
A great moving-saving tip when moving abroad is to move during the winter months. The peak season for the moving industry is between May and August. It's when everyone is moving because kids are out of school. Additionally, shipping rates will increase due to the supply and demand shift. If you can move during the winter months, it will help you save money on your move.
7.Load the Container yourself
When speaking with international moving companies, ask for a quote for a "live load" or "drop & pick." A live load is when a shipping company brings the container to your door, but you load. However, most shipping companies only offer a 2-hour window for loading, and additional time will be charged per hour. It's typically $85 per hour.
A drop & pick is when a container is dropped at your door for you to load. The shipping company will arrange the pickup of your container once you're done. You can also check out this article on how to move stuff abroad.
8.Ask for a Consolidation Cost
Consolidations are also known as less than container loads (LCL), are a great way to save money. LCL shipments are common and recommended for smaller moves. If you have less than half of a 20′ container, then an LCL would make financial sense. The downside to an LCL is the shipping time. Unlike a full container and LCL can take up to 30 days. However, every company is different, and some are quicker than others.
9.Find Free Packing Supplies
Order Free Boxes from the United States Postal Service
Go to Walmart during night hours and ask the warehouse manager for free boxes
Put out a Facebook post and see if anyone has boxes lying around
Costco is a great choice for free packing supplies
As the moving company for some free boxes as part of the deal
10.Ask for a Discount
A great and simple money-saving tip is to ask your international mover for a discount. It's not uncommon that shippers will ask us for a discount, and if we have room, we will offer it. After getting your quote, simply call your mover and let them know you're on a tight budget and ask if there is any room for a discount. After all, even saving $200 on the move can help.
11.Take a Detailed Inventory
Taking a detailed list of what you're moving can help you determine what's important and not. It will also help you when getting moving quotes. Keep in mind that ocean freight is based on the overall volume of your move. Therefore, if you hire a moving company and end up having more stuff, you may pay more. This can help save money on your move and the headache of having to deal with overage charges.
12.Go with the Direct Source
International moving is often outsourced to multiple companies. There's the mover, freight forwarder, and destination agent, which all need to get paid. Find a mover that is a licensed freight forwarder, and your moving costs will be less.
13.Contact your Homeowners Insurance
Most people are not aware that their homeowner's insurance may cover an international move. If they do, it will help you save money on the insurance piece. It's always recommended that you contact your homeowner's insurance to see if they will cover your move and their policies. It's a great way to save money when moving abroad.
14.Bring your Stuff to the Port of Loading
A great way to save money is by bringing your stuff to the port. However, if you have a larger move it may not be that easy. Typically a port drop-off would consist of smaller moves like boxes. It's always best to speak with your international moving company to find out more information on their policies regarding port drop-off service.
15. Off-load your container
Offloading your container at the destination will help reduce costs. However, you will need to confirm that a container can fit at the destination. The trucking company would open the container and allow you time to off-load everything at your destination.