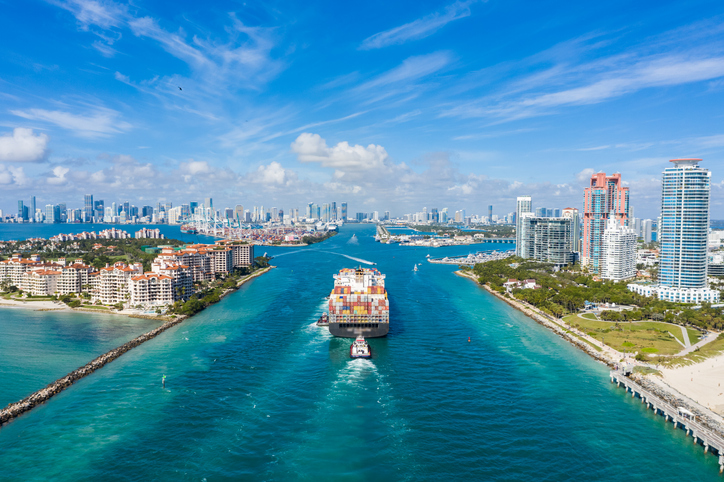 Moving overseas is a time of excitement. A new culture, surroundings, and an overall new way of life is something to look forward to. However, moving to a new country comes with the stress of planning.
Finding a Florida international moving company with experience and knowledge of your destination country is essential to a positive experience.
This article provides the tools and information you need to make the right decision for your international relocation.
Let's begin:
What's the cost of hiring international movers in Florida?
The average cost of hiring an international moving company in Florida is $2500 to $10,000. The most significant cost factors are your move size, destination country, and choice of moving service.
Other factors affecting your moving cost are specialty services like crating a piano or shipping a vehicle with your household goods. There are ways to reduce the cost of your international move, which we will get into later.
Learn more: How much will it cost to move abroad?
What are international moving services?
International moving services arrange for household goods and personal effects to be transferred overseas via ocean or air freight transportation. An international moving company will offer packing, loading, customs clearance, and delivery to your final destination.
You can choose an international moving service based on your budget and the required service. For example, you can consider self-packing, loading, or picking up from the port.
It's best to discuss your needs with your choice of international relocation companies.
Also, check out: A guide on shipping furniture internationally.
What's the best way to reduce the cost of my international move?
The size of your move is the most significant cost factor when moving overseas. Downsizing or removing furniture you can live without would be the best way to save money. However, there are a few more options below:
Self-packing: You can reduce the cost of your overseas move by packing boxes. Local stores such as Home Depot, Lowes, and Walmart sell the necessary packing materials that you will need. You can also buy packing supplies online.
Moving Service: There's a list of international moving services. You can save money by choosing a service such as door-to-port or port-to-port.
Time of year: Sometimes we can't control when we move, but if you can move during the winter months, it will be less expensive the moving during the summer, which is the peak moving season.
Lastly, make sure you find the right move. A Florida international moving company with experience in your destination will have avenues to reduce the cost of your international move.

Should I self-pack for my international move?
It would help if you weighed the pros and cons of self-packing for an overseas move. Sure, you will save money on your move, but there are some things to consider before deciding:
Insurance: Packed by owner (PBO) moves are limited in insurance coverage. You can get total loss insurance which covers the complete loss of your entire movement.
Professional movers do it better: The best international moving companies are trained to pack household items for an international move. They may be able to do it better than you.
Labor intensive: If you're on a tight timeline, let the movers handle the work. Packing for an international move can be time-consuming and labor-intensive.
If you decide to get boxes and self-pack, you should speak with your Florida international moving company about best practices.
What are my storage options?
You will have the ability to store your items at the place of origin or destination.
If you require long-term storage, storing household goods in the states would be less expensive. Long-term storage is considered anything above three months.
For short-term storage, ask your international mover to store your goods at the destination point; your goods will be delivered upon request.
What is the transit time from Florida abroad?
Sea shipping takes 4 to 6 weeks, and air shipping takes 2 to 4 weeks. Your final destination and service will be the most significant factors in shipping time frames.
It's best to speak with the international moving company in Florida regarding their transit times and moving process.
What is a full container load service?
A full container load (FCL) service is when an international moving company arranges an exclusive container for your overseas move. Container sizes range from 20′ to 40′,' and the size of your move will determine the container size. See container dimensions below:
What is a less-than-container load move?
Most international movers offer a less-than-container (LCL) load service, an industry term for consolidation service. If you have a small move, your international relocation coordinator will suggest an LCL. See the dimensions below:
| | | |
| --- | --- | --- |
| LCL | Dimensions | Weight |
| | 43.5" (L) x43.5 (W) x72" (H) | |
| | 87" (L) x87" (W) x48' (H) | |
| | | |
| | 90" (L) x 90" (L) x 85"(H) | |
You will share space with others that are going to the same destination. LCL shipping is standard practice and has been around since the beginning of overseas shipping.
Not all international movers offer LCL service, so it's best to research the best global moving companies with experience in your destination country.
Can I ship my vehicle overseas with my household goods?
You can ship a vehicle and your household goods in the same container or separately. It would be more cost-effective to consolidate your household goods and car in the same container.
Your vehicle will be loaded, blocked, and braced in the container. It's best to have a Florida international moving company handle the loading and setting of your vehicle.
To ship a vehicle overseas, you must provide the primary shipping forms with the original title for your car. All vehicles exported from the United States will need a customs stamp of approval.
Will I pay duty in my destination country?
You will not pay duty or tax if you move abroad with everyday household items and furniture. You and your international moving company must create an inventory list of what you're moving with a description for customs.
Is customs clearance included?
A door-to-door delivery will include customs clearance. However, if you're picking up from a nearby port, you may have to pay customs charges. A reliable international moving company will provide the details you need, but it's best to ask the question.
Who are the best Miami international movers?
According to several third-party consumer groups, International Van Lines, JK Moving, Allied and Atlas are Miami's best international moving companies.
Each company listed has a location in Miami, FL. Additionally, they maintain an excellent reputation and have years of experience with moving people worldwide.
It's always best to research international moving companies near me and get up to three moving quotes before deciding.
International moving FAQ
What is the payment process?
Most Florida international movers accept all forms of payment. There is typically a deposit that can be placed on a credit card. The final balance is due before leaving the port of Miami.
How can I get an international moving quote?
An international mover will ask for your origin, destination, and inventory list. They may suggest a virtual or visual survey to help with accuracy. Once a mover knows what you're moving, you can get an international moving quote in minutes.
Can I partially pack my household goods?
Yes, you can do a partial pack. However, it may affect the type of insurance you can purchase for those items.
What documents are required when moving overseas?
Shipping information, passport, inventory, value, and insurance forms are needed when moving overseas. Your Florida international moving company can provide you with the necessary documents.
Where are you located?
International Van Lines has offices in Miami, Coral Springs, Los Angeles, Chicago, Houston, New York, and Pheonix.
People also ask:
How much does it cost to move from Miami to London?
The average cost of moving from Miami to London is $2500 to $9000. The move size and service will determine the final price.
How do you know if an international mover is legit?
An international moving company must have a valid Federal Maritime Commission (FMC) license. It's also best to read online reviews and get referrals.
Can I ship household items to the Middle East?
International Van Lines offer ocean and air transportation to most countries in the Middle East.
How long does a move to Australia take?
Ocean freight transportation can take 6 to 8 weeks to move to Australia.
Where are the ocean ports in Florida?
Your trusted Florida International Moving Company
International Van Lines offer long-distance, local, and international moving services throughout Florida. Several third-party consumer groups, including Forbes, US News, and Newsweek, rate us as the best moving company in the US.
If you would like to receive an international moving quote, you can fill out an online form or give us a call. A moving quote will take minutes. We wish you the best on your new journey and look forward to helping you move overseas.