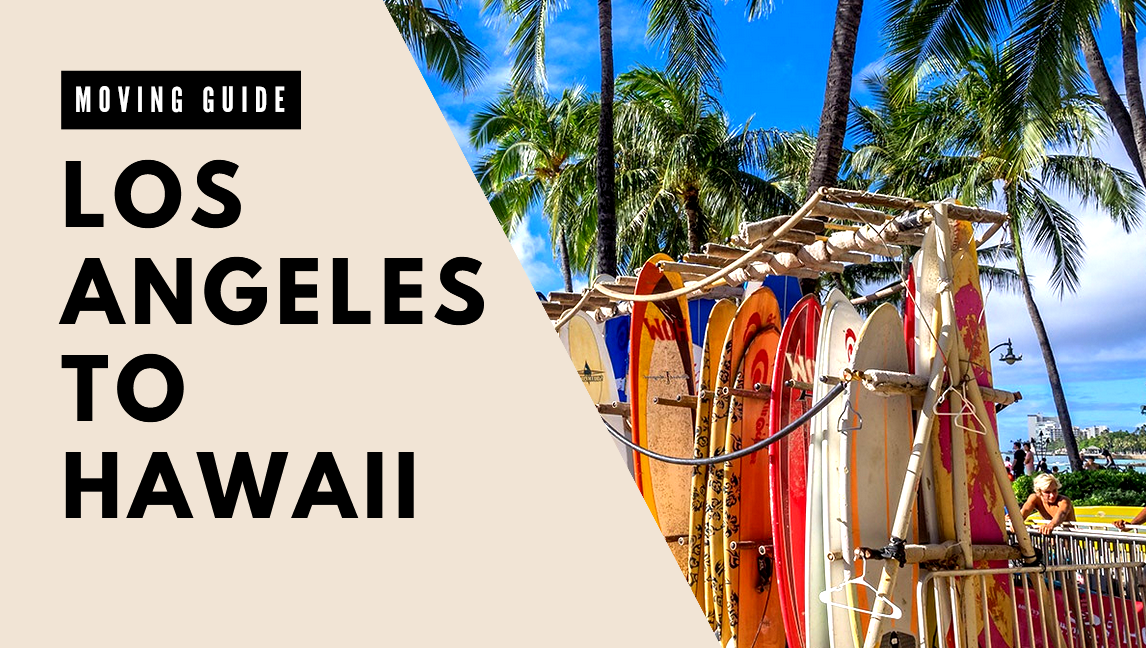 Moving from Los Angeles to Hawaii
Are you considering moving from Los Angeles to Hawaii? This can be an exciting and adventurous experience. The islands are a great place to live if you're an outdoorsy person who wants to live in a beautiful and tropical destination. We'll look at the logistics of moving from Los Angeles to Hawaii, what documents you need, and how much everything will cost you.
Cost of moving from Los Angeles to Hawaii
On average, a move from Los Angeles to Hawaii costs between $3,700 and $10,700. However, the cost can vary depending on several factors if you're moving from Los Angeles to Hawaii.
From securing permits and coordinating schedules to packing up and shipping belongings, there is an abundance of details to consider and numerous items that need to be accounted for to make a move successful.
Here's an estimate of what to expect:
These prices do not reflect additional costs like lodging, car shipments, cleaning, unpacking, and other moving-related expenses. If you're moving from Los Angeles to Hawaii and want an accurate cost estimate, our movers can help.
Cost of living in Hawaii vs. Los Angeles
If you're considering a move to Hawaii, you may have heard that it's one of the most expensive places to live in, relative to the average U.S. cost of living. However, in recent years, living in Hawaii has become cheaper than living in California. For example, the cost of living in Honolulu is 8% less expensive than in Los Angeles.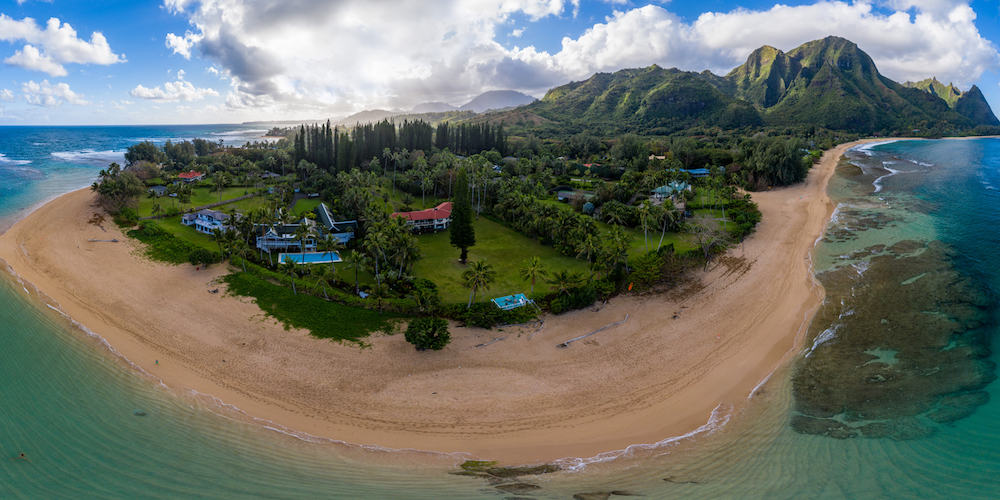 Let's compare some of Hawaii's most common living costs versus Los Angeles.
*These prices are based on averages as of 2022.
How long will it take to get my stuff from Los Angeles to Hawaii?
There are about 2,467 miles from California to Hawaii. It can take as little as 5 days for a cargo ship to get from Los Angeles to Honolulu, Hawaii. Add an additional 2 to 4 days for the other islands. However, depending on the freight company you hire, these timelines can fluctuate.
What are the best places to live in Hawaii?
When you think of Hawaii, you probably picture tropical beaches, majestic mountains, and warm weather year-round. And while that's true for most parts of Hawaii, there are some fantastic cities with lots to do right in the middle of this paradise. If you're considering moving to the Aloha State and looking for a new home base where you can enjoy all these things—plus nearby restaurants, museums, parks, and more—then consider checking out some of these great towns:
Honolulu: The capital and most populous city in Hawaii. It's a prime hub for tourism and an excellent choice for those looking for a change of scenery but still wanting the busy lifestyle of LA.
Milani: Located on Oahu's leeward side, Milani is home to many businesses and shopping centers. It's an excellent pick for young families looking for a mix of outdoor living with business-centric areas. Milani is also one of the safest areas in Hawaii.
Kapolei: If you're looking for a place that's safe, affordable, and close to the beach, Kapolei is worth considering. It's a planned community with plenty of fun activities for families and outdoor enthusiasts.
Pearl City: Another excellent choice for anyone looking to relocate. It has everything you could want in a city, including plenty of amenities and activities for families. Pearl city is also more affordable than other areas in Hawaii.
Kailua: This suburb has above-average schools, great restaurants, and incredible parks for the entire family. It's a favorite hub among professionals.
Pros and cons of living in Hawaii
The Hawaiian Islands are surrounded by warm, blue water and tropical breezes. It's hard to imagine a perfect place to live, but you should know the pros and cons of living in Hawaii before moving there.
Pros
The weather is beautiful, with warm, tropical temperatures most of the time.

The cost of living in Hawaii is still high. Nonetheless, living in Honolulu is about 8% less expensive than in Los Angeles.

While taxes in Hawaii are high, they're still lower than California's rate by 5%.

Hawaii has one of the highest-educated workforces in the nation, which means that there are plenty of jobs for people who want to work in fields like technology or engineering.

The crime rate in Hawaii is low compared to other parts of the US.

Hawaii also has stringent gun laws and doesn't allow open carry without special permission from the police department.

Living in Hawaii means you'll get fresh produce and fruits year-round.
Cons
It does rain a lot in Hawaii. The islands receive between 25 and 30 inches of rain annually, and Los Angeles gets 11.70 inches of rain annually.

Traffic can be pretty bad throughout the islands, but it's especially problematic on Oahu, where the population is most concentrated, and there are more commuters than on any other island.

Housing in Hawaii is costly. The median list price in Hawaii is $815,000. Yet again, the median listing home price in Los Angeles in 2022 was $999K.

The island receives over 10+ million tourists annually, and the season (December through April) can be pretty annoying for some residents.

Finding a job in Hawaii can be challenging.

What's it like to live in Hawaii?
Hawaii is a beautiful place to live, and there are many reasons why people choose it over the mainland. However, there are also some things you should know about living here before moving.
You will have to drive a lot in Hawaii
The island of Oahu is the most populated, so it has the most traffic. The island of Hawaii is the least populated, so it has the least traffic. You can rent a car or ride-share if you want to explore on your own; otherwise, you can rent bikes or scooters and tour around with them.
It's pretty isolated
The physical distance between Hawaii and the mainland is one of the biggest things to consider when you're moving there. It's not like you can just hop on a plane from New York City and arrive in Honolulu by lunchtime. You'll need to fly into a mainland city and connect through another flight.
The culture is very laid back
One of the things you will notice immediately when you arrive in Hawaii is that everyone is friendly. For this laid-back culture to thrive in Hawaii, people must be open-minded and accepting of others' differences. This includes both social differences as well as cultural ones.
The Aloha spirit is real
The Aloha Spirit is about taking care of each other. When you live in Hawaii, you should be humble and kind to everyone you meet because many beautiful people live here. It's important to remember that no matter how busy our lives get or how much we try not to show how much we care about each other.
What should you know about living in Hawaii
As you plan your move from LA to Hawaii, here are some things to keep in mind:
Home services: In Hawaii, you get to choose from three different electricity providers; you also need to set up your water and gas connections. Most internet providers offer services in the big islands. However, you'll need satellite internet if you live further away from the big cities.
Car insurance: If you're planning to bring your car to Hawaii, you must account for car insurance. On average, an annual insurance policy is about $1,079.
Health insurance: You will most likely be able to keep the same health insurance policy; you might just need to adjust your location and providers.
Property insurance: If you're planning to buy a house, know that home insurance is not mandatory in Hawaii. However, if you're using a mortgage lender, they might require you to have a policy.
How to move from Los Angeles to Hawaii
Moving from Los Angeles to Hawaii is a great idea. Both places are beautiful, but if you're ready to call Hawaii home, the sooner you start planning, the better. It takes some planning and foresight, so here's advice for how you should go about it:
Make an inventory of everything you want to bring with you. Have a list of everything you want to bring to get a more accurate moving quote.
Start researching long-distance moving companies. Reach out to three companies to ensure you get the best pricing. Don't forget to check reviews and licenses.
Make it official. Tell your mail and DMV office about your move. You can plan this, so you don't forget about it later.
Double-check insurance information. Ask your movers to explain what's covered and not covered on your insurance. Ensure all your belongings are protected.
Arrange any storage needs. If you don't want to bring everything with you immediately, ask your moving company for help with storage solutions. Most companies have arrangements that can help you save more money.
Are you moving to Hawaii?
Find the best long-distance moving company in Los Angeles to Get Started!
Moving to Hawaii is no simple feat, but with the right planning and some flexibility, you'll be able to make the transition as smooth as possible. At International Van Lines, our team has decades of experience with long-distance moving. We're known as one of the best long-distance moving companies in the country for a reason!
Contact us today, and let's start planning your move from LA to Hawaii.