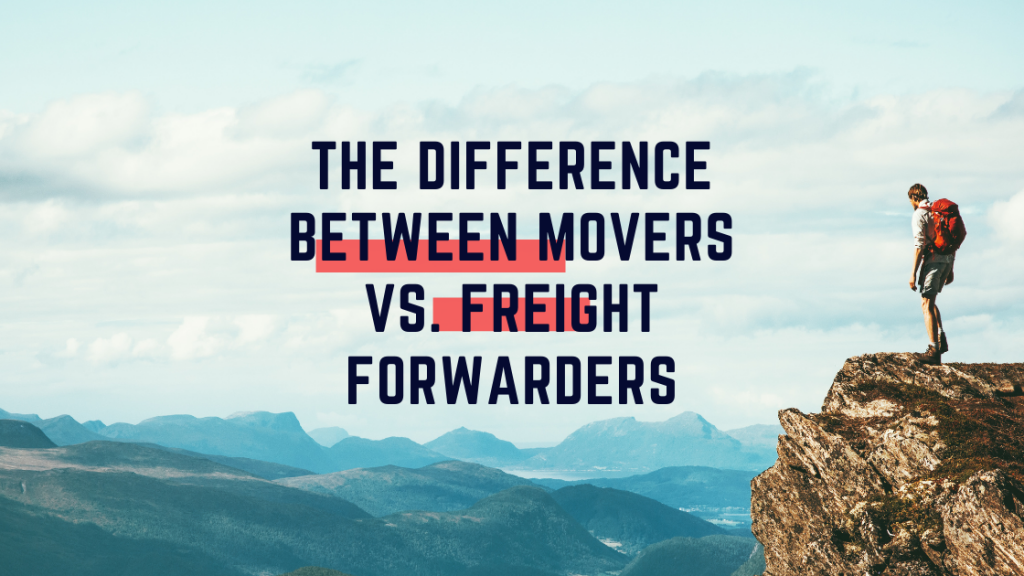 The difference between movers v.s freight forwarders
There is a difference between movers vs. freight forwarders. A mover typically handles all aspects of an overseas move and will either arrange ocean freight directly or outsource the ocean freight to a freight forwarder.
A freight forwarder is lisenced by the Federal Maritime Commission to handle ocean freight shipping. Not all freight forwarders handle household goods.
Additionally, a freight forwarder will handle the documentation such as the Bill of Laden, Doc Receipt, and Shipping details.

Should I use a Mover or Freight Forwarder?
A freight forwarder is fully capable of handling an international move. However, it would be best if you asked the right questions.
There is a difference between movers vs. freight forwarders. If they don't have the right network, it may cause a challenge.
If you're moving abroad, it's suggested that you look for an international moving company lisenced with the FMC.
A mover that's adequately licensed will handle all aspects of your move, from the packing & loading to customs clearance and delivery.
The best international moving companies have the proper network in place to ensure a positive experience.
International moving costs
International moving costs vary from company to company. However, generally speaking, they're more or less in the same range.
You will most likely get a less expensive rate with a larger company that moves large volumes. There is buying power when it comes to ocean freight.
Charges may differ from movers vs. freight forwarders. However, it would be best if you asked what is not included.
We tend to see freight forwarders leave certain charges out of their quotes. The port and terminal charges at the destination, to be exact.
Before you commit to a mover or freight forwarder, make sure to go down the list of what included and what
Also Read: Tips for Seniors Moving Abroad

How to Find an International Mover
There are over 7000 moving companies in the United States. However, there are a select few that are lisenced to transport via ocean freight.
Google serves its purposes in locating movers with good reviews, but you need to dig a bit deeper.
It's a good idea to validate their license, which can be done on the FMC.gov website. You can also call the FMC to find out about company history, complaints, etc.
It would help if you did some basic research before choosing movers vs. freight forwarders.
Also Read: Tips for Moving Overseas During COVID
It's always good to understand the right questions to ask a mover or freight forwarder before committing.
Typical charges that we see excluded are port, terminal, and possibly taxes.
The port of destination bills port and Terminal charges. Port charges are costs to cover the handling of your shipment by the longshoreman. It also covers any equipment involved, like cranes.
Changes range from port to port. The overall size of your move can also affect the costs. Charges can vary anywhere from $350-$700.
It would help if you always asked your mover or freight forwarder.
Movers vs. Freight Forwarders – The Bottom Line
With the proper research, the bottom line is either a mover or freight forwarder is capable of an international move.
International Van Lines is a mover that is lisenced as a freight forwarder.
Services we offer include but are not limited to packing, loading, ocean & air freight, and complete door-to-door services.
If you're looking for a quality international mover, give us a call. One of our professional relocation coordinators will walk you through the process.
International van Lines is one of the most recognized international relocation companies in the industry.