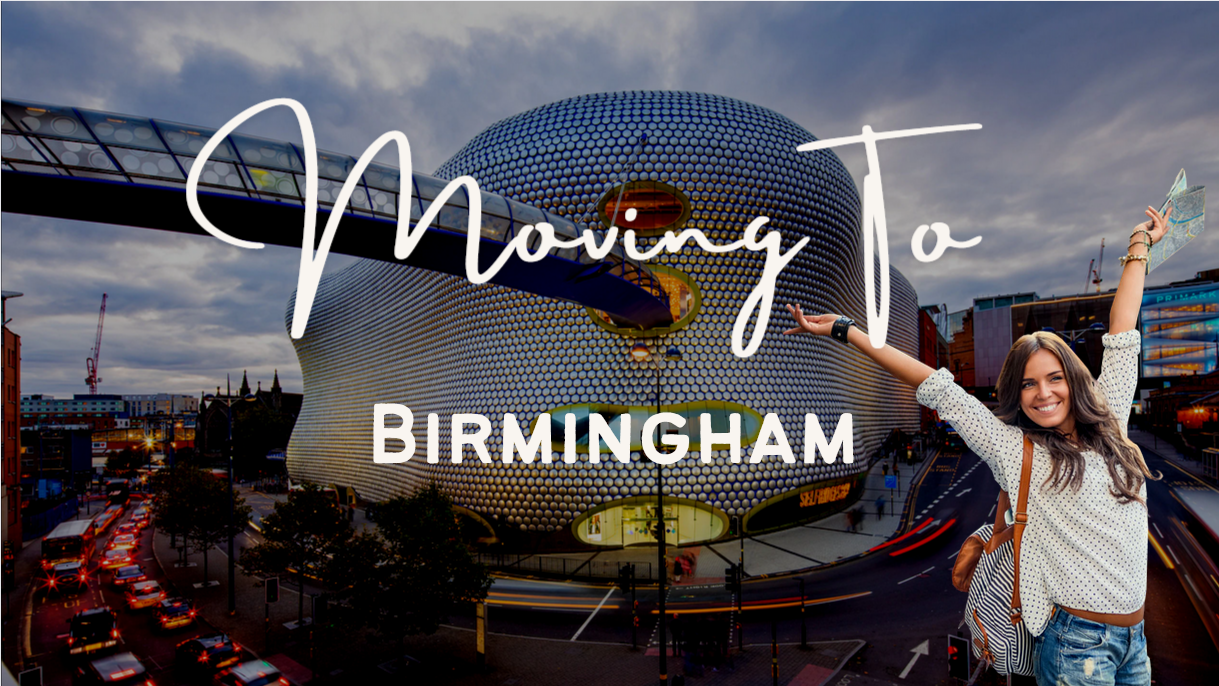 Moving to Birmingham in 2023? –Here you will find everything that you need to know when moving from the USA to Birmingham.
Moving to Birmingham, England, from the US
Home to a little over one million people, Birmingham is a medium-sized city whose historical significance far exceeds its size. It's located in the metropolitan county of West Midlands in England, about 100 miles away from London.
Given its location and importance, it's often considered the Midlands' social, cultural, financial, and commercial center.
But before packing your bags, let's ensure you know what to expect when you get here. Let's talk about some things you should know as you start planning your move to Birmingham from the US.
Let's get started.
Cost of moving to Birmingham
The average cost of moving from the USA to the UK is $2,000 to $7,000. Still, it could be higher depending on the size of your move and the transportation method you contract. The cost of shipping and securing your new home is the most significant of the entire move.
The most significant costs associated with international moves include the following:
The shipping of your household belongings.

Securing a home in your destination.

The visa fees.

The costs of furnishing your new home once you're there.
Read more: How Much Will It Cost to Move Overseas

Shipping Costs to Birmingham
The size of your home, the type of moving services you use, and other factors—such as seasonality—will affect the final price of your move to Birmingham, UK. Additional expenses, such as pickup and delivery, loading and unloading, etc., will add to this price.
Requesting a personalized international moving quote is the best way to get an accurate estimate.
The following prices correspond to a move from New York to the UK and are approximates. Cities that are farther from the UK will represent higher international moving costs.
One-bedroom home:
By air: $4,740 – $5,800.
By sea: $2,760 – $3,050.
Three-bedroom home:
Five-bedroom home:
Read Here: Moving to England from the USA
Top International Movers USA to Birmingham



Visa fees
You'll need a visa unless you already have British citizenship. A visa is a document you need to obtain if you want to live and work legally in the UK or any other country. There are multiple types of visas, from child and spouse visitors to skilled worker visas.
The costs range from a little over $100 to over $1,000. Research what kind of visa would work best for your needs and start the process way ahead of your move since visa processing times can range from a few weeks to several months.
In addition to your visa fees, you'll need to pay the Immigration Healthcare Surcharge, which gives you access to the British public health network. The fee is approximately £470 or $575 per year.
Read Here: Moving to London from the USA
Securing a home in Birmingham
Securing a home from the other side of the ocean can be challenging and expensive. Many take flights to Birmingham to house hunt for several days before moving internationally.
If you go this route, you'll have to consider flight costs, hotel stays, food, and transportation in Birmingham. Also, you'll need to provide the security deposit for your new home (which is usually five weeks' rent) and the costs associated with the relocation agency you contract.
The costs may ascend to over $5,000.

Furnishing your new home
If you manage to move over most of your belongings by air or sea, the costs of furnishing your new home will be significantly reduced. Furnishing costs could range from a few hundred dollars to several thousand.
Miscellaneous costs

These are the various costs you'll have to pay in handling essential moving processes, such as courier services for your visas, extra luggage during your final trip to Birmingham, import taxes, and more.
These costs vary depending on the size of your move, whether you'll be moving pets internationally, and other variables.
What to expect when moving to Birmingham from the US
If you're planning on moving to the UK, the more you learn about life in Birmingham, the better.
Cost of living in Birmingham after moving
Birmingham is a middle-of-the-road city in terms of cost of living. It's not quite the cheapest city in England, but it's not the most expensive either. The following costs will give you an idea of what you'll spend every month once you're settled (source: Expatistan):
The average monthly cost for a family of four is $2,762 (£2,258.5) without rent.

The average monthly cost of living for a single person is $807 (£660,1) without rent.

The average rent price is $1,797 (£1,470).

The price of 1 liter (1/4 gallon) of gas is $1.93 (£1.58)

The cost of monthly public transport is $72 (£59)
Know all about Shipping Furniture to Europe – Click here to Read
Here are a few comparisons between Birmingham and London, one of the most expensive cities in the UK and the world (source: Numbeo):
Consumer prices in Birmingham (including rent) are 36.8% lower than in London.

Rent prices in Birmingham are 54.4% lower than in London.

Grocery prices in Birmingham are 14.8% lower than in London.

Local purchasing power in Birmingham is 26.7% higher than in London.
Climate
Birmingham has a temperate maritime climate, with cold and rainy winters and mild but rainy summers.
Winter is not very cold compared with other British cities, but it's cloudy, humid, and rainy. Snow is common.
In summer, temperatures are mild or cool. It's still rainy, but less than winter. Temperatures can go as high as 37 °C (98.6 °F).
Culture
Birmingham has been closely associated with the Industrial Revolution for centuries, so its streets and cultural buildings have many stories to tell. Often known as "the city of a thousand trades," you'll find people from all walks of life.
Some of the landmarks of its cultural life include:
Birmingham offers dozens of historical tourist attractions that will make any curious soul fall in love with the city's history.
Safety
Birmingham can be unsafe and often surpasses most big cities in the UK and Wales in terms of crime rate. In late 2022, it was the second UK city with the most crimes per 1,000 people, behind Leeds. Birmingham has 137 crimes per 1,000 people. Robbery is also higher in Birmingham than in London.
To stay safe in Birmingham (as it usually goes for big cities), you may want to live away from the city center. The neighborhoods of Wythall & Gay Hill and Yardley Wood East were voted the safest communities in Birmingham in 2022, with an average of 50 crimes per 1000 people, much lower than the city's average.
Read Here: Best International Movers to Europe
How long does it take to ship my household goods to Birmingham
How long sea shipments from the US to the UK last varies depending on factors such as the season, ocean tides, Atlantic weather, and other environmental variables. Your sea shipment should get to Birmingham in 10 to 15 days. Remember that shipments from cities farther from Birmingham will naturally take more time.
Air freights will likely arrive between 1 and 3 days but may be delayed by weather conditions.
As you can see, air freights take significantly less. Still, they're also considerably more expensive and often limited to moving fragile belongings like art pieces.
Tips to prepare for your move to Birmingham
Seek financial advice for taxes: You may be required to file taxes in the US, even though you're living in the UK. Seek financial advice to avoid being taxed twice.
Update your passport and visas: We can't stress enough how important it is to research, seek legal advice, and apply for the appropriate visa. I'll save all sorts of trouble.
Open a bank account: make sure you have a bank account you can use to make payments as you settle in, whether an international or a local one.
Get copies of your medical records: for things like refilling prescriptions, enrolling children in school, and even requesting residency, you may be asked for medical records. Bring these with you to save money getting everything done again.
Get international insurance: determine whether the Immigration Healthcare Surcharge will insure you during the move. If it won't, contract temporary international insurance during the settling-in period.
Downsize: it's not worth bringing items you'll discard later. Before the movers arrive at your home, ensure you downsize by eliminating anything you're not planning to use overseas.
Know more about International Shipping costs to Europe
Bottom line
Moving from the US to Birmingham is indeed a complicated process. At International Van Lines, we're here to help you every step of the way. Our international moving experts have helped thousands of families relocate overseas. If you're ready to start planning, click here to get a quote from our team to learn more about our services.
Read Here: Cost of Moving from the US to UK