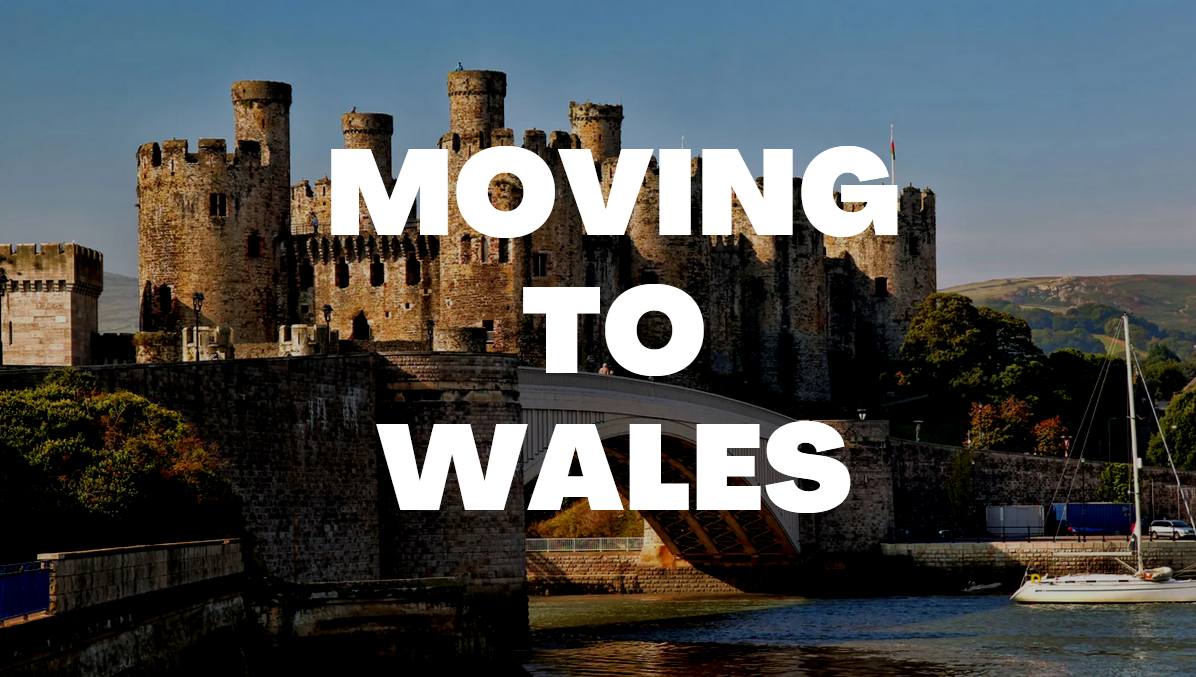 Moving to Wales From the US
Here is all you need to know when moving to Wales!
Home of three National Parks and four UNESCO World Heritage Sites, Wales is a tiny country that packs a lot between its borders despite being smaller than New Jersey and often mistaken for being a part of England. Wales has a unique culture, sites to see, and a traditional flare that sets it apart from elsewhere in the UK.
Moving to Wales from the US could be the change of pace you're seeking. Its largest city, Cardiff, contains just around 362,000 residents, which would qualify as a moderate city in the States and ranks 13th in size throughout the UK. If a small-town feel is what you're after, there's a place for you in Wales.
Just over three million people and nine million sheep reside in Wales, and there's something for everyone. You'll enjoy cool, always-changing weather, beaches, mountains, beautiful landscapes, historical places, and of course, rugby.
How to Move to Wales
Moving to Wales from the US requires doing some homework and extensive planning. Expect to spend plenty of time and energy researching and setting yourself up for your move.
What is the Process for Moving to Wales?
When moving to Wales, the first step is making an international moving checklist. Choosing to move to another country sets in motion numerous elements. Keeping track of them and staying organized can lessen the effects of unwelcome surprises. Here are the important to take steps to take for your move to Wales.
Delegation is key, don't hesitate to allow a top international moving company to manage the more complex aspects of your move.

Identify your desired destination within Wales. Choose from large cities, towns, and rural areas.

Establish a moving budget and set aside a few months' worth of savings to cover expenses upon arrival.

Research and understand the residency requirements in Wales.

Obtain a private or international healthcare policy before moving to Wales, while not mandatory, it can save costs if medical services are needed.

Decide what to bring with you to Wales, including personal belongings and vehicles, and create a comprehensive inventory.

Organize key items such as cell phone service, financial accounts, driver's license, etc., before relocating to Wales.

Pack and make the move to Wales.
How Long Can I Stay in Wales?
US citizens can stay in Wales for up to six months without a visa. Long-term or permanent living in Wales requires obtaining a residency permit through the United Kingdom. If you stay in Wales without a visa, you're not allowed to work while in the country.

Welsh Residency Permits and Requirements
Wales offers permits that allow temporary residency, of which there are several options, through the UK. You'll need a temporary permit to later apply for permanent residency. All Welsh residency permits require that you meet the qualifications for the visa for which you apply.
Temporary Residence Permit
The UK governs the visa and permit processes in Wales. There are numerous visa options, each with its own set of requirements to meet. Typically the visas will allow you to stay in the country for one, two, or several years before more action will be necessary to secure your stay.
Temporary residency permits or visas are for those who plan to work, study, get married, or wish to become permanent residents of Wales someday. Besides the visa options below, there are also investor and business visas that require significant investments to obtain.
Expats who plan to work in Wales are required to obtain approval before working in the country. You must obtain a work visa to work in the country. The job you perform and several other criteria will determine the type and tier visa you'll need to obtain. In many cases, if you're offered a job in Wales, your new employer can assist you in getting the necessary work visa.
Retirees looking to relocate to Wales don't require a special permit—A qualifying visa is all that's necessary. However, working isn't allowed as a retiree unless you apply to change your residency visa type. Retirees must prove they can sustain themselves and have sufficient annual income.
Students in the UK and Wales must obtain a student visa if they plan to study for longer than six months in one of the country's eight universities. Student visas are relatively straightforward to obtain, and your school will be happy to provide you with the information you need to expedite the process.
Digital nomads can apply for a UK freelance visa or one of several other types of visas depending on how they make a living and their income level. You must be at least 18 years of age, employed, and prove your income to qualify.
Permanent Residence Permit
Permanent residence in Wales can only be achieved by remaining in the country for at least five years under a visa that allows temporary residency. If long-term living is your goal in the country, consider it when applying for your visa, as only some meet the qualifications for eventual permanent residency.
Getting Your Stuff to Wales when moving from USA

Preparing yourself for your move to Wales is a big step. Getting your possessions ready for the adventure is quite another. Remember that your relocation company is on your team as you plan, organize, and execute the tasks necessary to make your move as seamless as possible.
How do I Ship My Household Items to Wales?
Overseas moving takes time and typically involves container shipping or, basically, putting your possessions in a giant metal box and placing it on a cargo ship to be unloaded at a seaport near your new home. The process typically takes four to six weeks from start to finish.
Air freight, although the more costly shipping method, speeds up the moving process to between two and four weeks and can easily get your household items to inland destinations. However, that may not be a factor in Wales due to the country's small size.
Whichever way you choose, your possessions may also require temporary or long-term storage at your destination or in your former location. Using storage solutions is common for persons moving long distances to keep everything simple and organized.
How Much Does it Cost to Move My Belongings to Wales?
Moving overseas typically costs between $1,500 and $12,000. The cost of moving to Wales or other European destinations depends on how much you take and where you're going.
How Can I Save Money Moving to Wales?
International relocation can be costly, but there are ways to cut down on expenses.
To keep costs low, pack lightly and get rid of unnecessary items.

Professional packing services may be necessary in some cases, but you may be able to save money by packing your own belongings.
Handling the unloading of your container at your destination can reduce your overall cost..

If your move date is flexible, inform your mover, and you may be able to negotiate for a better rate.

Use an international moving cost calculator and compare several estimates by price and services included.
Can I Ship my Car to Wales?
It's possible to ship your car, truck, or motorcycle to Wales. Remember that whatever you bring with you must clear customs before entry. Motor vehicles coming into the country will require import and export documentation, the vehicle's original title, and Wales license plates if you plan on being in the country for a while.
Navigating Welsh Customs
Welsh customs monitors everything that comes into the country, whether it's a commercial product or your household possessions. One of the services your international moving company provides as part of your move is assisting you with the paperwork and compliance requirements for wherever you're moving. For the most part, leaving behind cleansers, liquids, food, or hazardous materials will make your experience through customs a piece of authentic Welsh Cake.
Should I get moving insurance when moving to Wales?
Your stuff is traveling a long way. Nobody likes to talk about it, but things can happen that damage your goods. Purchasing additional international or marine insurance costs an average of 3% of your shipment's declared value, which amounts to a small price to pay for your peace of mind.
Can I Take My Pets when moving to Wales?
Your pets are welcome in Wales and across the UK. However, there are a few requirements that Fluffy has to meet before being allowed into the country.
The pet must be microchipped

Each will need a third-party vet certificate of health or a pet passport

Rabies vaccinations and tapeworm treatments are necessary for each pet

If your pet comes from the US, a blood test must be performed.
Best International Movers to Wales from USA
How Much Does it Cost to Live in Wales?
Living costs in Wales are roughly 15% lower than the other countries in the UK. Overall, living costs in the UK are somewhat lower than in the United States as a whole and about 30% less costly than big-city living in the US. You can stretch your dollar a little farther in Wales than you may be able to in the States.
Expect a single person's living expenses, including rent, to be around $1,400. A family of four can get by in the country on just under $3,700.
How Much Money Should I Take to Wales?
As a general rule, plan on going with savings of at least three times your monthly expenses. Upfront fees upon your arrival in Wales could include a rental deposit equalling up to five weeks of rent, insurance, and setting up your new place.
The visa or residency permit you obtain may also have additional financial requirements to meet.

Living in Wales after moving
Living in Wales is generally warmer than Ireland or northern parts of England, and there's plenty to see and do to stay occupied, especially for nature lovers. English is the most common language in the country, so you'll have no trouble communicating.
Finding a Place to Live in Wales
Finding a place to rent in Wales is reasonably straightforward. Online listings are available to help you search by location for available dwellings. However, a better approach to finding an available property is to contact the landlord directly. You'll need a rent deposit, immigration documentation, and sign a six-month to one-year contract.
If you choose to purchase property in Wales, you're welcome to do so. However, foreign nationals must pay a Land Transaction Tax (LTT) that ranges from 3.5% to 12% of the property value to finalize the purchase. Realtors in the country will be happy to assist you in finding a property to buy.
Finding a Job in Wales
Although the job market in Wales is competitive, you can find employment in almost any industry. Welsh businesses are happy to employ international workers, whether temporarily or permanently. Like in the US, online job boards and recruitment agencies can connect you to potential employers.
Getting Around in Wales
Being a small country, it's not surprising to learn that you'll have no trouble getting to and from wherever you'd like to go. Wales' historic and modern trains and buses can get you to most locations. To reach more isolated places, hop on a ferry or take a drive on one or more of many scenic roads.
Healthcare in Wales
If, after several years of living in Wales, you qualify for permanent residency status, you can receive health coverage through NHS's free, public healthcare system. Before you earn status as a permanent resident in Wales, you can receive emergency and non-emergency care through NHS. However, you or your private or international insurance will be charged for the service.
Education in Wales
Although Wales isn't high on many students' list of destination countries for education, it should be. The country contains eight independent, well-respected universities on 13 campuses. Welsh universities work with numerous US colleges to accept international students.
How do I Find an International Moving Company when moving to Wales from US?
Choosing the appropriate international moving company is vital for making your move to your new home as smooth and hassle-free as possible. To ensure that your mover is up to the task, make sure they meet the following criteria:
Company is listed and compliant with the Federal Motor Carrier Safety Administration (FMCSA)
Listed and compliant with the Federal Maritime Commission

Properly licensed and insured

Offers additional insurance coverage options

Can provide verifiable references from previous customers
Get an International Moving Quote to Wales
Reach out to your international moving company and request a moving estimate. This will give you the opportunity to speak with an expert who can give you all the necessary information you need to begin your move.