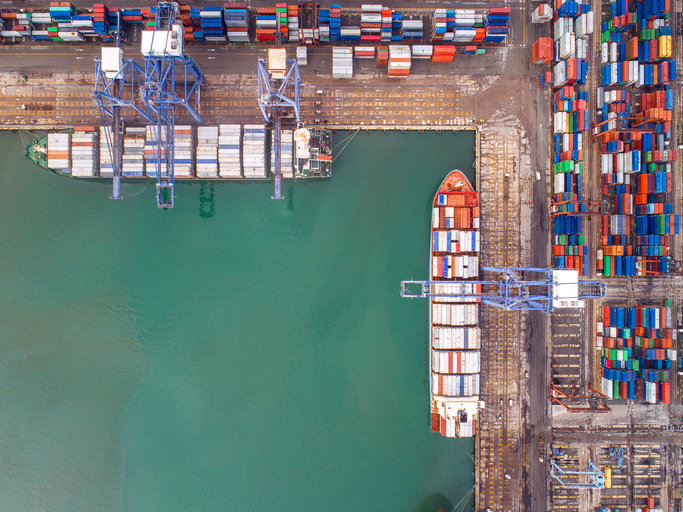 Have you ever wondered how much it will cost to move to Europe from the US? Are you curious about the cost of international moving services? Here you will find instant international moving costs to Europe and tips to save money.
This blog article aims to provide you with the costs of hiring an international moving company, how to save money, and other costs associated with moving abroad.
Many factors go into international moving prices, so it's always best to speak with a professional global moving company, but you can use this for planning and budgeting purposes.
Let's begin…
What makes up the cost of an international move?
The amount of stuff you're shipping, the service you require, and the destination country make up the cost of an international move. Additionally, the time of year and relocation company you choose can affect pricing.
| | | |
| --- | --- | --- |
| | | |
| | Packing & Supplies by Mover | |
| | Trucking Shipment to the Port | |
| | Ocean shipping (Port to Port) | |
| | Customs Clearance, Delivery, Off Loading | |
| | All Risk or Total Loss Insurance | |
| | | |

Sea freight is the most common method of transportation to Europe, and costs are based on the volume of your move. The more you have, the higher the price. You can use a cubic feet calculator to help you determine the volume.
Service is also a critical factor in moving costs to Europe. For example, you can self-pack or have a professional moving company pack for you. You will also have the option of a door-to-door or port shipping service.
How much do international movers charge on average?
An international mover will charge $2500 to $11,000 on average for a move to Europe from the US. The move size, service, and destination country will be the most significant cost factors.
Countries such as Germany, Austria, England, Spain, and France are less expensive than Serbia, Slovakia, and Slovenia. The more shipping volume to a country, the cheaper the shipping costs.
Finding the best international moving company for your specific destination is essential. A company with experience, relationships, and knowledge tends to be less expensive than companies with no shipping volume.
Also, check out: How much will it cost to move overseas?
International moving costs to Europe by Sea
The size of your move, service, and destination country make up international moving costs to Europe. Below are sea freight rates for door-to-door delivery. The prices below should be used for planning and budgeting only:
| | | | | |
| --- | --- | --- | --- | --- |
| Country | 1 Bedroom | 2 Bedroom | 3 Bedroom | 4 Bedroom |
| | | | | |
| | | | | |
| | | | | |
| | | | | |
| | | | | |
| | | | | |
| | | | | |
| | | | | |
| | | | | |
| | | | | |
Costs for shipping household goods by air freight
Sea freight is the most common method to ship household goods overseas because of the costs. However, air freight is an excellent option if you're hurrying to get your stuff.
You can expect to spend anywhere from $4000 to $14,000 to ship household goods by air freight. Unlike sea freight, shipping by air is based on the volume or weight of your move, whichever is greater.
The upside of shipping by air is the transit times. You can expect an average shipping time of 1 to three weeks instead of 4 to 8 weeks, making air freight an excellent option for speedy delivery.
How much does it cost to ship a car to Europe?
The average cost for shipping a vehicle to Europe from the US is $1800 to $4500. The year, make, model, and service will impact shipping rates the most. Below are the different service options:
Roll-on Roll-off (RORO): The least expensive shipping option is the RORO service. It's a port-to-port shipping service where you must drop off and pick up your car at both port locations.
Consolidation: Another great cheap shipping option is a consolidation service. Your automobile will be in a shared container with other shipping to the same destination country.
Container Service: If you're shipping household goods and vehicles, you can request a 20′ or 40′ container.
To ship a vehicle to Europe, you will need to provide an international mover with the original title for your car. A global shipping company will also need the value, shipping information, and insurance forms.
How much does moving insurance cost?
Reputable international moving companies offer insurance. Moving insurance costs average 2% to 4% of your household goods value. You will declare the value of your items before they are shipped overseas. Below are the two insurance options:
All risk insurance: If you're hiring international movers to pack your household goods, you can get all risk insurance. It's the best insurance coverage that will cover the value of individual items.
Total loss insurance: If you're self-packing, you can get total loss coverage which covers the total value of your shipment. A shipment would need to be a complete loss to file a claim.
Moving insurance costs can vary from moving company to moving company. It's best to speak with a professional to discuss pricing and options.

What are my storage options, and how much is it?
Most international moving companies offer storage in the US or Europe. Storage charges vary based on the space you'll require but average 50 cents per cubic foot per month. Below are the different storage options you can choose from:
Long-term storage: If your move requires more than three months, you should consider temperature-controlled storage. It will help keep your furniture, paintings, and other household items from getting warped from hot temperatures.
Short-term storage: Most international relocation companies offer short-term storage at the origin or destination. Your moving company will make arrangements for delivery once you're ready.
It's best to store your household goods in your destination country for speedy delivery. An international removal company can walk you through the process.
How much does it cost to ship a few boxes to Europe?
If you're moving to Europe with a few boxes, you can consider a baggage or parcel shipment. The cost for shipping is based on the dimensions and weight of your packages and averages $700 to $1500.
Parcel shipping is not a standard service for most international moving companies. However, International Van Lines offers a 70% discount through FedEx or DHL.
Five steps for finding the right international mover
Research: Start planning early. It will allow you the time to find a reputable mover and figure out moving expenses.
Validate their license: Check the Federal Maritime Commission website for company license information.
Check customer reviews: All companies get negative reviews. However, you should check the company's response rate.
Look into their experience: Find an international relocation company with experience with your destination country. It will help with a smooth transition.
Compare three quotes: Get up to three international moving quotes for comparison.
Follow these basic steps, and you'll find the right international mover for your specific situation and smoothly transition into your new country.
Who are the best international movers, US to Europe?
International Van Lines, JK Moving Services, Rainier Overseas Movers, Allied Van Lines, and North American Van Lines are the best international moving companies that service the US to Europe moves.
International moving costs to Europe will vary based on the company's abilities, knowledge, and experience. You should compare up to three global moving estimates and ensure you read the fine print.
Moving internationally is a big deal, so we recommend researching and working with movers that are lisenced.
What are international removal services?
International moving and removal services include packing, loading, special handling, ocean or air freight, customs clearance, delivery, off-loading, and documentation.
A removal company is responsible for arranging the transportation of your household goods from your residence to your final destination, with everything in between.
They should also maintain a valid lisenced with the Federal Maritime Commission (FMC) and Department of Transportation (DOT).
Customs clearance, tax & duties
If you're moving to Europe with household goods, you will not pay tax or customs duties. However, customs clearance and port charges may or may not be included based on the service you request and the international shipping company.
Most international moving companies include customs clearance when shipping door-to-door. However, they may not be included if you arrange pickup at the destination port.
Customs clearance and port charges can average $250-$400. The destination country and move size will determine customs clearance fees.
What are other costs to consider when moving overseas?
When considering a move to Europe, there are additional costs that you will need to take into account; an international mover is just one. Below is a list of other international moving costs to consider:
Visa fees: $1100-$1500

Lawyer fees: $2500-$5000

Housing costs: $150,000-$200,000

Rent: $1200-$2500

New clothes: $200-$500

Transportation costs: $100-$300

Accommodations: $200-$600

Plane ticket: $350-$800
It is essential to conduct thorough research on the specific country you are considering moving to, as costs and requirements may vary depending on location. Preparing for expected and unexpected expenses will help with a smooth transition.
What can I do to save money on my international relocation?
There are several ways to reduce international moving costs. Below you will find the most common ways to save money on an overseas move.
Start planning early: The sooner you start the moving process, the better. Starting your journey in advance will help you find the best deals on accommodations, visa fees, flights, and international moving services.
Look for the right international mover: Save time and money by looking for movers specializing in US to Europe moving services. They will have better moving costs than others.
Declutter: Moving overseas is a great time to purge. Consider getting rid of stuff you don't need. It will help reduce your international moving costs to Europe.
Self-pack: A sure way to save money is to self-pack boxes. You can purchase packing supplies at any local Home Depot or Lowes.
Consider a port service: Rather than shipping your household goods door-to-door; you can consider a less expensive option like door-to-port.
You can use these tips to help save money, but It's best to consult a professional relocation consultant about different ways to reduce the cost of your overseas move.
Is self-packing worth it?
Self-packing will help you save money on your move, but is it worth it? You can save up to 10% on international moving costs, but it would help if you weighed the pros and cons of self-packing before making a final decision. Below are some things to consider:
Time-consuming: Finding supplies, organizing, and packing boxes can be time-consuming. If you're in a hurry, consider having the pros pack.
Labor intensive: Packing boxes can be labor intensive and not recommended if you're injured, pregnant, or have a bad back.
Lack of experience: The best international moving companies have training programs for their staff. A professional moving company will have the expertise and knowledge to pack household goods.
Inventory list: You must create a detailed list of what's inside each box which takes attention to detail.
If you're still keen on packing, you should consult an international moving company regarding their processes.
How long does shipping take to Europe from the US?
Transit times for shipping to Europe vary based on service, destination, and time of year. However, you can expect 4 to 8 weeks via sea shipping and 2 to 4 weeks by air transportation.
If you need your household items delivered in a specific time frame, discussing the details with your mover is best. A quality international moving company will work with you and make recommendations to achieve your goals.
Remember that weather, port congestions, and customs clearance inspections can cause an unforeseen delays over which an international shipping company has no control.
Items you can't ship to Europe
FAQ
Should I get a visual or virtual tour?
Consider a visual or virtual tour if you're shipping more than a one-bedroom. It will help the mover see what's needed in packing and the size of the container you'll need.
What is a full container load (FCL)?
A full container load (FCL) is a 20′ or 40′ container used to transport your household goods overseas.
What is a consolidation service?
A consolidation service is for smaller moves under 500 cubic feet. Items ship in a shared container, with others going to the same destination.
What are the payment terms?
Most international movers accept all forms of payment, including credit cards. Before shipping, you may have to pay a deposit to reserve your moving date and balance.
Can I load my container?
You can request a live-load service that allows you free time to load your container. If you require more than a few hours of loading, ask about a drop & pick service.
People also ask
Who are the best international movers from the US to Rotterdam?
International Van Lines offers weekly sea and air shipping to Rotterdam. Rotterdam is our central hub for consolidations into Europe. However, JK Moving and Allied Van Lines are also excellent choices when moving to Europe.
What are the main seaports in Spain?
Spain has several seaports, with Valencia, Barcelona, and Bilbao being the most active ports. It's best to speak with your choice international mover regarding the best port of entry for your move.
What is a port-to-port shipment?
A port-to-port shipment is an ocean freight service from the nearest port to your location and ships to the closest port to your destination. You are responsible for paying customs clearance and port-related charges on a port-to-port move.
How soon should I start planning for an international move?
You should give your international moving company at least 8-week notice. The sooner you start planning, the better.
How much should I tip my international moving company?
A tip is not mandatory but appreciated by the crew who worked hard. If you choose to leave a tip, the amount should be based on the quality of the work and time spent. A general rule of thumb is 3% to 5% of your moving estimate.
What's the cheapest time of year to move to Europe?
The least expensive time of year for moving to Europe is the winter months when movers are slow. You will save about 20% in the winter instead of the summer months, which is the peak season for relocation companies.
How much does it cost for pet transportation?
Transporting your pet to Europe from the US averages $1500 to $3000. You can contact companies like Air Animal for quotes.
Resources:
International moving costs to Europe – Summary
On average, hiring an international mover can cost anywhere from $2500 to $11,000. However, with research and planning, there are many ways to reduce the cost of your move.
Ensure you research movers consider self-packing, ask about less expensive services and get rid of unused items. Europe is one of the most common American shipping lanes, making it affordable and seamless.
International Van Lines is a lisenced mover offering parcel shipping, small moves, and container loads to Europe. You can get an instant quote by filling out an online form or speaking with one of our relocation coordinators.
We wish you the best of luck with your move and feel free to contact us or leave feedback on our blog article.