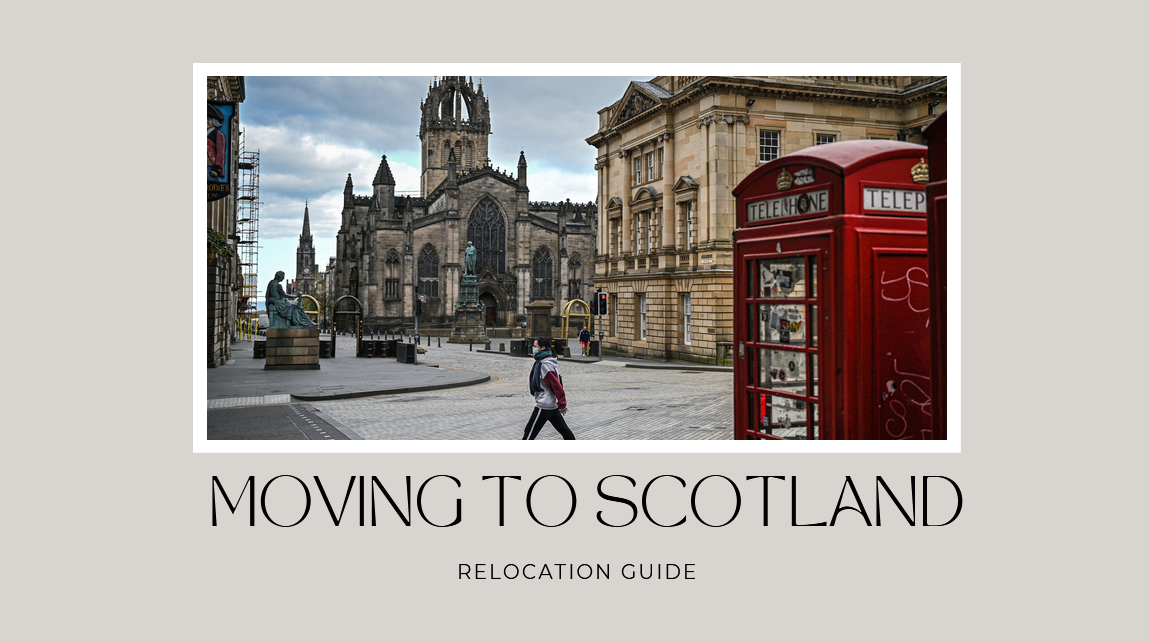 Moving to Scotland From the US
Moving to Scotland from the US is challenging, but certainly nothing like trying to hack your ball out of the woods with dignity. Living in Scotland allows you to experience the country and the multitude of, believe it or not, other things to do there.
Traditionally, but with no lack of debate, the game of golf was invented in Scotland. Some 600 or so years later, people still flock to the country to experience the sport in its, as far as we can tell, birthplace.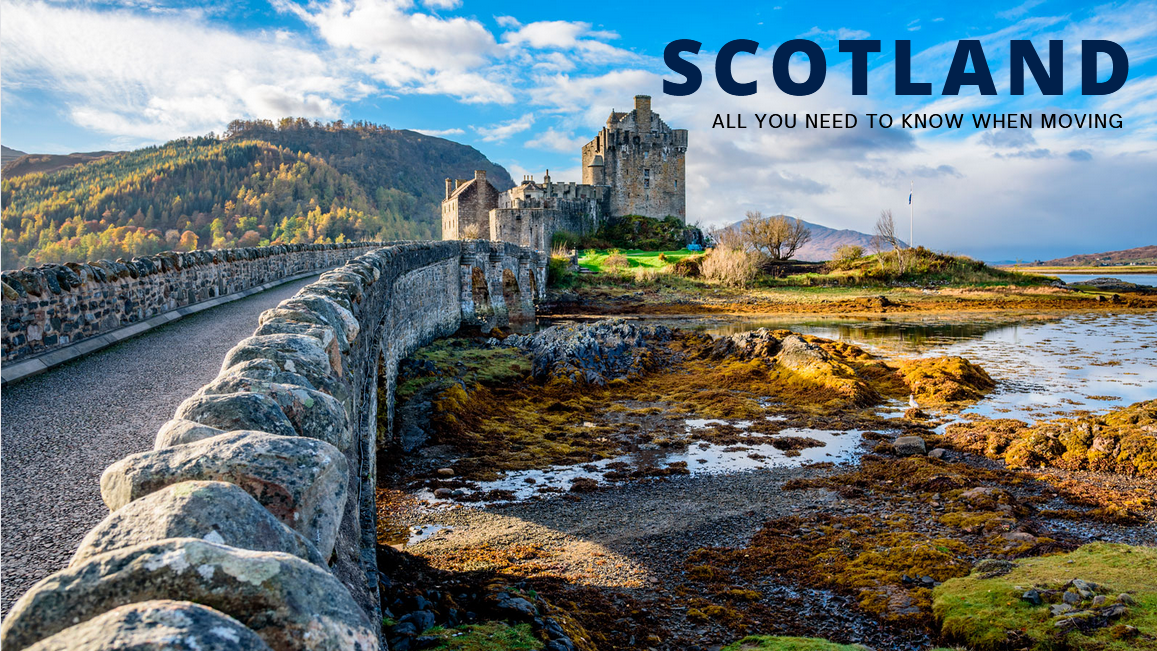 Enjoy Scotland's incredible scenic mountains, lochs, and glens. Or take a self-guided tour of unique sites all across the country. There's no shortage of castles, natural areas, and museums of all sorts to choose from either. Send us your photos of Nessie if you're lucky enough to meet face to face.
Need a bite to eat? Check out all kinds of regional cuisines and haggis served in restaurants, bars, cafes, and pubs. Feel free to stay late, even at night. Scotland rates as one of the safest countries in the EU.
How to Move to Scotland
The key to a successful move to Scotland requires doing some homework. Plan on devoting plenty of time and energy to research and plan your move.
What's the Process for Moving to Scotland?
The first step when moving to Scotland is to make an international moving checklist. Choosing to move to another country sets numerous elements in motion. Keeping track of them and staying organized can minimize the effects of unwelcome surprises.
Next tip? Don't be afraid to delegate when you can. The best international moving companies are ready to help you every step of the way. Let them take some of the burdens off your shoulders. The process for moving to Scotland follows the steps below.
Pick your destination. Scotland has everything from large, bustling cities to serene rural landscapes, locks, and mountains from which to choose.

Create a moving budget and allot a few months' savings to get settled once you arrive.

Learn about residency requirements in Scotland.

Obtain a private or public healthcare policy. Health insurance is required for anyone moving to Scotland and is available to most free of charge.

Choose what you'll take to Scotland, including possessions and vehicles, and create a detailed inventory.

Organize your cell phone service, financial accounts, driver's license, and other must-haves before moving to Scotland.

Pack and move to Scotland.
How Long Can I Stay in Scotland?
A Scottish tourist visa allows you to stay in the country for up to 90 days if you're coming from outside of the EU. Long-term or permanent living in Scotland requires obtaining one of several long-term visas. How long you can stay in the country is determined by the visa or permit for which you qualify.

Residency Permits and Requirements in Scotland
Scotland offers permits that allow residency inside the country. Each has its own stipulations and limitations. However, all Scottish residency permits and visas have the following general requirements that every applicant must meet.
Possession of home county passport

Private or public health insurance

Clean criminal record

Proof of general health including the ability to work or study

Proof of financial stability
Temporary Residence Permit
Although there's not one visa that defines a temporary residence permit in Scotland, there are a host of visas available that permit you to stay in the country from 90 days to several years depending on your reason for being there. When your temporary permit expires, several options remain for staying indefinitely on various visas.
Expats who plan to work in Scotland are required to obtain approval before working in the country. The visa you qualify for will depend on the type of employment you're engaged in and your salary level. There are several types of work visas and business visas available, so you're sure to find one in which you can meet the qualifying criteria. In most cases, your employer can assist with getting your visa, but you must apply before coming to the country permanently.
Retirees looking to relocate to Scotland don't require a special permit. As part of the UK, after leaving the European Union in 2021, retirees must simply meet the criteria of one of several visa options depending on the details of their stay.
Students must apply for a student visa to study in one of Scotland's excellent universities or colleges. Having the correct school-related visa is imperative for students. There are several types. The one you qualify for will depend on what you're studying and where, as well as your age and how long you plan to stay in the country. Additionally, the visa you need for study can change over the course of your time there.
Digital nomads are welcome in Scotland and the rest of the UK. However, there's not currently a visa by that name. To live and work remotely in Scotland, apply for a freelance visa. To qualify, you must be at least 18 years old, employed, and meet a minimum earnings amount that will depend on where you plan to live.
Permanent Residence Permit
To legally stay in Scotland for as long as you like, you'll need to obtain permanent resident status in the UK. Mostly, only those who've held a temporary residence visa for at least five years can apply for permanent status. Many, but not all, temporary visas can lead to permanent status, so study carefully before choosing a visa if you plan to say long-term.
Getting Your Stuff to Scotland when moving from the US
Preparing yourself mentally for your move to Scotland is one thing. Getting your possessions ready for the adventure is quite another. Remember that your relocation company is on your team as you plan, organize, and execute everything necessary to make your move as seamless as possible.
How do I Ship My Household Items to Scotland?
Overseas moving takes time and involves container shipping or, essentially, putting your possessions in a large metal box and placing it on a cargo ship to be unloaded at a seaport near your new home. The process typically takes four to six weeks from start to finish.
Air freight, although the more costly shipping method, speeds up the moving process to between two and four weeks and can easily get your household items to inland destinations.
Whichever method you choose, you may also need temporary or long-term storage at your destination or in your former location. Using storage solutions is common for persons moving long distances to keep everything simple and organized.
How Much Does it Cost to Move My Belongings to Scotland?
Moving overseas typically costs between $1,500 and $12,000. The cost of moving to Scotland or other European destinations depends on how much you take and where you're going.
| | | | | |
| --- | --- | --- | --- | --- |
| Country | 1 Bedroom | 2 Bedroom | 3 Bedroom | 4 Bedroom |
| | | | | |
| | | | | |
| | | | | |
| | | | | |
| | | | | |
| | | | | |
| | | | | |
| | | | | |
| | | | | |
| | | | | |
How Can I Save Money when Moving to Scotland from US?
International moving costs real money. However, you can take several steps to lessen the impact on your moving budget.
Less is more. The adage of pack light is crucial for any move and doubly so when moving internationally. Purging and downsizing are the rules if you need to meet a limited moving budget.
Your mover should offer professional packing services. However, they should also offer you the opportunity to save money by packing your own possessions.
Unloading your own container at your destination can save cash over having your mover perform the task.

If your moving date is flexible, let your mover know in exchange for a discounted rate.

Use an international moving cost calculator to discover where else you can save a few dollars.

Compare individual moving companies based on price and the services they can provide.

Don't be shy about asking for discounts from your mover. A good moving company understands that flexibility on its part is good for business.
Top International Movers to Scotland from USA
Can I Ship my Car to Scotland?
It's certainly possible to ship your car, truck, or motorcycle to Scotland. Remember that whatever you bring with you must clear Scottish customs before entry. Motor vehicles coming into the country will require import and export documentation, the vehicle's original title, and Scottish license plates if you plan on being in the country for a while.
Navigating Scotland's Customs
Scottish customs monitors everything that comes into the country, whether it's a commercial product or Nessie bait. One of the services your international moving company provides as part of your move is assisting you with the paperwork and compliance requirements for wherever you're moving. For the most part, leaving behind cleansers, liquids, food, or hazardous materials will make your experience through customs a breeze.
Should I get moving insurance?
Your stuff is traveling a long way. Nobody likes to talk about it, but things can happen that could potentially damage your goods. Purchasing additional international or marine insurance costs an average of 3% of your shipment's declared value, a small price to pay for peace of mind.
Can I Take My Pets to Scotland?
Your pets are welcome in Scotland and across the UK. However, there are a few requirements that Fluffy has to meet before being allowed into the country.
The pet must be microchipped

Each will need a third-party vet certificate of health or a pet passport

Rabies vaccinations and tapeworm treatments are necessary for each pet

If your pet comes from the US, a blood test must be performed.
How Much Does it Cost to Live in Scotland?
American expats will enjoy the overall lower cost of living in Scotland compared to the US. On average, household goods and rent prices range from 17% to 32% less than most US cities.
A single person's average living cost is around $833 plus rent. A family of four spends around $2,900 monthly plus rent. Although rent is the largest consumer of your income, it's still roughly 30% less expensive than in the States.
How Much Money Should I Take to Scotland?
As a general rule, plan on going with savings of at least three times your monthly expenses. Upfront fees upon your arrival in Scotland could include a hefty rent deposit not allowed to exceed two months of rent, insurance, and setting up your new lifestyle.
The visa or residency permit you obtain may also have additional financial requirements to meet.
Living in Scotland
Living in Scotland will introduce you to friendly people and rich culture with a long history. On top of that, the scenery is fantastic, and opportunities for work and play are plentiful.
Finding a Place to Live in Scotland
Although landlords in Scotland enjoy near-capacity sustenance, finding a place to rent is reasonably straightforward. Online listings are available to help you search by location for available dwellings.
If you choose to purchase property in Scotland, you're welcome to do so. However, foreign nationals must pay a Land and Building Transaction Tax (LBTT) that ranges from 2% to 12% of the property value to finalize the purchase. Purchases are made using a blind bidding system.
Finding a Job in Scotland
Scotland is a land of opportunity when it comes to employment in the country. Scottish businesses are happy to employ international workers, whether temporarily or permanently. Just like in the US, online job boards are effective at getting you connected to potential employers.
Getting Around in Scotland
Planes, ferries, boats, automobiles, buses, trains, you name it, getting around Scotland, even to the most remote parts, is easy through a network of publicly available transportation solutions and roads in good condition.
Healthcare in Scotland
Free healthcare is open to anyone living in Scotland through the National Health Service of Scotland (NHS Scotland). The healthcare system receives funding through income tax revenue and is available even for those just visiting the country. Although many treatments are free of charge, there are fees for some services, and it's a good idea to obtain travel insurance until you're acquainted with the limitations of the NHS system.
Education in Scotland
The education system of higher learning in Scotland is slightly different from what Americans may be used to. Universities in Scotland offer degree programs, many of which are taught in English and welcome international students. Tuitions are slightly higher than in many European Countries but on par with the rest of the UK and similar in price to public US universities.
College, on the other hand, refers to vocational training with a focus on job placement following one-year certificate programs or two-year Higher National Diploma courses.
How do I Find an International Moving Company for Moving to Scotland From the US?
Finding the right international moving company for you is crucial for making the adventure to your new home as seamless and straightforward as possible. Ensure your mover is up to the task by meeting the following criteria.
The company is listed and in compliance with FMCSA
Listed and in compliance with the Federal Maritime Commission

Is appropriately licensed and insured

Offer additional moving insurance protection

Can provide checkable referrals from past customers
Get an International Moving Quote to Scotland
Contact your international moving company and request a moving quote. You'll have the opportunity to speak with a professional who'll provide you with the information you need to start your journey today.